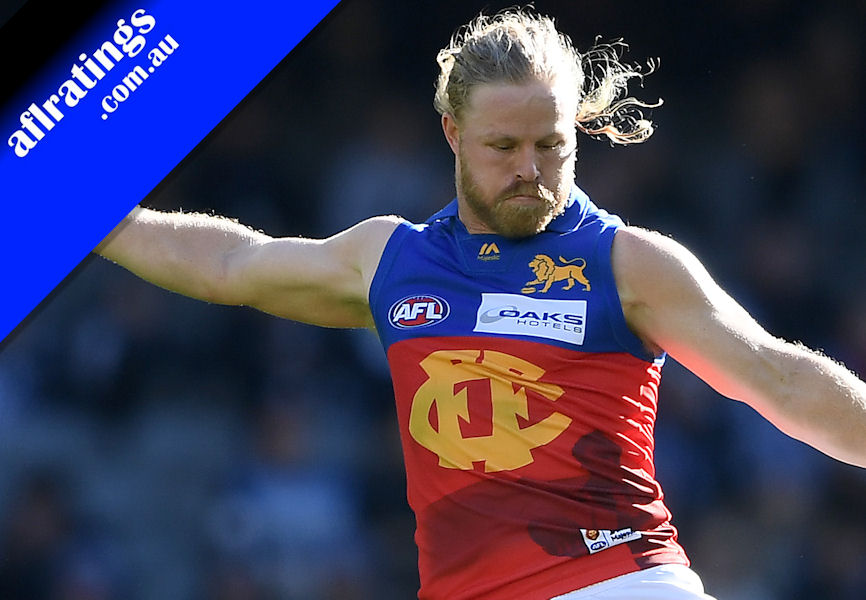 The 2019 H&A season is complete which means the fantasy research for next season has already begun, over the next few weeks we'll take a look at a 2018/19 H&A season player average comparison for each team (Minimum 10 games played each season).
Warnie, Calvin & Roy discussed some of the numbers on the final Traders podcast of the season, it is worth another listen again to hear their thoughts on certain players heading into season 2020. (Starts at 53:35).
Listen to the AFL Fantasy Podcast with The Traders at Apple Podcasts, Spotify and Google Podcasts.
BRISBANE
Arguably the most disappointing Brisbane player in the 2019 H&A season from a fantasy perspective was Alex Witherden (2019 Ave: 74.8), after averaging 88.0pts last season Witherden fell 13.2pts short of that mark in 2019. The Lions were quite efficient moving the ball out of defence in 2019 which likely impacted on the low return for Witherden, his starting price to begin the 2020 season may attract many in the pre-season.
The rise of Hugh McCluggage has not gone unnoticed, he averaged 69.2pts between Rounds 1-12 & 87.4pts between Rounds 14-23 in 2018 and averaged a solid 91.4pts in the 2019 H&A season. McCluggage scored 100pts or more in 23.8% of games in the 2019 H&A season, any upside needs to be considered prior to the 2020 season in classic but certainly he could be a sleeper in draft leagues.
After averaging 127.8pts from his opening 4 games in 2019 Lachie Neale (2019 Ave: 104.7) averaged just 99.6pts from his final 18 games, this still represented an increase of 4.5pts compared to his final season at Fremantle in 2018. The inconsistent scoring will deter quite a few in 2020.
Article by @aflratingsPete
2019 AFL FANTASY STATS
| PLAYER | POSITION | GAMES | AVERAGE |
| --- | --- | --- | --- |
| Neale, Lachie | MID | 22 | 104.7 |
| Zorko, Dayne | MID | 22 | 104.4 |
| Lyons, Jarryd | MID | 22 | 97.5 |
| Robinson, Mitch | MID/FWD | 22 | 93.6 |
| McCluggage, Hugh | MID | 21 | 91.4 |
| Rich, Daniel | DEF | 22 | 88 |
| Martin, Stefan | RUC | 22 | 84.8 |
| Cutler, Tom | MID | 3 | 80.3 |
| Berry, Jarrod | MID | 18 | 79.6 |
| Witherden, Alex | DEF | 21 | 74.8 |
| Taylor, Lewis | FWD | 5 | 70.4 |
| Cameron, Charlie | FWD | 22 | 67.3 |
| Hodge, Luke | DEF | 20 | 66.2 |
| Christensen, Allen | FWD | 11 | 64.2 |
| McCarthy, Lincoln | FWD | 22 | 59.9 |
| Gardiner, Darcy | DEF | 22 | 57.7 |
| Hipwood, Eric | FWD | 21 | 57.1 |
| Mathieson, Rhys | MID/FWD | 9 | 56.6 |
| Andrews, Harris | DEF | 19 | 56.3 |
| McInerney, Oscar | RUC/FWD | 19 | 56.2 |
| Answerth, Noah | DEF/MID | 17 | 56.1 |
| Robertson, Nick | DEF | 4 | 56 |
| Walker, Josh | DEF | 11 | 55.9 |
| Lester, Ryan | DEF | 9 | 55.8 |
| Keays, Ben | MID | 2 | 54.5 |
| Hinge, Mitchell | DEF | 2 | 54.5 |
| Bastinac, Ryan | MID | 3 | 54 |
| McStay, Daniel | FWD | 22 | 51.6 |
| Adams, Marcus | DEF | 8 | 49.4 |
| Bailey, Zachary | MID/FWD | 13 | 48.2 |
| Smith, Archie | RUC | 2 | 46 |
| Rayner, Cameron | FWD | 22 | 45 |
| Cox, Cedric | DEF | 1 | 44 |
| Allison, Jacob | DEF | 2 | 43.5 |
| Starcevich, Brandon | MID/FWD | 1 | 31 |
| Skinner, Sam | DEF | 0 | 0 |
| Eagles, Matthew | DEF | 0 | 0 |
| Lyons, Corey | MID | 0 | 0 |
| Ballenden, Connor | FWD | 0 | 0 |
| Payne, Jack | DEF | 0 | 0 |
| Wooller, Toby | FWD | 0 | 0 |
| Berry, Thomas | MID | 0 | 0 |
| Fullarton, Thomas | RUC | 0 | 0 |
| Joyce, Tom | MID | 0 | 0 |
| Madden, James | MID | 0 | 0 |
| McFadyen, Connor | MID/FWD | 0 | 0 |
| Smith, Ely | MID | 0 | 0 |