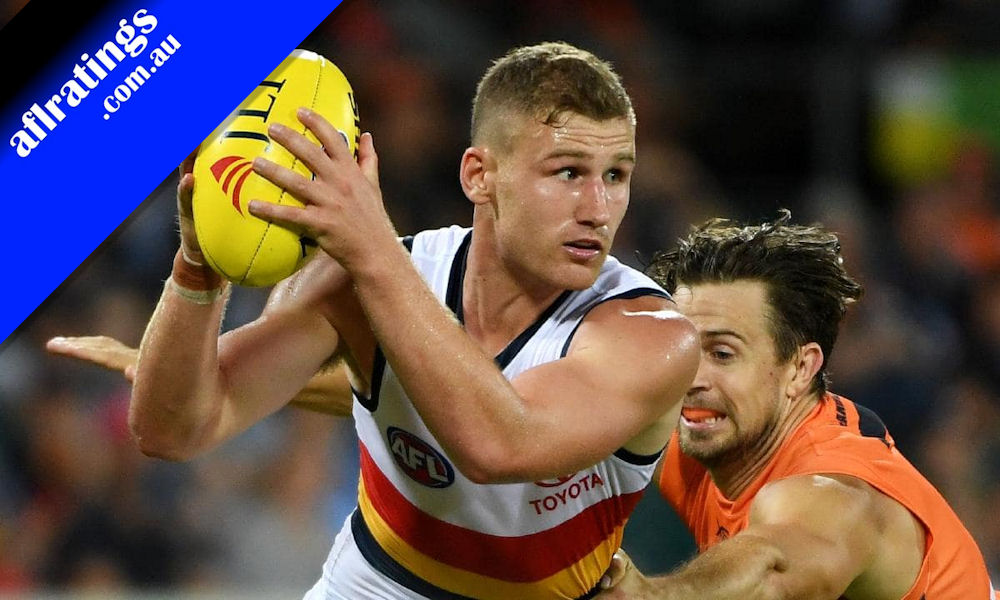 The 2019 H&A season is complete which means the fantasy research for next season has already begun, over the next few weeks we'll take a look at a 2018/19 H&A season player average comparison for each team (Minimum 10 games played each season).
Warnie, Calvin & Roy discussed some of the numbers on the final Traders podcast of the season, it is worth another listen again to hear their thoughts on certain players heading into season 2020. (Starts at 53:35).
Listen to the AFL Fantasy Podcast with The Traders at Apple Podcasts, Spotify and Google Podcasts.
ADELAIDE
In a season where Rory Laird (2019 Ave: 96.9) played each game he actually regressed compared to the 2018 H&A season, he scored 100pts or more in 36.4% of games in 2019 well short of his 70.0% in 2018. The return of Brodie Smith along with the move of Wayne Milera to a more defensive role likely impacted on the low return for Laird.
Laird failed to hit multiple ceiling games in 2019, he recorded 120pts or more in 4.5% of games in 2019 compared to 35.0% in 2018. Laird started with a price tag of $782K and finished on $659K, many will be interested in his 2020 starting price at an average of 96.9pts.
Rory Sloane (2019 Ave: 99.6) did provide early value in the 2019 season after starting at $653K (89.9 Ave), he averaged 112.5pts from his opening 10 games of the season. Sloane did average 88.8pts from his closing 12 games of 2019 but that did include a score of 30pts in which he was injured.
Sloane scored 100pts or more in 59.1% of games in the 2019 H&A season, he scored 100pts or more in 33.3% of games in 2018. There may be some value in starting with Sloane at the beginning of 2020, however the drop-off in scoring in the second half of 2019 was alarming.
Article by @aflratingsPete
2019 AFL FANTASY STATS
| PLAYER | POSITION | GAMES | AVERAGE |
| --- | --- | --- | --- |
| Crouch, Brad | MID | 22 | 107.9 |
| Crouch, Matt | MID | 19 | 106.2 |
| Sloane, Rory | MID | 22 | 99.6 |
| Laird, Rory | DEF | 22 | 96.9 |
| O'Brien, Reilly | RUC | 18 | 95.5 |
| Lynch, Tom T. | FWD | 16 | 89.4 |
| Ellis-Yolmen, Cameron | MID | 10 | 87.9 |
| Smith, Brodie | DEF | 22 | 87 |
| Atkins, Rory | MID | 20 | 81.4 |
| Gibbs, Bryce | MID | 12 | 80.8 |
| Jacobs, Sam | RUC | 5 | 80.4 |
| Greenwood, Hugh | MID/FWD | 14 | 78.3 |
| Milera, Wayne | DEF | 17 | 76.8 |
| Jenkins, Josh | FWD | 11 | 75.1 |
| Seedsman, Paul | MID | 13 | 72.8 |
| Knight, Riley | MID/FWD | 15 | 71.7 |
| Keath, Alex | DEF | 18 | 67.1 |
| Kelly, Jake | DEF | 22 | 67 |
| Otten, Andy | DEF | 3 | 65.7 |
| Mackay, David | DEF | 18 | 65.5 |
| Walker, Taylor | FWD | 22 | 63.1 |
| Douglas, Richard | MID/FWD | 9 | 59.7 |
| Fogarty, Darcy | FWD | 4 | 59.3 |
| Himmelberg, Elliott | FWD | 7 | 59 |
| Wilson, Patrick | MID | 1 | 59 |
| Brown, Luke | DEF | 15 | 58.9 |
| Betts, Eddie | FWD | 21 | 58.6 |
| Stengle, Tyson | FWD | 2 | 58 |
| Talia, Daniel | DEF | 22 | 56.6 |
| Murphy, Lachlan | FWD | 21 | 55.1 |
| Gallucci, Jordan | FWD | 10 | 52.5 |
| Poholke, Myles | FWD | 2 | 51 |
| Jones, Chayce | MID | 8 | 45.6 |
| Hartigan, Kyle | DEF | 19 | 42.3 |
| Doedee, Tom | DEF | 1 | 38 |
| Davis, Ben | FWD | 1 | 27 |
| Hunter, Paul | RUC | 0 | 0 |
| McPherson, Andrew | DEF | 0 | 0 |
| Butts, Jordon | DEF/FWD | 0 | 0 |
| Hamill, William | DEF | 0 | 0 |
| McAdam, Shane | FWD | 0 | 0 |
| McHenry, Ned | MID/FWD | 0 | 0 |
| Sholl, Lachlan | DEF | 0 | 0 |
| Strachan, Kieran | RUC/FWD | 0 | 0 |