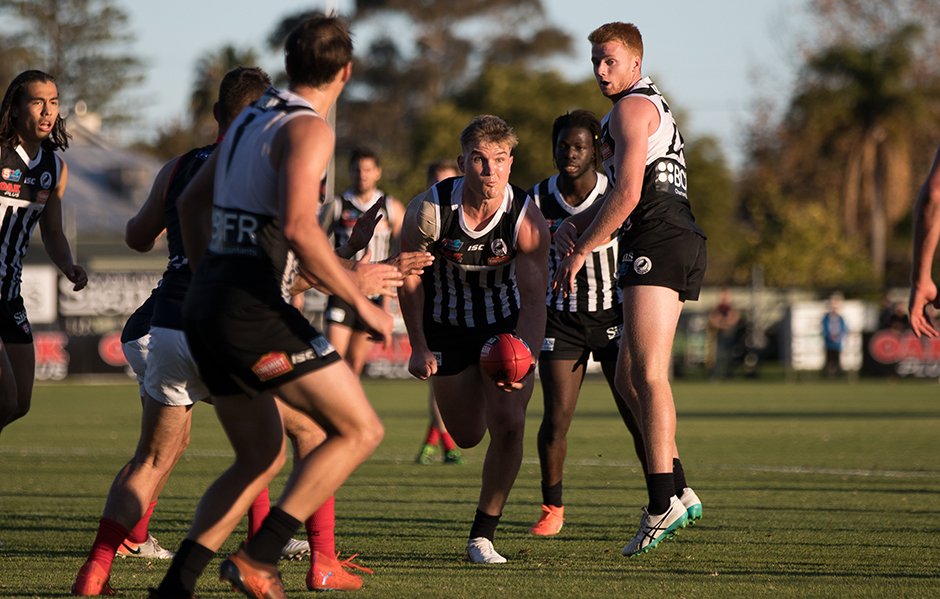 WESTERN BULLDOGS
Rhylee West (MID, $220K) must be getting closer after 15 touches and 2 goals for 86 points. Liberatore is out for 4-6 weeks so he could be in line for a debut this week. Josh Schache (FWD, $372K) wasn't huge but 2 goals and 105 points could be enough for him to come in for Gardner, who was shocking on the weekend. Will Hayes (MID, $338K) was average with 18 touches and a goal and I don't think he comes back in. You'd expect him to come in for Libba given that he's already played this year but hasn't even been on the emergencies recently, so I am doubtful.
Verdict: West for Libba, and Schache for Gardner.
ESSENDON BOMBERS
David Myers (MID, $429K) was solid with 30 touches and a goal and is a slim chance to come in for Stringer, but could cause the side to be a tad unbalanced. Will Snelling (MID, $207K) was also good with 22 touches, 7 tackles and a goal for 99 points. It would be awesome if he could come in for Stringer but I am very doubtful.
Verdict: Francis didn't play VFL but I expect him or Myers to come in for Stringer if unfit.
HAWTHORN HAWKS
Mark Pittonet (RUC, $306K) was exceptional with 21 touches, 49 hitouts and 124 points. Those who had him can consider themselves unlucky as he was dropped the week they need him to play (if you have the Max/Grundy combo). I don't think he comes in though. Harrison Jones (DEF, $170K) was solid with 18 touches and 7 tackles for 73 points. It's getting to the point where you don't want him to play, so we can maximise his output next season. Jackson Ross (FWD, $170K) was good with 4 goals and 81 points. He is rumoured to be a chance this week who has kicked 23 goals from 8 games and averages 75.
Verdict: Scrimshaw for Stratton if fit, probably Mirra if he isn't fit.
ST KILDA
Dan Hannebery (MID, $434K) played his second VFL game for 23 touches and an impressive 5 tackles for 83 points. He's averaging 79 points and 24 touches from his 2 games and is in line to come in this week. I don't think there is any point bringing him in, as this is the period where we should be 'completing' our teams, rather than bringing in stepping stones.
Verdict: Hanners for Hind or Armitage, and Webster (if fit) for White.
PORT ADELAIDE
Ollie Wines (MID, $639K) was impressive again with 38 touches, 7 marks and a goal for 132 points. You cannot possibly leave him out again, and with Rockliff missing again, they may need him after their loss to the Dockers. Willem Drew (FWD/MID, $400K) was solid with 23 touches and a goal for 91 points. Brad Ebert (FWD/MID, $638K) also made another SANFL appearance with 22 touches and 88 points. He could also come in to bolster the Port side for their clash against the Cats.
Verdict: Ebert and Wines in, for 2 out of Butters, Gray, Amon, Motlop, Lienert and Bonner.
FREMANTLE DOCKERS
Bailey Banfield (MID/FWD, $471K) was one of the best for Peel Thunder with 24 touches, 9 tackles and 2 goals for 129 points. Tobe Watson (DEF, $170K) has had a couple of great games in the WAFL with 25 touches, a whopping 15 marks and 119 points. I think Logue has nailed a spot after his dominant performance against the Power, but with Pearce out, Watson could always be in the hunt as a mature aged defender. Harley Bennell (MID, $232K) wasn't huge in terms of fantasy but kicked 2 goals and took 5 marks for 60 points. I think he makes his long-awaited return against the Blues back at home next week.
Verdict: No changes are necessary after the Dockers win on the weekend. Cerra comes in for Tucker if fit, with Bewley next in line for Bennell if Ross opts to play him.
BYES – GWS, Gold Coast, Carlton, North Melbourne, Richmond, Adelaide.
State league byes – Brisbane, Collingwood, Melbourne, West Coast, Geelong.