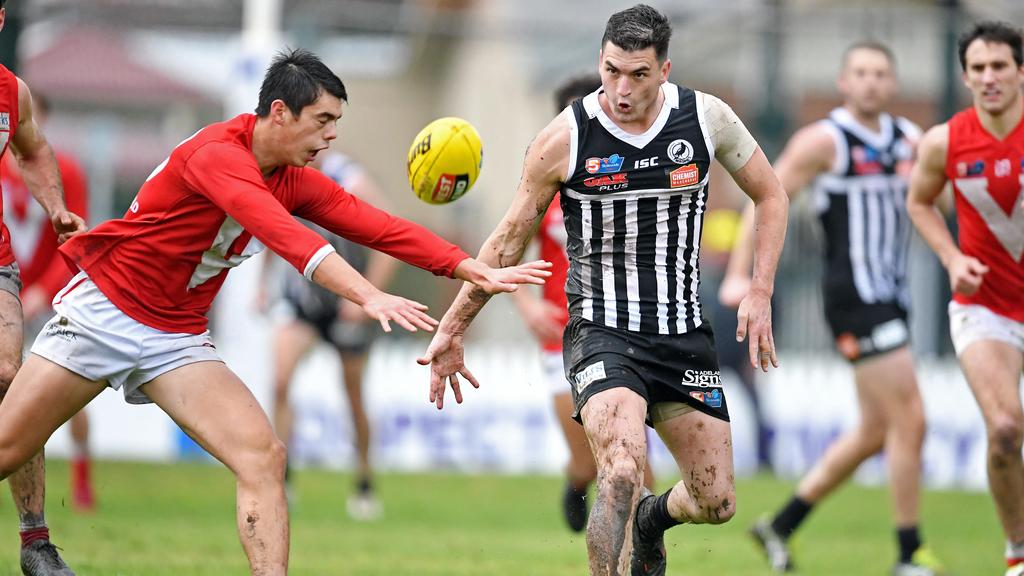 VFL
NORTH MELBOURNE
Paul Ahern (MID, 462K) was absolutely outstanding in a BOG performance and a spot opens up with Hayden out, which should see him finally get a crack. He had 30 touches and 7 tackles which gave him 113 points. Jamie Macmillan (DEF, 523K) made a very successful return to footy amassing 33 touches, 4 marks and an impressive 8 tackles for 123 points. Expect the vice-captain to come back in. Tristan Xerri (RUC, 170K) took a bigger responsibility in the ruck and thrived. He had 38 hit-outs, 8 tackles, 13 touches for 110. Taylor Garner (FWD, 370K) responded well from his suspension having 6 tackles, 13 touches and a goal and will be well in the mix for a recall.
Verdict: Selection is just getting harder and harder for North. Garner or Ahern come in for the injured Kyron Hayden, probably Ahern as he deserves to finally get a shot. Sam Durdin would be extremely unlucky to make way for JMac after he beat Mason Cox last Saturday and is playing some great footy, so Luke McDonald may be the very stiff one to make way.
COLLINGWOOD 
Ben Crocker (FWD, 350K) was great again with 83 points which included 3 goals, 4 marks, 3 tackles and 15 touches. He is a regular emergency and remains in the mix. Josh Noble (MID, 170K) has started his Pies career superbly and could already be close to a debut. He had 22 touches and a goal for 82 points. He provides some line breaking skills that they have been lacking.
Verdict: Elliot comes in if fit for the injured Reid. Aish if fit could come in for an out of form Josh Thomas. assuming Sier gets cleared fit after a head knock last Saturday night. If not, Quaynor for Sier.
MELBOURNE DEMONS
Brayden Pruess (RUC, $370K) was huge again with 64 HO's and 130 points. Expect him to come in if Gawn misses, but will probably get dropped the next week anyway. Corey Wagner (MID/FWD, $271K) is a tackling machine and laid a whopping 15 tackles for 115 points. He averaged 22 touches, 9 tackles and 106 points from his 8 VFL games this season. Kyle Dunkley (MID, $170K) continues his solid form with 17 touches and a goal for 70 points. I don't think we will see him this season barring a couple of injuries.
Verdict: The Demons changes pretty much solely relies on player fitness. If Gawn misses, Preuss comes in, and if Lever is fit, I'd say he comes in for Petty.
HAWTHORN HAWKS
Harry Jones (DEF, $170K) was hyped up in the pre-season but is yet to make his AFL debut. He racked up 29 touches, 8 tackles and a goal, equating 112 fantasy points. He could come in for Hanrahan who was average last week although that would be quite harsh. James Cousins (MID, $490K) was pretty poor with only 13 touches and 39 points. Mitch Lewis (FWD, $308K) was dropped and responded well. He racked up 16 touches, 7 marks, 17 HO's and a goal for 112 points. Expect him to be in the mix this week, although it will be tougher with Roughead set to return from injury.
Verdict: Like the Demons, it will be based on player fitness. Stratton should come in for O'Brien, but if fit, Wingard, Scrimshaw and Roughead for Hanrahan, Nash and Moore.
CARLTON BLUES
Hugh Goddard (DEF, $170K) was the top scorer for the Blues with 21 touches, 9 marks and 101 points. I highly doubt they make any unnecessary changes after their heroic win against the Dockers. Josh Deluca (MID, $240K) had 20 touches (18 kicks) and 53 points. This included 7 free kicks against, tallying 21 points.
Verdict: As I said, no changes for the Blues other than the forced change with Curnow out for 3-4 weeks. I expect Cunningham to come in if fit, otherwise Lang.
GEELONG CATS

Scott Selwood (MID, $519K) was solid again with 21 touches, 9 tackles and a goal for 97 points. I don't think he comes in though. Not much happened down at Geelong in the VFL on the weekend.
Verdict: If Rohan is fit, expect him to come in for Fogarty. Hard to drop Bews after his solid return.
WESTERN BULLDOGS
Jordon Sweet (RUC, $170K) was outstanding with 60 hitout's, 10 tackles and 132 fantasy points. Toby McLean (MID/FWD, $491K) was a standout as well with 30 touches and 2 goals for 107 points. He could come in this week for Caleb Daniel, which would see Suckling move back into defence. Ben Cavarra (FWD, $189K) was also one of the best for the Doggies with 17 touches and 4 goals for 94 points. He is also a chance to come in for someone like Richards, or even Daniel and leave McLean in the VFL. Mitch Wallis is set to return so it makes it a bit harder. Ryan Gardner (DEF/FWD, $181K) was average with 12 touches and 43 points.
Verdict: McLean and Cavarra for Richards and Daniel.
ST KILDA
Jack Newnes (FWD/MID, $449K) was dropped and was decent, but nothing special. He had 21 touches and 73 points. I don't think he will come back in. Nathan Brown (DEF, $222K) was solid as well with 18 touches 69 points. He should come back this week.
Verdict: Brown for Paton most likely.
RICHMOND TIGERS
Jack Higgins (FWD, $422K) was solid and is pretty much in a 2 horse race with Rioli for a spot in the side. Hardwick has changed it up a bit during the year. He had 23 touches and 2 goals for 93 points. Liam Baker (FWD, $511K) was nothing special after being dropped, managing 18 touches and a goal for 65 points. Pat Naish (DEF, $245K) is in a similar position. He didn't do anything to demand a recall but was decent with 19 touches and 64 points.
Verdict: No changes required at this stage.
ESSENDON

Will Snelling (MID, $207K) was good with 20 touches and a goal for 72 points. Zac Clarke (RUC, $280K) should come in this week after 33 hitouts and 85 points.
Verdict: Clarke for Belly.
SANFL
ADELAIDE CROWS


Patrick Wilson (MID, $278K) was outstanding with an enormous 22 tackles and 167 points. He's certainly in the mix but I don't think his opportunity will come this week. Sam Jacobs (RUC, $567K) continues to dominate the reserves with 46 hitouts and 105 points. I think O'Brien is certainly ahead of him for the times being but is always a chance to push back into the 22 later in the season.
Verdict: Ellis-Yolmen is still injured, so someone will survive another week in the Crows 22. Milera and Lynch should both return, probably at the expense of Gibbs and Davis.
PORT ADELAIDE
Tom Rockliff (MID, $712K) showed us all why he should never play in the state leagues ever again. He amused with 57 disposals, 7 marks, 12 tackles and 203 fantasy points, which even included 4 free kicks against. If he doesn't come back in this week then Ken Hinkley has lost the plot. Justin Westhoff (RUC/FWD, $509K) also reminded us what he is capable of, with 37 touches, 9 marks, 6 tackles and 3 goals for 161 points. If he returns, he could have the confidence required to perform at the top level, making his price tag of $509K acquire a hint of value. Sam Powell-Pepper (MID/FWD, $517K) was also huge with 34 touches and 99 DT points. Paddy Ryder (RUC, $494K) continues to toil away in the SANFL and managed 2 goals, 34 hitouts and 94 points on the weekend.
Verdict: Rockliff for Drew, Westhoff for Ladhams, Amon for Farrell or Motlop.
WAFL
WEST COAST EAGLES

Hutchings is injured which may open up a spot for Josh Smith (FWD, $422K) after 27 touches and 2 goals for 129 points. It is unlikely though. Hamish Brayshaw (MID, $170K) was impressive after 11 tackles and a goal for 111 points.
Verdict: 2 big ins for the Eagles ahead of the Derby with Barrass and McGovern returning from their various troubles. Hutchings makes way as well as Nelson.
FREMANTLE DOCKERS
The Dockers may be keen to swing the axe after their shock loss to the Blues ahead of the Derby this week. Lloyd Meek (RUC, $170K) managed 20 touches, 2 goals, 36 hitouts and 140 fantasy points. His chances only worsen with Lobb and Sandilands expected to be fit for selection. Mitch Crowden (FWD, $298K) continues to work hard in the WAFL, with another 29 touches, 10 tackles and a goal for 126 points.
Verdict: Lobb for Cox, Duman for Banfield, and if Sandilands is fit, he comes in for Darcy.
NEAFL


GWS GIANTS
Matt Flynn (RUC, $170K) was good with 23 touches, 2 goals and 142 points. He could be called upon if the Giants decide to rest big man Shane Mumford, who is due for a break. Isaac Cumming (DEF, $262K) was decent with 27 touches and 109 points. I don't think he gets another chance this week, especially with Whitfield returning from injury. Ian Hill (FWD, $224K) kicked 2.5 including the game winer for 96 points.
Verdict: Whitfield for Daniels or Langdon.
GOLD COAST SUNS
Josh Corbett (FWD, $298K) was huge with 13 marks and 6 goals for 120 points. The Suns could be forced hand with him, with Ben King underperforming at AFL level. I think they will persist with King though. Connor Nutting (DEF/FWD, $170K) was solid with 3 goals and 80 points. Corbett is ahead of him down forward though. Chris Burgess (DEF/FWD, $193K) hasn't done much to earn a recall, after 11 touches and 42 points.
Verdict: Corbett for King, or no changes.
SYDNEY SWANS
Robbie Fox (DEF/FWD, $345K) was the only highlight for the Swans in their loss to the Suns. He racked up 27 touches, 8 tackles and a goal for 122 fantasy points. The Swans are in pretty good stead at AFL level, but with Sinclair out for the season, he could get a chance. Michael Knoll (RUC, $170K)  was impressive with 32 hitouts and 77 points. If there was a week for him to get a game, it would be this week. Cameron didn't play NEAFL, and I am unaware whether that was due to him being an AFL emergency or injury.
Verdict: Sinclair for Cameron if fit.
BRISBANE LIONS
There were plenty of big scores as the Lions defeated Redland by 97 points, but yet again, I doubt it will cause many changes as the Lions are crushing at AFL level. Nick Rbertson (DEF, $428K) was the best with 21 touches, 13 marks and 5 goals for 140 points. Ryan Bastinac (MID, $419K) was also good with 36 touches, 0.3 and 124 points.
Verdict: Witherden in for Starcevich most likely.