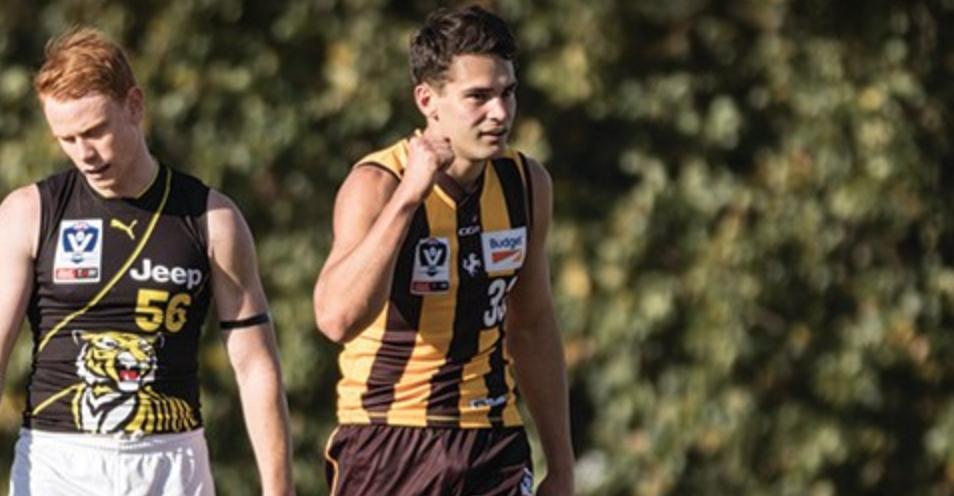 VFL
MELBOURNE DEMONS
Jay Kennedy-Harris (MID, $425K) continues to pump out big numbers in the twos with 123 on the weekend. He amassed with 20 touches, 11 tackles and a goal in a dominant display. Charlie Spargo (FWD, $352K) was solid with 15 touches and 87 points. He could come in for Jack Viney if he doesn't get up. Oskar Baker (MID/FWD, $381K) also had 19 touches and 83 points and is on the selection table this week.
Verdict: May, Petty and Viney all have massive injury cloud over them ahead of the weekend, so I think Kenned-Harris, Baker and Tim Smith come in, causing a bit of a re-shuffle – possibly Lewis back into defence.
GEELONG CATS
A big week in the VFL for the cats with a couple of players returning/playing well, as well as being in a bit of a form slump at AFL level. Ryan Abbott (RUC, $526K) was dominated in the ruck with Darcy Fort (RUC, $253K) winning 50 and 13 hitouts respectively, for 120 and 92 points. Sam Menegola (FWD/MID, $566K) also made his return from a knee injury with 26 touches and a promising 11 tackles for 116 points. He will certainly be an under-priced option next season, and could even be a sneaky pick-up this year.  Charlie Constable (MID, $500K) was decent with 29 touches (20 handballs), 9 tackles and 110 points. I don't think he will play though.
Verdict: Henry will come back in after being managed, likely for Parsons which will see Guthrie move up into the midfield. Young utility Tom Atkins could make way for Menegola. If Parfitt is fit then that will add another selection dilemma.
ST KILDA
Brandon White (DEF, $339K) was superb with 31 touches (25 kicks), 10 marks and 120 points. The Saints coaching staff wouldn't be rushing to make any changes after their win against the Dogs but a performance like that will always have you in the frame. Jack Steven (MID, $624K) made his return from mental health problems and was solid with 21 touches and 76 points. You'd think if he is right, that he would come straight back in for Nick Hind.
Verdict: Battle should return, although it would be very harsh on Brown as he was great on the weekend.
WESTERN BULLDOGS
Jordon Sweet (RUC, $170K) is getting closer to a debut after 51 HO's and 93 points. I'm not too sure whether the Dogs are keen on rolling with 2 rucks but English isn't doing anything too flash as the solo ruck. Rhylee West (MID, $220K) was solid with 24 touches and 77 points. It's getting to the point where you just want him to stay out of the side so he is basement price next season. (EDIT. Of course the time I say I don want him to play, he plays. Standard). Will Hayes (MID, $338K) was average and I don't think he will get another game soon. He only managed 11 touches and 51.
CARLTON BLUES
Plenty of Carlton fans are keen to see Liam Stocker (MID/DEF, $286K) back in the senior side after 15 touches and 61 points from 3 quarters playing in defence. It could be tough for him to come in after a win, especially with Cunningham and Dow set to return.
Verdict: Cunners and Dow in (if fit) for Deluca and possibly Lang
HAWTHORN HAWKS
Matt Walker (FWD, $170K) kicked 5 goals for 92 points but I don't think he will play. Teia Miles (DEF, $456K) was impressive with 30 touches and 128 points and is a likely replacement for Jarman Impey who injured his ACL. Harry Jones could've been an option but hurt his knee and is out for the season.
Verdict: Impey obviously goes out, Miles probably returns if Birchall isn't fit. Not many changes needed after the Hawks win against the Cats.
RICHMOND TIGERS
Pat Naish (DEF, $245K) racked up 31 touches and a goal for 128 points. He has a breakeven of just -13, so a. return from him could be very handy for those with him on the pine. Derek Eggmolesse-Smith (DEF, $224K) was unlucky to be dropped and his numbers in the VFL clearly improved after having that AFL experience. He amassed with 26 touches and 9 marks, and 110 fantasy points. Josh Caddy (FWD, $503K) was decent in defence with 18 touches and 71 points. He could be called upon this week. Note that he only played 3 quarters.
Verdict: Nankervis for Soldo or Chol if fit, Caddy or Naish for Liam baker.
COLLINGWOOD MAGPIES
Matt Scharenberg (DEF, $500K) was huge with 22 touches and 108 points. He is a chance to return this week. Tyson Goldsack (DEF, $272K) also returned from injury and managed 32 points. The Pies will look to bring him in to add some height with Moore and Langdon out and to combat the Tigers tall forward line.
Verdict: Goldsack or Scharenberg for Aish.
NORTH MELBOURNE
Luke Davies-Uniacke (MID, 342K) backed up last weeks performance and is now inline for a return to the AFL you' think. He had 25 touches, 4 tackles and 92 points in an impressive MID/FWD role. Sam Wright (DEF, 415K) was absolutely terrific in a best on ground performance which helped the massive comeback from North VFL side. He had 19 touches, 5 marks and 80 points and you' think he'll come in for Scott Thompson if he doesn't get up for Saturday's game in Perth. Lachlan Hosie (FWD, 170K) was terrific once again and maybe a chance to debut for the struggling Nathan Hrovat. He is ready to go and had 3 snags for 76 points.
VERDICT: Taylor Garner was held back for the VFL which could lead to a shock inclusion after his 4-week suspension. Expect him, LDU or Hosie to come in for Hrovat. Wright is likely in for Thompson if he doesn't get up while Ben McKay remains in the frame.
WAFL
FREMANTLE DOCKERS
Bailey Banfield (MID/FWD, $453K) continues to produce outrageous numbers in the WAFL with 30 touches, 12 tackles and 2 goals or 155 on the weekend. As good as he has been, I still doubt he returns. Tobe Watson (DEF/MID, $170K) is actually producing some big numbers for a key defender, with 16 touches and 77 points. Freo fans are keen to see Hugh Dixon (FWD, $170K) a game if Lobb doesn't get up after his last-second shoulder injury against the Swans. He collected 21 touches and 11 hitouts in the WAFL. He only averages 52 this year but if he was playing as a back-up ruckman, I'd expect bigger scores.
Verdict: If Hill and Fyfe are fit, then they both come in for Bewley and Lobb, Duman or Hughes depending on fitness. Louge holds after a good game.
NEAFL
GWS
Kieren Briggs (RUC, $204K) was huge with 46 HO's. And 128 fantasy points. Hopefully, he stays out of the side so he can flourish next year with potentially no Mumford. Jackson Hately (MID, $377K) was solid as per usual with 299 touches and 9 tackles for 115 points. It still stuns me how he doesn't get a game even with Ward, Kelly and Coniglio out. Jye Caldwell (MID, $250K) was solid and played his first full game since his injury, and racked up 22 touches and 95 points. He's in the frame this week.
Verdict: Simpson out for Hately or Caldwell.
BRISBANE LIONS
Corey Lyons (MID, $170K) has always been an accumulator and the weekend was no different – with 42 touches, 8 marks and 139 points. I struggle to see him coming in though. Ben Keays (MID, $355K), Nick Robertson (DEF, $428K) and Lewis Taylor (FWD, $488K) were all good with 119, 114 and 110 respectively, but I don't think any of them come in.
Verdict: Lester for Andrews.
GOLD COAST SUNS
Tom Nicholls (RUC, $242K) continues to pump out whopping numbers in the NEAFL. He managed 20 touches, 51 hitouts and 129 points. Tagger Brad Scheer (MID/FWD, $343K) was solid with 22 touches and 88 points. Hopefully, he stays out of the side.
Verdict: Will Brodie is out, so Miles should come back in. Horlin-Smith is pushing the 22, but I think he misses out again. Weller in for Dawson.
SANFL
ADELAIDE CROWS
Patrick Wilson (MID, $278) can't do much more to break the senior side and had another 32 touches, 11 marks and a goal for 130 points on the weekend. If the rows lose this week, after heavy criticism on youth and speed, Wilson could get a game. Sam Jacobs (RUC, $567K) is being kept out by O'Brien but was good on the weekend. He had 21 touches and 109 points. Bryce Gibbs (MID, $582K) continues to toll away in the SANFL and had 24 touches and a goal for 99 points.
Verdict: Douglas for Lynch if he doesn't get up.
PORT ADELAIDE
Willem Drew (MID/FWD, $402K) had 30 touches and 103 points and is a good chance to earn a recall this week. Paddy Ryder (RUC, $494K) was also decent with 1 goal and 97 points.
Verdict: There are a lot of possible combinations that could happen in Port this week, with Motlop, SPP and Sutcliffe all out of form. Drew looks in the box seat to come in for 1 of those 3, and Ryder is banging the door down.