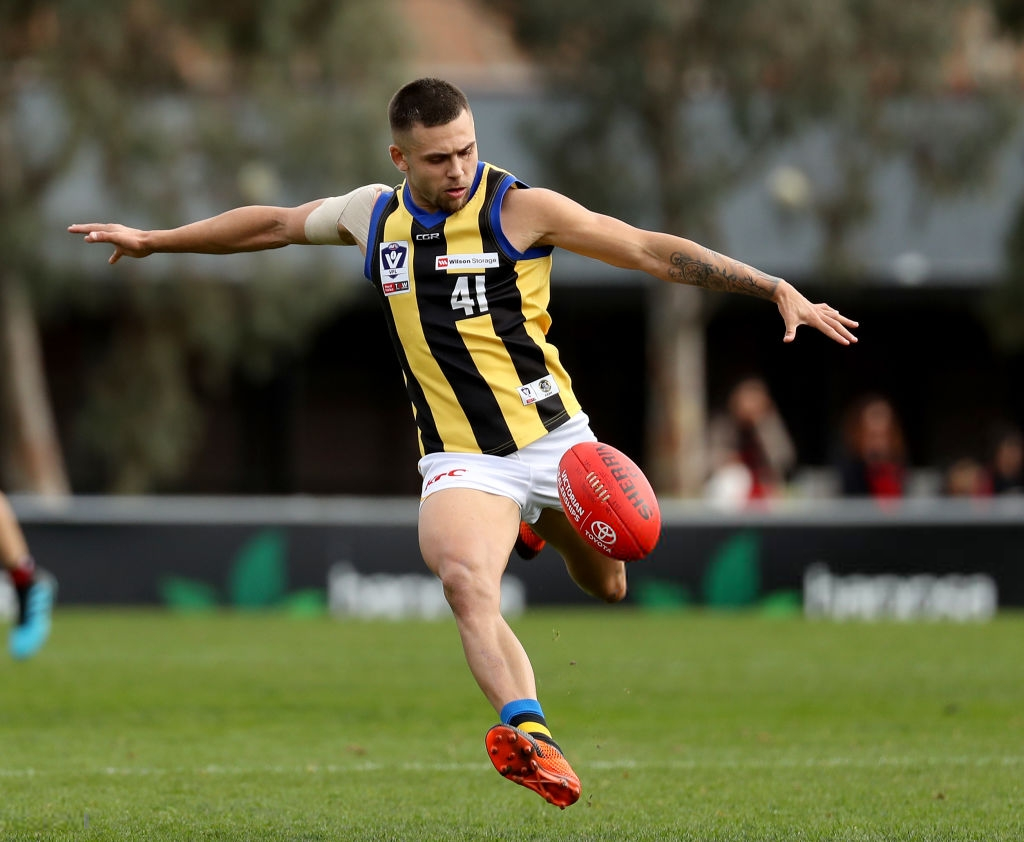 WAFL
FREMANTLE DOCKERS
Travis Colyer (MID/FWD, $408K) was the top scorer with 111 points from 26 touches but I doubt he comes in with Freo playing youth at the moment. Sam Sturt (FWD, $238K) is in some good nick in the 2's with 17 touches and 63 points, but hopefully, he stays out of the side so he is cheap for next season.
WEST COAST EAGLES
Francis Watson (DEF, $238K) was bak in the WAFL and scored only 54 points from 14 touches. I find it hard to see him crack into the 22 based on form, and it would have to come down to injuries or suspension. Nathan Vardy (RUC, $380K) seems to be held out of the side by Hickey and only managed 21 hitouts for 51 points,
NEAFL
SYDNEY SWANS
Justin McInerney (DEF, $175K) was one of the best for the Swans with 87 points and 22 touches. Doubt he returns this season. Joel Amartey (FWD, $170K) played ruck with McLean out and managed 26 touches, 28 hitouts and a goal for 154 points. I find it hard to see him getting a game though with both Cameron, Naismith and Knoll ahead of him at this stage.
GWS
Nick Shipley (MID, $170K) was huge with 37 touches, 11 tackles and 149 points. Some coaches will still be very fond of his whopping average of 22 fantasy points from his 2 games last season, where a lot of people fielded him. Adam Kennedy (DEF, $396K) put his hand up for a recall after 29 touches and a goal or 112 points.
BRISBANE LIONS
Corey Lyons (MID, $170K) and Ryan Bastinac (MID, $419K) were the two standouts with 138 and 130 respectively, with Bastinac booting 4 goals. Toby Wooller (FWD, $170K) was also solid with 3 goals and 11 marks for 101 points. The Lions have no injuries at the moment which is making their NEAFL team overpowered, winning by 125 points on the weekend.
VFL
ESSENDON BOMBERS
David Myers (MID, $425K) continues to work hard in the reserves with 39 touches and 2 goals for 135 points. Brayden Ham (FWD, $207K) may still be sitting on your bench, and he managed 19 touches and 73 points on the weekend, but I don't think he comes in.
ST KILDA SAINTS
Jack Steven (MID, $624K) played another VFL game for 23 touches and 69 points. You'd expect him to come in soon but he won't be an option. With Jade Grasham set to miss the rest of the season, an opportunity arises for Robbie Young (FWD, $203K) to get a recall after 9 tackles and 73 points.
RICHMOND TIGERS
Toby Nankervis (RUC, $534K) played his first full game and racked up 21 touches, 34 hitouts and a goal for 128 points. Dare I say it he could be a value option at $534K with 2/3 last games of the season against teams with their second ruckman playing. Pat Naish (DEF, $245K) was excellent with 26 touches and 96 points and a lot of coaches will want him to return this week..although I traded him out last week. Marlion Pickett (MID, $170K) was solid with 1 goal and 20 touches for 72 points and could be a sneaky chance to come in this week.
MELBOURNE DEMONS
Marty Hore (DEF, $407K) was huge with 34 touches and 133 points, and you'd expect him to come back in this week. Jay Lockheart (DEF/MID, $367K) was solid with 1 goal and 78 points.
NORTH MELBOURNE
Jed Anderson (MID, 535K) replied from his omission in style having 25 touches and 12 tackles for 121. He will likely come in for the injured LDU. Lachie Hosie (FWD, 170K) was again outstanding with 15 touches, 7 marks, 4 tackles, a goal for 82 points and could be in line for a debut to replace an out of form Kayne Turner.
HAWTHORN
Matt Walker (MID/FWD, 170K) had a day out with 15 touches, 6 marks, 4 goals for 78 and could well get a gig this week as they continue to look for another goal-scoring forward.
CARLTON BLUES
Liam Stocker (MID/DEF, $286K) was impressive with 22 touches and 89 points. He must be knocking on the door but with Fisher and other injuries set to return soon, he will probably be kept out.
GEELONG CATS
Charlie Constable (MID, $500K) was decent with 24 touches and 87 points but I doubt he comes back in. Darcy Fort (RUC, $253K) kicked 6 goals for 89 points and is a slight chance to come in, although it is rather irrelevant at this point.
WESTERN BULLDOGS
Jordan Sweet (RUC, $170K) was good again with 32 hitouts and 2 goals for 100 points. Hopefully, he gets a game next year so we can whack him on the bench. Same goes for Ben Cavarra (Fwd, $181K) who managed 2 goals for 51 points.
Top 5:
John Noble (COLL)
Matt Walker (HAW)
Marlion Pickett (RIC)
Joel Amartey (SYD)
Tyler Brown (COLL)