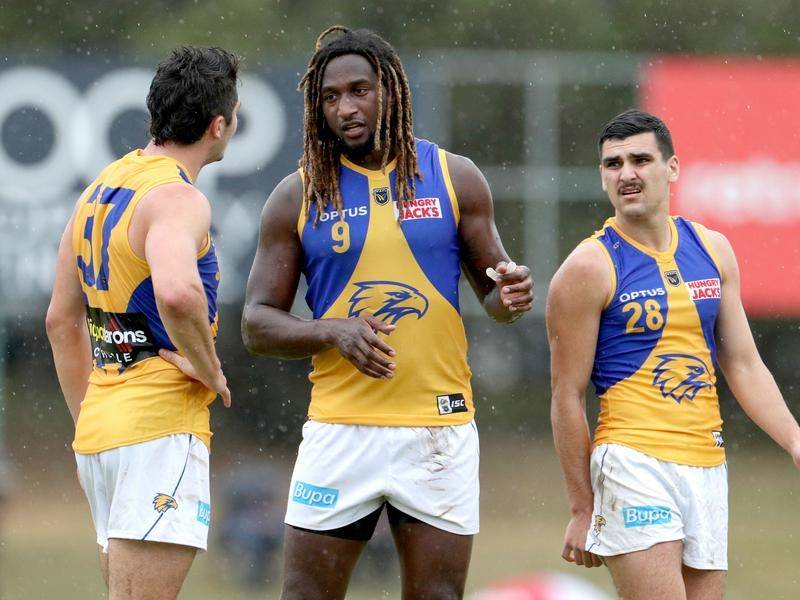 VFL
GEELONG
Scott Selwood (MID, $519K) was exceptional with 32 touches and 124 points, but he just can't seem to crack the senior side. He is a chance to come in this week though. Charlie Constable (MID, $500K) was back to some good form with 33 touches, 16 marks and 122 DT points. Lachie Fogarty (FWD, $419K) is getting closer and closer after 27 touches ad 89 points.
Verdict: Ratugolea for Fort, and if Rohan misses with a concussion, I'd expect Parsons (who was travelling emergency) or Scooter to come in, which will be interesting as Parsons hasn't played for 2 weeks whereas Scooter was good on the weekend.
HAWKS
James Cousins (MID, 490K) he was exceptional after being dropped. He had 30 touches for 116. Harrison Jones (DEF, $170K) continues to push for a debut after another great outing in the midfield. He had 29 touches and a goal for 107. Oliver Hanrahan (FWD, 170K) another young gun pushing for a debut. He was brilliant with 4 goals which got him 92. Dan Howe (MID, 544K) has had a tough 2019 season and remains out of favour. Doubt we will see him after 21 touches, 5 touches for 90.
Verdict: Cousins will likely come in for Morrison or Poppy who both struggled last week, possibly both out and it could the door for a debut to Jones or even Hanrahan. If they op to put Sic back to where he belongs we could see Brand dropped and see a return to Mitch Lewis who only had 1 goal and 10 touches in twos but presence is important.
ST KILDA
Bailey Rice (DEF, 381K) is thriving in his new pressure forward role and is getting very close to a game. He had 8 tackles, a goal, 15 touches for 85. Darragh Joyce (DEF, 217K) . was very good and was the only player for Sandi to have 20 touches, He had 5 marks and 21 touches for 84. Nick Coffield (DEF, 395K) has built some consistency and must be close to another chance. He had 18 touches, 4 marks, 5 tackles for 82.
Verdict: Ben Paton (17 D) to come in for Newnes. 2 of Webster, Coffield and White should come in for Armitage and Marsh.
WESTERN BULLDOGS
Ben Cavarra (FWD, $182K) was the top scorer for the Dogs with only 75. I think he's still a while away. Hopefully, we can just pick him up at basement price next season. Rhylee West (MID, $220K) was named on the extended bench last week but missed out, however, he racked up 22 disposals (highest for the Dogs) and 75 points in the VFL. He must be getting closer but I don't think there is any need for him to come in this week. Ryan Gardner (DEF/FWD, $180K) was quite good with 1 goal and 73 points, but Schache was decent so I think he holds his spot.
Verdict: Nothing jumps out to me.
COLLINGWOOD MAGPIES
Matt Scharenberg (DEF, $532K) was outstanding with 33 touches, 16 marks and 135 points. With Howe set to miss, expect Scharenberg to return from injury. Isaac Quaynor (DEF, $246K) has also been talked up as a potential Jeremy Howe replacement, after 21 touches and a goal for 80 points. From his 10 games in the VFL this season, he averaged 18 touches and 66 points.
Verdict: Howe or Scharenberg for Howe.
MELBOURNE DEMONS
Jordan Lewis (DEF, $451K) was huge with 39 touches and 8 marks for 129 points. I don't think he is required at the Dees though. Brayden Peruses (RUC, $370K) couldn't do much more to get a run after 55 hitouts and a goal for 121 points, whilst Corey Wagner (MID/FWD, $289K) was also impressive with 12 tackles and a goal for 110 points. Kyle Dunkley (MID, $170K) continues his solid form in the VFL with 17 touches, 1 goal and 66 DT points.
Verdict: Lever, if fit, for Petty.
ESSENDON BOMBERS
It could finally be Will Snelling's (MID, $207K) week after 28 touches, 8 tackles and 3 goals for 131 points. If Orazio Fantasia doesn't get up, he is in the frame to come in. His job security would be pretty shocking but could even push Clarke back out if he performs. He would have no trouble scoring at AFL level and will be on to keep an eye on. Brayden Ham (FWD, $207K) was decent with 26 touches, 2 goals and 107 points. I struggle to see him getting another game barring injury. Aaron Francis (DEF/FWD, $377K) kicked 4 goals for only 79 points.
Verdict: Snelling for Orazio if he doesn't get up.
WAFL
WEST COAST EAGLES
The big story was obviously Nic Naitanui (RUC, $583K) making his return, in case you didn't hear. He had 25 HO's and 77 points from limited TOG. If he plays this week, expect him to have low TOG for the next month or so with average scores (70ish). Jarrod Brander (FWD,$195K) was also very impressive with 28 touches, 9 marks and 2 goals for 116 points. I don't think he plays anytime soon though.
Verdict: Nic Nat, Barrass and Rioli in for Allen, McGovern and one of Cameron and Petruccelle.
FREMANTLE DOCKERS
Bailey Banfield (MID/FWD, $471K) was good again with 32 touches and 137 points, and makes a strong case to come in this week for an injured Hill. Harley Bennell (MID, $232K) was good with 1 goal before going down with an injury. Devastating news for Fremantle and Harley, and could see the end of his career at the Dockers. Cam McCarthy (FWD, $398K) should come in for Hogan after kicking 1.3.
Verdict: Cerra for Hill and McCarthy for Lobb.
NEAFL
SYDNEY SWANS
Robbie Fox (FWD/DEF, $345K) was massive with 153 points, featuring 12 tackles and 32 touches. I think Rose is just ahead of him at the moment. James Rowbottom (MID, $258K) was also quite good with 31 touches and 3 goals for 127 points.
Verdict: No need to make any unforced changes. McCartin in for Franklin makes sense for mine.
BRISBANE LIONS
Ben Keays (MID, $352K) had a day out against University in the Lions 128 point win. He amassed with 23 touches and 4 goals for 131 points. Tom Berry (MID, $200K) was also solid with 26 touches, 13 tackles and 127 points. Toby Wooller (FWD, $170K) continues his outrageous NEAFL form with 1 goal, 23 touches, 11 marks and 111 points. Mitchell Hinge (DEF, $208K) was good as well with 2 goals and 73 points, but I find it unlikely he returns.
Verdict: Following on from my last point, they won't gain much by making any changes this week after their win on the weekend.