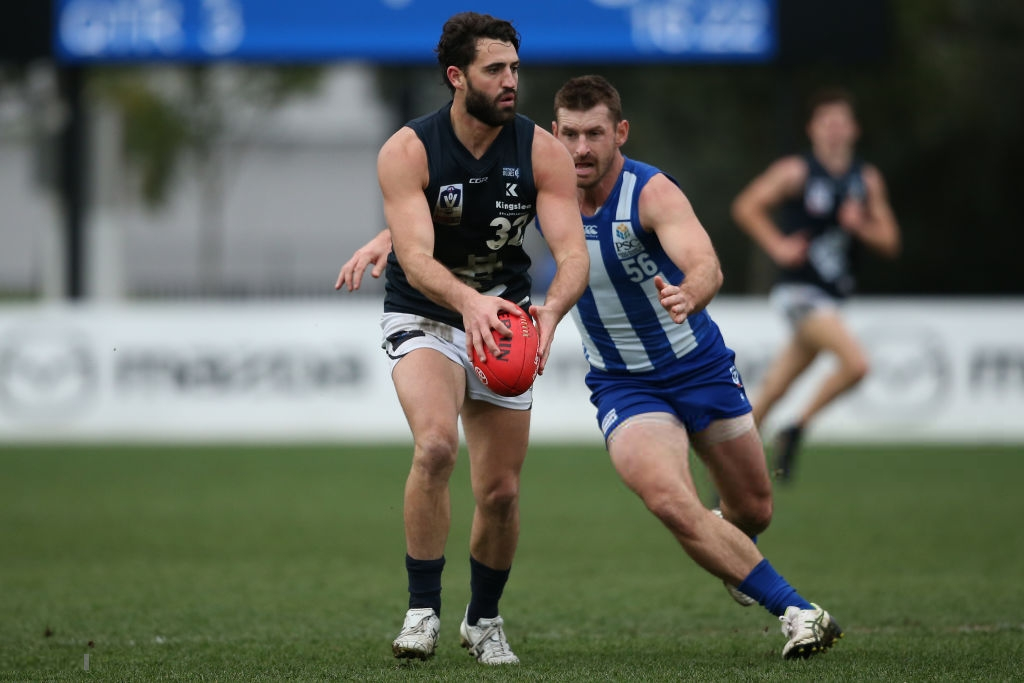 VFL
COLLINGWOOD MAGPIES
The Numbers in the 2's for the Pies are extremely thin with only 27 players being available for selection this week. Rupert Wills (MID, $355K) was the standout with 25 touches and 85 points.
Verdict: Roughead, De Goey and Quaynor out, for Adams, Greenwood and Goldsack.
RICHMOND TIGERS

Connor Menadue (DEF, $379K) was solid with 25 touches and a goal for 116 points. Callum Coleman-Jones (RUC/FWD, $193K) is putting forward some very good numbers in the VFL and had another 28 hitouts and 0.3 for 86 points on the weekend. But it only gets harder to find a way into the 22 with Toby Nankervis (RUC, $534K) playing his second VFL game in a row, for 1 goal, 16 hitouts and 62 points from limited game time. You'd expect him to come in.
Verdict: Nank for Soldo, Caddy for Cotchin who is out for 3 weeks.
CARLTON BLUES
Matthew Cottrell (FWD/MID, 170K) he had another great game and continues to push for a senior debut. He has 13 marks, 22 touches for 102. Alex Fasolo (FWD, 325K) also continued his strong run of form with 3 goals, 8 marks and 20 touches for 101. He also applied some very nice forward half and is ready for a recall. Liam Stocker (DEF/MID, 287K) he played about 70% game time and was very good with 20 touches and some very nice ball use for his 85.
VERDICT: Cunningham, Fisher and Kreuzer return if fit for Philips, Lang and Dow.
NORTH MELBOURNE
Lachie Hosie (FWD, 170K) was terrific in hitting the scoreboard but inaccuracy let him down. He had 2.6 with 14 touches, 6 marks and 82 points with a best on performance for North. Ben McKay had 13 touches and 5 marks and could well come in for Durdin who struggled against the Eagles talls.
VERDICT: If Atley, Turner and Thompson are fit, expect Thomson for Durdin or JMac and Turner for may come in for a stiff Garner with Hosie extremely close.
ESSENDON BOMBERS
Unlikely top scorer Michael Hartley (DEF, $328K) had a ripper game with 21 touches, 2 goals and 131 points. He must've been playing as a backup ruckman as he had 15 hitouts. I doubt he will come in though, as Heppell, McKenna and Fantasia are all chances to play this weekend.
Verdict: changes depend on the above players fitness. Snelling and McNiece are on the chopping block.
ST KILDA
Brandon White (DEF, $339K) is in some amazing form and had another 20 touches, 7 marks and 99 points on the weekend. He is averaging 84 points in the VFL this season, a huge improvement on last seasons lacklustre 54. A change of role possibly, but likely a bit of natural development as well. Josh Battle (FWD/DEF, $485K) was good and you'd think comes straight back in after 19 touches and 85 points. Jack Steven (MID, $624K) was good again in his second game back and had 19 touches and 2 goals for 67 points. Hopefully, we see him this week. Matt Parker (FWD, $366K) was rather unlucky to get dropped but put his hand up for a recall after 11 tackles and a goal for 71 points.
Verdict: If Hanners is fit, Hind or Langlands probably go out. Paton or Brown go out for Battle, and Steven comes in for the other one of the two previously mentioned if he's good to go.
MELBOURNE DEMONS
Brayden Preuss (RUC/FWD, $429K) was MASSIVE with 27 touches, 8 marks, 59 hitouts, 1 goal and 185 fantasy points. I doubt he comes in though even though he deserves a spot. Kyle Dunkley (MID, $196K) was pretty good as well with 20 touches and 2 goals for 106 points. I don't think he comes in, however. Jake Melksham (FWD, $542K) returned with 2 goals and 85 points. You'd think he returns this week. Matt Hore (DEF, $407K) also returned with 20 touches and 77 points, and hopefully, he returns as well this week. Jay Lockheart (DEF/MID, $367K) kicked 2 goals and had 65 points and is knocking on the door for a recall.

Verdict: May, Hore and Melksham for Baker, Frost and Smith/Wagner.
SANFL
ADELAIDE CROWS
Bryce Gibbs (MID, $582K) I can't help but just LOL at this. 40 touches, 10 tackles and 8 marks for 164 points. Crows need to get him in the AFL side ASAP. Richard Douglas (MID/FWD, $411K) was also impressive with 3 goals, 34 touches and 152 points. Sam Jacobs (RUC, $567K) is knocking on the door with 2 goals, 28 hitouts and 101 points. Hugh Greenwood (FWD/MID, $550K) deserves a re-call after 23 touches and a goal for 87 points. Eddie Betts (FWD, $402K) kicked 4 goals including a ripper but obviously isn't fantasy relevant.
Verdict: I reckon Crows will swing the axe this week. Gibbs, Greenwood, Beets and Douglas in for Akins, Wilson, Knight and Otten coming out.
PORT ADELAIDE
Jack Trengove (DEF, $419K) was good as per usual with 25 touches, 2 goals and 120 points. Still can't manage to get a game. Willem Drew (MID/FWD, $402K) was not bad with 26 touches and 101 points. Steven Motlop (MID/FWD, $449K) kicked 4 goals and could come in this week.
Verdict: Motlop for Sutcliffe.
NEAFL
BRISBANE LIONS
The Lions continued their winning streak and Ryan Bastinac (MID, $419K) was a highlight for the Lions with 41 touches and 2 goals for 180 points. He couldn't do much more in order to get a game, similar to Trengove at Port. He just racks up in the 2's. Corey Lyons (MID, $170K) is getting closer after 35 touches and 2 goals for 140 points. Like I said last week, you'd rather he doesn't get a game so he's cheaper next season. Toby Wooller (FWD, $170K) wasn't as good as his usual standards with 12 touches and 58 points. A bit of consistency added to his game and I reckon he will see a few senior games.
Verdict: Andrews has to come in, and despite playing well, Walker goes out. I reckon Cedric Cox could come in for Witherden despite playing more forward in the NEAFL but has played defence before. Robertson could be another option.
SYDNEY SWANS
James Rose (FWD, $330K) was huge with 36 touches and 153 points. I reckon he is pretty stiff not to be getting a game as he performed very well at AFL level when he got his chance. With 2 forced out's this week you'd think he gets a recall. Michael Knoll (RUC, $170K) was impressive with 16 touches, 1 goal and 39 hitouts for 91 points. But with Sam Naismith (RUC, $299K) back as well, it probably hurts Knoll's chances at a game. He managed 2 goals and 26 hitouts for 74 points upon return. He will probably get a recall and won't be very cheap next season.
Verdict: Naismith has another NEAFL game, but Rose and Menzel could some in for Rampe and O'Riordan despite being two defenders for a wing and a forward. A reshuffle may be required.
GOLD COAST SUNS
Brad Scheer (MID/FWD, $343K) was pretty good with 24 touches and a goal for 101 points. Let's hope the FWD tagger stays out of the side. Josh Corbett (FWD, $268K) kicked 3 goals but could be used as a defender this week with Hombsh out. As goes for Connor Nutting (FWD/DEF, $170K) who kicked 4 goals, but I doubt he comes in. Jez McLennan (DEF, $226K) could also come in for his debut after 13 touches and 57 points, as well as being a more renowned defender.
Verdict: Ballard or McLennan for Hombsh, Ainsworth for Ellis.
GWS GIANTS
Nick Shipley (MID, $170K) was huge with 36 touches and 12 marks for 139 points. He was a spud when he played AFL last season and I don't think he is ready. Jye Caldwell (MID, $250K) must be getting closer after 2 full games. He managed 19 touches and 82 points on the weekend.
Verdict: Taylor comes out injured, for Kennedy. Deledio comes back in, for Simpson most likely.
WAFL
WEST COAST EAGLES
Hamish Brayshaw (MID, $170K) was the best for the Eagles with 26 touches and 106 points. Josh Rotham (DEF, $246K) was solid with 19 touches and 10 marks but Watson is ahead of him now.
Verdict: Hurn for Cole.