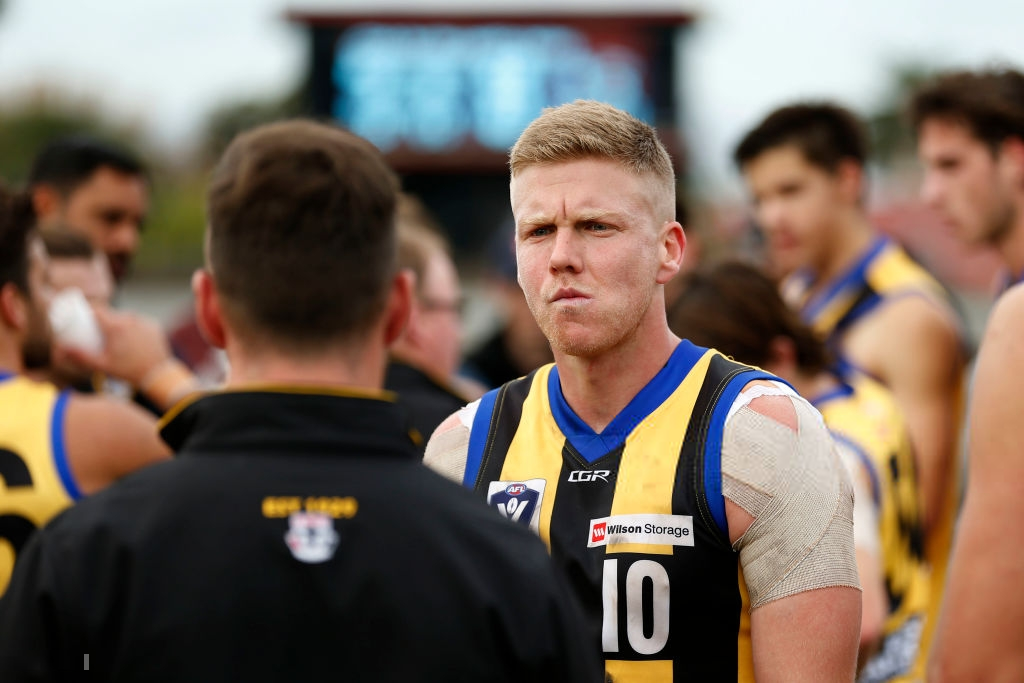 VFL
MELBOURNE DEMONS
Corey Wagner (MID/FWD, $289K) dominated with 25 touches, 20 kicks, 8 marks, 10 tackles and 130 points. But with Salem, Hore and May expected to return, I doubt he comes in this week. Spargo will have to lift his game though. Steven May (DEF, $511K) made a return with 22 touches and 9 marks and should come back in this week. New recruit Kyle Dunkley (MID, $170K) was solid with 11 touches and 51 points and kicked 0.2 so it could've been a better game.
Verdict: May, Hore, Salem in for Wagner and McDonald, last spot is undecided for mine.
NORTH MELBOURNE
Paul Ahern (MID, 462K) he was absolutely elite and is getting so close. He had 27 touches, 4 marks, 6 tackles for 104 points. Taylor Garner (FWD, 367K) he was also exceptional with 17 touches, 8 marks, 3.2 for 99. Could easily come back in. Aaron Hall (MID, 573K) was good once again despite a tag with 2 goals, 7 tackles and 82 points. Could defiantly come in to face the old side. Lachie Hosie (FWD, 170K) was absolutely outstanding on debut. He had 8 marks and 3.2 with 78. Could be close already! Sam Durdin (DEF, 255K) he was brilliant in defence with 6 marks, and 19 toiuches and could defiantly come in for the injured J Mac. Kyron Hayden (MID, 170K) was also exceptional and is getting so close to a debut. He had 21 touches and a goal for 78.
VERDICT: They have 1 forced change in J Mac out and Sam Durdin would likely come in. Kayne Turner pressure is brilliant but he could be squeezed out by a Garner or Curtis Taylor type. Don't be surprised if Hall makes a return V his old mob.
RICHMOND TIGERS
Pat Naish (DEF, $170K) is surely getting closer after 25 touches and 3 goals for 113 points. The only thing holding him back is his defensive efforts. Jack Graham (MID, $509K) was also good around the contest with 23 touches and 8 tackles for 99 points. He is a strong chance to come in this week after North Melbourne beat the Tigers at stoppages.
Verdict: Naish and Graham are close but I think everyone survives another week.
CARLTON BLUES
Dale Thomas (DEF, $544K) had a field day in the VFL with 32 touches, 9 marks and 131 fantasy points. You'd think he comes straight back in with the Blues situation. There's not much happening in the Blues VFL side.
Verdict: Expect McGovern, Thomas and Simpson to all return this week.
GEELONG CATS
Scott Selwood (MID, $519K) was solid again with 20 touches, 7 tackles and 88 points. He must be getting close, but with Ablett set to return, I don't think it will be this week. Charlie Constable (MID, $500K) was decent with 19 and 5 tackles for 72 points. Ryan Abbott (RUC, $526K) was solid with 40 hitouts for 91 points, but Stanley should return this week.
Verdict: Ablett for Parsons and Stanley for Smith.
COLLINGWOOD MAGPIES
Brayden Sier (MID, $515K) was huge with 34 touches and a goal for 109 points. He should come in for Beams who is having hip surgery and is expected to miss the remainder of the home and away season. I wouldn't touch him in classic due to his price but should be a pretty solid scorer. Isaac Quaynor (DEF, $246K) was okay, with 17 touches and 56 points.
Verdict: Sier for Beams.
SANFL
ADELAIDE CROWS
Sam Jacobs (RUC, $567K) was great upon return with 20 touches, 9 marks, 28 hitouts, 5 goals and 140 points. It'd be very harsh on Riley O'Brien to drop him, so it will be very interesting to see what the Crows do at the selection table. Richard Douglas (MID/FWD, $526K) was all great in return from injury and had 31 touches for 7 marks and a goal. He may get 1 more week in the SANFL, as Gibbs is performing well at AFL level. Ned McHenry (MID/FWD, $240K) was solid with 18 touches and 7 marks for 83 points. I don't think he will come in just yet though.
Verdict: Crows have said they will tag Coniglio so expect Gibbs to hold. Crouch comes in for Sloane if he doesn't get up.
NEAFL
GWS GIANTS
Jackson Hately (MID, $314K) had 103 points in the first half, but finished on 30 touches, 1 goal, 8 tackles, 7 marks and 137 fantasy points. Whitfield is a confirmed out and Greene is also a chance to miss, so he must be a chance to get a game, which would be very handy for the byes. Daniel Lloyd (FWD, $395K) is a more likely replacement for Greene if he misses, after 23 touches, 7 marks, 8 tackles and 3 goals for 126 points. Nick Shipley (MID, $170K) was good as per usual in the NEAFL with 20 touches and 8 tackles for 104 points – but he is a fair way off AFL level.
Verdict: I hate to say it, but Hately misses out again. Lloyd and Williams come in for Whitfield and Greene if unfit.
GOLD COAST SUNS
Will Brodie (MID, $481K) was doing a bit of tagging on Hately for periods and finished on 26 touches, 1 goal and 94 points. Jack Leslie (DEF, $353K) has been rumoured to play as a Ben Brown match up this week. He's too expensive when he's only scoring 50's and 60's in the NEAFL.
Verdict: Leslie in for Burgess.
BRISBANE LIONS
Jacob Allison (DEF, $401K) was one of the best for the Lions with 26 touches, 11 marks and 3 goals for 121 points. I don't think he is coming in though. Toby Wooller (FWD, $170K) was very good again with 23 touches, 9 marks and 2 goals for 113 points. He is producing amazing numbers in the NEAFL but cannot get a game. Mitchell Hinge (DEF, $209K) didn't do his chances of a return any good, with only 17 touches and 57 points. I doubt he comes in after the Lions good win against the Hawks on the weekend.
Verdict: No one is really knocking on the door. No change.
SYDNEY SWANS
James Rose (FWD, $223K) was good with 33 touches, 11 marks and 141 points. If he comes in, you'd be clutching at straws, but he could be an option to bring in for the byes as we do not have many rookies coming through. Darcy Cameron (RUC, $170K) is starting to become very irrelevant with the new mid-season recruit Michael Knoll (RUC, $170K) taking the reigns as the Swans NEAFL number 1 ruckman. Cameron managed 20 touches and 2 goals, whereas Knoll had 23 hitouts and 1 goal. Cameron's hope could come in the forward line if he continues to kick goals.
Verdict: No real forced changes.
WAFL
WEST COAST EAGLES
Josh Rotham (DEF, $216K) could come in to face the Swans with Hurn injured. He only scraped to 6 touches and 24 points though. Jackson Nelson (DEF, $279K) is also in contention to make a return, after 19 touches and 78 points.
Verdict: Nelson for Hurn
BYES
HAWTHORN HAWKS
Jarryd Roughead (FWD, $473K) continues to perform in the two's after 15 touches, 5 marks and 20 hitouts for 96 points. Daniel Howe (MID, $544K) was also solid with 21 touches and a goal.
ESSENDON BOMBERS
David Myers (MID, $429K) was solid again with 26 touches and 2 goals for 101 points. Will Snelling (MID, $207K) was very good in the red and black, with 23 touches and 7 marks for 97 points. He could come in after the byes but Dylan Clarke seems to have held his position for a while after his lockdown role on Cripps. Brayden Ham (FWD, $207K) kicked 3 goals for 83 points. I think he's well behind the pack now, with the injuries returning.
ST KILDA SAINTS
Brandon White (DEF, $336K) was exceptional with 26 touches and 7 marks for 110 points. I doubt he will play though. Dan Hannebery (MID, $434K) made his return through the VFL and racked up 24 touches and 5 tackles for 74 points. He only played 3 quarters so that is a fair effort. If he comes in (which obviously won't be this week), I doubt you could touch him when we're getting to the stage of completing our teams.
WESTERN BULLDOGS
Rhylee West (MID, $220K) found 22 touches and 79 points. He would be getting quite close to a recall but obviously has the bye this week. Lewis Young (DEF, $287K) was solid as well with 20 touches and 75 points, but he is too expensive to consider if he plays. If you're still hanging onto Will Hayes (MID, $338K), it's time to let him go. He only managed 15 touches and 54 points on the weekend and didn't even make the 4 emergencies. I don't think he will come in anytime soon.
FREMANTLE DOCKERS
Mitch Crowden (FWD, $298K) continues to score outrageous numbers in the WAFL. He racked up 26 touches, 8 tackles and 114 points in the Dockers clash with Subiaco on the weekend. He's averaging 105 points and 25 touches form 7 games this season. Harley Bennell (MID, $232K) was exceptional again, especially in the first quarter where he had 12 touches. He finished on 25 touches and 89 points. He would be very handy if he could come in after his bye this week.