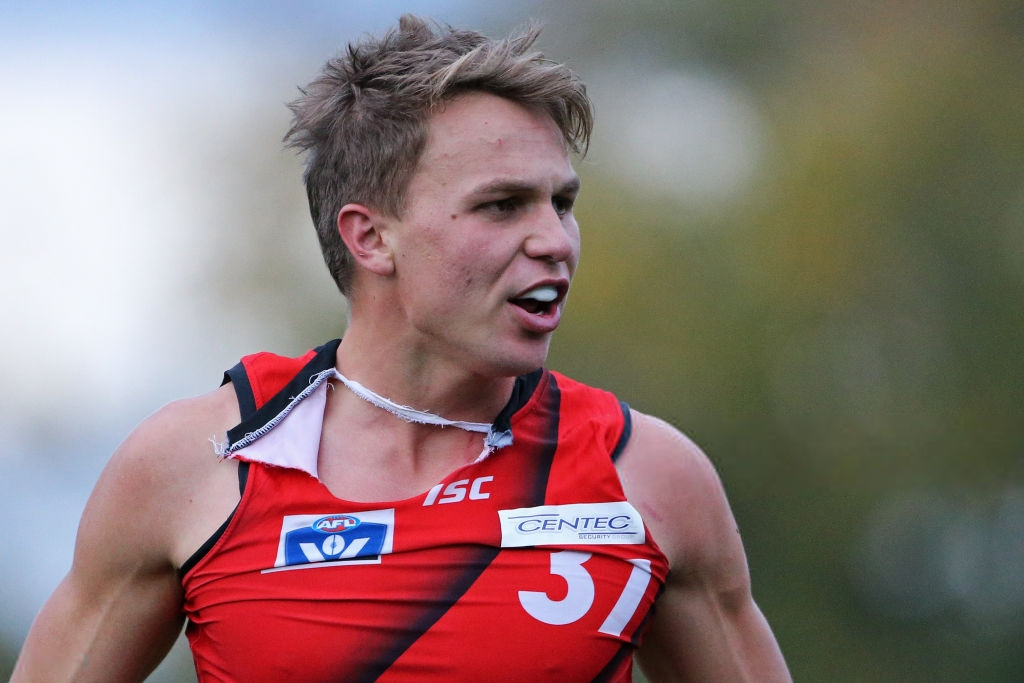 VFL
COLLINGWOOD MAGPIES
Isaac Quaynor (DEF, $246K) was outstanding on the weekend with 26 touches and 6 tackles for 101 points. With all the returning players (De Goey, Moore, Cox), I find it hard to see him coming in this week, but a debut could be around the corner. John Noble (MID, $170K) was the player who the Pies picked up in the mid-season draft, and he scored 52 points in his last SANFL game, and I don't think he plays.
Verdict: De Goey for Wells, Moore for Madgen, Cox for Ried
HAWTHORN HAWKS
Kaiden Brand (DEF, $323K) was huge with 29 touches and 18 marks! He racked up 139 points and is a strong chance to come in for Scrimshaw if he misses. Jarryd Roughead (FWD, $473K) was solid again with 22 touches and a goal for 101 points. I doubt he comes in though, as Lewis is set to return from injury.
Verdict: Lewis for Pittonet if fit, Brand for Scrimshaw if he doesn't get up from his knee injury.
GEELONG CATS
Scooter Selwood (MID, $519K) was good again with 23 touches, 9 tackles and a goal for 117 points. I just can't see him breaking into the Cats midfield, although he could come in this week if Guthrie is out.  Sam Simpson (MID, $214K) has been scouted to play this week after 19 touches and 67 points. He was emergency last week and is averaging 71 in the VFL this season. He scored 31 in his only AFL game last year. Charlie Constable (MID, $500K) scored 18 from 3 touches, but hurt his groin/leg early in the game. Move him on for sure now. Ratugolea didn't play VFL on the weekend, but I think Fort gets 1 more week to prove himself.
Verdict: Dangerfield for Ablett. As I said, I think Fort gets another chance. Parsons holds, Scooter or Narkle for Guthrie if he misses.
RICHMOND TIGERS
Mabior Chol (FWD, $170K) relished on his opportunity without Coleman-Jones and Soldo, with 22 touches, 7 marks, 5 tackles, 1 goal, 22 hitouts and 132 points in a massive day. Jack Graham (MID, $509K) continues to perform in the VFL and had 16 touches and 2 goals on the weekend. Highly unlikely that he plays with Cotchin set to return.
Verdict: Soldo for Coleman-Jones despite a good effort on debut. Cotchin could play but they might give him another week off.
ESSENDON BOMBERS
Dylan Clarke (MID, $250K) was good with 26 touches, 5 marks, 5 tackles and 99 DT points. He could come in for Stringer this week, and if Shiel misses then he's even more likely. Paying $250K, you'd want some pretty good scores. He averages 91 in 2019 and averaged 108 in 2018. He only managed 46 at AFL level though. Touch and go but I'd wait a week when paying that much for him. David Myers (MID, $429K) was solid with 25 touches, 5 tackles and 92 points. Expect him to be back this weekend. Will Snelling (MID, $207K) averaged 128 and 10 tackles in the SANFL and is a slight chance t come in if Shiel misses, but he may need some time to learn the structures/game-plan and his teammates.
Verdict: Myers for Stringer, Clarke or Snelling for Shiel IF he misses.
WESTERN BULLDOGS
Callum Porter (MID, $170K) was the best for the Dogs in the VFL with 17 touches, 8 tackles and 2 goals. I don't think he comes in just yet, however. Will Hayes (MID, $338K) was solid with 21 touches and 70 points and is a slight chance t play this week with Wallis injured. Rhylee West (MID, $220K) is pushing hard for selection after 19 touches and 6 tackles for 66 points. Lachie Young (DEF, $276K) was very good with 17 touches, 7 marks and a goal for 76 points. He is the ideal replacement for Crozier, although Ryan Gardner (FWD, $170K) has already been a confirmed starter in round 11.
Verdict: Wallis and Crozier are confirmed outs, and Gardner is confirmed in. I think Lachie Young comes back in, which will see some players get rotated through the midfield (hopefully Macrae).
ST KILDA SAINTS
Nick Coffield (DEF, $409K) was great with 20 touches, 6 marks and 82 points. He is getting closer to a recall but I doubt it will be this week. Hunter Clark (DEF, $388K) could come in for the underperforming Phillips after 29 touches and 79 points. If Jarryn Geary doesn't return from injury, then expect Clark to be a strong chance.
Verdict: Clark/Geary for Phillips, if Geary is fit.
CARLTON BLUES
Will Setterfield (FWD/MID, $366K) was good with 23 touches, 5 marks, 4 tackles and a goal but I think his chances will only get worse with the inclusion of Josh Deluca (MID, $240K), who averages 26 touches in 2019, and 84 points in 2017. Hugh Goddard (DEF, $170K) must be getting closer after 14 touches, 8 marks and 62 points. Pat Kerr (FWD, $271K) kicked 3 goals and scored 81, and is a chance to come in this week for the underperforming Silvagni.
Verdict: Kerr, Setterfield or Deluca for Silvagni.
MELBOURNE DEMONS
Brayden Preuss ($370K) was exceptional with 46 hitouts, 4 tackles and 11 touches for 105 points. With some injured Demons set to return, it will be even harder for Preuss to crack the 22. Jake Lever (DEF, $434K) was back in the VFL with 9 touches and 33 points before injuring his ankle. He is still expected to play AFL this week.
Verdict: Lever for Petty if fit, Salem for J.Wagner and Neal-Bullen for Spargo or Corey Wagner.
NORTH MELBOURNE
Aaron Hall (MID, 537k) he was exceptional and there is a high chance new coach Rhyce Shaw will give him a crack. He had 28 touches, 8 tackles for 106. Nathan Hrovat (FWD, 364K) he is having a great season but difficult to find a spot as they're prioritising the youth. He had 2 goals, 20 touches for 76. Curtis Taylor (FWD, 185K) he may well be close to another opportunity into the 1's after a solid performance including 1 goal and 5 tackles for 70.
Verdict: Hard to take someone out after Norths brilliant performance considering the circumstances. Aaron Halls ball use and run may be wanted and could push out an LDU type, especially if still sore. Expect an unchanged line up for Friday night.
SANFL
PORT ADELAIDE
Sam Mayes (DEF, $510K) was great with 25 touches and 9 tackles for 116 points. Willem Drew (MID/FWD, $405K) was also very impressive with 30 touches and 8 tackles for 113 points. He flew to China so is always a chance. Hamish Hartlett (DEF, $534K) was also on the plane to China and scored 76 from 17 touches and a goal.
Verdict: A tough one this week, as everyone has performed quite well. Burton for Lienert, Lycett for Ladhams and Hartlett for Broadbent or Farrell if fit.
WAFL
WEST COAST EAGLES
Keegan Brooksby (RUC, $357K) was solid with 50 hitouts, 7 tackles and 118 points. Josh Smith (FWD, $442K) was also very good with 28 touches, 9 marks and 117 points. Josh Rotham (DEF, $216K) was good with 21 touches and 7 marks for 87 points. It would be great if he could get a game as he has the lowest breakeven with -5, but I doubt he does this week.
Verdict: No necessary changes with the form they're in but Jetta comes in after his 1-week suspension, probably for Nelson.
FREMANTLE DOCKERS
Stefan Giro (FWD, $416K) was very good and is tearing up the WAFL this season. He had 8 tackles and 32 touches for 116 points. Mitch Crowden (FWD, $298K) has also been very dominant this season and racked up 29 touches and 7 tackles for 101 points. I think Switkowski is well ahead of him for a spot in the 22 though. But the big story form the WAFL on the weekend was the return of Harley Bennell (MID, $236K) who racked up 30 touches and 2 goals for 114 points. I predict him to come in after the bye against Port Adelaide at home, as I doubt he will have to travel to Melbourne for his first game back. He could be a handy downgrade target, although he will probably play FWD with limited TOG.
Verdict: Unless Lobb doesn't get up, I don't think the Dockers will make a change.
NEAFL
SYDNEY SWANS
James Rowbottom (MID, $258K) always dominates when playing int he NEAFL, and the weekend was no different. He racked up 31 touches, 10 tackles and 134 points. He could come in for Kennedy this week who injured himself. Darcy Cameron (RUC, $170K) was huge with 22 touches, 39 hitouts and a goal for 129 points. The fact that the Swans picked up another ruckman in the mid-season draft shows their little faith in Cameron. Dan Menzel (FWD, $441K) kicked 5 goals and is a chance to come in this week.
Verdict: Rowbottom for Kennedy and McVeigh for Fox.
GOLD COAST SUNS
Tom Nicholls (RUC, $242K) was huge with 32 hitouts and 102 points. I doubt he comes in to support Witts though. Will Brodie (MID, $481K) was good as well with 27 touches and 8 tackles for 114 points. He is a chance to come in for Ainsworth who injured himself on the weekend. George Horlin-Smith (MID, $403K) is also one who could come in for Ainsworth and had 23 touches and 98 points on the weekend. Connor Nutting (DEF/FWD, $170K) was good with 3 goals but I don't think he plays. Ben King will have to do a bit more though, and Nutting is on his tail.
Verdict: Brodie or Horlin-Smith for Ainsworth if he doesn't get up.
GWS GIANTS
Jackson Hately (MID, $314K) can't do much more to get I the side. He racked up 36 touches, 6 marks and 6 tackles for 135 points. I really hope he comes in for Cumming who has done next to nothing at AFL level, compared to Hately who looks very comfortable and plays well int he AFL. Nick Shipley (MID, $170K) was good with 26 touches and 7 tackles but I don't think he's anywhere close to a game.
Verdict: Hately in for Cumming or Daniels.
BRISBANE LIONS
Allen Christensen (FWD, $518K) was excellent with 2 goals and 6 marks for 119 points. Of the glimpses I caught of the Lions vs GWS game on the weekend, Christensen was amongst everything. Hopefully, he can get back in soon. Toby Wooller (FWD, $170K) was good as per usual with another 2 goals.
Verdict: I can't see any required changes this week.