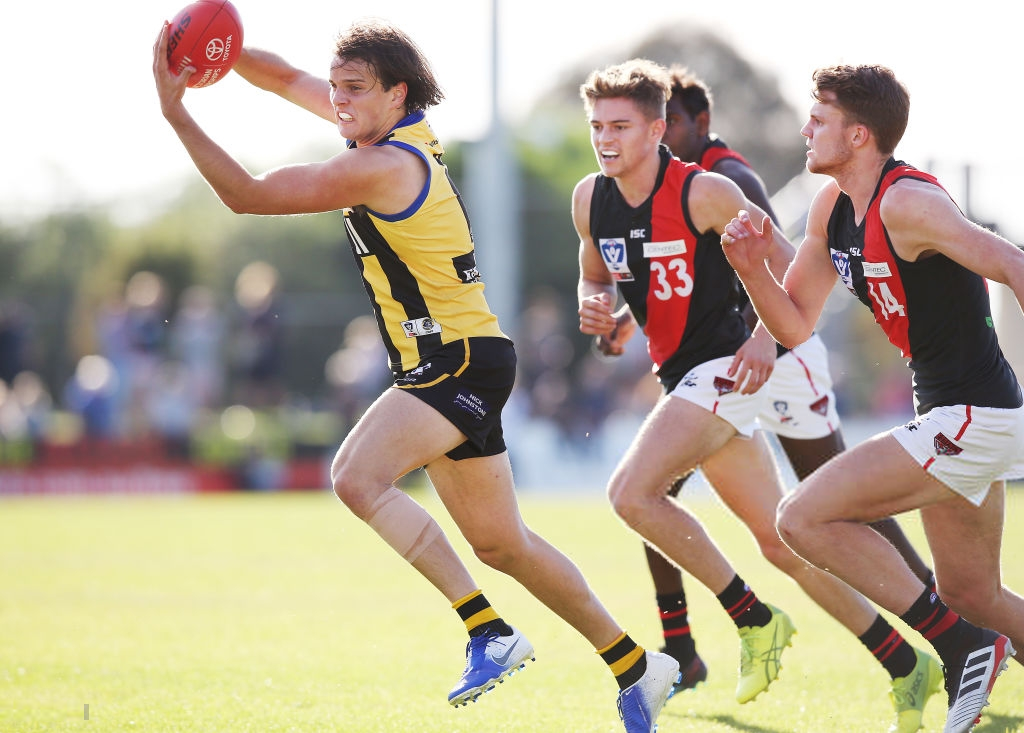 WAFL
WEST COAST EAGLES
Brayden Ainsworth (MID, $369K) was one of the best for Eagles on Thursday night against their former affiliate, East Perth. He won 27 touches – the highest on the ground, whilst out of favour forward Jake Waterman (FWD, $377K) kicked 1.1 and took 7 marks, and could come in for Venables this weekend if he misses. Lewis Jetta has also been offered a week for his hit, so it's highly likely Waterman comes in even if it means shifting someone else up the ground.
Verdict: Schofield in for Venables and Rotham in for Jetta to tackle to Crows tall forward line.
FREMANTLE DOCKERS
Mitch Crowden (FWD, $298K) laid a whopping 15 tackles to go with his 18 touches and could come in for Switkowski, who are very similar pressure-type players. You'd back in Switkowski for another week or two at least though. Brett Bewley (MID, $170K) is working hard and the Dockers loss on the weekend could fast-track his debut, especially after 21 touches and 6 tackles for 84 points. Sean Darcy (RUC, $531K) hurt his ankle in the first quarter for Peel and managed just 1 touch in that time. Devastating news for the big man who was on track for an AFL return.
Verdict: Bewley in for either Cerra or Brayshaw who will have a rest this week, if not very soon.
NEAFL
GWS GIANTS
Nick Shipley (MID, $170K) put on a dominant display against Southport, with 40 disposals and 9 clearances. With Stephen Coniglio set to return, however, I suspect he will sojourn in the two's. Jye Caldwell (MID, $250K) was encouraging with 32 touches and 112 fantasy points. Jackson Hately (MID, $314K) was also very promising, gathering 25 touches and taking 10 marks for 101 points. But the fact that he couldn't even manage a game when Coniglio was out is a disturbance. Isaac Cumming (DEF, $205K) could absolutely come in this week with fellow defender Zac Williams injuring his hamstring on the weekend. Cumming accumulated 26 disposals and a goal totalling with 101 DT points. He reckoned 33 points in his last AFL fixture, but with a favourable run extending to his bye, he could be unique but a clever downgrade target.
Verdict: Coniglio and Langdon for Daniels and Williams, with Kennedy moving into defence.
SANFL
PORT ADELAIDE
Jack Trengove (DEF, $416K) racked up 37 touches and 9 tackles as well as a goal for 150 points in the SANFL derby on the weekend. He is so unlucky that he can't even make the emergency list. Peter Ladhams (RUC, $170K) was on the extended bench last week but played reserves, and won 34 hitouts, 24 touches and a goal for 122 points. Frampton performed quite well though, so I doubt Ladhams plays. Willem Drew (FWD/MID, $405K) was excellent and was labelled "eye-catching", racking up 32 touches and 12 clearances for 107 points. He is a strong chance to come in this week for someone like Ately or Motlop if he doesn't get up.
Verdict: Gary and Jonas in for Garner and Motlop. Burton for Lienert if he plays. Drew could also come in for Ately who was average.
ADELAIDE CROWS
Josh Jenkins (FWD, $528K) was up and about in the SANFL with 6.3, 7 marks and 22 touches, on his way to 146 points. He is certainly in the frame this week for a recall. Tyson Stengle (FWD, $211K) kicked another 4 goals, moving his season tally to 17 from 7 games. Lachlan Murphy seems to be playing some good footy and it would be unnecessary to make that swap. Paul Seedsman (MID, $548K) made his return this week and found 23 touches and 7 marks for 83 points. He could come back in this week, or might even just have another week in the SANFL.
Verdict: Crouch, Hartigan and Milera all a chance to play this week. Gallucci, Jones, Himmelberg and Kelly are the unlucky ones.
VFL
WESTERN BULLDOGS
Luke Beveridge may be keen to swing the axe this week after he claimed 'too many players are below their best'. Lewis Young (DEF,  $287K) will be keen to force his way back in after 23 touches and 9 marks for 104 points. Lachie Young has been average the last couple of weeks and could make way to Lewis. Pat Lipinski (MID/FWD, $419K) has also performed very well in the VFL this year but is yet to register an AFL game in 2019. He finished on 101 points which featured with 30 touches, 6 marks and a goal.
Verdict: Lipinski for Hayes, English for Roberts if fit.
MELBOURNE DEMONS
Brayden Preuss (RUC, $370K) was one of the best for the Demons with 34 hitouts and 2 goals for 111 points. He is a small chance to come in if Tim Smith isn't fit. Corey Wagner (MID, $279K) was impressive as well with 23 touches and 9 tackles, accumulating 96 fantasy points. If Alex Neal-Bullen isn't fit, then he could come in. He will also be on Oskar Baker's back after an average debut by numbers, giving away 4 free-kicks from holding the ball.
Verdict: Preuss for Smith and Wagner for Neal-Bullen if he misses. Lewis for Salem if he misses.
CARLTON BLUES
Darcy Lang (MID/FWD, $466K) has been impressive across the last couple of weeks in the VFL and managed 28 disposals and a goal for 124 points on Saturday for the Northern Blues. He could be rewarded with an AFL opportunity with Marc Murphy out injured with broken ribs. Hugh Goddard (DEF, $170K) continues to perform at lower levels and racked up 7 marks for 60 points on the weekend, but the potential returns of Plowman, Simpson and Jones will make it hard for him to squeeze in.
Verdict: Jones and Plowman for Macreadie and Casboult seems pretty straight forward, whilst Simpson comes in for Murphy if fit, otherwise Matt Kennedy.
RICHMOND
Pat Naish (DEF, $170K) was the best for the Tigers again with 28 touches and 95 points. He couldn't do much more to get a game, and I think it comes down to opportunity and form rather than his own performance. Dan Butler (FWD, $379K) was great again with 3 goals and could force hand after kicking 2 bags in a row. Castagna or Bolton would be the unlucky one to make way. Expect big man Callum Coleman-Jones (RUC/FWD, $170K) to come in for Ivan Soldo who copped a 1-week suspension. He scored 46 points on the weekend and will have shocking job security so I wouldn't touch him.
Verdict: Rioli for Castagna, Coleman-Jones for Soldo.
HAWTHORN
David Mirra (DEF, $462K) was outstanding with 23 touches, 11 marks and 111 points, but I seriously doubt that he will play. Daniel Howe (MID, $544K) is knocking on the door after 25 touches and 5 tackles but I don't think this is the week. Jarryd Roughead (FWD, $473K) kicked a goal and will only come in if Mitch Lewis doesn't pull up, possibly McEvoy as well.
Verdict: McEvoy for Roughead if he misses. If Wingard is fit, Puopolo may miss.
GEELONG
Scott Selwood (MID, $519K) was back in the VFL with a trademark performance of 21 touches and 11 tackles for 107 points. Wylie Buzza (FWD, $281K) snagged 5 goals whilst Lachie Fogarty (FWD, $419K) amassed with 15 tackles and 100 points. James Parsons (FWD, $381K) should play if Dangerfield doesn't.
Verdict: Stanley back in for Abbott, Fort holds. Atkins in for Constable.
COLLINGWOOD
Ben Crocker (FWD, $350K) must be close to getting an AFL recall after 26 touches and 7 marks for 100 DT points. Brayden Sier (MID, $515K) continues to play the absolute house down at VFL level and racked up another 24 touches and a goal for 75 points on the weekend. Isaac Quaynor (DEF, $246K) was close last week and must be closer this week after 12 touches and 3 tackles for 49 points.
Verdict: Varcoe is suspended so he goes out for De Goey, Moore for Langdon who is injured. If Cox is fit, Ried will likely miss.
ST KILDA
Billy Longer (RUC, $483K) was dominant again with 57 hitouts and 104 points, but I think Marshall holds his spot. Hunter Clark (DEF, $388K) continues his commanding VFL form with 32 touches and a goal, on his way to 102 fantasy points. Nick Coffield (DEF, $409K) was also impressive with 22 touches and 6 marks for 80 points. Nick Hind (MID, $170K) was average with 20 touches and 62 points, but I don't think he will play anytime too soon. There are too many players ahead of him for his role and needs to work on his 1-on-1.
Verdict: Clark for Phillips after multiple strong VFL performances.
ESSENDON
David Myers (MID, $429K) was back in the VFL with 3 goals, 29 touches, 5 marks and 4 goals for 123 points in a well-rounded match. Jordan Ridley (DEF, $431K) continues to try and break back into the best 22 with 21 touches, 7 marks, 5 tackles and a goal for 97 points. I don't think he returns just yet, however.
Verdict: No change