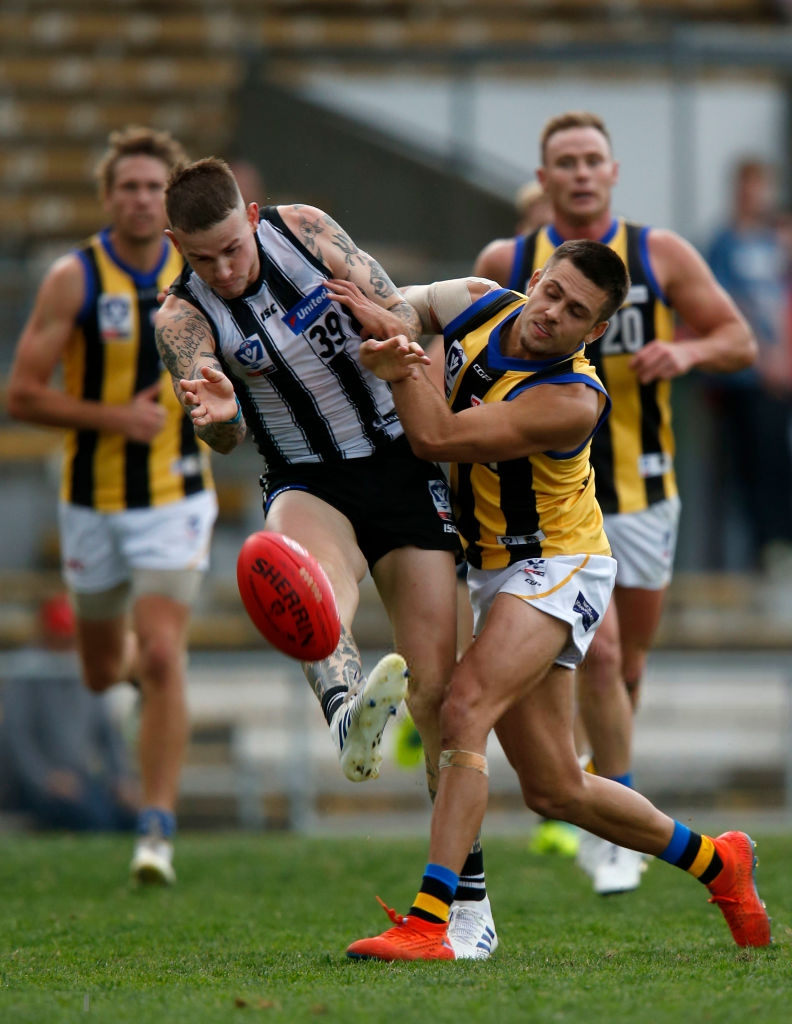 VFL
ESSENDON BOMBERS
Dylan Clarke (MID, $250K) was the best scorer for the Bombers with 28 touches, 7 marks and 97 points. Jordan Ridley (DEF, $431K) was sent to the 2's this week and kicked 2 goals and 6 marks for 71 points. Michael Hartley (DEF, $318K) was quite good in defence with 14 touches and 4 marks and was one of the most impressive in the VFL on the weekend.
Verdict: Daniher should come back in for Zac Clarke, and Fantasia comes out with a calf injury for Baguley. Ham who managed 5 disposals could come out for Ridley and either Francis will shift back.
MELBOURNE DEMONS
Brayden Pruess (RUC, $370K) was the best for the Demons with 40 hitouts, 6 marks and 2 goals for 113 points. He should come in this week. Tim Smith (FWD, $421K) is getting very close after 4 goals and 5 tackles for 86 points. Corey Wagner (MID/FWD, $279K) was also promising with 15 touches and 9 tackles. He is in the frame this week with Melksham out injured. Tom Sparrow (MID, $257K) is also a good chance to get a game this week with the Demons injury crisis, after 15 touches and 69 points.
Verdict: Preuss in for Kielty, Wagner in for Melksham, and Neal-Bullen in for Hibberd. Sparrow and Smith are both very close.
WESTERN BULLDOGS
Bailey Williams (DEF, $522K) was the top scorer for the Dogs with 31 touches and 9 marks for 107 points. He is a good chance to come in for Lachie Young this week, who barely got a touch on the weekend. Rhylee West (MID, $220K) was a very promising option before the season but is struggling in the VFL. He managed 8 touches and 26 points.
Verdict: English comes back in for Roberts, and Williams could come in for Young but I think that the Dogs will give Young another chance after their win.
HAWTHORN HAWKS
Jarryd Roughead (FWD, $473K) was sent back to the VFL and kicked 5 goals, 7 marks and 108 points, as well as giving the opposition player some advice! Great to see from Roughy. Jackson Ross (FWD, $170K) was solid with 1.2, 17 touches and 7 marks for 90 points. Hopefully, he gets a game soon as he's averaging 75 points and 5 marks.
Verdict: Isaac Smith could come in, and it'd be tough to drop someone after their win over GWS, but Ceglar may come out and leave McEvoy solo. They may decide to keep him and stretch the Tigers defence, and Morrison could come out. Roughead could also come in after 5 goals but is hard after what Clarko said during the week. Another option is to give Scully a rest.
NORTH MELBOURNE
Tristan Xerri (170K, FWD/RUC) he was outstanding with a game-high 125 which included 3 goals and 9 marks. Will be the man after Goldy but doubt he plays this season. Aaron Hall (573K, MID) he was prolific in the midfield with some half forward having 29 touches, 7 touches 2 goals for 123. Nathan Hrovat (364K, FWD) he was another one who impressed as a half forward having an impressive 6 goals for 118. Doubt he plays. Tom Campbell (374K, RUC) he had another outstanding performance which saw him get the better of Z Smith & R Abbot which will give Roos confidence to play him if Goldy needs a rest. He had 23 touches, 6 marks for 102. Joel Crocker (170K, DEF) he continues to impress and if injuries occur he could get a game sometime this year! He had 22 touches, 6 marks and a career-high 93. Luke Davies-Uniacke (376K, MID) after a shock omission he has failed to be amazing after 23 touches for 89. Still a chance to come in. Paul Ahern (462K, MID) had 25 touches and 77 which was solid but he was dropped for his pressure and after 1 tackle I doubt that's enough to come in. With that said last time he played in Tassie he had 38 touches! Declan Watson (170K, DEF) was solid on Darcy Fort and COULD come in for the suspended Durdin. He had 62. Kyron Hayden (170K, MID) he continues to absolutely dominate as a tagger and is very close to a debut. He had 56 and kept Narkle to 11 touches till he did his hammy at the start of 4th.
Verdict: Luke McDonald, Marley Williams and Scott Thomson return from injury and straight into the backline. Sam Wright, Curtis Taylor and Sam Durdin make way which will bring Turner back forward. I think Aaron Hall who partly came to Roos to get to play in Tassie could come in for Mason Wood who continues to struggle in front of goal.
COLLINGWOOD MAGPIES
Isaac Quaynor (DEF, $246) was great with 25 touches and 5 tackles for 91 points. He is in the frame this week to come in for Greenwood. He's relatively expensive and is averaging 67 from 5 VFL games. Brayden Sier (MID, $515K) was back with 21 touches and a goal for 75 points. I doubt he comes in but could be required with Adams out.
Verdict: a few forced changes for the Pies this week. Cox comes in for Ried and Beams for Wills (Mayne if he doesn't get up from concussion). Isaac Quaynor is a strong chance for Greenwood, and Elliot has been ruled out so Varcoe should slot back in after 2 goals and 54 points on the weekend.
ST KILDA SAINTS
Billy Longer (RUC, $483K) was the best for the Saints and monstered the opposition ruckman with 71 hitouts, 19 touches, 5 marks, 5 tackles and a goal for 157 points. Marshall is holding his own at AFL level but Longer is pushing a case for an AFL return. Jono Marsh (DEF, $273K) was back in the two's and collected 26 touches and 13 marks for 120 points. I doubt he comes back in though. Hunter Clark (DEF, $388K) is playing very well in the VFL and found 28 touches on the weekend for 100 points. Robbie Young (FWD, $170K) comes in this week after 1 goal and 5 tackles for 67 points. He only averages 55 points and 0.8 goals, so at least he doesn't require goals to score well.
Verdict: Young for Long.
RICHMOND TIGERS
Pat Naish (DEF, $170K) was exceptional with 29 touches and 4 goals for 114 points. He is a slight chance to come in for Ross, only if Rioli doesn't pass his fitness test. Ivan Soldo (RUC, $359K) should come in for Nankervis this week after 38 hitouts and 92 points. His job security is decent but I wouldn't touch him. Riley Collier-Dawkins (MID, $232K) was good with 19 touches and 5 marks for 80 points. He is another who could come in for Ross but I don't this is the week. We should see him at some stage this year though.
Verdict: Soldo in for Nank, Rioli (Naish if he's not fit) in for Ross (and move Baker into the midfield) and Vlastuin for Menadue.
GEELONG CATS
Lachie Fogarty (419K, FWD) he returned outstandingly from injury having 27 touches, 7 tackles for 114 points. Darcy Fort (170K, RUC) was beaten by Declan Watson most of the day but still found a way to kick 3 goals for 66 points. Is always a chance to come in for Ratugolea.
Verdict: Much depends on who's available. Most likely is that Joel Selwood comes in for Tom Atkins after suffering an injury on Sunday. Rohan is likely to get up while Menegola is unlikely.
NEAFL
SYDNEY SWANS
Ryan Clarke (441K, DEF) he went absolutely nuts again this week with 40 touches, 11 tackles and 169 which should lead to a senior recall vs the old side. James Rowbottom (254K, MID) he was good with 2 goals, 8 tackles and 125. Could come in but doubt it. Daniel Menzel (441K, FWD) he returned to footy and didn't miss a beat having 3 goals for 66.
Verdict: If Buddy gets up he will come in for McCartin most likely.
GOLD COAST SUNS
Jacob Dawson (292K, MID) he was impressive with 12 marks, 26 touches and 128, could play his first game of 2019. Will Brodie 481K, MID) he is wasted in the twos, such a jet. He had 32 touches and 117. Could come in but out of favour. Jesse Joyce (379K, DEF) did his chances of a recall no harm having 103 which included 23 touches and 7 marks. Sam Day 381K, FWD) he is struggling to crack into the Sun's lineup this year but continues to impress. He had 2 goals and 7 marks which led to 97. Always a chance to come in. Ben King (260K, FWD) he is getting closer and closer to a gig but the Suns have a lot of key forward options. He had 3 goals for 79. Chris Burgess (227K, FWD/DEF) he has struggled since dropped and only managed 11 touches for 35, much like what he dished up in AFL.
Verdict: Fiorini back from injury comes in for the injured Lemmens. King or Day could come in for Lukosious who had 7 touches and Joyce may come in for Ballard or Murdoch who both struggled to have an influence on the weekend.
BRISBANE LIONS
Nick Robertson (DEF, $547K) had a pretty well-rounded game on the weekend with 28 touches, 11 marks and 3 goals for 132 points. I don't think he comes in though. Allen Christensen (FWD, $518K) is in some amazing form in the NEAFL but unfortunately just can't crack the senior side. He managed 31 touches and a goal for 120 points. Toby Wooller (FWD, $170K) I am really loving this guy at the moment. He kicked another 3 goals and is a key forward, but has no struggle finding the footy. He averages 24 touches and 110 DT and reminds me a bit of Jeremy Cameron style.
Verdict: Walker in for Bailey who injured his hamstring to tackle the Crows tall forward line. Answerth owners are lucky as he would've likely been given the flick.
*Take note: WAFL and SANFL had the bye this week as the state game was played.
Leave any questions regarding rookies in the comments!