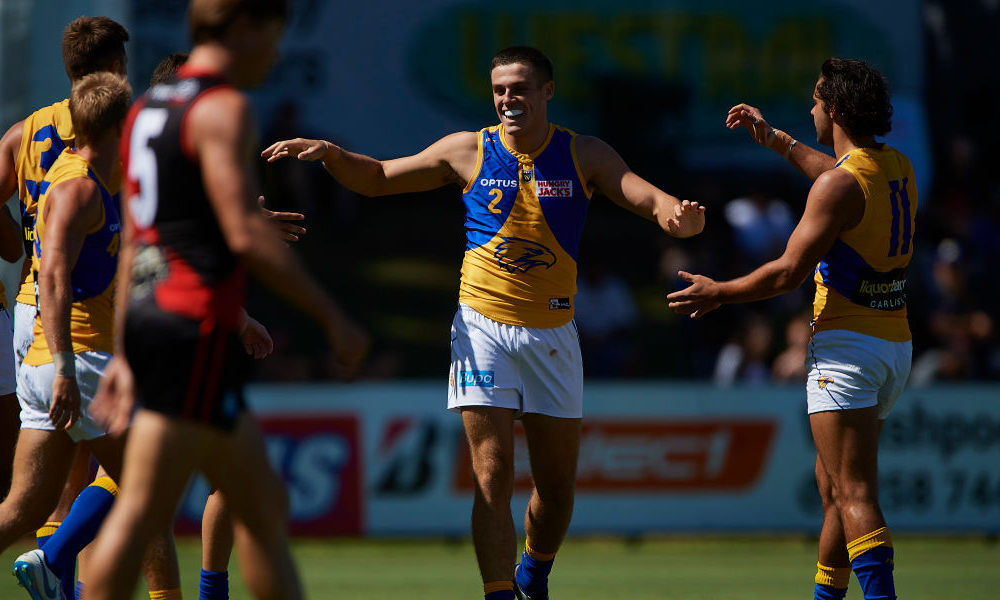 VFL
HAWTHORN HAWKS
Marc Pittonet (RUC, $290K) was great with 29 touches (somehow??) and 42 hitouts for 140 points. McEvoy is playing very well though and Ceglar is there for back-up, so I can't see Pittonet playing. Harry Morrison (MID/FWD, $414K) responded well after being dropped, with 32 touches and 3 goals for 128 points. Brand and Cousins both had injuries on Sunday, so that could open up a spot. Harrison Jones ($DEF, $170K) will also be keen to break into the 22 after 22 touches, 8 tackles and 2 goals for 111. Cousins is suspended so this week is his chance, but would have terrible job security. He is the ideal rookie to come in, as he is a good scorer and we are in need of a good scoring defender to downgrade the likes of Collins, Burgess, Wilkie, Duursma, Scrimshaw, Clark ect.
MELBOURNE DEMONS
Tom Sparrow (MID, $270K) was the top scorer of the AFL listed players for the Dees in their 1 point loss to the Tigers in the VFL. He laid an impressive 12 tackles n his way to a flat tonne. He's every chance to come in with Viney injured from the Sydney Stack hip and shoulder, or even Neal-Bullen who struggle with a sore quad. Corey Wagner (MID/FWD, $279K) will also push for selection after 20 touches and 84 points. Wagner had a better rounded game but Sparrow is more like-for-like with Viney, so it's a tough one.
RICHMOND TIGERS
Shai Bolton (FWD, $252K) is in some hot form at the moment, after 25 touches, 11 tackles and a goal for 110 points. He's averaging 103 and 24 touches this season, and is a chance to come in this week for Riewoldt, which would require a bit of a restructure, but his form should be rewarded soon. On the other hand, Jacob Townsend (FWD, $347K) was good with a goal and 9 tackles for 97 points. He seems to be out of favour at the Tigers but could get a game with Riewoldt out for 6-8 weeks with a PCL injury.
ESSENDON BOMBERS
Sam Draper (RUC, $170K) was quite impressive with 18 touches and 47 hitouts, on his way to 109 points. Kyle Langford (FWD/MID, $564K) was very solid with 25 touches and a goal for 92 DT points and should come in for Smith if he doesn't recover from his knee injury. Brayden Ham (FWD, $189K) is also a chance after 13 touches and a goal, and especially after he was the one in for Smith last week.
NORTH MELBOURNE
Tom Campbell (RUC, 374K) he has been outstanding since getting dropped from the AFL side.  He had 25 HOS, 5 tackles, 7 marks, 26 touches and 120 points. Unlikely to see him come in unless Goldy gets rested. Jy Simpkin (FWD, 407K) he was outstanding in the midfield after getting dropped. He had 33 touches, 5 tackles, a goal and 98 points. A chance to come in this week but may need to back it up with another good performance. Paul Ahern (MID, 462K) has been in and out of the senior team this season but his 32 touches and 85 points could see him get a recall. Doubt he comes straight back in. Curtis Taylor (MID/FWD, 180K) is getting extremely close to a debut with 2 goals, 13 touches and 69 points. Don't be surprised if we see him debut this week. Kyron Hayden (MID/FWD, 170K) made the emergencies last week and is extremely close to a debut. He scored 63 and could come in to tag Patty Cripps this week! Bailey Scott (MID, 289K) was ok with 18 touches but only 63 points. Doubt we see him this week.
COLLINGWOOD MAGPIES
Ben Reid (FWD, $443K) was good again with 22 touches, 12 marks and 2 goals for 121 points. In the rare case that Mason Cox doesn't get up from his knee injury, you'd expect Reid to come in. Isaac Quaynor (DEF, $246K) could earn a call-up after 21 touches and 65 points. He averages 7 rebound 50's and 18 touches from 4 VFL games. Barring injury, Levi Greenwood would be the one to come out for him, after he wasn't used to tag and had donuts in a lot of stat fields against the Bombers.
CARLTON BLUES
Matt Kennedy (MID, $467K) was good with 24 touches and 7 tackles for 95. He could come in for Lochie O'Brien who was average on the weekend. Liam Stocker (MID, $234K) was solid with 17 touches and 58 points and will only play if Newman doesn't get up. Tom Williamson (DEF, $260K) was back in the VFL this week with 14 touches and 58 points. He is the ideal replacement for Simpson but is probably too much to pay for classic. Will Setterfield (MID/FWD, $348K) could also come in this week as his suspension finishes. It's tough to find room for him though, but I think the Blues would want to persist with a top draft pick.
WESTERN BULLDOGS
Pat Lipinski (MID/FWD, $419K) was good again with 19 touches and 75 fantasy points. He's a strong chance for the Bulldogs after 4 good VFL games and the Doggies having consecutive losses. Richards and Gowers have both been quiet and could find their spots in danger. The Dogs AFL players playing the VFL were very average on the weekend.
NEAFL
SYDNEY SWANS
Colin O'Riordan (DEF, 364K) was outstanding again with 40 touches, 12 marks and 162 points and is demanding a recall back into the struggling Swans side. Robbie Fox (DEF/FWD, 334K) was prolific with 37 touches, 8 tackles and 3 goals for 159 points. He would be very close. Darcy Cameron (RUC, 170K) he continues to dominate the NEAFL and must be getting very close after making the emergencies last week. He had 27 HOs, 5 marks, 24 touches and a snag for 126 points.
GWS
Isaac Cumming (DEF, 204K) has been great this season, he had 28 touches, 8 marks, 4 tackles and 115 points. Would be close but doubt he plays this week. Nick Shipley (MID, 170K) he has been great so far but I doubt Giants will play him any time soon. He had 28 touches, 8 tackles for 113 points. Zac Langdon (FWD, 369K) he was outstanding with his return, having 21 touches, 9 marks and 2 goals for 109 points. May need 1 more game but could well return this week. Jackson Hately (MID, 271K) he was ok after a shock omission having 19 touches, 6 marks, 6 tackles and a goal. He went off at 3QT which is encouraging, as they could've been resting him for this week. Pretty good stats for 3 quarters as well. Could come in for a Sam Reid type but doubt it. If Coniglio misses expect him to come in though.
NEAFL is clearly more social than our Masters competition. It's not divide by 3, @CalvinDT. Think we need to divide by 5. ?‍♂️ #AFLFantasy pic.twitter.com/UOXUldWcil

— Adam 'Warnie' Child (@WarnieDT) May 1, 2019
GOLD COAST SUNS
Aaron Young (FWD, $475K) was BOG for the Suns with 40 touches, 9 marks, 9 tackles and 158 points. Ben King (FWD, $260K) was good as well with 3 goals and 8 marks for 88 points. Sam Day (FWD, $381K) also kicked 3 goals and could come in this week after the Suns got smashed. They need a bit more experience by the looks of it, so don't be surprised if you see him on the team sheets this week. Chris Burgess (DEF/FWD, $227K) wasn't great with 16 touches and 59 points, but no goals. I doubt he comes back in.
BRISBANE LIONS
Ben Keays (MID, $350K) continues to get it done with 4 goals. 26 touches and 138 points. Tom Wooller (FWD, $170K) was amazing again with 1 goal, 31 touches and 9 marks for 126 touches. He's been very good in the NEAFL this year and surely is knocking on the door. Corey Lyons (MID, $170K) was good and is a mature aged midfielder who always gets the job done. 38 touches, 1 goal and 7 marks for 132 points for him on the weekend. Harris Andrews is a test for this week so expect him to return. I think it would be very harsh on Noah Answerth who played quite well on debut, Ryan Lester is underperforming but was decent last week. Too hard to make a call but whoever goes out will be very unlucky.
WAFL
WEST COAST EAGLES
Hamish Brayshaw (MID, $170K) was exceptional with 28 touches and a goal for 125 points. I doubt he comes in with Redden yet to return. Matt Allen (MID/FWD, $170K) was good and could come in for Oscar Allen. He kicked a goal and had 24 touches for 106 points. I would give him a week in the AFL before jumping on. Jake Waterman (FWD, $385K) was good again with 3 goals and leads the goal kicking in the WAFL despite missing a game. He's almost a no-brainer to come in this week.
FREMANTLE DOCKERS
Stefan Giro (FWD, $416K) was very good with 23 touches and 8 marks playing on the wing. He scored 100 points and could come in if Walters misses. Sean Darcy (RUC, $531K) played quite well again with 35 hitouts and a goal for 82 points. He probably should be playing but Lobb is holding his own against some decent ruckman, and the Dockers are in no hurry to make any changes given their position this year. On that note, Connor Blakely (DEF, $664K) had 20 touches and 4 marks, 3 tackles and 74 points and is likely to come straight back in for Nyhuis. I would wait a week to see what his role and scoring is like before getting him in.
SANFL
ADELAIDE CROWS
Ned McHenry (FWD/MID, $240K) was very good with 28 touches and 11 tackles for 139 but I don't think he plays this week. Pat Wilson (MID, $278K) was good again and is a bit of a SANFL pig. He had 30 touches and a goal for 131 points on the weekend. Gibbs is set to come in this week though so you wouldn't expect him to play.
PORT ADELAIDE

 
Jack Trengove (DEF, 419K) he couldn't do much more but it's hard to crack into the in-form Power side. Had 2 goals, 31 touches, 8 tackles and 8 marks. Doubt he plays again. Billy Frampton (RUC, 281K) he is loving playing as a forward and backup ruckman this season. He had 5 goals for 107 points. Karl Amon (MID, 423K) he was impressive again and could come in for the injured Robbie Gray. He had 9 marks, 1 goal, 22 touches for 97 points. Steven Motlop (FWD/MID, 477K) he could be a chance to come in for Gray. He had 2 goals for 62.