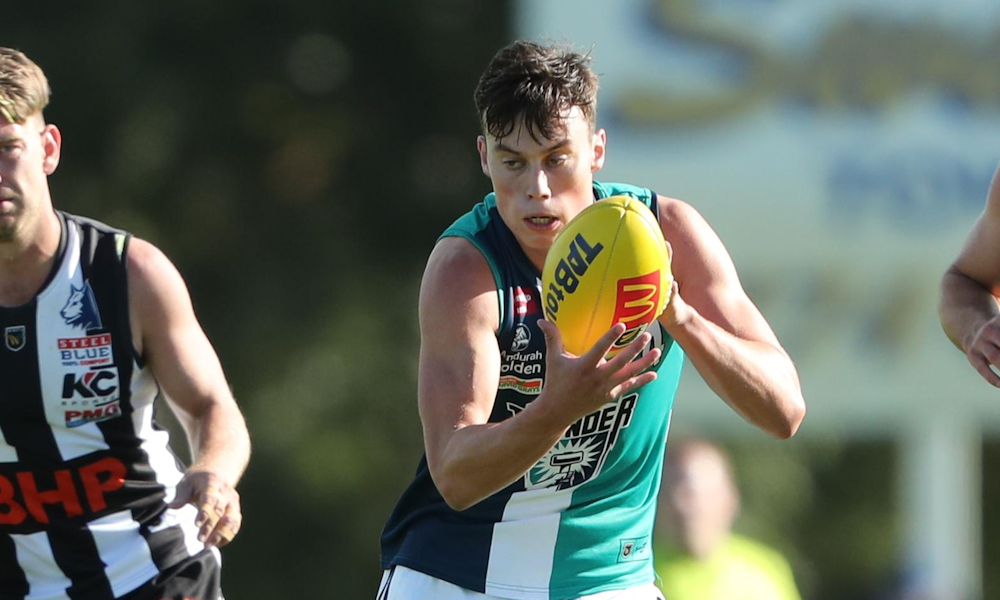 SANFL
PORT ADELAIDE
Jack Trengove (DEF, $419K) was great again and his form cannot go unnoticed. He racked up 37 touches and 6 marks and snagged 2 goals for 126 points. Sam Powell-Pepper hurt his left calf and if he doesn't get up, Trengove could get his chance. Steven Motlop (FWD/MID, $477K) was dropped for the Power's clash with West Coast but responded well with 31 touches and a goal for 107 points, demanding an immediate re-call. It would be hard to drop someone after knocking off the reigning premiers in Perth, but Connor Rozee and Powell-Pepper were both injured and if they're not fit, I expect Motlop to come in. From a fantasy perspective, Motlop out saw Willem Drew move onto the wing, so hopefully nothing changes. Matthew Broadbent (DEF, $350K) now has 3 SANFL games under his belt, and should be nearing a return. He had 15 touches for 52 points on the weekend.
ADELAIDE CROWS
There's a spot up for grabs with Wayne Milera expected to miss 4-6 weeks with a dislocated AC joint. Myles Poholke (FWD, $345K) was great with 4 goals and 30 touches for 140 DT points. He would be competing with the likes of Lachie Murphy and Chayce Jones for a spot but Murphy was great on Sunday evening, so I don't think he's going anywhere. Patrick Wilson (MID, $278K) was good again with 33 touches and 10 tackles for 136. He has impressive numbers in the twos but I struggle to find room for him in the 22. Neither of these blokes play in defence so it will be interesting to see what the Crows do here. A reshuffle may be required. Otten could be a replacement but they aren't like-for-like.
NEAFL
BRISBANE LIONS
Ryan Bastinac (MID, $419K) was very good with 29 touches and 3 goals. He was very influential playing all over the ground, but lining up in the middle a fair bit. He could be an experienced head that comes in after the Lions reality check on Thursday night. Mathieson hurt his hammy and is in doubt, so I suspect Bastinac will come in for him. Toby Wooller (FWD, $170K) was exceptional, kicking 4 goals and finding 23 touches and 7 marks. Having watched this game, every time the ball went forward, he was a part of the scoring chain and had an impact whenever he got the ball. I don't think you can bring him in off the back of one good game, but will be on the radar. Lewis Taylor (FWD, $524K) is a very good player and had 26 touches and 87 points. He's too good for NEAFL and should come back in soon. Noah Answerth (DEF, $170K) could certainly come in with Andrews out. He's my pick.
GOLD COAST SUNS
Aaron Young (FWD, $475K) is yet to play this season but went massive on the weekend with 38 touches, 5 marks, 6 tackles, a goal which led to 151! You would think he would come in after what the Suns dished up on the weekend. Brad Scheer (MID, $380K) was also great with 24 touches, 8 tackles, 6 marks a goal which gave him 114 points. Hard to see him come in though. Josh Corbett (FWD, $170K) Played outstanding with 10 marks and a goal. Should definitely be coming in this week and will be an okay downgrade target. Don't expect massive scores.
GWS
Zac Sproule (MID, FWD, $170K) he had an absolute blinder with 6 marks, 15 touches and 5 goals which led to 101! After GWS performance on the weekend he must be in the mix for a senior debut. Isaac Cumming (DEF, $204K) he must be getting close to his first game in 2019. He had 9 marks, 33 touches and 128 points. Solid option if plays. Nick Shipley (MID, $170K) the NEAFL bully is at it again with his 7 tackles and 32 touches with 106 points. Seriously doubt he plays any time soon though. Aidan Bonar (MID, $351K) he will be very close to cracking back into the AFL now with 6 tackles, 2 goals and 90 points. Doubt he plays this week but he's close. Ian Hill (FWD/MID, $224K) he had his best game this season with 2 goals but only the 43 points. We probably wont see him anytime soon in the senior side.
SWANS
Sam Wicks (MID, FWD, 170K) he did his chances of a debut no harm, having 27 touches, 8 tackles, a goal for 116 points. Due to the Swans very average form we could see him get a gig sooner then later! Colin O'Riordan (DEF, 366K) I thought he was stiff to not be playing in the past few weeks and with his 26 touches, 8 marks, 114 points he may be hard to leave out again. Zac Foot (FWD, 170K) he was a tackling machine with 9 tackles to go with 24 touches and 107 points. He could also be a chance to get a go. Nick Blakey (FWD, 251K) he did his chances of a recall no harm with 6 marks, 22 touches, 2 goals and 98 points.
VFL
ESSENDON BOMBERS
Jayden Laverde (FWD, 390K) is yet to register a game in 2019 at AFL level but did his chances no harm, kicking 6.2 for 123, but I can't see him coming in after Essendon's ripper good Friday performance. Trent Mynott (MID, 170K) is in some nice form at the moment, he went 113 with 2 goals and 25 touches, the 19 year old is averaging 112 now from the 2 games! Will be hard to play this week though. Dylan Clarke (MID, 250K) was again impressive with 99. Does this every season but struggles for AFL games. Aaron Francis (DEF, 403K) held up well in defence with 57 and could come in for Ridley this week but I doubt it. Sam Draper (RUC, 170K) started very well until Campbell got on top of him. Got 56, but will have to do a bit more if he wants a game. Irving Mosquito (MID, 196K) was outstanding and had a great impact with minimal reward on the stats sheet. He managed 51 with a goal, won't see him this week but is a chance some time during the season!
NORTH MELBOURNE
Nathan Hrovat (FWD, 371K) played defence in the first half before moving onto the ball in the second. He scored 100 but used the ball very averagely. Seriously doubt we see him this week. Tom Campbell (RUC, 374K) was outstanding again with 94 backing up his 170 last week. Doubt we see him this week. Curtis Taylor (MID/FWD, 180K) was very impressive with his 64. Did what he could forward in first half including a goal then moved onto a wing and looked great, especially in the third. Could see him come in soon. Joel Crocker (DEF, FWD) is looking great at half back and could get a game in the back half of the season, managed 62. Kyron Hayden (MID, 180K) Is another youngster who impressed in the midfield with a tagging role with 59 including 8 tackles. Nick Larkey (FWD, 170K) did what he could but unlikely to be enough. Scored 43 with 1 goal and aa goal assist that could've easily been his goal, still right in the picture for a game. He came off in the 3rd quarter and didn't come back on.
Listen to the AFL Fantasy Podcast with The Traders at Apple Podcasts, Spotify and Google Podcasts.
ST KILDA
Hunter Clark (DEF, 399K) was very impressive in the midfield with 28 touches, 5 tackles and 1 goal for 101 points. Will be hard to crack into the Saints side though. Luke Dunstan (MID, 578K) was also good kicking 2 goals which led to 99 points. Very unlikely to come in. Billy Longer (RUC, 484K) played ok with 84 but got beaten by his opponent Messe. Can't see him coming in. Nick Coffield (DEF, 409K) had his best game by far this season with 76 points and keeping ex Saint Dunnell goalless and 4 touches for the 3 quarters they were on each other. Could come in for the injured Geary. Nick Hind (MID, 170K) continues to impress with his run from the backline. Could come in for Geary but still has things to improve surrounding his ball use.
COLLINGWOOD MAGPIES
Ben Reid (FWD, $443K) was very good with 18 touches, 11 marks and 1.3 for 107 points. If Aish doesn't get up, expect Reid to come in and play defence. Levi Greenwood (DEF, $420K) was solid in the VFl with 24 touches and 87 points. It's a bit tough on him that he only comes into the side to tag, and has Essendon this week, so I don't think there's any need to bring him in.
GEELONG CATS
Darcy Fort (RUC, $170K) had a strong performance on the scoreboard 3.1 and 16 hit-outs for 104 points. He is a good chance to come in for a struggling Ratugolea and to play that 2nd ruck role and play as the supporting tall forward. Ryan Abbott (RUC, $531) played a solid game on the weekend with 36 whiteouts and 16 touches for 98 points. I don't see him coming into the team with Stanley dominating. Zac Tuohy (DEF, $586) is set to come in for young defender Jordan Clark. He had stats of 8 kicks, 6 handballs, 1 mark and 1 tackle for 43 points off limited game time coming off injury. Rested young player Charlie Constable is set to come in for the injured Parfitt this week.
CARLTON BLUES
Matt Kennedy (MID, $467K) was the top scorer for an AFL listed player, and it was just 76!! I don't think he will come in after a win, and although Polson only managed 4 handballs, I think he will hold his spot since they got their first win in a while. Hugh Goddard (DEF, $170K) was good with 16 touches and 7 marks for 75 points, but I think he's a fair way off. Following on from that, barring any injuries, the Blues shouldn't make any changes.
HAWTHORN HAWKS
Jonathon Ceglar (RUC/FWD, $444K) could come in after Ben McEvoy hurt his hip in the last quarter in the Easter Monday clash. He scored 73 points and kicked a goal, so if Big Boy McEvoy doesn't get up, expect Ceglar to come in. Harry Jones (DEF, $170K) wasn't as good as previous weeks, with only 13 touches and 54 points. The Hawks are scraping the bottom of the barrel with their injuries at the moment and Jones must be getting close.
WAFL
WEST COAST EAGLES
Keegan Brooksby (RUC, $357K) was good with 21 touches and 42 hitouts for 142 points. You wouldn't expect him to play, but I reckon he is actually a slight chance to come in for Hickey if he doesn't lift his performance. I doubt it will be this week though. Jarrod Brander (FWD, $184K) kicked 2 goals for 91 points, but I can't see room for him with Cripps back and Rioli set to return as well. Josh Rotham didn't play as he was a travelling emergency and could come in for Schofield who was shocking on the weekend.
FREMANTLE DOCKERS
Bailey Banfield (FWD/MID, $471K) was very good with 31 touches, 8 tackles and 2 goals, on his way to 140 points. I seriously doubt he plays, unless an injury pops up, after Freo's win against the Giants. Brett Bewley (MID, $170K) was impressive with 29 touches, 6 marks and 9 tackles for 127 points. He seems a very well-rounded player and when he gets his opportunity, I would suggest him as a downgrade target. Tobe Watson (MID/DEF, $170K) was also extremely good for a key defender, with 24 touches, 8 marks and 108 points. I don't think he plays this year though. Tom North (MID, $170K) had 27 touches and 88 points and is a big bodies MID who could get a game.