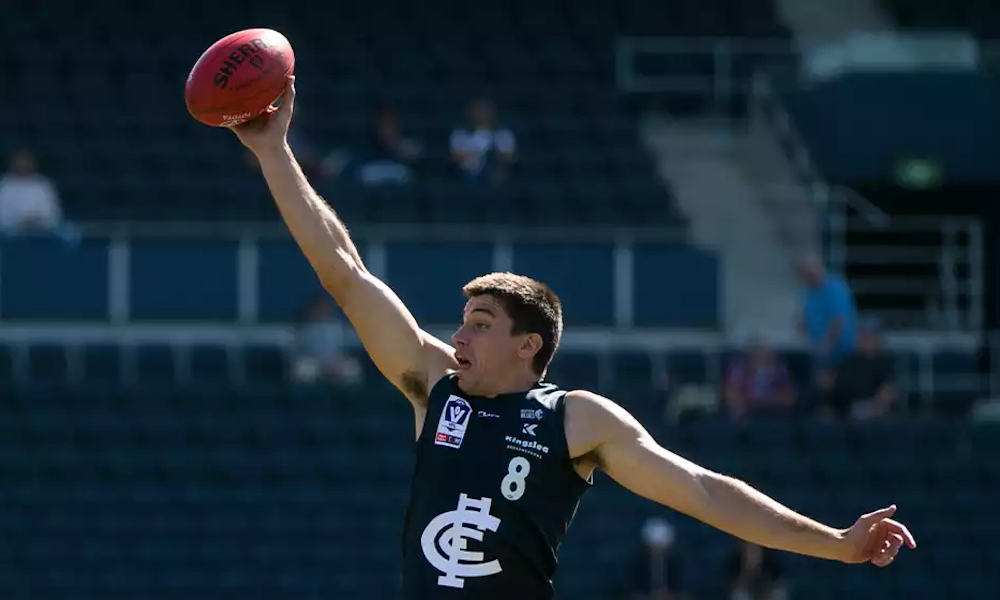 VFL
WESTERN BULLDOGS
Jackson Trengove (DEF, $522K) made his return and kicked 2 goals, had 26 touches, 8 marks and 26 hitouts for a score of 144. I expect him to return to help English in the ruck, especially after last week's domination by Grundy. Lukas Webb (FWD, $339K) was also brilliant with 28 touches, 10 marks and 2 goals for 129 points. Will Hayes (MID, $170K) was good again with 19 touches and 85 points, playing mainly on the win. Hopefully he gets a game soon and can be a nice downgrade target for our benches. Bailey Williams (DEF, $560K) was probably a bit unlucky not to play, but should be in serious contention after 22 touches and 10 marks for 86 points. Rhylee West (MID, $220K) is also another Dogs MID who could get a game this year. He kicked 2 goals for 65 points. I think Hayes is ahead of him though.
COLLINGWOOD MAGPIES
Josh Daicos (FWD, $496K) certainly put his name u there for selection after 22 touches, 13 marks anda. Goal for 114 DT points. IF he does play, is not an option in classic. Rupert Wills (MID, $325K) was good with 28 touches, 6 tackles ad 5 marks for 103 points in a very well-rounded game. Dare I say it, if he gets a game, could be a very interesting prospect in classic, sort of like the James Cousins to start this year. He is proven magnet and averaged 84 from 5 games in his first year. He's a mature aged and it might be worth paying up a little bit if he plays. Daniel Wells (FWD, $459K) was good as well in return, with 23 touches, 11 marks and a goal for 100 fantasy points. He had managed minutes and wasn't running as much as he normally would. He should come back in soon but is too old and injury prone for fantasy. Brayden Sier (MID, $515K) had 25 touches and 70 points. It's still beyond me how unlucky he is to be playing VFL, as he would get a game at nearly every other AFL club. Isaac Quaynor (DEF, $246K) was decent with 20 touches and 72 points. We should see him at some stage this season. Ben Crocker (FWD, $350K) was one of the best on ground from all reports, playing mainly on the wing. He had 27 touches and 6 marks for 97 points. He's in the frame this week.
RICHMOND TIGERS
Not too much happened down at the Tigers, but Pat Naish (DEF $170K) was the top scorer with just 80. I guess the Tigers low scoring game style flows down into the reserves as well. Oleg. Markov (DEF, $233K) was average with 11 touches and 46 DT points.
NORTH MELBOURNE
Tom Campbell (RUC, $374K) certainly found the positives in being dropped, kicking 2 goals, 19 touches, 8 tackles and 63 hitouts for 170 fantasy points. Sam Wright (DEF, $479K) has now played 2 VFL games after injuring his quad. He scored 93 points from 24 touches and 4 marks and with MacDonald suspended for 1 week, I expect Wright to come back in. Marley Williams is still a week away. Nick Larkey (FWD, $170K) was good again, kicking 3 goals for 62 points. If he plays, he wouldn't be very fantasy relevant.
MELBOURNE DEMONS
With Neville Jetta and Jay Lockheart set to come back in, as well as having their first win, I don't expect too many changes at the Dees. Harrison Petty (DEF, $239K) was good for the Demons reserves with 17 touches and 9 marks for 90 points. Tom Sparrow (MID, $257K) was all decent with 19 touches and 7 tackles for 79 points. I struggle to see him getting another gameness an injury pops up in the Demons midfield. Jeff Garlett (FWD, $426K) was apparently best afield on the weekend with 3 goals, 18 touches and 88 DT points. He could certainly come in for an underperforming Spargo or even Wagner, which would be very harsh though.
ST KILDA SAINTS
Nick Hind (MID, $170K) played exceptionally well, fading 39 touches, 9 marks, kicked a goal and had 146 fantasy points. I suggest he is a strong chance to play this week, and despite the Saints being 3-1, I think someone who performed as he did when they were already a chance for selection just cannot be ignored. Luke Dunstan (MID, $578K) lit up the stats sheet as per usual with 37 touches and 7 marks for 126 points. I don't think he will play though. Ed Phillips (MID, $481K) was again good on the wing with 30 touches, 9 marks and 115 points. Billy Longer (RUC, $484K) again played in the VFL and was good with 39 hitouts and 84 points, but as I said last week, Marshall seems to have the ruck spot covered at the moment and I can't see them playing together.
HAWTHORN HAWKS
The Hawks have been hit hard with injuries this week. O'Meara obviously was a late out with a hip problem, but Impey, Cousins, Frawly, Smith, Nash and Smith all suffered injuries and although some of them played out the game, may need a week on the sidelines to recover. They do have an 8 day break though. Harrison Jones (DEF, $170K) led the twos once again with 22 touches and a goal for 83 points. Mitch Lewis (FWD, $170K) has been good in the last few weeks and the weekends game was no different. He kicked a goal and took 5 grabs for a score of 62. Connor Glass (DEF, $315K) is a strong chance to come back in if Frawly doesn't get up, after having 22 touches, 5 marks and 5 tackles for 95 points. Not fantasy relevant though.
GEELONG CATS
Cam Guthrie (DEF, $441K) had another strong game with 25 touches, 8 marks and 92 fantasy points. He could come in for Clark or O'Connor, or even both of them could go out if Tuohy returns form injury. Darcy Fort (RUC, $170K) kicked 2 goals but won only 7 hitouts for 64 points. I just don't think there's room in the side for him and if he wants a game, will either have to wait for an injury or do a bit more than that.
CARLTON BLUES
Matthew Kreuzer (RUC, $576K) made his return via the VFL and won 26 hitouts, kicked 2 goals and laid 5 tackles for 99 fantasy points. He will almost certainly come in for Lobbe unless they want to give him another game in the VFL, which would be for match fitness, not ability. Jack Silvagni (DEF/FWD, $353K) was also quite good with 19 touches, 2goals and 98 points. I don't think he will play this week but is always a chance. Liam Stocker (MID, $234K) was decent with 15 touches and 5 marks for 56 points. I don't think we'll see him until later in the year, if at all. Hugh Goddard (DEF, $170K) was a typical key defender with 12 touches and 52 points.
SANFL
ADELAIDE CROWS
Patrick Wilson (MID, $278K) always has large numbers in the reserves and last weekend was no different. He racked up 42 touches, 11 marks and151 fantasy points. I'd say he is a chance to come in for Jones but I think Hugh Greenwood (MID, $597K) who had 33 touches, 2 goals and 139 is probably ahead of him. Tyson Stengle (FWD, $214K) kicked 2.5 for 67 points and will probably need to gain some accuracy before he gets a game. Sam Jacobs will also come in for Riley O'Brien if fit.
PORT ADELAIDE
Jack Trengove (DEF, $419K) was great again with 35 touches and 14 marks for 141. A bit off his back-to-tack 180's in the previous weeks but is still in ripping form and is a chance to come in for someone like Drew or Howard. Jarrod Lienert (DEF, $470K) has been extremely good in all 3 of his SANFL games and I think his performances have to rewarded with a game this week. He had 33 touches, 9 marks and a goal for 130 points. He could also come in for Howard who has been underperforming. Sam Mayes (DEF, $510K) was good with 112 points and Todd Marshall (FWD, $313K) was amongst the scoreboard with 4.2 and 103 points. Matthew Broadbent (DEF, $351K) is surely getting closer after 21 touches and a goal for 85 points.
Listen to the AFL Fantasy Podcast with The Traders at Apple Podcasts, Spotify and Google Podcasts.
WAFL
WEST COAST EAGLES
Jake Waterman (FWD, $385K) was very good again with 5 goals and 9 marks for 114 points. He is a slight chance to come in for Oscar Allen who was poor in the derby, but that would be quite rough on the youngster. Another option is in for Hickey and Allen plays as second ruckman. Jackson Nelson (DEF, $292K) was good with 27 touches and 113 points, but it's too hard to pick someone to make way for him. Will Schofield (DEF, $245K) will be knocking on the door for a recall after 16 touches, 9 marks and 88 fantasy points. Jarrod Brander (FWD, $185K) kicked a goal from his 16 possessions for 82 points. Like Nelson, I think it's too harsh on anyone to come out of the side for him.
FREMANTLE DOCKERS
Mitch Crowden (FWD, $298K) has been good in both games now, after finding the footy 26 times and laying 8 tackles for 111 DT. It's between him, Schultz and Switkowski for a spot at the moment and the Dockers are very keen on Switkowski and Schultz. Tom North (MID, $170K) was the closest like-for-like swap with Nat Fyfe being a mature, big bodied midfielder but didn't get a game, which suggests he's got some work to do. Nevertheless, he had 28 touches and 111 fnatasy points. Sean Darcy (RUC, $531K) returned after being sore last week, and won 44 hitouts and laird an impressive 8 tackles for 91 points. He's certainly good enough to get a game but the Dockers don't want to be playing 4 talls. I think they could use Tabeners kicking as an excuse to omit him for Darcy. Brett Bewley (MID, $170K) returned from injury with 17 touches and 58 points from limited minutes. Brennan Cox (FWD, $434K) was nothing special with 41 points and 0 marks, but should come in for Hamling if he doesn't get up from his concussion.
NEAFL
BRISBANE LIONS
Corey Lyons (MID, $170K) was good again with 29 touches and a goal for 111 points. Tom Cutler (MID, $614K) also continued his fine form with 25 touches, 11 marks and 106 points, but I think the Lions won't make any unnecessary changes after being 3-1. Ben Keays (MID, $350K) may have found himself a new solid role down forward after kicking 6 goals for 99 DT. He could force his way into the side if he continues playing like that. But as I said, I think the Lions won't make any changes this week barring injury.
GWS GIANTS
Jackson Hately (MID, $244K) played well and is a very good chance to come in for injured skipper Callan Ward. Hately was noted as best afield for the Giants in the NEAFL with 27 touches and 7 marks for 94 fantasy points. He's a bit pricey but has good numbers in the twos and could be a nice swap for someone like Gibbons or Atkins. Matt Flynn (RUC, $170K) will struggle to get a game with Mumford back in. He only managed 10 hitouts for 68 points.
GOLD COAST SUNS
George Horlin-Smith (MID, $435K) was very good with 32 touches ad a goal for 117 points. He should come in if Powell doesn't play. Will Brodie (MID, $446K) could also come in for Powell after racking up 30 touches and 7 marks for 114 points. Tom Nicholls (RUC, $242K) was good as well with 35 hitouts and a goal for 101 points. I think Witts and Wright as back-up is a good combination for the times being and Nicholls will have to rely on injuries or something special to get in the side.
SYDNEY SWANS
Darcy Cameron (RUC, $170K) was amazing as per usual, with 17 touches, 2 goals, 7 marks and 25 hitouts for 112 fantasy points. He is clearly out of favour with the Horse, and is 1 or 2 injuries away from getting into the side. Ryan Clarke (DEF, $467K) was good with 28 touches and 109 points and is a decent chance to come in this week. McInerney was shocking and a few others have been very quiet to start the year, and they may want to bring some experience in to steady ship.