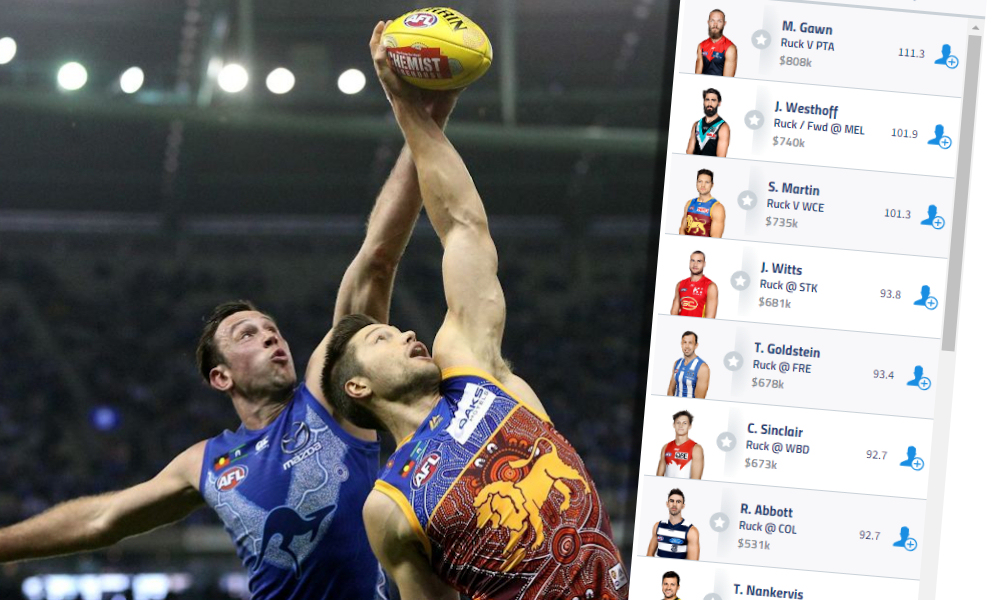 2019 is looming up to be one of the toughest seasons for picking ruckman in Fantasy. Most teams will have their R1 spot already locked down with ruck pig Brodie Grundy (871k) who currently sits in a massive 52% of teams. The hard decision though is who to pick at R2, especially will the new rule changes coming into effect, and multiple AFL clubs looking at playing a second ruckman.
With that said,  I will talk you through some of the options at R2 to consider, going down based on the amount of players that currently hold each of these ruckman in their teams. As you scroll down the ruckman will obviously become more unique, but at the same time have a potentially greater pay off.
Max Gawn
Team: Melbourne
Position: RUC
Price: $808,000
Bye round: 13
2018 average: 111
Team Percentage: 19%
Easily the most picked number two Ruck in Fantasy Gawn has shown that he is a consistent Fantasy scorer. Last season he averaged a massive 111 and ignoring his interrupted 2017 season in 2016 he average just shy of 107. These are number we would happily take from a ruckman if we weren't comparing them to Grundy's 120. Gawn also has the potential to put out decent scores going over 110 twelve times last season, and he only failed to get more than 80 on two occasions.
There is doubt however as to whether Melbourne will use new recruit Preuss as a second ruckman, which could see Gawn's scoring potential decrease. For more on that read my Deck of DT article on Max.
Gawn still presents himself as the most solid R2 option, I still think he is the safest option at R2, which is backed up by the fact 19% of the competition have him, but I would see what Melbourne do over JLT to see if his on ball minutes are significantly effected.
Justin Westhoff
Team: Port Adelaide
Position: RUC/FWD
Price: $740,000
Bye round: 12
2018 average: 101
Team Percentage: 13%
The 'Hoff' maintains RUC status due to his use as a ruckman on occasion by Port last season. Despite that I think it will be really unlikely we see him in the Ruck this season except for possibly pinch-hitting and injuries to other players. In the off-season Port recruited Lycett from the Eagles. With the new acquisition it is quite obvious the Power will use Ryder and Lycett as their two main rucks, forcing Westhoff back forward and limiting the scoring potential he gained running through the guts.
He remains in 13% of the teams on the back of his scoring power last season, but I fear that he will go back to his role in 2017 where he only averaged 83 as a forward. For me he is too much of a risk due to his change of role, and there are much better options for the hefty price tag. Fry offers the same thoughts as me in his Deck of DT article on the Hoff.
Zac Clarke
Team: Essendon
Position: RUC
Price: $270,000
Bye round: 12
2018 average: N/A
Team Percentage: 12%
I probably speak for the majority when I say I thought Clarke's AFL career was done and dusted when he left the Dockers in 2016. His WAFL form of late though has been pretty impressive though. Despite this it hasn't lead to huge Fantasy scores with an average of 71 points over the season for Claremont. He still finds himself in a great number of sides due to his low price tag, and if named in Round 1 is certainly worth considering, especially as it could allow you to pick a premium elsewhere. I can't see him averaging more than 75 though, and he is certainly not a set and forget at R2.
Sam Jacobs
Team: Adelaide
Position: RUC
Price: $591,000
Bye round: 14
2018 average: 81
Team Percentage: 11%
2018 was a terrible year for Sam Jacobs with his lowest average since 2013. He only scored over 100 four time last season, with only one score over 105 with his 120 in round 2. He also had some stinkers last season with eleven scores of 80 and under. He has also never had a season where he has averaged more than 100 points.
He is cheap though, and if he can average anything over 95 early days then at under 600k he is a bargain. Check out his Deck of DT article here.

Find The Traders' podcast on: Apple Podcasts, Google Podcasts and Spotify.
Stefan Martin
Team: Brisbane
Position: RUC
Price: $735,000
Bye round: 13
2018 average: 101
Team Percentage: 7%
Steff is one of the most consistent ruckman in the game, but it feels like with all the talk about Grundy and Gawn he has been forgotten about. It is worth noting that he has averaged 103 points over the last five seasons. One of the greatest concerns with Steff has always been his scoring with a second ruckman in the side. Last season saw Brisbane introduce McInerney to the ruck, taking minutes off Steff. This didn't really effect his Fantasy output though with his first game sharing the ruck being a massive 130 against no other than Brodie Grundy. He also had some huge games as outlined in his Deck of DT article where he scored 177 and 137. A fit Martin can score scores like with ease as he did in 2015.
Martin does come with some risks though. He has had an interrupted pre-season. The Lions have also thrown forward the opportunity of Archie Smith to take over the number one duty, although I feel like this could be talk to get Steff to lift his game.
Tim English
Team: Western Bulldogs
Position: RUC
Price: $446,000
Bye round: 12
2018 average: 67
Team Percentage: 5%
Tom Boyd being out for an extended period of time gives 'Speak-a-no' an unbelievable opportunity to try his luck as the Dogs number one ruckman for more than a few games stint. We already saw last season that he has the ability to score fantasy numbers, and given the opportunity I feel like he could easily average 85-90. At 446k an average of 85 would put him at about 150k underpriced.
By all reports English has had a great pre season, putting on bulk and getting fitter than ever. With no other fit competition at the bulldogs in Ruck except for rookie Sweet, rolling the dice on English could be both a risky, but well planned move.
Todd Goldstein
Team: North Melbourne
Position: RUC
Price: $678,000
Bye round: 14
2018 average: 93
Team Percentage: 5%
Which Goldstein will we see? He can be so up and down form wise that its not even funny. He is capable of scoring a 123 then following that up with a 59 then going big again with 114 as he did towards the end of last season.
He does however have the ability to average over 90 with ease. The best thing for Goldy is to be in the centre at the ruck contests. He average 8 more hitouts in his 2015 111 average season than he did last season. The promising think is Preuss has left, and there is no obvious second ruckman at the Roos to take his place, meaning hopefully Goldstein has the chance at the Roos to shine as the number one ruckman.
After his bye round last season Goldstein average over 100 for the second half of the season, and there is no reason he isn't capable of doing that agin this season.
Rory Lobb
Team: Fremantle
Position: RUC/FWD
Price: $485,000
Bye round: 12
2018 average: 66
Team Percentage: 4%
Lobb is always mentioned in Fantasy circles, but has never shown a consistent ability to score well. He has never averaged more than 70 a season and is priced to reflect that. Although a move to Fremantle and the mantle as their new no1 forward could lead to increases in scoring due to his extra chances at goal, I doubt he will average any greater than 80 to become the least bit Fantasy relevant.
Surely the 1600 teams that have him are all Dockers fans? Surely?
Jarrod Witts
Team: Gold Coast
Position: RUC
Price: $681,000
Bye round: 14
2018 average: 93
Team Percentage: 4%
Probably one of the yo-yo player in the competition last year with a consistent ability to go huge one week and then crash back down to reality the next. Witts had seven scores above 110 last season and eight of 80 and less, with 3 scores in the 90s and no scores between 100 and 110.
Whilst consistency isn't his thing, it is worth noting that he shows the ability to go huge with 140, 132, 131, 125 and 124 being his highest scores last season. If he can find a way of getting those more often he can easily average over 100 in a season. The other positive is there is no imminent danger on his role in the side or a second ruckman coming in, and with the Gold Coast midfield looking no stronger this season that last they will rely on the big man to get hold of the ball. In only 4% of sides I think Witts could be a decent option with lots of upturn.
Matthew Kreuzer
Team: Carlton
Position: RUC
Price: $576,000
Bye round: 14
2018 average: 79
Team Percentage: 4%
Kreuzer had an amazing 2017 where he averaged a huge 105 points. Last season though he suffered through injury, and he is still struggling through the pre-season. He is still listed as a test for JLT by the Blues, but there will be worry amongst coaches that without a full pre-season a repeat of last season could ensue where he only averaged a measly 79 points, a drop of 26 from the season before.
Priced at almost $130k less than that season Kreuzer is a bargain though, and if he plays JLT and stays fit he could and should easily average more than 90 this season.
Toby Nankervis
Team: Richmond
Position: RUC
Price: $648,000
Bye round: 14
2018 average: 89
Team Percentage: 1%
I must admit I was shocked to see that Nankervis is only in 1% of teams despite averaging just shy of 90 the last two seasons. Nank is one of the most consistent ruckman going. In his last 5 games last season he average 95 points a game. You will happily take that set and forget at the start of the season.
It is yet to be seen though how Richmond will play this season. In previous seasons they had Grigg pinch hitting around the ground, but with the new style of play requiring a 6-6-6 formation they won't be able to use Grigg in that role as other teams will be able to get the ball into their own forwards lines with ease as Grigg would get overpowered in ruck contests. This could either mean more minutes on ball for Nank, or another ruckman is named.
Callum Sinclair
Team: Sydney
Position: RUC
Price: $673,000
Bye round: 13
2018 average: 92
Team Percentage: 1%
A weird one to name as a player who apart from his rookie season hasn't been fantasy relevant, but Sinclair went under the radar last season. A season average of 92 is not something to scoff at an came off the back of some consistent time in the ruck for the Swans.
He had fourteen scores of 90, and only went below 70 on two occasions last season. Assuming Cameron doesn't play a huge role there is every chance that Sinclair can improve on those lower scores and increase his average. At $673k though is he too risky an option to take the chance on?
Other options: 
Shane Mumford (RUC) GWS, $429,000
Suspended until round 3, when fit could be a decent upgrade target for those who start Clarke or sideways trade if English backfires. Capable of averaging more than 90, questions on his body holding up are to be asked, but he is easily 150k under-priced.
Scott Lycett (RUC) Port Adelaide, $559,00
Newly crowned Premiership ruckman, Lycett got his main break thanks to the injury plagued career of Natanui. Although he is at a new club I can't see him averaging more than 5 points extra a game playing in a very similar role to that he played at the Eagles.
Ben McEvoy (RUC) Hawthorn, $628,000
Won't see much improvement, and better options out there at his price. Weird one as he has all the attributes to score well, just never manages to on a consistent basis.
Tom Bellchambers (RUC) Essendon, $577,000
Has never and won't put up numbers to make him more relevant than a draft sleeper ruckman in Fantasy. Only went over 100 twice last season. With Clarke in the team now this form could see him droppedout of the best 22.
Aaron Sandilands (RUC) Fremantle, $554,000
Concerns as to whether he plays R1, and if he doesn't then Darcy might be given a deserved shot at the number one role. Hasn't averaged of 80 since 2015 and hasn't played a whole season since then too. Avoid like the plague.
Sean Darcy (RUC) Fremantle, $552,000
Should be the number one ruck at Fremantle but they still play with Sandilands in the side. I would pick Darcy if there was no risk Sandilands will play some stage of the season. That is no guarantee though.
Rhys Stanley (RUC) Geelong, $590,000 
Had a decent season last year averaging 81, but the Cats haven't picked who they want as the no1 ruck at the moment with Fort and Smith also in line for the role.
Lewis Peirce (RUC) St Kilda, $319,000
The Saint's have announced that Longer won't start the season leaving the door open for Pierce to get a chance at the ruck spot. With no Hickey in the team anymore, and untried Alabakis probably not a chance to get a game anytime soon Pierce shapes up as the cheapest sole ruckman in the game. He played two games last season where he had 85 and 46 as the main ruck. Given time though and chances his scores might progress. He is possibly too expensive just to start at R2 with those scores.
Darcy Fort (RUC) Geelong, $170,000
There has been talk on Twitter that Geelong have been impressed with Fort, with Joel Selwood even coming out saying he is a chance to be given the helm as the lead ruck in R1. If named Round 1 playing Fort at R2 could be a smart move. A rookie who could play extended mid time, in a scoring role, it could be a solution to all of our R2 issues. It is certainly worth watching this space over JLT.
---
Currently my R2 position is occupied by Tim English. I feel that I can't trust Gawn's current role, and that the money will be better spent to get another high priced defender in this year. If I hold English and it backfires I will probably look to downgrade him to Zac Clarke or upgrade to Mumford in round 3.
Who is your current R2? Is there anyone I missed? Share your comments below or on Twitter @DTTalk and @Triggywiggy and make sure to use the #AFLFantasy hashtag.