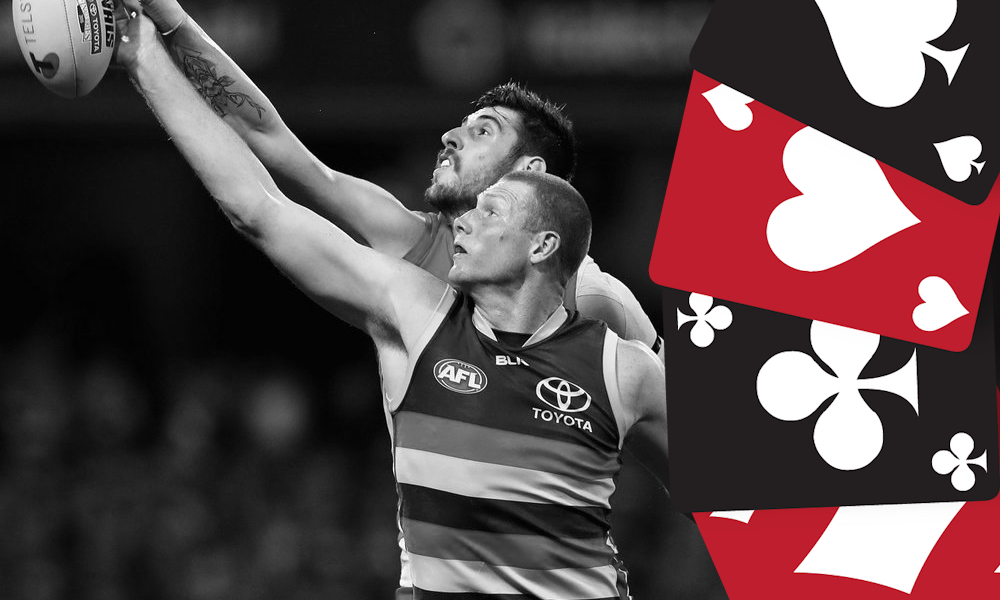 Name: Sam Jacobs
Team: Adelaide
Position: Ruck
Price: $591,000
Bye round: 14
2018 average: 81.4
2018 games played: 22
Predicted average: 93
Draft range: 2nd Tier Rucks
Click here for 2019 Fantasy prices.
Why should I pick him?
Value. Sam didn't have the best season in 2018 with his lowest average since 2013. From 2014 to 2017 he averaged 97, 96, 90 and 99. So we can see that he certainly has the scoring potential to be on of the top 5 scoring rucks in the competition. Add to that the poor season that Adelaide had as a team by their standards last year and there are plenty of reasons to believe that Jacobs can once again lift that scoring back up to somewhere in the mid to high 90's.
There is no disputing that the RuckPig Brodie Grundy will be the most selected set and forget ruckman in the game this year and Gawn and Martin will be heavily considered right behind him. But when you look at Gawn and Martin they will cost you $808k and $735k respectively and will probably average around the 98-102 range I suspect. If you want to use your salary cap a little differently you can save just over $200k on Gawn and about $140k on Martin by going with Jacobs and looking for that return to form. Clearly this isn't without risk but we don't want to be paying top dollar for someone that has had a great year last year (Grundy excluded) when we can pick up some value and put our dollars to better use elsewhere.
Job Security. We have had concerns about Grundy with Cox in the past, Martin with Oscar McInerney and now we are worried about Gawn with Preuss. But there is no such concern at Adelaide. Sam's backup ruckman Reilly O'Brien who hasn't played a senior game in the last two years and played just 2 games in his career. He is definitely next in line at Adelaide but I don't think that he is going to be taking Jacob's job just yet.
One thing we can say about Jacobs is that he is reliable. Since crossing from Carlton at the start of the 2011 season Jacobs has only missed 8 games and he hasn't missed a game in the last two years and only two in the season before that. When dealing with a position that only has two on field and is often a 'set and forget' part of our team this is something that is critical. Only Stef Martin and to a slightly lesser degree Brodie Grundy (one game less) can boast a similar record in the last three years for the Ruckmen (I am not including Westhoff here who hasn't missed a game in that time as he isn't a true ruckman and not a player I will be looking at for either R1 or R2). If there is one thing we hate doing that is wasting trades sideways swapping our ruck positions for injuries so those guys that are most likely to play all 22 games should be high on our list of guys to select.
Why shouldn't I pick him?
Whilst the average of 81.4 means that he is a value pick in 2019 it is hard to go past the fact that he only averaged 81.4 last season. If we have a look at his average stats comparing his 99 average in 2017 to last year's 81.4 he was down in all of the key stats that we look at for a ruckman.  He was down 3.7 hitouts per game, 1 kick per game, 1.6 handballs per game and one tackle per game. Just looking at those areas that accounts for 13.9 points per game. Add to this that in 2017 he kicked 8 goals and last year he had just the 3 you can start to see how his averaged dropped by 18 points. These aren't big drop offs and as a result, will he pick them back up again? Given how small the drop off in each stat is, could he just stay at the level he was at in 2018? It is certainly a possibility.
I mentioned earlier that he doesn't seem to have any real threats to his role at Adelaide but there were plenty of calls late last season for the Crows to start getting games into Reilly O'Brien. If Jacobs starts out like he played last year these calls will only get stronger and it could be the case that he does find himself sharing time with his apprentice. If this does happen then it can only have a negative impact on his scoring and value prospects.
Jacobs isn't the only value option out there this season. There are others that have proven performance last season and aren't much more expensive like Witts and Goldy. They have the runs on the board from last season at least and Goldy doesn't have the Preuss threat anymore.
Click here to download.
Find The Traders' podcast on: Apple Podcasts, Google Podcasts and Spotify.
Deck of DT Rating.
JACK – Jacobs does present a huge amount of value if he can regain that 2017 form. That is the big unknown. Can he and the rest of the Crows find that form that saw him as one of the top 4 rucks and the team in the Grand Final. I believe that they will certainly be better and he will be a better player this year too. I am very hesitant about picking him only because I started with him and stuck with him until the byes last year and that burnt me badly. I think he will lift that average back up into the 90's but if you are going set and forget I think you may have some sleepless nights with Jacobs at R2.
In Draft I wouldn't look at Jacobs until the second tier ruck run happens. I expect that Grundy, Gawn and Martin will go early and then there should be a long gap until the next lot of rucks are taken. It is then that I would look at him and not before.
Loading ...
FOLLOW US ON TWITTER: @DTTALK for all thing AFL Fantasy (and more). Got something to say about the deck? Use the hashtag… #DeckofDT.