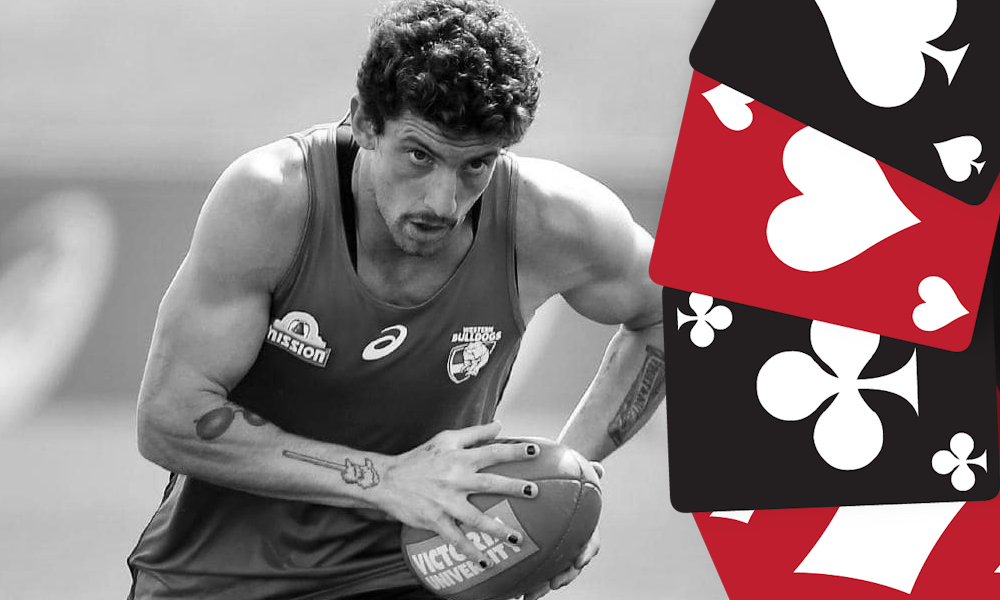 Name: Tom Liberatore
Team: Western Bulldogs
Position: MID
Price: $392,000
Bye round: 12
2018 average: 9.0
2018 games played: 1
Predicted average: 94
Draft range: Bench flyer.
Click here for 2019 Fantasy prices.
Why should I pick him?
Because he's priced at $392,000. That's an average of 54. Bargain alert. You should be sold already, but there's plenty of evidence to justify starting with Tom Liberatore in 2019.
Last season Libba looked to be back to his best, scoring 86 and 96 in two shortened JLT matches. Of course 10 minutes into 2018 his season was over, another ACL injury left him with an average of 9. Admittedly, not brilliant. However the signs were promising.
He attended the most centre bounces for the Doggies when out on the park and I can see that continuing during the JLT this year. He's a contested beast, averaging 14 contested disposals and 7 tackles per game during a 44 game period in 2013/14 where he averaged 98. Not half bad for a player priced closer to a rookie than a premium.
If you're concerned about how his body is feeling, you shouldn't be. We're not doctors and I can't calculate the exact chances of him suffering a similar injury again. I can tell you that he returned to pre-season training early and is fit and raring to go in 2019.
If he's fit and on the park in Round 1, where is the downside? I think the worst case scenario is he averages mid 80's and gets moved on around the bye period, however there's no doubt he has the capability to push an average of 100. The Doggies are struggling to settle on their midfield, but none of them can match Liberatore's work in and under. He'll be in the guts, he loves a hug and should be hungrier than ever.
When you consider the upside that he's (only) 26 entering his prime footballing years, it seems a gamble worth taking.
Why shouldn't I pick him?
Selecting a player on the back of his second ACL injury has many potential potholes. While his knee may be fully healed we've seen players struggle with other injuries after significant surgeries, particularly hamstrings. Having said that he did his ACL in 2015, came back in 2016 and played 21 games. He's done the rehab before and come out the other side.
My biggest concern is since that first ACL his Fantasy averages haven't reached the heights of 2013/14. Not even close. He averaged 81 in the Doggies premiership season, and followed that up with a pitiful average of 72 in 2017. His performances were under such scrutiny that he wasn't guaranteed a spot in the side. I can talk about him looking great in pre-season until I'm blue in the face, the fact is he hasn't scored well at AFL level for over 4 years.
Is an average of 75-80 enough to justify picking him at nearly $400,000? If this year's rookie class look good, it's probably not.

Find The Traders' podcast on: Apple Podcasts, Google Podcasts and Spotify.
Deck of DT Rating.
JACK – I don't think you can go wrong at this price point. There are multiple factors that need to be considered before locking him in. We need to see some solid form in the JLT, and we also need to know how the rookies are travelling. However I'm confident he can comfortably boost his average by at least 30 points and be a solid scorer until your team is upgraded. He will go late in drafts but don't wait too long, someone will definitely snap him up on their bench.
I started him in 2018 so there's no doubt I'm in for the ride again, I think he's going to get back to premium level!
Loading ...
FOLLOW ME ON TWITTER: @mattcraigdt for all thing AFL Fantasy (and more). Got something to say about the deck? Use the hashtag… #DeckofDT.