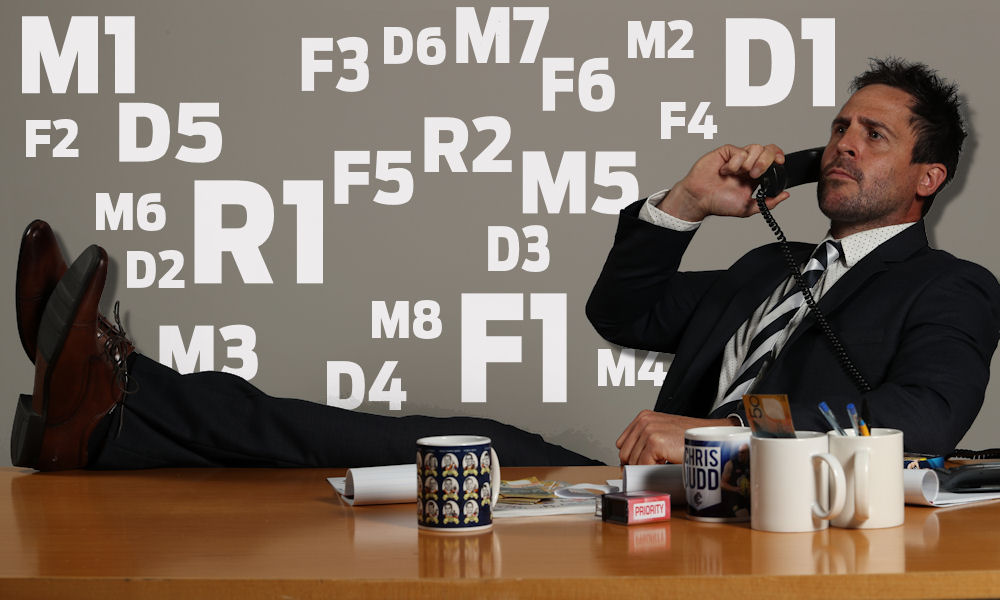 As the countdown to the season proper reaches a month, updating my rolling 22 is the least I can do! So here you go to use as you please, whether that me be for a guide, entertaining reading or as a source of anger to get genuinely heated about, here it is.
Click here to recap the January edition.
Click here to recap the December edition.
DEFENDERS
2018
Avg
Proj
Avg
Change

D1

Rory Laird
Rory Laird, DEF
Genuine star, who should average around the same after taking into account the Crows improvement and the return of Brodie Smith.
107.8
(20)
107

D2

Jake Lloyd
Sydney Swans, DEF
An interrupted pre-season is the only thing stopping him from being my number one.
100.1
(22)
106

D3

Lachie Whitfield
GWS Giants, DEF
Zac William's return pushes Whitfield up to a wing where he dominated in the Finals. One of two tag candidates for the Giants without Shiel is a slight issue.
101.6
(22)
105

D4

James Sicily
Hawthorn, DEF
Will be the number one kick out guy for the Hawks and has reportedly played on at every opportunity during match simulation.
95.6
(14)
104

D5

Alex Witherden
Brisbane Lions, DEF
In career best condition and will take his share of kick ins (knows what he needs to do to register +3 from there).
88
(22)
101

D6

Kade Simpson
Carlton, DEF
Following the loss of a few key defenders this pre season, old faithful returns. Will no doubt slog it out with minimal support again to average in the 90s.
95.3
(21)
94
In the mix: Nil.
MIDFIELDERS
2018
Avg
Proj
Avg
Change

M1

Jack Macrae
Western Bulldogs, MID
Has had a ripper pre season and deserves to remain at the mantle.
122.6
(19)
120

M2

Zach Merrett
Essendon, MID
Remains at number two despite an interrupted pre-season. There will be additional uncontested ball this year with the addition of Shiel.
101.5
(22)
117

M3

Patrick Cripps
Carlton, MID
They don't just hand out AFLX Vice Captaincy willy nilly… Well, they probably do but Crippa is a jet and set for a career high.
109.3
(22)
115

M4

Adam Treloar
Collingwood, MID
Had an awesome pre-season following his injury interrupted double hammy silly salmon season.
108.5
(13)
115

M5

Taylor Adams
Collingwood, MID
Yes, the main source of my critics anger remains in the eight. Especially after Brodie Grundy confirmed all my thoughts on the Podcast.
95.1
(19)
115

M6

Josh Kelly
GWS Giants, MID
I do have slight concerns about a regular tag without Shiel, however, he is still a gun.
108.4
(15)
114

M7

Lachie Neale
Brisbane Lions, MID
First uninterrupted pre-season in a long time and he is playing in a midfield where snouts are born.
100.2
(22)
113

M8

Matt Crouch
Adelaide, MID
Flying under the radar and a safe pick to round out the eight in a full strength Crows midfield.
104.9
(18)
112
In the mix: Dayne Beams (Collingwood, MID), Stephen Coniglio (GWS Giants, MID), Seb Ross (St Kilda, MID),  Clayton Oliver (Melbourne, MID).
RUCKS
2018
Avg
Proj
Avg
Change

R1

Brodie Grundy
Collingwood, RUC
The toe issue has knocked off two points from my projected average, that's all, still easily number one.
120
(22)
120

R2

Max Gawm
Melbourne, RUC
A lot of talk about Gawn spending extended time forward… Thing is he has great hands and will kick a few. Still clearly top two.
111.3
(22)
104
In the mix: Justin Westhoff (Port Adelaide, RUC/FWD), Stefan Martin (Brisbane Lions, RUC), Todd Goldstein (North Melbourne, RUC).
FORWARDS
2018
Avg
Proj
Avg
Change

F1

Patrick Dangerfield
Geelong, MID/FWD
Genuine star, easy option as the number one and set to return to 110+ average.
106.2
(21)
110

F2

Josh Dunkley
Western Bulldogs, MID/FWD
Should slot straight back into the role he dominated at the end of the season despite Libba's return.
95.8
(19)
108

F3

Devon Smith
Essendon, MID/FWD
The security of role and tackling prowess should ensure he is in the mix for remain a top three forward.
106.6
(22)
104

F4

Tim Kelly
Geelong, MID/FWD
Will play predominately through the midfield where he dominated the back end of the season. All class.
86.8
(22)
100

F5

Sam Menegola
Geelong, MID/FWD
May get off to a slow start like last year after an interrupted pre season. Will likely finish the year in third spot however.
98.6
(22)
100

F6

Justin Westhoff
Port Adelaide, RUC/FWD
Mr Fix it will reportedly be given a green light to once again go where he likes. Fortunately for us, he likes going where the ball is.
101.9
(22)
100
In the mix: Toby McLean (Western Bulldogs, MID/FWD), Isaac Heeney (Sydney Swans, MID/FWD), Jack Billings (St Kilda, MID/FWD)
What do you think, has Roy got this right? What order would you have the players in? Post your thoughts in the comments.