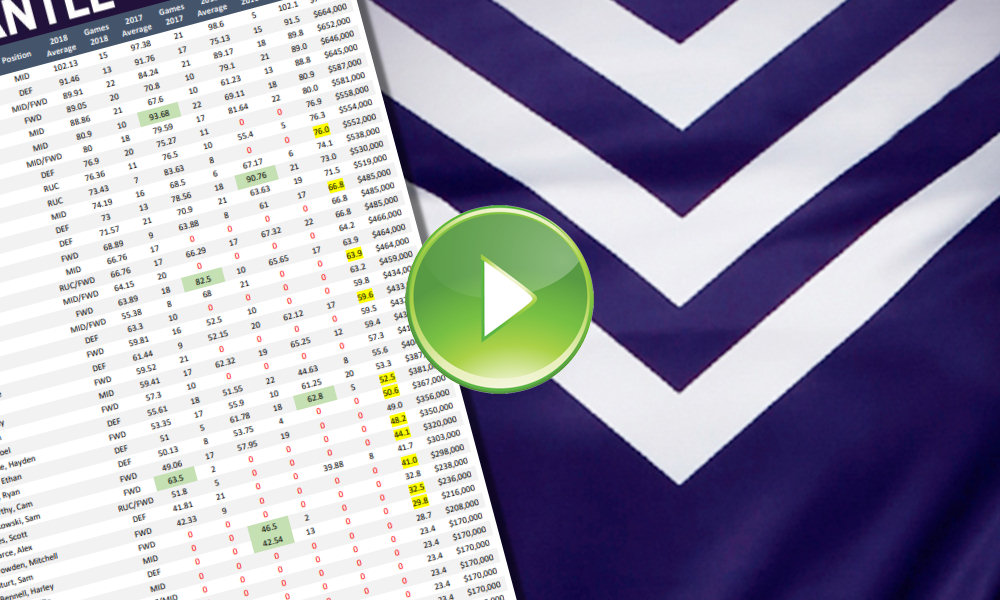 The departure of Lachie Neale has opened up a quality midfield spot at the Dockers, he was one of two players to average more than 25.0 Disposals in 2018 (30.3, Fremantle Rank: 1) along with Nat Fyfe (28.7).
Fremantle averaged 363.1 Disposals in the 2018 H&A season (Rank 15), this was an increase of 2.4 Disposals compared to the 2017 H&A season.
The Dockers were one of the lower scoring fantasy teams in the 2018 H&A season, they averaged 1510.2pts per game (Rank 16), Nat Fyfe (102.1pts) & Lachie Neale (100.2pts) were the only 2 players to average more than 100pts last season.
After a pretty decent trade period Fremantle will likely be far more competitive next season, they recorded 9 losses of 50pts or more last season.
Fremantle averaged 1649.3pts from winning games last season & 1430.8pts from losing games.
Click here to download.
Find The Traders' podcast on: Apple Podcasts, Google Podcasts and Spotify.
2019 Potential Targets:
Nat Fyfe MID $741k
A more competitive Fremantle could lead to a very healthy year from Fyfe in 2019, he averaged 126.8pts from winning games & 89.8pts from losing games last season.
Between Rounds 2-9 last season Fyfe averaged 117.1pts, he scored 120pts or more in 40.0% of his games in 2018. Staying healthy has been an issue for Fyfe over his career, he has played in only 62.1% of games since the start of the 2016 H&A season.
There is enough to suggest that rostering Fyfe at his opening salary does provide value, a moderately early season favourable fixture could provide a boost in scoring with a high number of rookies sitting in your team.
Fyfe is a high ceiling high reward type of player, his longevity is questionable but is a must consider if he is healthy at Round 1.
Connor Blakely DEF $664K
It might be time to shine for Blakely in 2019, he has shown plenty of recent fantasy promise but injuries have hampered his progression having played in 68.2% of games since the beginning of the 2017 H&A season.
Blakely scored 100pts or more in 38.5% of games last season, he scored 100pts or more in 41.2% of games in 2017. The role for Blakely has not yet been defined for the 2019 season but it is expected he will be utilised the majority of time in the midfield & across half-back.
"To get him back and fit and at 100 per cent (coming off a knee injury) will help us a lot, whether that's in the midfield or a half back" Luke Ryan on Connor Blakely in late November.
With the long term injury to Sam Docherty the search for another high scoring defender is on & Blakely is in the mix, he is a definite watch over the pre-season for his role & scoring potential.
Brett Bewley MID $170K
Selected at Pick 59 in the 2018 AFL Draft Bewley could make an impact as early as next season, the 23 year old Midfielder averaged 26 Disposals for Williamston (VFL) last season.
"Brett physically has adapted.. He's a high-end runner & a really mature athlete" Ross Lyon on Brett Bewley in early December.
Bewley may fit perfectly into the Fremantle team in a wing/half-back role next season, he should be right at the top of your watch-list during the pre-season.
Download prices, positions and stats pdf.
Player
Position
2018
Avg
2018
Gms
2019
Price
Fyfe, Nat
MID
102.13
15
$741000
Blakely, Connor
DEF
91.46
13
$664000
Mundy, David
MID/FWD
89.91
22
$652000
Hogan, Jesse
FWD
89.05
20
$646000
Langdon, Ed
MID
88.86
21
$645000
Hill, Bradley
MID
80.9
10
$587000
Walters, Michael
MID/FWD
80
18
$581000
Ryan, Luke
DEF
76.9
20
$558000
Sandilands, Aaron
RUC
76.36
11
$554000
Darcy, Sean
RUC
73.43
7
$552000
Conca, Reece
MID
74.19
16
$538000
Hill, Stephen
DEF
73
13
$530000
Wilson, Nathan
DEF
71.57
21
$519000
Taberner, Matt
FWD
68.89
9
$485000
Brayshaw, Andrew
MID
66.76
17
$485000
Lobb, Rory
RUC/FWD
66.76
17
$485000
Banfield, Bailey
MID/FWD
64.15
20
$466000
Matera, Brandon
FWD
63.89
18
$464000
Colyer, Travis
MID/FWD
55.38
8
$464000
Duman, Taylin
DEF
63.3
10
$459000
Cox, Brennan
FWD
59.81
16
$434000
Kersten, Shane
DEF
61.44
9
$433000
Cerra, Adam
FWD
59.52
21
$432000
Tucker, Darcy
MID
59.41
17
$431000
Giro, Stefan
FWD
57.3
10
$416000
Hamling, Joel
DEF
55.61
18
$404000
Ballantyne, Hayden
FWD
53.35
17
$387000
Hughes, Ethan
DEF
51
5
$381000
Nyhuis, Ryan
DEF
50.13
8
$367000
McCarthy, Cam
FWD
49.06
17
$356000
Switkowski, Sam
FWD
63.5
2
$350000
Jones, Scott
RUC/FWD
51.8
5
$320000
Pearce, Alex
DEF
41.81
21
$303000
Crowden, Mitchell
FWD
42.33
9
$298000
Sturt, Sam
FWD
0
0
$238000
Bennell, Harley
MID
0
0
$236000
Logue, Griffin
DEF
0
0
$216000
Valente, Luke
MID
0
0
$208000
Carter, Jason
DEF/MID
0
0
$170000
Dixon, Hugh
FWD
0
0
$170000
Schultz, Lachlan
FWD
0
0
$170000
North, Tom
MID
0
0
$170000
Bewley, Brett
MID
0
0
$170000
Meek, Lloyd
RUC
0
0
$170000
Watson, Tobe
DEF/MID
0
0
$170000