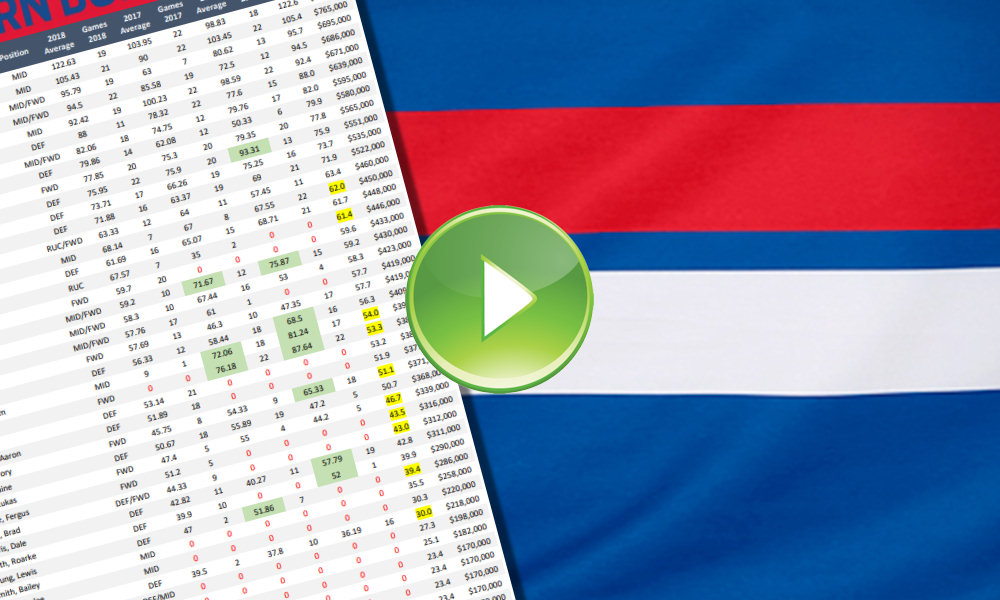 The high disposal game returned for the Bulldogs late in the 2018 H&A season, they averaged 394.6 Disposals from their final 9 games (Rank 1) & 417.3 Disposals from their final 4 games (Rank 1).
The Bulldogs averaged 387.5 Disposals in the 2018 H&A season (Rank 4), they averaged 382.7 Disposals between Rounds 1-14 (Rank 6).
The players to benefit over the last 9 games for the Bulldogs; Jack Macrae (Ave: 126.4pts), Josh Dunkley (Ave: 112.4pts), Lachie Hunter (Ave: 111.5pts) & Marcus Bontempelli (Ave: 103.0pts).
If the Bulldogs continue their high disposal game in 2019 then there will be more than just a couple of fantasy relevant options.
Click here to download.
Find The Traders' podcast on: Apple Podcasts, Google Podcasts and Spotify.
2019 Potential Targets:
Jack Macrae MID $890K
The investment in Macrae is quite significant at Round 1 next season, with Tom Mitchell on a slightly higher salary many will opt to pay up for Hawk midfielder.
Macrae scored 100pts or more in 84.2% of games last season & scored 120pts or more in 52.6% of games, he averaged 134.4pts from winning games & 127.2pts at Marvel Stadium. The numbers were equally impressive for Macrae against Top 6 teams last season averaging 125.9pts.
Finding enough coin to roster Macrae at Round 1 next season could be a unique play with or without adding Mitchell, if he were to continue his outstanding form then it may take a while for other coaches to make the upgrade.
Josh Dunkley MID/FWD $695K
As mentioned above Dunkley thrived late in the 2018 season averaging 112.4pts from his final 9 games, the move into a premium midfield spot clearly assisted his scoring ability.
Dunkley scored 100pts or more in 77.8% of those final 9 games last season, with a dynamic midfield at the Bulldogs can we guarantee his progression will continue in 2019?
With FWD eligibility Dunkley will be a popular target in the pre-season, he is a must watch in the JLT Series for role & scoring ability. Getting the decision right on Dunkley could be decisive early in 2019.
Ryhlee West MID $220K & Bailey Smith MID $258K
Both West & Smith were impressive in the 2018 U18 National Championships, they both have elite ball winning ability and will likely crush their salaries when they debut.
West averaged 25.3 disposals and 6.3 clearances across the Under-18 Championships in 2018, Smith averaged 25 disposals.
If both play then the entire midfield mix at the Bulldogs could be thrown into disarray for players such as Lachie Hunter, Marcus Bontempelli & Josh Dunkley.
The potential early season opportunities for West & Smith need to be monitored, they could both play an important part in shaping a successful fantasy season.
Download prices, positions and stats pdf.
Player
Position
2018
Avg
2018
Gms
2019
Price
Macrae, Jack
MID
122.63
19
$890000
Hunter, Lachie
MID
105.43
21
$765000
Dunkley, Josh
MID/FWD
95.79
19
$695000
McLean, Toby
MID/FWD
94.5
22
$686000
Bontempelli, Marcus
MID
92.42
19
$671000
Suckling, Matthew
DEF
88
11
$639000
Wallis, Mitch
MID/FWD
82.06
18
$595000
Williams, Bailey
DEF
79.86
14
$580000
Daniel, Caleb
FWD
77.85
20
$565000
Johannisen, Jason
DEF
75.95
22
$551000
Crozier, Hayden
DEF
73.71
17
$535000
Trengove, Jackson
DEF
71.88
16
$522000
Boyd, Tom
RUC/FWD
63.33
12
$460000
Lloyd, Sam
MID
68.14
7
$450000
Duryea, Taylor
DEF
61.69
16
$448000
English, Tim
RUC
67.57
7
$446000
Gowers, Billy
FWD
59.7
20
$433000
Jong, Lin
MID/FWD
59.2
10
$430000
Dale, Bailey
MID/FWD
58.3
10
$423000
Lipinski, Patrick
MID/FWD
57.76
17
$419000
Schache, Josh
FWD
57.69
13
$419000
Wood, Easton
DEF
56.33
12
$409000
Liberatore, Tom
MID
9
1
$392000
Picken, Liam
FWD
0
0
$387000
Richards, Ed
DEF
53.14
21
$386000
Naughton, Aaron
DEF
51.89
18
$377000
Dickson, Tory
FWD
45.75
8
$371000
Cordy, Zaine
DEF
50.67
18
$368000
Webb, Lukas
FWD
47.4
5
$339000
Greene, Fergus
FWD
51.2
5
$316000
Lynch, Brad
DEF/FWD
44.33
9
$312000
Morris, Dale
DEF
42.82
11
$311000
Smith, Roarke
DEF
39.9
10
$290000
Young, Lewis
DEF
47
2
$286000
Smith, Bailey
MID
0
0
$258000
West, Rhylee
MID
0
0
$220000
Roberts, Fletcher
DEF
39.5
2
$218000
Vandermeer, Laitham
DEF/MID
0
0
$198000
Cavarra, Ben
FWD
0
0
$182000
Khamis, Buku
DEF
0
0
$170000
Porter, Callum
MID
0
0
$170000
Young, Lachlan
DEF
0
0
$170000
Hayes, Will
MID
0
0
$170000
Sweet, Jordon
RUC
0
0
$170000