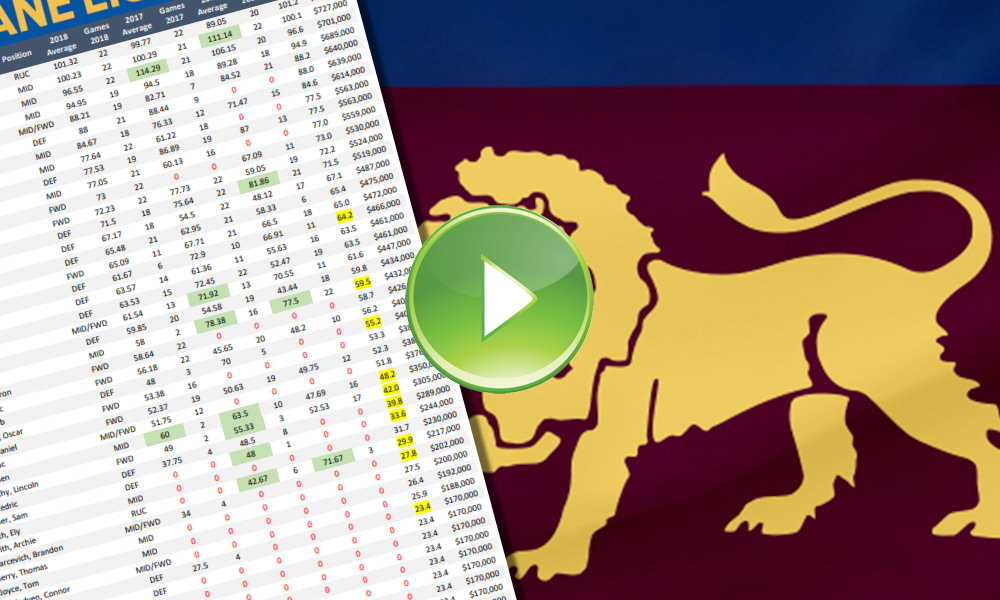 The gradual improvement for Brisbane under Chris Fagan will likely continue again next season, it was another 5 win season but the improvement in percentage reflects how competitive they were in 2018.
The Lions averaged 373.5 Disposals in the 2018 H&A season (Rank 11), that was an increase of 11.7 Disposals compared to the 2017 H&A season.
Dayne Beams & Stefan Martin were the only 2 players to average more than 100pts last season, Beams has departed to the Magpies & Martin was in a dual Ruck set-up for the majority of the season.
Click here to download.
Find The Traders' podcast on: Apple Podcasts, Google Podcasts and Spotify.
2019 Potential Targets:
Alex Witherden DEF $639K
Witherden has shown a fairly decent fantasy game over his short AFL career, he averaged 88.0pts last season but that included an average of 106.7pts from his final 6 full games before being injured in Round 22.
The new kick-in rule next season may play favourably into the hands of Witherden, he recorded the highest amount of kick-ins last season at Brisbane.
With the long term injury to Sam Docherty many will look elsewhere to find an elite Defender in 2019, having averaged over 20.0 Disposals in his first 2 years at Brisbane Witherden looks to be a genuine option in 2019.
Lachie Neale MID $727K
Neale moves from No.2 on the depth chart at Fremantle to No.1 at Brisbane, Dayne Zorko will likely receive most of the attention from opposition clubs again next season which leaves Neale to do most of the inside contested ball winning duties.
Neale was extremely consistent last season at Freo scoring 100pts or more in 63.6% of games, he was unable to produce many ceiling games but that could all change in 2019.
The ownership percentage will be interesting for Neale to begin the 2019 season, if he completes a full pre-season and records a high Disposal rate in the JLT series then he should be highly considered.
Ely Smith MID $230K
Smith may be a longer term project for Brisbane however for fantasy coaches he should be high on the list of rookies that could impact next season if given a chance to debut, he averaged 23.5 Disposals & 5.0 Tackles at TAC Cup level last season & recorded 30 Disposals (9 Clearances) & 5 Tackles in the final game for Vic Country in the U18 National Championships.
"He is competitive and strong around the ball and will boost our midfield group." Brisbane Recruiting Manager, Steve Conole on Ely Smith.
Brisbane are still in the process of developing a quality midfield, Smith is worth watching in the JLT Series to see if he can squeeze in at Round 1.
Download prices, positions and stats pdf.
Player
Position
2018
Avg
2018
Gms
2019
Price
Martin, Stefan
RUC
101.32
22
$735000
Neale, Lachie
MID
100.23
22
$727000
Zorko, Dayne
MID
96.55
22
$701000
Lyons, Jarryd
MID
94.95
19
$689000
Robinson, Mitch
MID/FWD
88.21
19
$640000
Witherden, Alex
DEF
88
21
$639000
Cutler, Tom
MID
84.67
18
$614000
McCluggage, Hugh
MID
77.64
22
$563000
Hodge, Luke
DEF
77.53
19
$563000
Berry, Jarrod
MID
77.05
21
$559000
Christensen, Allen
FWD
73
22
$530000
Taylor, Lewis
FWD
72.23
22
$524000
Rich, Daniel
DEF
71.5
18
$519000
Andrews, Harris
DEF
67.17
18
$487000
Robertson, Nick
DEF
65.48
21
$475000
Cameron, Charlie
FWD
65.09
11
$472000
Adams, Marcus
DEF
61.67
6
$466000
Walker, Josh
DEF
63.57
14
$461000
Lester, Ryan
DEF
63.53
15
$461000
Mathieson, Rhys
MID/FWD
61.54
13
$447000
Gardiner, Darcy
DEF
59.85
20
$434000
Bastinac, Ryan
MID
58
2
$432000
Rayner, Cameron
FWD
58.64
22
$426000
Hipwood, Eric
FWD
56.18
22
$408000
Allison, Jacob
DEF
48
3
$401000
McInerney, Oscar
FWD
53.38
16
$387000
McStay, Daniel
FWD
52.37
19
$380000
Bailey, Zac
MID/FWD
51.75
12
$376000
Keays, Ben
MID
60
2
$350000
McCarthy, Lincoln
FWD
49
2
$305000
Cox, Cedric
DEF
37.75
4
$289000
Skinner, Sam
DEF
0
0
$244000
Smith, Ely
MID
0
0
$230000
Smith, Archie
RUC
0
0
$217000
Starcevich, Brandon
MID/FWD
34
4
$202000
Berry, Thomas
MID
0
0
$200000
Joyce, Tom
MID
0
0
$192000
McFadyen, Connor
MID/FWD
0
0
$188000
Eagles, Matt
DEF
27.5
4
$170000
Payne, Jack
DEF
0
0
$170000
Hinge, Mitchell
DEF
0
0
$170000
Answerth, Noah
DEF/MID
0
0
$170000
Ballenden, Connor
FWD
0
0
$170000
Wooller, Toby
FWD
0
0
$170000
Madden, James
MID
0
0
$170000
Lyons, Corey
MID
0
0
$170000
Fullarton, Thomas
RUC
0
0
$170000