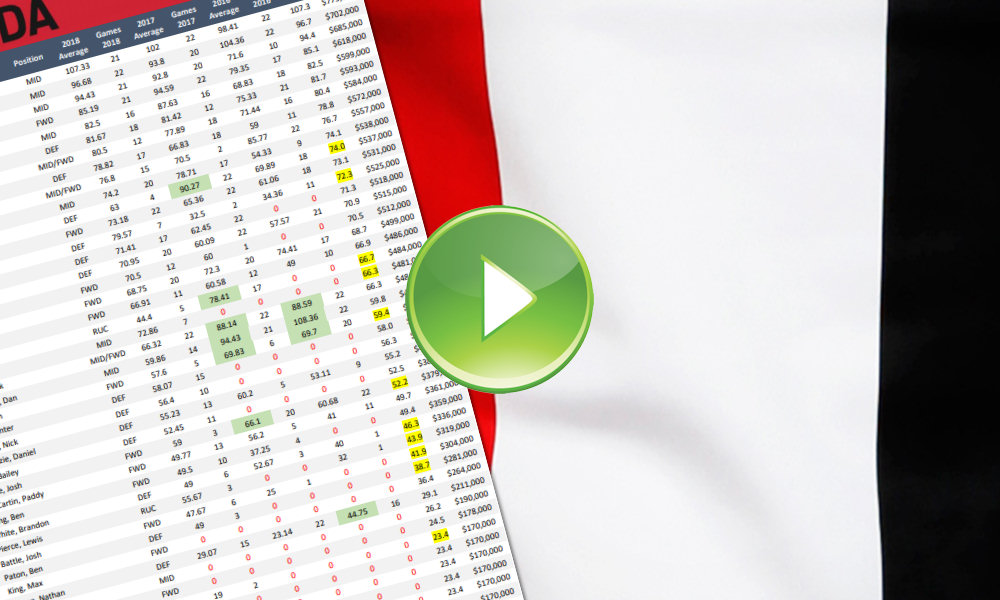 St Kilda put up decent disposal numbers last season as a result of slow and indecisive ball movement, the Saints averaged 388.7 Disposals in the 2018 H&A season (Rank 3) yet averaged 1562.5 fantasy points (Rank 12).
St Kilda had only had one player average 100pts or more in 2018 (Seb Ross: 107.3pts), Jack Steele averaged 109.4pts post the Round 14 Bye.
A complete overhaul of the assistant coaching staff during the off-season will likely bring about change next season, player indecision leading to over-possessing of the ball may be eliminated with a more fluid game plan.
Click here to download.
Find The Traders' podcast on: Apple Podcasts, Google Podcasts and Spotify.
2019 Potential Targets:
Seb Ross MID $779K
Ross will come with a premium price tag at Round 1 next season, he scored 100pts or more in 57.1% of games last season converting a high percentage of those to 120pt+ games. Ross averaged 126.3pts from his final 6 games of the season, he averaged 117.8pts at Marvel Stadium.
Ross won't be heavily owned early in 2019, his true average may be slightly under what he achieved in 2018 but a glimpse of the midfield mix during the JLT Series could provide further insight on his 2019 expectations.
Jack Steven will likely be the target for opposition clubs to shut-down again in 2019, this could allow Ross to be the major ball winner at the Saints next season. A difficult decision if you are considering Ross, especially at his high price tag.
Dan Hannebery MID $434K
After spending the majority of 2017 & 2018 dealing with groin injuries Hannebery has begun the pre-season with no issues, his extremely low average of 59.9pts last season provides great value.
Hannebery could be the highest owned player at Round 1 next season, building a line-up excluding him will almost provide a unique angle and set you on a different path for the early part of the year.
The completion of a full pre-season is a must for Hannebery, any interruptions will provide hesitation for fantasy coaches. At his price to begin 2019, it's going to be difficult to say no to Hannebery.
Rowan Marshall FWD $512K
Marshall was able to put up decent numbers in mostly a back-up Ruck role in 2018, he averaged 70.5pts which included a season high 114pts in Round 17 against Carlton. Marshall averaged 13.3 Disposals & 5.6 Marks from 12 games, he also kicked 6 Goals.
The departure of Tom Hickey has opened up the Ruck position at St Kilda, Billy Longer would be the obvious choice at this stage to fill the No.1 Ruck role at the Saints but he has never averaged more than 10.0 Disposals in any season which provides little optimism for fantasy coaches.
The listing of Marshall as a potential target is speculative at best right now, depending on how the Saints see him fitting in to their structure next season weighs heavily on his fantasy outlook. Marshall averaged 5.4pts per Disposal last season, that is clearly noteworthy.
Download prices, positions and stats pdf.
Player
Position
2018
Avg
2018
Gms
2019
Price
Ross, Sebastian
MID
107.33
21
$779000
Steven, Jack
MID
96.68
22
$702000
Steele, Jack
MID
94.43
21
$685000
Billings, Jack
FWD
85.19
21
$618000
Dunstan, Luke
MID
82.5
16
$599000
Savage, Shane
DEF
81.67
18
$593000
Acres, Blake
MID/FWD
80.5
12
$584000
Webster, Jimmy
DEF
78.82
17
$572000
Armitage, David
MID/FWD
76.8
15
$557000
Sinclair, Jack
MID
74.2
20
$538000
Roberton, Dylan
DEF
63
4
$537000
Gresham, Jade
FWD
73.18
22
$531000
Austin, Logan
DEF
79.57
7
$525000
Carlisle, Jake
DEF
71.41
17
$518000
Geary, Jarryn
DEF
70.95
20
$515000
Marshall, Rowan
FWD
70.5
12
$512000
Membrey, Tim
FWD
68.75
20
$499000
Lonie, Jack
FWD
66.91
11
$486000
Longer, Billy
RUC
44.4
5
$484000
Phillips, Ed
MID
72.86
7
$481000
Newnes, Jack
MID/FWD
66.32
22
$481000
Hannebery, Dan
MID
59.86
14
$434000
Kent, Dean
FWD
57.6
5
$431000
Clark, Hunter
DEF
58.07
15
$421000
Coffield, Nick
DEF
56.4
10
$409000
McKenzie, Daniel
DEF
55.23
13
$401000
Rice, Bailey
DEF
52.45
11
$381000
Bruce, Josh
FWD
59
3
$379000
McCartin, Paddy
FWD
49.77
13
$361000
Long, Ben
FWD
49.5
10
$359000
White, Brandon
DEF
49
6
$336000
Pierce, Lewis
RUC
55.67
3
$319000
Battle, Josh
FWD
47.67
6
$304000
Paton, Ben
DEF
49
3
$281000
King, Max
FWD
0
0
$264000
Brown, Nathan
DEF
29.07
15
$211000
Bytel, Jack
MID
0
0
$190000
Parker, Matthew
FWD
0
0
$178000
Joyce, Darragh
DEF
19
2
$170000
Clavarino, Oscar
DEF
0
0
$170000
Langlands, Doulton
MID/FWD
0
0
$170000
Alabakis, Sam
RUC
0
0
$170000
Wilkie, Callum
DEF
0
0
$170000
Young, Robert
FWD
0
0
$170000
Hind, Nick
MID
0
0
$170000