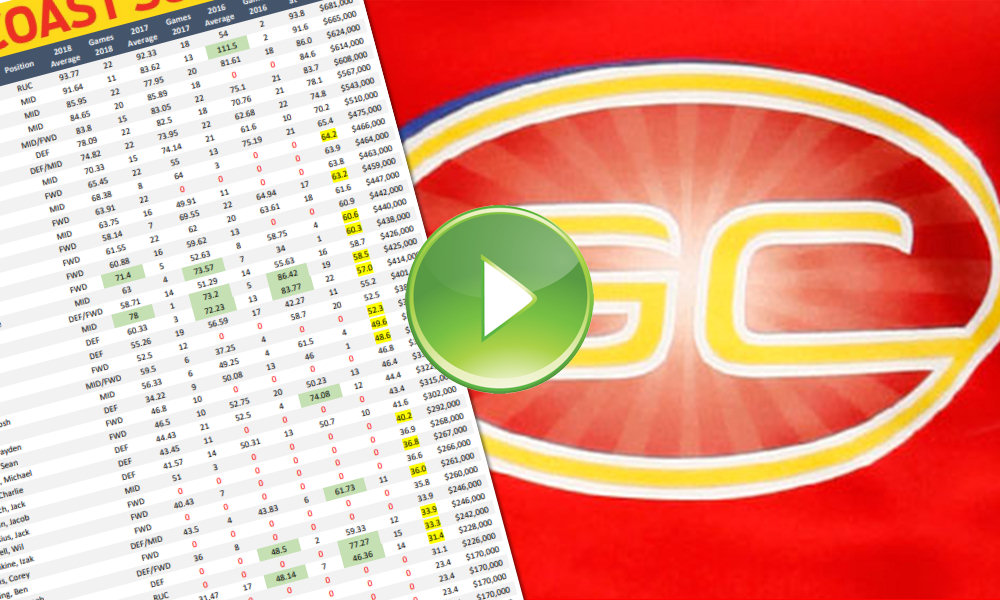 Gold Coast were pretty quick to move on players that didn't want to be part of the future under Stuart Dew; Lynch, Hall, May, Kolodjashnij & Lyons to mention a few have all now departed leaving the club in a pretty decent rebuilding phase.
Last year the Suns averaged 339.8 Disposals which was ranked 18th, they averaged 331.3 Disposals after their Round 10 Bye (Rank 18). Gold Coast had the most games fewer than 325 Disposals with 8 (Carlton & Fremantle: 4), they recorded 400 Disposals or more from 1 game (Round 1, Nth Melbourne).
With any player cleanout the potential for fantasy options is likely to increase, there are multiple targets currently on the radar for Round 1 next season at the Suns.
Click here to download.
Find The Traders' podcast on: Apple Podcasts, Google Podcasts and Spotify.
2019 Potential Targets:
Jarod Witts RUCK $681K
Witts ranked 3rd in 2018 averaging 38.8 Hit Outs, the 2 players in front of him were Max Gawn (Ave Hit Outs: 44.8) & Brodie Grundy (Ave Hit Outs: 39.9). Witts found a ceiling type game last season scoring 120pts or more in 22.7% of games, unfortunately his consistency let him down as he scored fewer than 80pts in 27.3% of games.
Ideally fantasy coaches will be looking for individual Ruck roles in order to maximise a decent points return, at this stage there is no threat to impact the Ruck position for Witts.
Witts has averaged in the low 90's in the last 2 years, he would have to increase his Disposal average next season for any chance of averaging over 100pts. For those that are not paying up for Max Gwan, Witts should be in the mix for consideration.
Anthony Miles MID $425K
Miles is likely in a great situation at Gold Coast, he was severely restricted for playing time at Richmond but under a Stuart Dew contested game style his fantasy output is likely to trend in the right direction. Miles played in only 6 games in the last 2 years averaging 19.5 Disposals (AF Ave: 74.0pts), in 2016 he played in 19 games averaging 22.7 Disposals (AF Ave: 86.3pts) scoring 100pts or more in 42.1% of games.
Michael Barlow was the only player to average more than 25 Disposals last season at Gold Coast with 26.0 Disposals from 3 games, Jarryd Lyons was the next highest averaging 24.5 Disposals. Both players are now gone, the door is wide open for Miles.
Jez McLennan DEF $226K
If McLennan is named in the Round 1 team for Gold Coast then he should be highly considered, his role will likely be across half-back which should place him in the vicinity of the ball for the majority of playing time.
McLennan averaged 13 Disposals & 5 Marks in the U18's Championships for South Australia, again the opportunity for playing time at Gold Coast is high in a rebuild phase and he might be able to generate a decent amount of cash early in season long fantasy.
Download prices, positions and stats pdf.
Player
Position
2018
Avg
2018
Gms
2019
Price
Witts, Jarrod
RUC
93.77
22
$681000
Fiorini, Brayden
MID
91.64
11
$665000
Miller, Touk
MID
85.95
22
$624000
Swallow, David
MID
84.65
20
$614000
Martin, Jack
MID/FWD
83.8
15
$608000
Harbrow, Jarrod
DEF
78.09
22
$567000
Weller, Lachie
DEF/MID
74.82
22
$543000
Murdoch, Jordan
MID
70.33
15
$510000
Young, Aaron
FWD
65.45
22
$475000
Brodie, Will
MID
68.38
8
$466000
Holman, Nick
FWD
63.91
22
$464000
Bowes, Jack
MID
63.75
16
$463000
Wright, Peter
FWD
58.14
7
$459000
Sexton, Alex
FWD
61.55
22
$447000
Ainsworth, Ben
FWD
60.88
16
$442000
MacPherson, Darcy
FWD
71.4
5
$440000
Horlin-Smith, George
MID
63
4
$438000
Ah Chee, Callum
DEF/FWD
58.71
14
$426000
Miles, Anthony
MID
78
1
$425000
Hanley, Pearce
DEF
60.33
3
$414000
Joyce, Jesse
DEF
55.26
19
$401000
Day, Sam
FWD
52.5
12
$381000
Scheer, Brad
MID/FWD
59.5
6
$380000
Schoenfeld, Josh
MID
56.33
6
$360000
Leslie, Jack
DEF
34.22
9
$353000
Crossley, Brayden
FWD
46.8
10
$340000
Lemmens, Sean
FWD
46.5
10
$337000
Rischitelli, Michael
DEF
44.43
21
$322000
Ballard, Charlie
DEF
43.45
11
$315000
Hombsch, Jack
DEF
41.57
14
$302000
Dawson, Jacob
MID
51
3
$292000
Lukosius, Jack
FWD
0
0
$268000
Powell, Wil
FWD
40.43
7
$267000
Rankine, Izak
FWD
0
0
$266000
Ellis, Corey
DEF/MID
43.5
4
$261000
King, Ben
FWD
0
0
$260000
Heron, Jacob
DEF/FWD
36
8
$246000
Collins, Sam
DEF
0
0
$246000
Nicholls, Tom
RUC
0
0
$242000
Thompson, Rory
DEF
31.47
17
$228000
McLennan, Jez
DEF
0
0
$226000
Wigg, Harrison
DEF
0
0
$170000
Burgess, Christopher
DEF/FWD
0
0
$170000
Nutting, Connor
DEF/FWD
0
0
$170000
Graham, Caleb
DEF/RUC
0
0
$170000
Corbett, Joshua
FWD
0
0
$170000