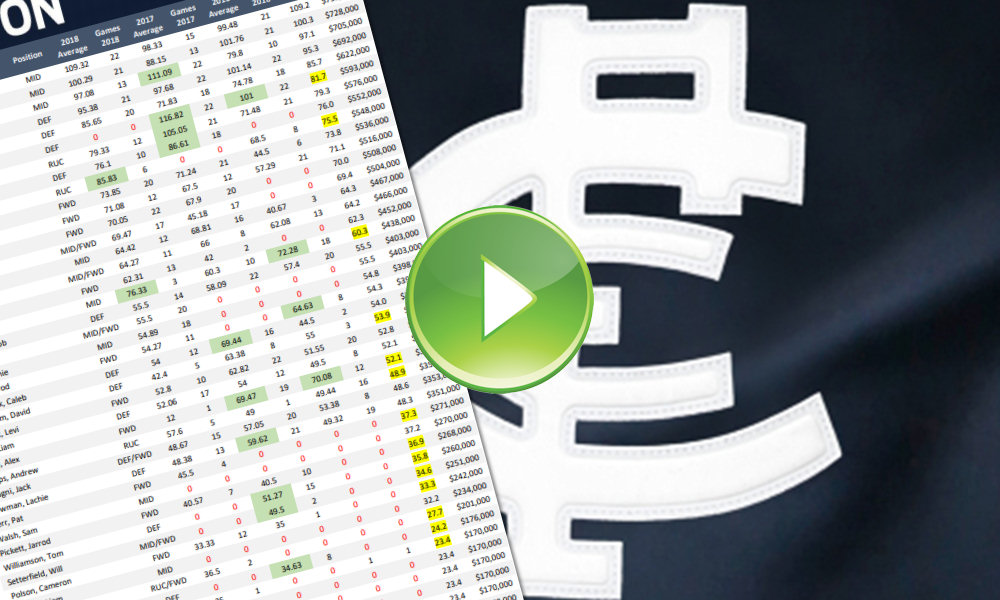 When a team wins only 2 games in a season there is plenty of room for upside, the 2019 version of the Blues should see a fair bit of improvement & fantasy coaches are likely to benefit.
Carlton averaged 347.1 Disposals in the 2018 H&A season (Rank 17), Patrick Cripps, Ed Curnow & Kade Simpson were the only players to average more than 25 Disposals.
The Blues averaged 1463.0 AFL Fantasy Points per game in the 2018 H&A season (Rank 17). Patrick Cripps & Ed Curnow were the only players to average 100pts or more.
Click here to download.
Find The Traders' podcast on: Apple Podcasts, Google Podcasts and Spotify.
2019 Potential Targets:
Patrick Cripps MID $793K
Cripps was able to elevate his game to a new level in 2018, he averaged 29.6 Disposals & 109.3pts. Cripps scored 100pts or more in 63.6% of games & 120pts or more in 31.8% of games in 2018, he averaged 118.3pts between Rounds 12-23 which included a high score of 162pts against Gold Coast in Round 17.
If the Blues win more games in 2019 then Cripps will likely play a big role in any team success, he averaged 127.5pts from (2) winning games last season. Cripps may not have reached his fantasy potential as yet, having scored 100pts or more in 10 of his last 11 games he could be a decent pivot away from more expensive options.
Will Setterfield MID/FWD $251K
Setterfield was a fantasy target in the pre-season 12 months ago before rupturing his ACL in a practice match, he subsequently missed the entire 2018 season & then was traded to the Blues. Setterfield has played 2 career games averaging 49.5pts, he scored 70pts on debut back in Round 18, 2017.
Setterfield averaged 25 Disposals & 7.6 Tackles in the NEAFL in 2017, if he completes a full pre-season at the Blues he should be named Round 1.
Sam Walsh MID $270K
The No.1 overall AFL Draft Pick Sam Walsh is likely to be a popular selection despite his high price tag for a rookie, he was a prolific ball winner during the 2018 National Championships averaging 29.0 Disposals & 6.8 Tackles for Vic County.
Walsh could even be long hold if he is able to put up decent fantasy numbers in the early part of next season, hopefully he can deliver in his first AFL season.
Download prices, positions and stats pdf.
Player
Position
2018
Avg
2018
Gms
2019
Price
Cripps, Patrick
MID
109.32
22
$793000
Curnow, Ed
MID
100.29
21
$728000
Murphy, Marc
MID
97.08
13
$705000
Simpson, Kade
DEF
95.38
21
$692000
Thomas, Dale
DEF
85.65
20
$622000
Docherty, Sam
DEF
0
0
$593000
Kreuzer, Matthew
RUC
79.33
12
$576000
Newman, Nic
DEF
76.1
10
$552000
Lobbe, Matthew
RUC
85.83
6
$548000
Curnow, Charlie
FWD
73.85
20
$536000
McGovern, Mitch
FWD
71.08
12
$516000
Petrevski-Seton, Sam
FWD
70.05
22
$508000
Fisher, Zac
MID/FWD
69.47
17
$504000
Kennedy, Matthew
MID
64.42
12
$467000
Lang, Darcy
MID/FWD
64.27
11
$466000
McKay, Harry
FWD
62.31
13
$452000
Bugg, Tomas
MID
76.33
3
$438000
Weitering, Jacob
DEF
55.5
14
$403000
Dow, Paddy
MID/FWD
55.5
20
$403000
O'Brien, Lochie
MID
54.89
18
$398000
Garlett, Jarrod
FWD
54.27
11
$394000
Marchbank, Caleb
DEF
54
12
$392000
Cuningham, David
DEF
42.4
5
$391000
Casboult, Levi
FWD
52.8
10
$383000
Jones, Liam
DEF
52.06
17
$378000
Fasolo, Alex
FWD
12
1
$378000
Phillips, Andrew
RUC
57.6
5
$355000
Silvagni, Jack
DEF/FWD
48.67
15
$353000
Plowman, Lachie
DEF
48.38
13
$351000
Kerr, Pat
FWD
45.5
4
$271000
Walsh, Sam
MID
0
0
$270000
Pickett, Jarrod
FWD
40.57
7
$268000
Williamson, Tom
DEF
0
0
$260000
Setterfield, Will
MID/FWD
0
0
$251000
Polson, Cameron
FWD
33.33
12
$242000
Stocker, Liam
MID
0
0
$234000
De Koning, Tom
RUC/FWD
36.5
2
$201000
Macreadie, Harrison
DEF
0
0
$176000
Goddard, Hugh
DEF
25
1
$170000
Schumacher, Angus
DEF
0
0
$170000
Lebois, Kym
FWD
0
0
$170000
Owies, Matthew
MID/FWD
0
0
$170000
Silvagni, Ben
DEF/FWD
0
0
$170000
O'Dwyer, Finbar
FWD
0
0
$170000