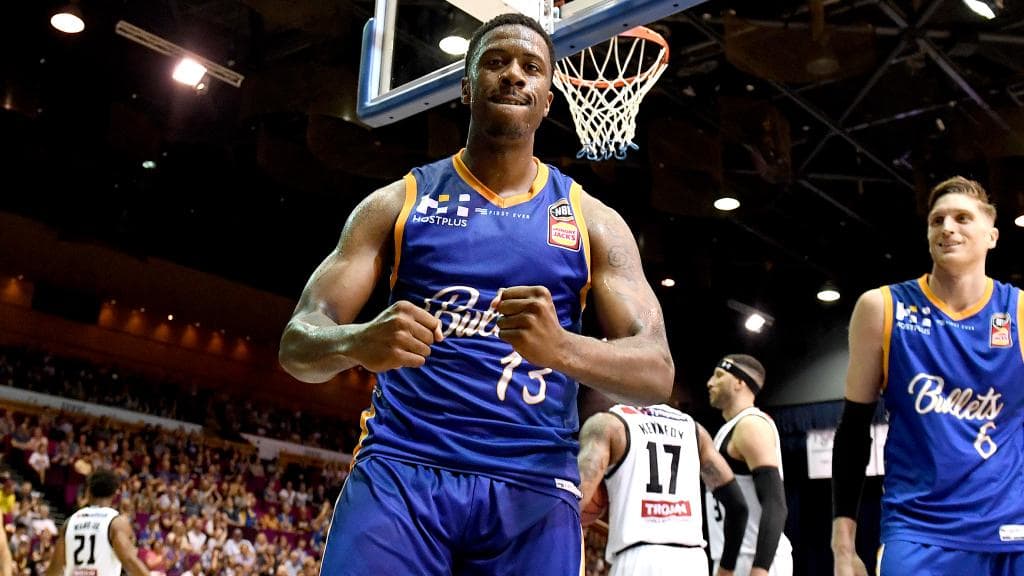 Benny, Banksy and Boydie, AKA the BasketBall Blokes, here for your Round 10 NBL Fantasy guide. We are officially entering the second half of the NBL season, and there's a new fantasy king in town. After some very late stat adjustments, we only had one fantasy player to score the magical ton, and that was Nick Kay with 108. Andrew Bogut looked like he had scored 100, before score adjustments post lockout saw him come down to 95 fps for the round.
We have split up our podcast this week so it is a bit more user friendly! The first below was our review of Round 9 and the NBL Fantasy week that was. We also announced our first Mid Season Basketball Blokes Fantasy awards as voted by the people.
Our second podcast below previewed Round 10, discussed trade targets, captains and answered all your twitter questions!
THE AND1 CLUB
These players have received major price rises after round nine. Hall and Patterson are the two on the rise that are probably most trade relevant this week based on both form and schedule.
THE BASELINE CUT SQUAD
These players have had the biggest price drops for the round. Most of these guys are heading into a sparse schedule, although Newbill is certainly one to considering at his now reduced price, with a very fruitful schedule ahead.
ROUND 10 TRADE TARGETS
Bit of a change this week in the trade targets as we won't be spruiking any Perth players. Hopefully you've been riding Perth's 3 doubles so far and while they have another double for Round 10 we would suggest you start to transition your Perth players (with the exception of Kay) this week if you have more than 2 of them!
Now who do you look to bring in? Well we have Sydney on a double again this week, as well as Cairns and Illawarra. If Trimble, Hall, Jawai or Newbill for Cairns are looking good to you then that's where we would be looking as they begin a run of 6 doubles over 7 rounds. Otherwise its Illawarra, but their schedule isn't quite as attractive either. Jordair Jett anyone?? Maybe not.
The other trade strategy we spoke about in this week's podcast was with Round 11 coming up. Only Adelaide and Brisbane are on doubles, so this could be a make or break round for some coaches, so it would be a good idea to bring in Patterson if you have the funds available as he is running hot averaging 52pts over his last 3! Other possibilities include Conger or Wiley or even Sobey (averaging 41pts over last 3) from Adelaide. Adelaide have a double in Rd 11 followed by a single in Rd 12 before a run of 3 doubles in a row, so that is something to keep in mind!
ROUND 10 CAPTAINS
5. Bryce Cotton – Perth have two away games this week. Cotton has played Brisbane 3 times already this season for scores of 46, 22 and a 56,  however the 22 coming last time he played them away over in Brissy . He also faces the Hawks away as well, who he has played twice this season for just a 16 and a 32. I initially thought on paper these were great matchups for Cotton, but the numbers show otherwise this week. Better options available.
4. DJ Newbill – Has Sydney at home. Played them in an away match-up earlier in the season and posted a nice 63. Now he plays them at home and Cairns are desperate for a win! He sat out their first game against the 36ers before posting a 33 against them last time out. Interestingly, Newbill is only 7% owned and plays 4 of his next 5 games at home, so if your looking for a unique, Newbill is your guy.
3. Melo Trimble – Trimble also went big in Cairns only match-up against the Kings earlier in the season with a 65. He now plays them at home. His numbers against Adelaide were not as strong as I had initially imagined with 36 and 27 fps for each of their two earlier match-ups.
2. Nick Kay – 47, 50 and 65 in the three games played against Brisbane already, with the 50 being in an away game. 43 and 64 in the two games against the Hawks, with the 64 being in their away match-up. There is certainly no downside for Kay playing away and the dreaded travel factor that Boydie likes to talk about seems non existent here. Kay has averaged 56 over his last 5 and there is certainly an argument to have him sitting at number 1 this week.
1. Andrew Bogut – Has Cairns in Cairns to kick off the round. He has played them once this season for a 62 at home and held Jawai to just 12. He follows it up with a home game against United. Interestingly, he has played Melbourne twice (both away games) for scores of 50 and 34, however I am expecting a better output facing them back on his home floor. Bogut averages 68 fps a game at home, while 57.6 in away games.
THE SCHEDULE
Perth, Sydney, Cairns and Illawarra on a double this week.
Perth has three singles after this week so I wouldn't be touching them.
Sydney has 6 doubles out of the next 8 weeks, so we can continue to target Kings players we are missing.
Cairns have a very fantasy friendly schedule with 6 doubles over their next 7 weeks.
Illawarra plays 1 double over the next three weeks.
Round 11 will be important. Only Adelaide and Brisbane on the double. Both teams are coming off sparse schedules, so it will be a very important week in your planning, as it is not likely many coaches would have many 36ers/Bullets in their current teams.