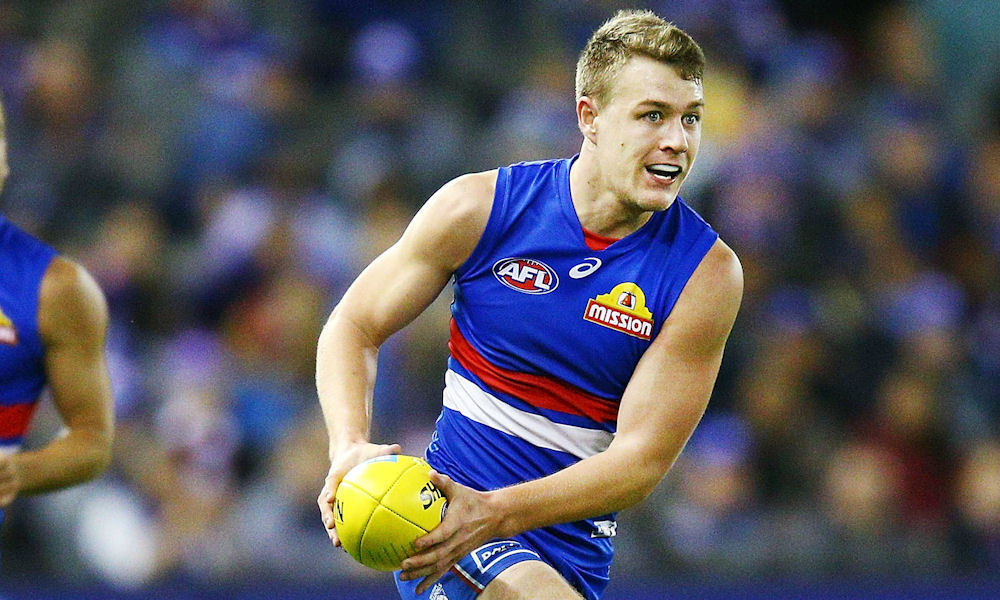 The 2018 H&A season is complete which means the Fantasy research for next season has already begun, over the last few weeks we've taken a look at a 2017/18 H&A season player average comparison for each team (Minimum 10 games played each season).
Warnie & Roy discussed some of the numbers on the final Traders podcast of the season, it is worth another listen again to hear their thoughts about some of the players that will be listed in each team (Starts at 41:25).
WESTERN BULLDOGS
If you are looking to spend a large part of your salary cap at Round 1 next year then look no further than Jack Macrae (2018 Ave: 122.6), he recorded a career season high average scoring 100pts or more in 84.2% of games & 120pts or more in 52.6% of games in 2018. If you are set to avoid Tom Mitchell in the early part of 2019 then Macrae could be a decent under owned pivot play as long as the midfield set-up at the Bulldogs doesn't change, most fantasy coaches will avoid selecting Macrae based on starting price and the attraction to Mitchell.
Lachie Hunter (2018 Ave: 105.4) produced an outstanding year recording his second career H&A season average over 100pts, he scored 100pts or more in 71.4% of games & 120pts or more in 19.0% of games in 2018. Hunter finished the season strongly recording 8 consecutive 100pt games for an average of 114.0pts, like Macrae if the status quo remains in the midfield at the Bulldogs next season then he will be a decent under owned MID selection.
Marcus Bontempelli (2018 Ave: 92.2) is in a bounce back spot next season after carrying an injury for most of the 2018 season, a full pre-season should be an indicator for him to produce in 2019. Many fantasy coaches will be put off by the lack of a ceiling for Bontempelli, he is one to watch during the pre-season and should be high on your watch list. By the way, Bont averaged 117.5pts from his last 4 games of 2018.
Article by @aflratingsPete
2018 AFL Fantasy Stats
| PLAYER | POS | GMS | PTS | AVG |
| --- | --- | --- | --- | --- |
| Macrae, Jack | MID | 19 | 2329 | 122.6 |
| Hunter, Lachie | MID | 21 | 2213 | 105.4 |
| Dunkley, Josh | MID/FWD | 19 | 1820 | 95.8 |
| McLean, Toby | MID/FWD | 22 | 2079 | 94.5 |
| Bontempelli, Marcus | MID | 19 | 1756 | 92.4 |
| Suckling, Matthew | DEF | 11 | 968 | 88 |
| Wallis, Mitch | MID/FWD | 18 | 1478 | 82.1 |
| Williams, Bailey | DEF | 14 | 1119 | 79.9 |
| Dahlhaus, Luke | MID/FWD | 17 | 1336 | 78.6 |
| Daniel, Caleb | MID/FWD | 20 | 1558 | 77.9 |
| Johannisen, Jason | DEF/FWD | 22 | 1672 | 76 |
| Crozier, Hayden | FWD,DEF | 17 | 1253 | 73.7 |
| Trengove, Jackson | FWD | 16 | 1150 | 71.9 |
| English, Timothy | RUC/FWD | 7 | 473 | 67.6 |
| Roughead, Jordan | RUC | 12 | 808 | 67.3 |
| Honeychurch, Mitch | FWD | 13 | 848 | 65.2 |
| Boyd, Tom | RUC | 12 | 760 | 63.3 |
| Adams, Marcus | DEF | 6 | 370 | 61.7 |
| Gowers, Billy | FWD | 20 | 1194 | 59.7 |
| Jong, Lin | MID/FWD | 10 | 592 | 59.2 |
| Dale, Bailey | MID | 10 | 583 | 58.3 |
| Lipinski, Patrick | MID/FWD | 17 | 983 | 57.8 |
| Schache, Josh | FWD | 13 | 750 | 57.7 |
| Biggs, Shane | DEF | 5 | 287 | 57.4 |
| Wood, Easton | DEF | 12 | 676 | 56.3 |
| Richards, Ed | DEF/MID | 21 | 1115 | 53.1 |
| Naughton, Aaron | DEF | 18 | 934 | 51.9 |
| Greene, Fergus | FWD | 5 | 256 | 51.2 |
| Cordy, Zaine | DEF | 18 | 913 | 50.7 |
| Webb, Lukas | MID/FWD | 5 | 237 | 47.4 |
| Young, Lewis | DEF | 2 | 94 | 47 |
| Redpath, Jack | FWD | 2 | 93 | 46.5 |
| Dickson, Tory | FWD | 8 | 366 | 45.8 |
| Lynch, Brad | DEF | 9 | 399 | 44.3 |
| Morris, Dale | DEF | 11 | 471 | 42.8 |
| Smith, Roarke | DEF | 10 | 399 | 39.9 |
| Roberts, Fletcher | DEF | 2 | 79 | 39.5 |
| Liberatore, Tom | MID | 1 | 9 | 9 |
| Campbell, Tom | RUC | 0 | 0 | 0 |
| Picken, Liam | FWD | 0 | 0 | 0 |
| Mullenger-McHugh, Nathan | FWD | 0 | 0 | 0 |
| Smith, Clay | FWD | 0 | 0 | 0 |
| Porter, Callum | MID | 0 | 0 | 0 |
| Collins, Kieran | DEF | 0 | 0 | 0 |