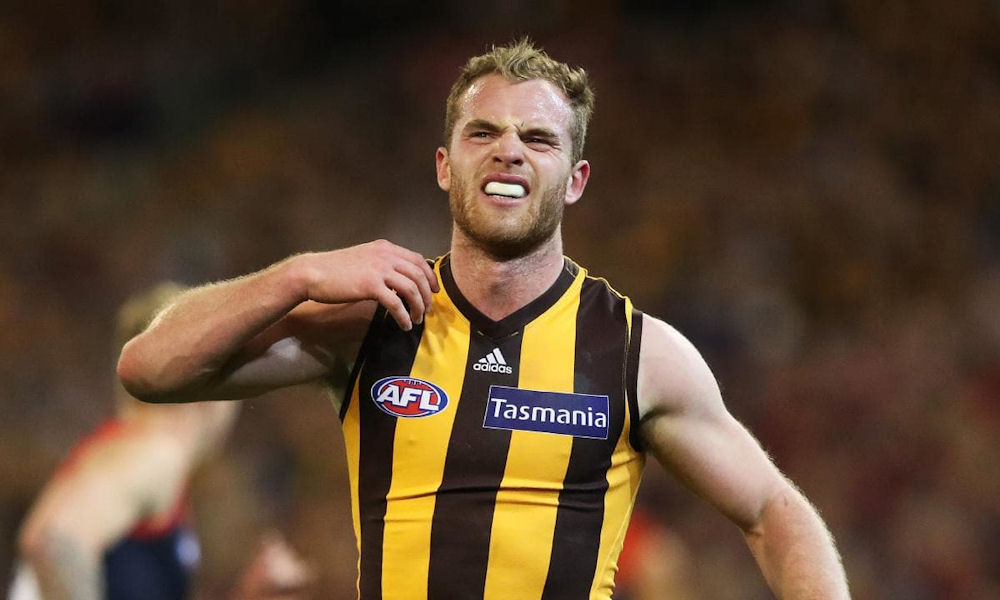 The 2018 H&A season is complete which means the Fantasy research for next season has already begun, over the next few weeks we'll take a look at a 2017/18 H&A season player average comparison for each team (Minimum 10 games played each season).
Warnie & Roy discussed some of the numbers on the final Traders podcast of the season, it is worth another listen again to hear their thoughts about some of the players that will be listed in each team (Starts at 41:25).
HAWTHORN
Tom Mitchell (2018 Ave: 129.2) delivered another remarkable season for fantasy coaches, he scored 100pts or more in 77.3% of games & 120pts or more in a staggering 63.6% of games in the 2018 H&A season. Mitchell scored a career high 195pts in Round 15 against GWS, between Rounds 15-21 he averaged 153.0pts. Mitchell opened the 2018 season averaging 147.0pts from his first 3 games.
Unfortunately Mitchell suffered an AC joint injury in a Semi Final loss to Melbourne, the injury required surgery and subsequently he will miss the opening of pre-season at the Hawks. If you are monitoring any news throughout the summer months then updates on Mitchell are a must, any setbacks or inability to be out of a rehab group could be decisive when it comes time to put him in an initial team.
James Sicily (2018 Ave: 94.3) provided another roller coaster of a year for fantasy coaches in 2018, he scored 100pts or more in 31.3% of games and recorded a career high score of 135pts in Round 7. Based on his volatility in scoring and his unreliability he could be a difficult own in 2019, he is likely to be fairly priced at Round 1.
After a strong 2017 Ryan Burton (2018 Ave: 62.0) regressed significantly in his 3rd season, his role significantly contributed to his lower fantasy average in 2018. It is worthwhile watching Burton during the pre-season for potentially a more attacking role.
Article by @aflratingsPete
2018 AFL Fantasy Stats
| PLAYER | POS | GMS | PTS | AVG |
| --- | --- | --- | --- | --- |
| Mitchell, Tom | MID | 22 | 2842 | 129.2 |
| Shiels, Liam | MID | 21 | 2037 | 97 |
| O'Meara, Jaeger | MID | 20 | 1916 | 95.8 |
| Sicily, James | DEF/FWD | 14 | 1338 | 95.6 |
| Smith, Isaac | MID | 22 | 1960 | 89.1 |
| Gunston, Jack | FWD | 21 | 1821 | 86.7 |
| McEvoy, Ben | RUC | 17 | 1472 | 86.6 |
| Breust, Luke | FWD | 22 | 1859 | 84.5 |
| Henderson, Ricky | MID | 20 | 1682 | 84.1 |
| Burgoyne, Shaun | MID | 15 | 1180 | 78.7 |
| Howe, Daniel | MID | 15 | 1158 | 77.2 |
| Roughead, Jarryd | FWD | 20 | 1468 | 73.4 |
| Impey, Jarman | FWD | 22 | 1540 | 70 |
| Worpel, James | MID | 9 | 614 | 68.2 |
| Miles, Teia | DEF/FWD | 8 | 535 | 66.9 |
| Morrison, Harry | DEF | 19 | 1258 | 66.2 |
| Hardwick, Blake | DEF | 22 | 1421 | 64.6 |
| Ceglar, Jonathon | RUC | 10 | 629 | 62.9 |
| Burton, Ryan | DEF | 21 | 1302 | 62 |
| Whitecross, Brendan | FWD | 6 | 371 | 61.8 |
| Duryea, Taylor | DEF/FWD | 16 | 987 | 61.7 |
| Nash, Connor | DEF | 3 | 181 | 60.3 |
| Mirra, David | DEF | 6 | 361 | 60.2 |
| Puopolo, Paul | FWD | 18 | 1067 | 59.3 |
| O'Rourke, Jonathan | MID | 3 | 170 | 56.7 |
| Frawley, James | DEF | 18 | 977 | 54.3 |
| Pittonet, Marc | RUC | 2 | 105 | 52.5 |
| Cousins, James | MID | 4 | 202 | 50.5 |
| Stratton, Ben | DEF | 22 | 1098 | 49.9 |
| Brand, Kaiden | DEF | 10 | 498 | 49.8 |
| O'Brien, Tim | FWD | 12 | 582 | 48.5 |
| Schoenmakers, Ryan | FWD | 8 | 382 | 47.8 |
| Glass, Conor | DEF | 4 | 190 | 47.5 |
| Langford, Will | MID/FWD | 6 | 249 | 41.5 |
| Rioli, Cyril | FWD | 4 | 155 | 38.8 |
| Lewis, Mitch | FWD | 2 | 51 | 25.5 |
| Birchall, Grant | DEF | 0 | 0 | 0 |
| Heatherley, Kurt | DEF | 0 | 0 | 0 |
| Jiath, Changkuoth | FWD | 0 | 0 | 0 |
| Jones, Harry | MID | 0 | 0 | 0 |
| Moore, Dylan | MID | 0 | 0 | 0 |
| Ross, Jackson | MID/FWD | 0 | 0 | 0 |
| Hanrahan, Oliver | FWD | 0 | 0 | 0 |
| Lovell, Kieran | MID | 0 | 0 | 0 |
| Willsmore, Dallas | MID | 0 | 0 | 0 |