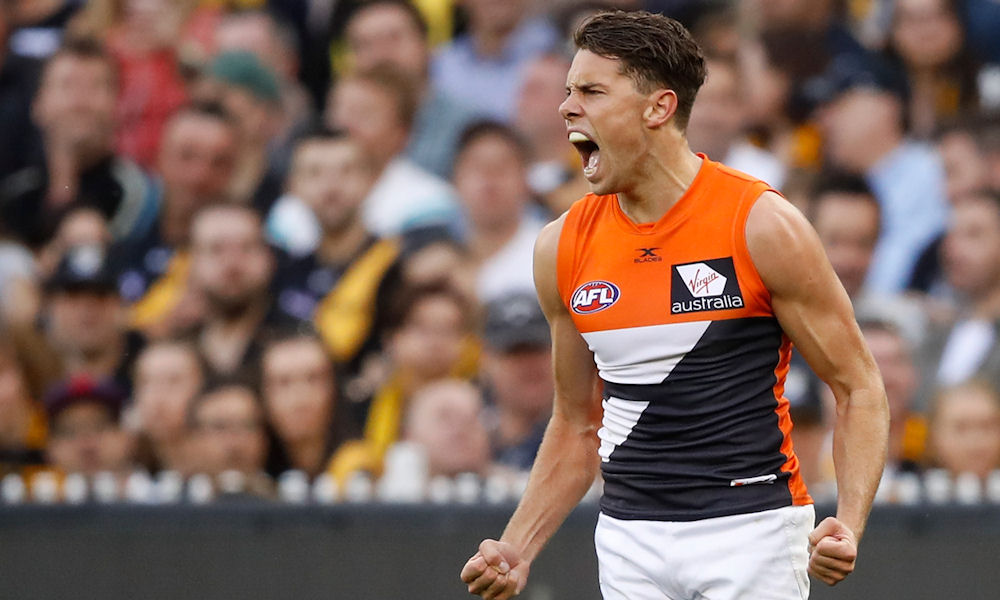 The 2018 H&A season is complete which means the Fantasy research for next season has already begun, over the next few weeks we'll take a look at a 2017/18 H&A season player average comparison for each team (Minimum 10 games played each season).
Warnie & Roy discussed some of the numbers on the final Traders podcast of the season, it is worth another listen again to hear their thoughts about some of the players that will be listed in each team (Starts at 41:25).
GWS GIANTS
Unfortunately Josh Kelly (2018 Ave: 108.4) had an injury interrupted missing a total of 7 games in the 2018 H&A season, he averaged 116.5pts from his opening 2 games & 117.1pts between Rounds 10-20. Kelly averaged 67.0pts from his final 2 H&A games which dropped his average from 114.8pts to 108.4pts, he scored 100pts or more in 50.0% of games (2017: 75.0%) & 120pts or more in 25.0% of games in 2018. Kelly will be priced 5-10pts short of what he is capable of in 2019, he is a must watch in the pre-season especially due to a late 2018 season knee injury.
Lachie Whitfield (2018 Ave: 100.1) became a popular target due to pre-season news of his defensive role replacing Zac Williams then he added DDP DEF status during the year, he averaged 118.5pts from his opening 2 games of 2018 & 114.2pts between Rounds 10-21 but it was his poor games that were a source of frustration. Whitfield became a tag target from opposition teams averaging 83.7pts between Rounds 3-9 as well as averaging 61.5pts from his final 2 H&A games, he scored 100pts or more in 56.5% of games & 120pts or more in 30.4% of games in the 2018 H&A season.
There is still likely some value in Whitfield at Round 1, his ownership will increase if he retains DEF status combined with an off-season at the Giants that potentially loses quality midfield talent.
It might be worth keeping an eye on Jacob Hopper (2018 Ave: 78.3) during the pre-season and JLT Series for his role in the midfield, he increased his average from last year and showed potential during 2018 that he can average in the mid-high 90s. Hopper might benefit from list changes at the Giants, he will be entering his 4th season in the AFL and has increased his average year on year since 2016.
Article by @aflratingsPete
2018 AFL Fantasy Stats
| PLAYER | POS | GMS | PTS | AVG |
| --- | --- | --- | --- | --- |
| Coniglio, Stephen | MID | 21 | 2318 | 110.4 |
| Kelly, Josh | MID | 15 | 1626 | 108.4 |
| Whitfield, Lachie | MID,DEF | 22 | 2202 | 100.1 |
| Ward, Callan | MID | 22 | 2132 | 96.9 |
| Taranto, Tim | MID/FWD | 21 | 1909 | 90.9 |
| Shiel, Dylan | MID | 21 | 1873 | 89.2 |
| Shaw, Heath | DEF | 20 | 1728 | 86.4 |
| Deledio, Brett | FWD | 9 | 715 | 79.4 |
| de Boer, Matt | FWD | 13 | 1019 | 78.4 |
| Hopper, Jacob | MID | 19 | 1488 | 78.3 |
| Cameron, Jeremy | FWD | 16 | 1246 | 77.9 |
| Tomlinson, Adam | DEF | 22 | 1635 | 74.3 |
| Haynes, Nick | DEF | 22 | 1591 | 72.3 |
| Kennedy, Adam | DEF/MID | 7 | 494 | 70.6 |
| Patton, Jonathon | FWD | 12 | 845 | 70.4 |
| Greene, Toby | FWD | 7 | 472 | 67.4 |
| Simpson, Dawson | RUC | 9 | 605 | 67.2 |
| Lobb, Rory | RUC/FWD | 17 | 1136 | 66.8 |
| Griffen, Ryan | MID/FWD | 15 | 930 | 62 |
| Davis, Phil | DEF | 20 | 1222 | 61.1 |
| Bonar, Aiden | MID/FWD | 4 | 236 | 59 |
| Lloyd, Daniel | FWD | 14 | 816 | 58.3 |
| Himmelberg, Harrison | DEF | 22 | 1276 | 58 |
| Finlayson, Jeremy | DEF/MID | 14 | 808 | 57.7 |
| Perryman, Harry | DEF | 8 | 444 | 55.5 |
| Giles-Langdon, Zac | FWD | 19 | 965 | 50.8 |
| J. Reid, Sam | FWD | 19 | 884 | 46.5 |
| Buntine, Matt | DEF | 7 | 313 | 44.7 |
| Corr, Aidan | DEF | 16 | 698 | 43.6 |
| Mohr, Tim | DEF | 2 | 85 | 42.5 |
| Daniels, Brent | MID/FWD | 7 | 293 | 41.9 |
| Keeffe, Lachlan | DEF/FWD | 7 | 283 | 40.4 |
| Taylor, Sam | DEF | 8 | 307 | 38.4 |
| Cumming, Isaac | DEF | 2 | 74 | 37 |
| Buckley, Dylan | DEF | 2 | 68 | 34 |
| Scully, Tom | MID | 1 | 23 | 23 |
| Shipley, Nicholas | MID | 2 | 43 | 21.5 |
| Buckley, Jack | FWD | 0 | 0 | 0 |
| Setterfield, Will | MID/FWD | 0 | 0 | 0 |
| Sproule, Zachary | FWD | 0 | 0 | 0 |
| Stein, Jake | DEF | 0 | 0 | 0 |
| Tiziani, Lachlan | FWD | 0 | 0 | 0 |
| Flynn, Matthew | RUC/FWD | 0 | 0 | 0 |
| Williams, Zac | DEF | 0 | 0 | 0 |