2017/18 H&A Season Player Average Comparison: Gold Coast
Pete from aflratings.com.au looks at the average differentials for the Suns.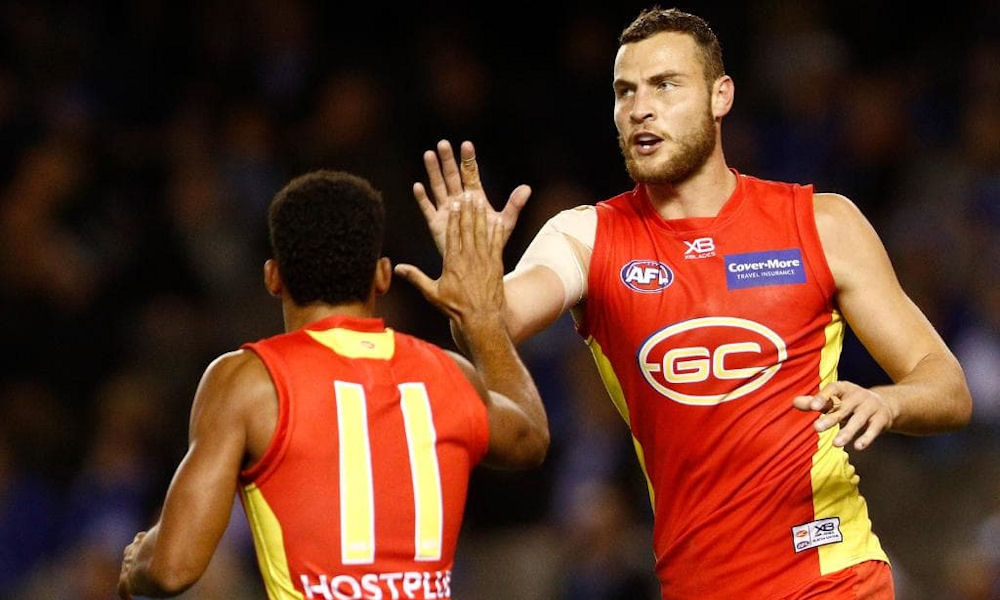 The 2018 H&A season is complete which means the Fantasy research for next season has already begun, over the next few weeks we'll take a look at a 2017/18 H&A season player average comparison for each team (Minimum 10 games played each season).
Warnie & Roy discussed some of the numbers on the final Traders podcast of the season, it is worth another listen again to hear their thoughts about some of the players that will be listed in each team (Starts at 41:25).
GOLD COAST
Jarrod Witts (2018 Ave: 93.8) had an uncomfortable range of points during the H&A season, despite his volatile scoring he was able to narrowly increase his average compared to 2017. Witts scored 100pts or more in 31.8% of games & 120pts or more in 22.7% of games in 2018, the concerning number was that he also scored fewer than 80.0pts in 27.3% of games thus nullifying his ceiling games. Gold Coast should have a much more settled midfield in 2019, maybe this might nudge his average over 100.0pts, he will be fairly priced at Round 1.
Brayden Fiorini (2018 Ave: 91.6) continued to show promise a MID option of the future, unfortunately his 2018 was severely injury interrupted missing 11 games. Fiorini scored 100pts or more in 36.4% of games but failed to score 120pts in any game in 2018, he averaged 101.0pts from his final 4 games of the season which could be indicator of what 2019 could look like. Fiorini is worth a place on a watch list right now, a full pre-season and some genuine numbers in the JLT Series might interest a few.
Article by @aflratingsPete
2018 AFL Fantasy Stats
| PLAYER | POS | Own% | GMS | PTS | AVG |
| --- | --- | --- | --- | --- | --- |
| Lyons, Jarryd | MID | 0.9 | 19 | 1803 | 94.9 |
| Witts, Jarrod | RUC | 5.1 | 22 | 2064 | 93.8 |
| Barlow, Michael | MID/FWD | 2.6 | 3 | 276 | 92 |
| Fiorini, Brayden | MID | 0.2 | 11 | 1008 | 91.6 |
| Miller, Touk | MID | 0.5 | 22 | 1892 | 86 |
| Swallow, David | MID | 1 | 20 | 1694 | 84.7 |
| Martin, Jack | FWD | 0.4 | 15 | 1257 | 83.8 |
| Harbrow, Jarrod | DEF | 0.9 | 22 | 1718 | 78.1 |
| May, Steven | DEF | 0.3 | 17 | 1284 | 75.5 |
| Weller, Lachie | MID,DEF | 1.5 | 22 | 1646 | 74.8 |
| Hall, Aaron | MID | 0.2 | 6 | 430 | 71.7 |
| MacPherson, Darcy | FWD | 0.2 | 5 | 357 | 71.4 |
| Lonergan, Jesse | MID | 0.1 | 5 | 344 | 68.8 |
| Brodie, Will | MID | 0.7 | 8 | 547 | 68.4 |
| Kolodjashnij, Kade | DEF | 0.2 | 8 | 540 | 67.5 |
| Lynch, Tom J. | FWD | 0.9 | 10 | 671 | 67.1 |
| Young, Aaron | FWD | 1.3 | 22 | 1441 | 65.5 |
| Rosa, Matt | MID | 0 | 5 | 321 | 64.2 |
| Holman, Nick | MID/FWD | 9.3 | 22 | 1406 | 63.9 |
| Bowes, Jack | DEF | 0.7 | 16 | 1021 | 63.8 |
| Sexton, Alex | DEF/FWD | 0.7 | 22 | 1353 | 61.5 |
| Ainsworth, Ben | FWD | 0.2 | 16 | 974 | 60.9 |
| Hanley, Pearce | DEF/MID | 0.6 | 3 | 181 | 60.3 |
| Scheer, Brad | FWD | 0.6 | 6 | 357 | 59.5 |
| Ah Chee, Callum | FWD | 0.2 | 14 | 822 | 58.7 |
| Wright, Peter | FWD | 0 | 7 | 407 | 58.1 |
| Schoenfeld, Joshua | MID | 0.2 | 6 | 338 | 56.3 |
| Joyce, Jesse | DEF | 0.2 | 19 | 1051 | 55.3 |
| Day, Sam | FWD | 0.6 | 12 | 630 | 52.5 |
| Dawson, Jacob | MID | 3 | 3 | 153 | 51 |
| Crossley, Brayden | RUC | 13.1 | 10 | 468 | 46.8 |
| Lemmens, Sean | DEF/FWD | 0.2 | 10 | 465 | 46.5 |
| Rischitelli, Michael | MID,DEF | 1.4 | 21 | 932 | 44.4 |
| Ballard, Charlie | MID/FWD | 4.1 | 11 | 478 | 43.5 |
| Powell, Wil | MID/FWD | 1.7 | 7 | 283 | 40.4 |
| Heron, Jacob | DEF | 2.8 | 8 | 288 | 36 |
| Spencer, Max | DEF | 0.1 | 3 | 105 | 35 |
| Leslie, Jack | DEF | 0.1 | 9 | 308 | 34.2 |
| Thompson, Rory | DEF | 1.3 | 17 | 536 | 31.5 |
| Jaska, Joshua | DEF | 0.1 | 0 | 0 | 0 |
| Nutting, Connor | DEF | 0.2 | 0 | 0 | 0 |
| Wigg, Harrison | MID | 1.7 | 0 | 0 | 0 |
| Scrimshaw, Jack | DEF | 0.2 | 0 | 0 | 0 |
| Willis, McKenzie | DEF | 0.5 | 0 | 0 | 0 |
| Nicholls, Tom | RUC | 0.2 | 0 | 0 | 0 |