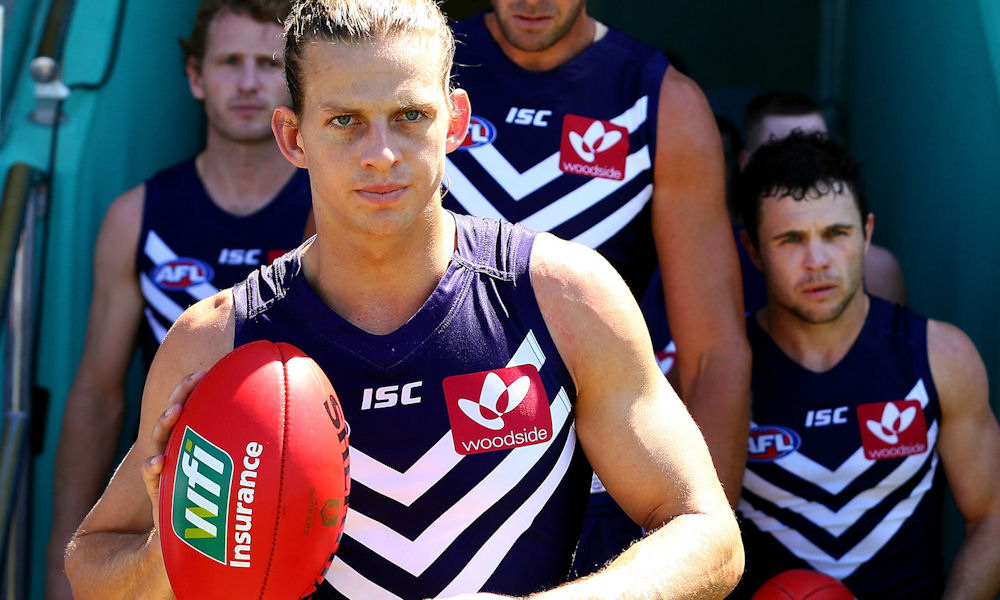 The 2018 H&A season is complete which means the Fantasy research for next season has already begun, over the next few weeks we'll take a look at a 2017/18 H&A season player average comparison for each team (Minimum 10 games played each season).
Warnie & Roy discussed some of the numbers on the final Traders podcast of the season, it is worth another listen again to hear their thoughts about some of the players that will be listed in each team (Starts at 41:25).
FREMANTLE
It was another injury riddled season for Nat Fyfe (2018 Ave: 102.1) in 2018 after a promising start averaging 112.1pts from his opening 10 games, he scored 100pts or more in 70.0% of those games which included a season high score of 144pts in Round 3. Fyfe managed only 5 more games for the season after his solid start, he should be set for a good pre-season after returning to action in the final 2 games of the year for Fremantle. In his 9 year AFL career Fyfe has never completed a full H&A season, that has to be scary for those contemplating rostering him in 2019.
Ed Langdon (2018 Ave: 88.9) emerged as a very good cash generating player for many coaches in the forward line in 2018, after a slow start averaging 64.0pts from his opening 2 games he then went on to average 99.2pts over his next 11 games before slowing down to average 80.9pts from his final 8 games. Langdon scored 100pts or more in 47.6% of games & 120pts or more in 19.0% of games in 2018, if Fremantle lose experience in the midfield during the upcoming trade period then Langdon might be an option to start in 2019.
Lachie Neale (2018 Ave: 100.2) produced another very good AFL Fantasy season, he scored 100pts or more in 63.6% of games & 120pts or more in 9.1% of games in 2018. Neale is as consistent as they come for a player that continually averages around 100.0pts, his game does lack the ability to hit his ceiling regularly but this is offset by his reliability having played in 111 out of a possible 112 games since Round 3 2014. Neale will be fairly priced at the start of 2019.
Article by @aflratingsPete
2018 AFL Fantasy Stats
| PLAYER | POS | Own% | GMS | PTS | AVG |
| --- | --- | --- | --- | --- | --- |
| Fyfe, Nat | MID | 13.2 | 15 | 1532 | 102.1 |
| Neale, Lachie | MID | 12.9 | 22 | 2204 | 100.2 |
| Blakely, Connor | MID,DEF | 0.5 | 13 | 1190 | 91.5 |
| Mundy, David | MID/FWD | 4.2 | 22 | 1978 | 89.9 |
| Langdon, Ed | MID/FWD | 3.9 | 21 | 1867 | 88.9 |
| Hill, Bradley | MID | 0.3 | 10 | 809 | 80.9 |
| Walters, Michael | MID/FWD | 4 | 18 | 1440 | 80 |
| Ryan, Luke | DEF | 1.9 | 20 | 1538 | 76.9 |
| Sandilands, Aaron | RUC | 2.1 | 11 | 840 | 76.4 |
| Darcy, Sean | RUC | 0.6 | 7 | 514 | 73.4 |
| Hill, Stephen | MID,DEF | 0.5 | 13 | 949 | 73 |
| Wilson, Nathan | DEF | 2 | 21 | 1504 | 71.6 |
| Sheridan, Tommy | DEF | 0.2 | 13 | 926 | 71.2 |
| Taberner, Matt | FWD | 0.5 | 9 | 620 | 68.9 |
| Brayshaw, Andrew | MID | 13.2 | 17 | 1136 | 66.8 |
| Pearce, Danyle | FWD | 0 | 3 | 193 | 64.3 |
| Banfield, Bailey | MID | 17.6 | 20 | 1284 | 64.2 |
| Apeness, Michael | RUC/FWD | 1.7 | 5 | 321 | 64.2 |
| Matera, Brandon | FWD | 0.4 | 18 | 1150 | 63.9 |
| Switkowski, Samuel | FWD | 3.8 | 2 | 127 | 63.5 |
| Duman, Taylin | DEF | 2.5 | 10 | 633 | 63.3 |
| Johnson, Michael | DEF | 0.2 | 13 | 812 | 62.5 |
| Kersten, Shane | FWD | 0.1 | 9 | 553 | 61.4 |
| Cox, Brennan | DEF/FWD | 0.8 | 16 | 957 | 59.8 |
| Cerra, Adam | MID/FWD | 1.6 | 21 | 1250 | 59.5 |
| Tucker, Darcy | MID/FWD | 0.3 | 17 | 1010 | 59.4 |
| Giro, Stefan | MID/FWD | 2.6 | 10 | 573 | 57.3 |
| Hamling, Joel | DEF | 0.4 | 18 | 1001 | 55.6 |
| Sutcliffe, Cameron | DEF | 0.1 | 4 | 217 | 54.3 |
| Ballantyne, Hayden | FWD | 0.5 | 17 | 908 | 53.4 |
| Jones, Scott | RUC | 19.6 | 5 | 259 | 51.8 |
| Hughes, Ethan | DEF | 0 | 5 | 255 | 51 |
| Nyhuis, Ryan | DEF/FWD | 0.5 | 8 | 401 | 50.1 |
| McCarthy, Cam | FWD | 0.6 | 17 | 835 | 49.1 |
| Grey, Brady | FWD | 0.1 | 4 | 187 | 46.8 |
| Crowden, Mitch | MID/FWD | 6.2 | 9 | 381 | 42.3 |
| Pearce, Alex | DEF | 9.2 | 21 | 878 | 41.8 |
| Logue, Griffin | DEF | 0.2 | 0 | 0 | 0 |
| Strnadica, Luke | RUC | 1.4 | 0 | 0 | 0 |
| Spurr, Lee | DEF | 0.1 | 0 | 0 | 0 |
| Bennell, Harley | FWD | 1 | 0 | 0 | 0 |
| Dixon, Hugh | FWD | 0.2 | 0 | 0 | 0 |
| Meek, Lloyd | RUC | 1.8 | 0 | 0 | 0 |
| North, Thomas | MID | 0.4 | 0 | 0 | 0 |