2017/18 H&A Season Player Average Comparison: Essendon
Pete from aflratings.com.au looks at the average differentials for the Dons.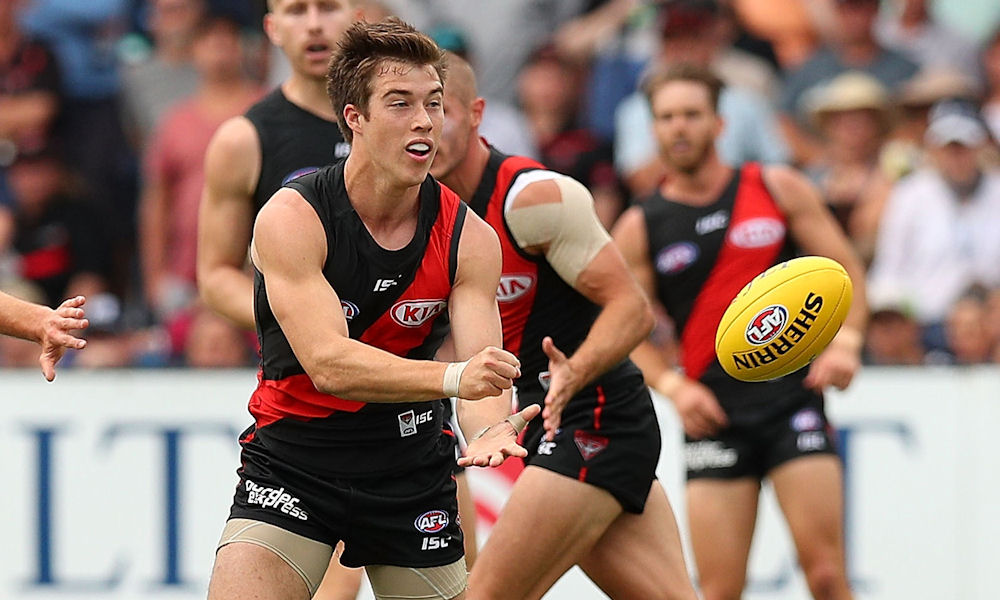 The 2018 H&A season is complete which means the Fantasy research for next season has already begun, over the next few weeks we'll take a look at a 2017/18 H&A season player average comparison for each team (Minimum 10 games played each season).
Warnie & Roy discussed some of the numbers on the final Traders podcast of the season, it is worth another listen again to hear their thoughts about some of the players that will be listed in each team (Starts at 41:25).
ESSENDON
It was a tough pill to swallow owning Zach Merrett (2018 Ave: 101.5) from Round 1 as he was knocked out early for just 23pts, subsequently he averaged 69.0pts from his next 2 games. Many coaches had jumped the Merrett ship with the thoughts he was still impacted by concussion or he in fact was not in the elite category anymore, he responded averaging 117.0pts from his next 3 games which then included 109.0pts from his remaining 19 games. Merrett scored 100pts or more in 10 of his last 12 H&A games averaging 114.1pts, he is value to begin the 2019 season.
The forward line found a new hero in 2018 named Devon Smith (2018 Ave: 106.6), it was a solid start to the year averaging a pleasant 92.0pts from his opening 5 games but then things started getting serious. Smith averaged 110.9pts from his remaining 17 games of the H&A season which included averaging 120.9pts from his final 8 games. Smith scored 100pts or more in 54.5% of games & 120pts or more in 27.3% of games, he will highly likely lose his FWD status at the start of the 2019 season and could even be a unique option with still a little bit of value left in him.
Not many coaches like rostering Key Forwards and especially at Round 1 for a potential long haul hold, the volatile scoring just doesn't suit the criteria for those chasing dreams of grandeur. However the name of Joe Daniher (2018 Ave: 63.9) could be swirling throughout the pre-season specifically if he can be fully fit, it will be a wait & see on many aspects including an early season fixture for the Bombers in which he could exploit for a decent early average. Many will pass on Daniher, it is worth at least putting his name on a watch-list.
Article by @aflratingsPete
2018 AFL Fantasy Stats
| PLAYER | POS | Own% | GMS | PTS | AVG |
| --- | --- | --- | --- | --- | --- |
| Smith, Devon | MID/FWD | 39.9 | 22 | 2345 | 106.6 |
| Heppell, Dyson | MID | 7.2 | 22 | 2235 | 101.6 |
| Merrett, Zach | MID | 27.1 | 22 | 2233 | 101.5 |
| Zaharakis, David | MID | 0.8 | 17 | 1651 | 97.1 |
| Hurley, Michael | DEF | 9.3 | 20 | 1676 | 83.8 |
| Redman, Mason | DEF | 5.6 | 2 | 163 | 81.5 |
| Langford, Kyle | MID/FWD | 0.6 | 16 | 1283 | 80.2 |
| Goddard, Brendon | MID,DEF | 3.3 | 22 | 1760 | 80 |
| Bellchambers, Tom | RUC | 1.2 | 20 | 1592 | 79.6 |
| Fantasia, Orazio | FWD | 0.8 | 13 | 1034 | 79.5 |
| Myers, David | MID | 0.3 | 16 | 1250 | 78.1 |
| Parish, Darcy | MID/FWD | 1.1 | 15 | 1120 | 74.7 |
| McKernan, Shaun | RUC/FWD | 2.4 | 10 | 742 | 74.2 |
| McGrath, Andrew | DEF/MID | 5.2 | 20 | 1428 | 71.4 |
| Hooker, Cale | FWD,DEF | 1 | 22 | 1547 | 70.3 |
| Stringer, Jake | FWD | 2.5 | 20 | 1388 | 69.4 |
| Brown, Mitch | DEF/FWD | 0.3 | 14 | 942 | 67.3 |
| McDonald-Tipungwuti, Anthony | FWD | 2.4 | 22 | 1443 | 65.6 |
| McKenna, Conor | DEF | 0.4 | 18 | 1172 | 65.1 |
| Francis, Aaron | DEF/FWD | 2.3 | 5 | 325 | 65 |
| Daniher, Joe | FWD | 2 | 7 | 447 | 63.9 |
| Guelfi, Matt | MID/FWD | 4.3 | 15 | 946 | 63.1 |
| Baguley, Mark | DEF | 0.4 | 20 | 1258 | 62.9 |
| Long, Jake | MID | 0.4 | 2 | 124 | 62 |
| Stewart, James | FWD | 0.2 | 11 | 669 | 60.8 |
| Mutch, Kobe | MID | 3.2 | 3 | 180 | 60 |
| Saad, Adam | DEF | 2 | 22 | 1302 | 59.2 |
| Laverde, Jayden | FWD | 0.4 | 7 | 413 | 59 |
| Leuenberger, Matthew | RUC | 0.2 | 2 | 116 | 58 |
| Colyer, Travis | MID/FWD | 0.1 | 8 | 443 | 55.4 |
| Dea, Matt | DEF | 0.1 | 12 | 658 | 54.8 |
| Ridley, Jordan | DEF | 6.1 | 3 | 162 | 54 |
| Hartley, Michael | DEF | 0.2 | 4 | 214 | 53.5 |
| McNiece, Ben | DEF | 0.4 | 8 | 375 | 46.9 |
| Green, Josh | FWD | 0.2 | 7 | 325 | 46.4 |
| Clarke, Dylan | MID/FWD | 14.1 | 1 | 46 | 46 |
| Merrett, Jackson | DEF/FWD | 0.4 | 2 | 91 | 45.5 |
| Ambrose, Patrick | DEF | 0.2 | 7 | 311 | 44.4 |
| Begley, Joshua | FWD | 0.2 | 5 | 201 | 40.2 |
| Draper, Sam | RUC | 2.8 | 0 | 0 | 0 |
| Gleeson, Martin | DEF | 0 | 0 | 0 | 0 |
| Houlahan, Jordan | FWD | 1.1 | 0 | 0 | 0 |
| Lavender, Luke | RUC | 1.1 | 0 | 0 | 0 |
| Mynott, Trent | MID | 0.3 | 0 | 0 | 0 |
| Zerk-Thatcher, Brandon | DEF/FWD | 0.7 | 0 | 0 | 0 |