2017/18 H&A Season Player Average Comparison: Collingwood
Pete from aflratings.com.au looks at the average differentials for the Pies.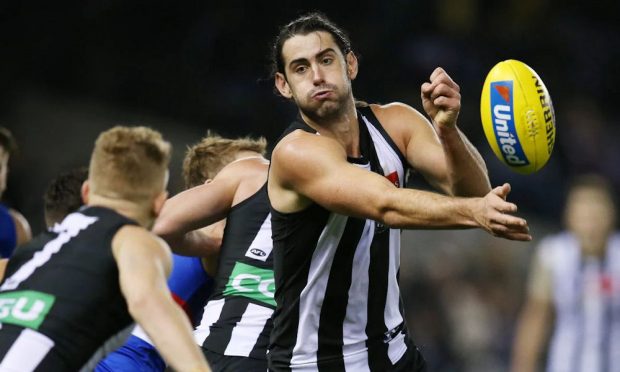 The 2018 H&A season is complete which means the Fantasy research for next season has already begun, over the next few weeks we'll take a look at a 2017/18 H&A season player average comparison for each team (Minimum 10 games played each season).
Warnie & Roy discussed some of the numbers on the final Traders podcast of the season, it is worth another listen again to hear their thoughts about some of the players that will be listed in each team (Starts at 41:25).
COLLINGWOOD
Tom Phillips (2018 Ave: 95.5) emerged as a solid fantasy option this year increasing his average by 12.2pts compared to 2017, he scored 100pts or more in 45.5% of games & 120pts or more in 22.7% of games. Phillips averaged 100.5pts with Adam Treloar & 88.2pts without to finish the H&A season, he averaged 79.3pts from his final 3 H&A games. There may be some further value in Phillips in 2019.
Taylor Adams (2018 Ave: 95.1) had a very slow start to the year averaging 78.0pts from his first 3 games, he missed the next 3 games with a Hamstring injury before returning with a poor score of 48pts in Round 7. Adams averaged 101.7pts from his remaining 15 games of the H&A season, his average increased to 105.8pts without Adam Treloar. Adams should be a definite watch on role & fitness over the pre-season, he could be in a bounce back situation.
Full credit to those that worked out the Collingwood Ruck scenario prior to Round 1 & started with Brodie Grundy (2018 Ave: 120.0), after a moderate 84pts in Round 1 Grundy then went on to score 100pts or more in 19 of his next 21 games averaging 121.7pts. Grundy will come with a monster price tag in 2019 but he might be worth every cent, it's not very often a fantasy player can score 120pts or more in 59.1% of games for an entire season.
Article by @aflratingsPete
2018 AFL Fantasy Stats
| PLAYER | POS | Own% | GMS | PTS | AVG |
| --- | --- | --- | --- | --- | --- |
| Grundy, Brodie | RUC | 36.5 | 22 | 2640 | 120 |
| Treloar, Adam | MID | 3.1 | 13 | 1410 | 108.5 |
| Sidebottom, Steele | MID | 10.6 | 22 | 2275 | 103.4 |
| Pendlebury, Scott | MID | 7.1 | 21 | 2136 | 101.7 |
| Phillips, Tom | MID | 2.9 | 22 | 2101 | 95.5 |
| Adams, Taylor | MID | 3.4 | 19 | 1807 | 95.1 |
| Crisp, Jack | DEF | 8.2 | 22 | 1925 | 87.5 |
| Howe, Jeremy | DEF | 2 | 17 | 1399 | 82.3 |
| De Goey, Jordan | MID/FWD | 3 | 17 | 1391 | 81.8 |
| Sier, Brayden | MID | 8.8 | 8 | 604 | 75.5 |
| Maynard, Brayden | DEF | 0.9 | 18 | 1343 | 74.6 |
| Murray, Sam | DEF | 19.1 | 13 | 967 | 74.4 |
| Langdon, Tom | DEF | 0.6 | 19 | 1404 | 73.9 |
| Scharenberg, Matthew | DEF | 0.3 | 17 | 1246 | 73.3 |
| Thomas, Josh | FWD | 1 | 22 | 1595 | 72.5 |
| Mayne, Chris | FWD | 0.6 | 17 | 1222 | 71.9 |
| Aish, James | DEF/MID | 0.8 | 9 | 641 | 71.2 |
| Blair, Jarryd | FWD | 0.2 | 2 | 139 | 69.5 |
| Daicos, Josh | MID/FWD | 1.1 | 10 | 683 | 68.3 |
| Hoskin-Elliott, Will | MID/FWD | 2.8 | 22 | 1474 | 67 |
| Stephenson, Jaidyn | MID/FWD | 12.2 | 22 | 1445 | 65.7 |
| Mihocek, Brody | DEF/FWD | 13.6 | 12 | 764 | 63.7 |
| Reid, Ben | DEF/FWD | 0.3 | 6 | 380 | 63.3 |
| Brown, Callum | MID/FWD | 1 | 8 | 482 | 60.3 |
| Cox, Mason | RUC/FWD | 4.9 | 20 | 1168 | 58.4 |
| Greenwood, Levi | MID/FWD | 0.4 | 12 | 688 | 57.3 |
| Wells, Daniel | MID/FWD | 0.2 | 4 | 227 | 56.8 |
| Oxley, Adam | DEF | 0.1 | 3 | 159 | 53 |
| Smith, Josh | DEF | 0.1 | 1 | 52 | 52 |
| Dunn, Lynden | DEF | 0.4 | 14 | 713 | 50.9 |
| Varcoe, Travis | DEF/FWD | 0.8 | 16 | 800 | 50 |
| Crocker, Benjamin | FWD | 0.2 | 10 | 482 | 48.2 |
| Appleby, Flynn | DEF | 1 | 9 | 433 | 48.1 |
| Madgen, Jack | MID | 4.9 | 4 | 189 | 47.3 |
| Murphy, Nathan | DEF/FWD | 1.4 | 2 | 84 | 42 |
| Moore, Darcy | FWD | 0.2 | 7 | 292 | 41.7 |
| Fasolo, Alex | FWD | 0.1 | 1 | 12 | 12 |
| Elliott, Jamie | FWD | 0.2 | 0 | 0 | 0 |
| Goldsack, Tyson | DEF | 0.1 | 0 | 0 | 0 |
| Wills, Rupert | MID | 0 | 0 | 0 | 0 |
| Brown, Tyler | MID/FWD | 11.1 | 0 | 0 | 0 |
| Kirby, Kayle | FWD | 0.8 | 0 | 0 | 0 |
| Lynch, Max | RUC/FWD | 4.5 | 0 | 0 | 0 |
| McLarty, Sam | DEF | 1.4 | 0 | 0 | 0 |
| Broomhead, Tim | MID | 0 | 1 | 0 | 0 |