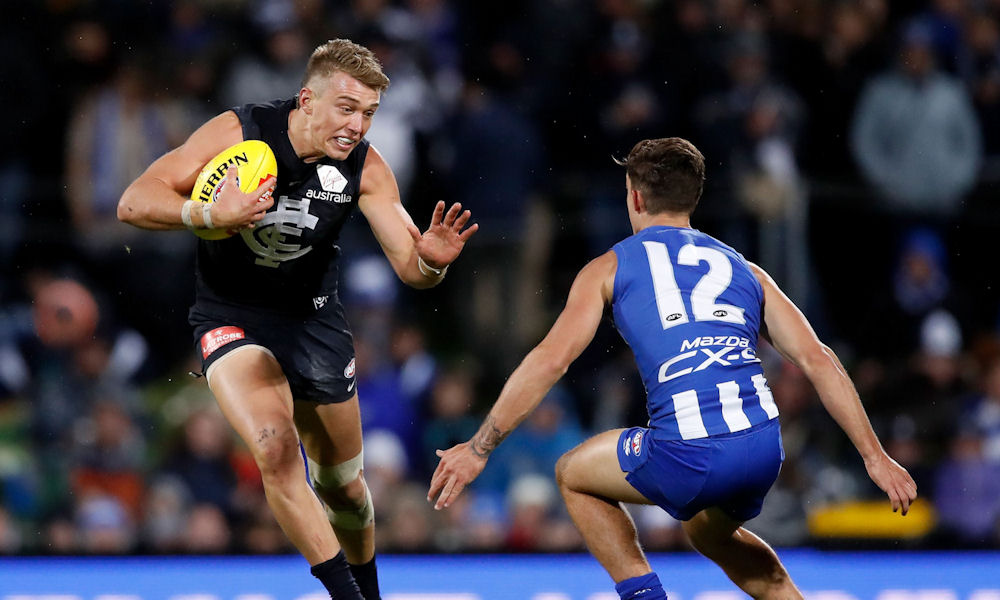 The 2018 H&A season is complete which means the Fantasy research for next season has already begun, over the next few weeks we'll take a look at a 2017/18 H&A season player average comparison for each team (Minimum 10 games played each season).
Warnie & Roy discussed some of the numbers on the final Traders podcast of the season, it is worth another listen again to hear their thoughts about some of the players that will be listed in each team (Starts at 41:25).
CARLTON
Despite the Blues putting up only 2 wins in 2018 the amount of fantasy talent available was quite appealing, Zac Fisher & Lochie O'Brien showed promise along with emerging Paddy Dow but just about the entire fantasy community is waiting for the return of Sam Docherty at Round 1 next season.
The 2018 season didn't start out that well for Matthew Kreuzer (2018 Ave: 79.4) having to deal with a leg injury suffered late in the pre-season, things never really improved over the year and he managed just 12 games dealing with multiple injury concerns. Having averaged 105.0pts in 2017 Kreuzer fell short of averaging 80.0pts (-25.6 Differential) this season, he is turning 30 during the 2019 H&A season and is well under-priced compared to what he is capable of. He is a must to complete a full pre-season otherwise it could be a bumpy road owning him next season.
Patrick Cripps (2018 Ave: 109.3) elevated his fantasy game to another level in 2018, he averaged 100.4pts in his first 11 games of the year and averaged 118.3pts post Bye to finish off a full 22 games for the Blues. The strong finish by Cripps was highlighted by a career high 162pts in Round 19, he scored 100pts or more in 10 of 11 games between Rounds 13-23. Cripps will come with a high price tag to start the 2019 season, he will be entering his 6th season which could improve on his career best 2018. For those not willing to start Mitchell at Round 1 then Cripps might be a decent option at a discount.
The numbers for ageing veteran Kade Simpson (2018 Ave: 95.4) have been interesting, although he delivered another solid year the drop in production late in the season was evident. In 2017 Simpson 101.0pts from his opening 16 games of the season, he averaged 88.8pts in his final 6 games. In 2018 Simpson averaged 100.6pts in his opening 14 games of the season, he averaged 85.0pts from his final 7 games.
Article by @aflratingsPete
2018 AFL Fantasy Stats
| PLAYER | POS | Own% | GMS | PTS | AVG |
| --- | --- | --- | --- | --- | --- |
| Cripps, Patrick | MID | 28.2 | 22 | 2405 | 109.3 |
| Curnow, Ed | MID | 12.2 | 21 | 2106 | 100.3 |
| Murphy, Marc | MID | 4.8 | 13 | 1262 | 97.1 |
| Simpson, Kade | DEF | 46.6 | 21 | 2003 | 95.4 |
| Lobbe, Matthew | RUC | 1.3 | 6 | 515 | 85.8 |
| Thomas, Dale | MID/FWD | 6.2 | 20 | 1714 | 85.7 |
| Kerridge, Sam | MID | 0.1 | 10 | 857 | 85.7 |
| Kreuzer, Matthew | RUC | 9.5 | 12 | 952 | 79.3 |
| Curnow, Charlie | FWD | 9.1 | 20 | 1478 | 73.9 |
| Petrevski-Seton, Sam | MID/FWD | 7.8 | 22 | 1540 | 70 |
| Fisher, Zac | MID/FWD | 3.9 | 17 | 1182 | 69.5 |
| Kennedy, Matthew | MID | 3.4 | 12 | 773 | 64.4 |
| Lang, Darcy | FWD | 0.1 | 11 | 707 | 64.3 |
| Graham, Nick | MID/FWD | 0.1 | 10 | 641 | 64.1 |
| Byrne, Ciaran | DEF | 2.5 | 7 | 443 | 63.3 |
| McKay, Harry | FWD | 4.9 | 13 | 810 | 62.3 |
| Wright, Matthew | FWD | 3.3 | 21 | 1296 | 61.7 |
| Mullett, Aaron | DEF | 3.5 | 13 | 792 | 60.9 |
| Shaw, Matt | MID | 0.1 | 2 | 120 | 60 |
| Phillips, Andrew | RUC | 1.5 | 5 | 288 | 57.6 |
| Lamb, Jed | FWD | 0.1 | 18 | 1028 | 57.1 |
| Dow, Paddy | MID/FWD | 13.7 | 20 | 1110 | 55.5 |
| Weitering, Jacob | DEF | 4.7 | 14 | 777 | 55.5 |
| O'Brien, Lochie | DEF/MID | 2 | 18 | 988 | 54.9 |
| Garlett, Jarrod | MID/FWD | 9.1 | 11 | 597 | 54.3 |
| Marchbank, Caleb | DEF | 0.6 | 12 | 648 | 54 |
| Casboult, Levi | RUC/FWD | 0.4 | 10 | 528 | 52.8 |
| Jones, Liam | DEF | 0.8 | 17 | 886 | 52.1 |
| O'Shea, Cam | DEF | 7.4 | 11 | 549 | 49.9 |
| Silvagni, Jack | FWD | 3.1 | 15 | 730 | 48.7 |
| Plowman, Lachie | DEF | 0.3 | 13 | 629 | 48.4 |
| Kerr, Pat | FWD | 1.8 | 4 | 182 | 45.5 |
| Cuningham, David | MID/FWD | 4.1 | 5 | 212 | 42.4 |
| Pickett, Jarrod | FWD | 0.4 | 7 | 284 | 40.6 |
| Rowe, Sam | DEF | 0.6 | 17 | 672 | 39.5 |
| De Koning, Tom | RUC/FWD | 1.5 | 2 | 73 | 36.5 |
| Polson, Cameron | MID/FWD | 25.1 | 12 | 400 | 33.3 |
| Glass-McCasker, Jesse | DEF | 0.2 | 0 | 0 | 0 |
| Docherty, Sam | DEF | 0.4 | 0 | 0 | 0 |
| McDaid, Cillian | DEF | 0.2 | 0 | 0 | 0 |
| Schumacher, Angus | DEF/MID | 1.9 | 0 | 0 | 0 |
| Silvagni, Alex | DEF | 0.2 | 0 | 0 | 0 |
| Lebois, Kym | FWD | 1.6 | 0 | 0 | 0 |
| Macreadie, Harrison | DEF | 0.2 | 0 | 0 | 0 |
| Williamson, Tom | DEF | 0 | 0 | 0 | 0 |