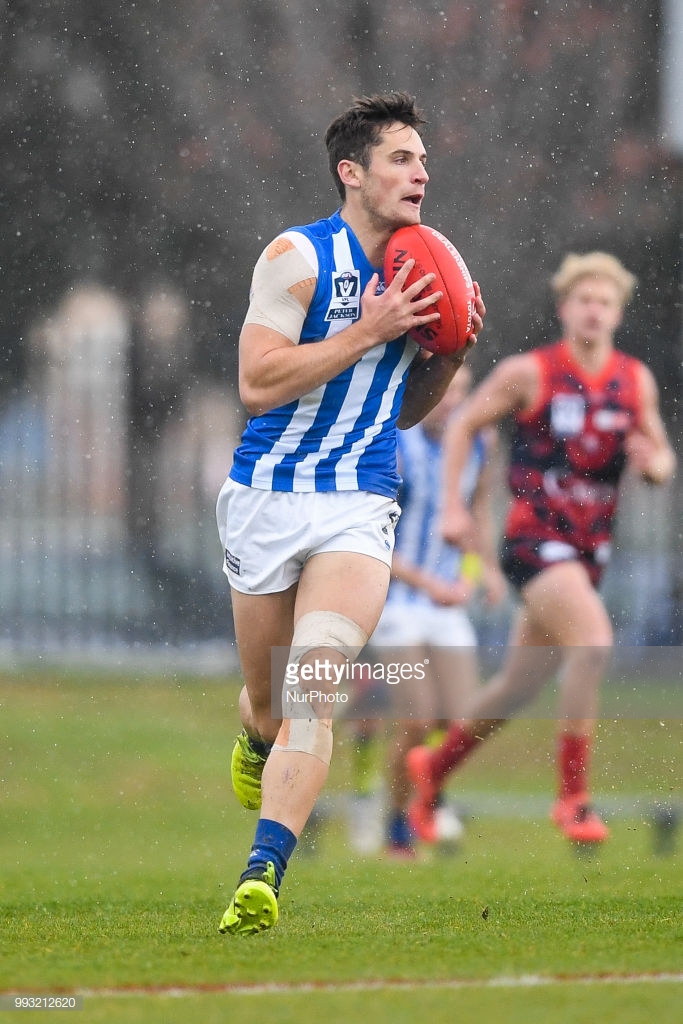 VFL
Hawthorn (Box Hill)
David Mirra (DEF, $351K) was very good with 21 touches, 10 marks, 6 tackles and 4 goals for 143 points. He could put his hand up for a recall. James Cousins (MID, $327K) was solid too with 30 touches and 6 tackles. Hopefully he stays out because he has tagged this year. Kieron Lovell (MID, $210K) was solid with 16 touches and 6 marks for 62 points, and will hopefully be a good midfield rookie next year.
Melbourne Demons
Dean Kent (FWD, $466) and Tomas Bugg (FWD, $457K) were both very good with 117 and 115 points respectively, but are too much to consider if they do get a game. Tim Smith (FWD, $353K) was also solid again with 15 touches, 8 marks and 1.3 for 91 points, and will most likely come in for Jesse Hogan. Harrison Petty (DEF, $206K) was pretty good with 19 touches and 6 marks for 75 points and could come in for Jayden Hunt who hurt his ankle.
Saints (Sandringham)
Luke Dunstan (MID, $506K) was dropped despite averaging 22 touches and 4 tackles, but he racked up in the VFL. He had 32 touches and 8 tackles for 121 points. Hugh Goddard (DEF, $170K) is a sneaky chance to come in for Rice who hurt his thumb, after having 22 touches and 14 marks for 107 points. Nick Coffield (DEF/MID, $350K) was solid with 18 touches and 7 tackles for 77 points. Ed Phillips (MID, $613K) was pretty good with 22 touches and 70 dream team points. Logan Austin (DEF, $408K) was pretty good with 17 touches and 5 marks for 65 points.
Carlton Blues
Aaron Mullet (DEF, $426K) was pretty good with 21 touches, 7 tackles and 3 goals for 111 points. Levi Casboult (RUC/FWD, $345K) was good and will likely come in if Kreuzer doesn't get up for this week after being a late out last week. He had 12 touches, 5 marks, 6 tackles, 35 hitouts, a goal and 108 points. Cam O'Shea (DEF, $321K) had a rare good game, with 21 touches and 13 marks for 105 points. If only he could do this when he was in the senior side.
Collingwood Magpies
A quiet week done at the Pies, with the top score being 86 in a win. The highest score from an AFL listed player was 81, from Jarryd Blair (FWD, $395K), which featured 13 touches, 8 tackles and.a goal. Sam McLarty (DEF, $170K) was pretty good too with 16 touches, 6 marks, 4 tackles and 2 behinds for 81 points, being the equal high scorer.
Geelong Cats
Jordan Murdoch (MID/FWD, $429K) was the top scorer for the Cats with 114 points, consisting of 21 touches, 6 marks, 6tackles and 3 goals. Jordan Cunico (MID, $456K) was also pretty good with 21 touches and 7 tackles for 94 points. He's quite in and out of the side at the moment. Charlie Constable (MID, $200K) was solid with 17 ouches and 70 points, and hopefully will be a good option next season. Ryan Abbott (RUC, $206K) was dropped after his solid debut, but will likely come back in this week after Stanley injured his calf. He had 14 touches, 4 tackles and 17 hitouts for 59 points, and should come in and play Sean Darcy this week.
Essendon Bombers
Sam Draper (RUC, $170K) was pretty good with 1 goals and 37 hitouts for 94 points, to be the top scorer for the Bombers. He is there if needed for the Bombers but I doubt he will be used. Kobe Mutch (MID, $265K) was okay, with 25 touches and 86 points. Dylan Clarke (MID/FWD, $181K) was below his usual self, with only 20 touches and 5 tackles for 72 points. If he doesn't get another game, with this year's rough formula, he should be around $230K next season before the salary cap change.
Western Bulldogs
Mitch Honeychurch (FWD, $420K) was huge with 26 touches, 3 goals and 11 tackles for 132 points. Tim English (FWD/RUC, $425K) was huge as well with 15 touches, 6 tackles, 49 hitouts and 131 fantasy points. I actually don't know whether he'll play because he's been in the VFL for a few weeks now, and has been quite good, but still not in the team. Callum Porter (MID, $170K) was pretty poor with 15 touches and 53 points. He was named in the extended bench last week but didn't make the cut.
North Melbourne
Mitch Hibberd (DEF, $235K) was pretty good and is a chance to come in this week, after having 29 touches and 10 marks for 116 points. Luke Davies-Uniacke (MID, $267K) was very good with 28 touches and a goal for 107 points, but he will only play if Jacobs doesn't. Billy Hurting (MID, $410K) played half a match for 65 points from 2 goals and 15 touches. Declan Mountford (MID/DEF, $439K) was good with 20 touches and 5 tackles for 78 points, and could possibly come in this week.
Gold Coast Suns
Josh Schoenfeld (MID, $390K) was the top scorer for the Suns with 142 points from 41 touches. Brad Scheer (FWD, $308K) was also good with 2 goals, 28 touches and 10 tackles for 130 points. Jacob Dawson (MID, $227K) was also quite good with 33 touches and 103 points. I think we will see Michael Barlow come in this week with Hanley and Brodie injured. Dawson, Scheer and Schoenfeld will fight for the other spot, but my early indicator would be Dawson.
GWS
Daniel Lloyd (FWD, $361K) was huge with 6 goals, 37 touches and 171 points. He's not an option in classic but could come in this week if Josh Kelly doesn't play. Harry Perryman (DEF, $343K) was also good with 43 touches and a goal for 145 points and should come in for Heath Shaw who is done for the season. Jeremy Finlayson (MID/DEF, $337K) could also be one that is an option for Heath Shaw, after having 22 touches and 89 points, but I think Perryman will come in. Isaac Cumming (DEF, $191K) wasn't great with only 13 touches and 46 points.
Sydney Swans
Darcy Cameron (RUC, $170K) is an absolute freak. He had 30 touches, 9 marks and 72 hitouts for 184 points. His average is now up to 139 and is having one of the best seasons from a ruckman we've ever seen, despite being in the reserves. What ruckman gets 30 touches every week? Daniel Robinson (FWD, $331K) was good as well with 42 touches and a goal for 131 points. He's only 4 points behind Cameron, with an average of 135. Colin O'Riordan (DEF, $277K) made his return through the NEAFL and had 31 touches and 8 marks for 111 points. He could come back in for Alex Johnson who hurt his knee for the 6th time, what a poor bloke, and myself and the DTTalk community wish him the best <3.
SANFL
Adelaide Crows
Patrick Wilson (MID/FWD, $185K) was good with 2 touches and 13 marks for 123 points. He's getting the job done in the SANFL but there just isn't room for him in the team. Mitch McGovern (FWD, $482K) was good in the SANFL with 2 goals and 6 marks for 75 points and should come in for Walker this week. It's between him and Darcy Fogarty (FWD/MID, $266K) who had 16 touches and 9 marks for 71, but no goals.
Top 3:
Ryan Abbott
Declan Mountford
Tim Smith
Mitch Hibberd
Hugh Goddard
Feel free to leave some questions below, but at this stage of the season, there isn't much thought that goes into which rookies you pick, because most teams will have 22 premiums anyway.