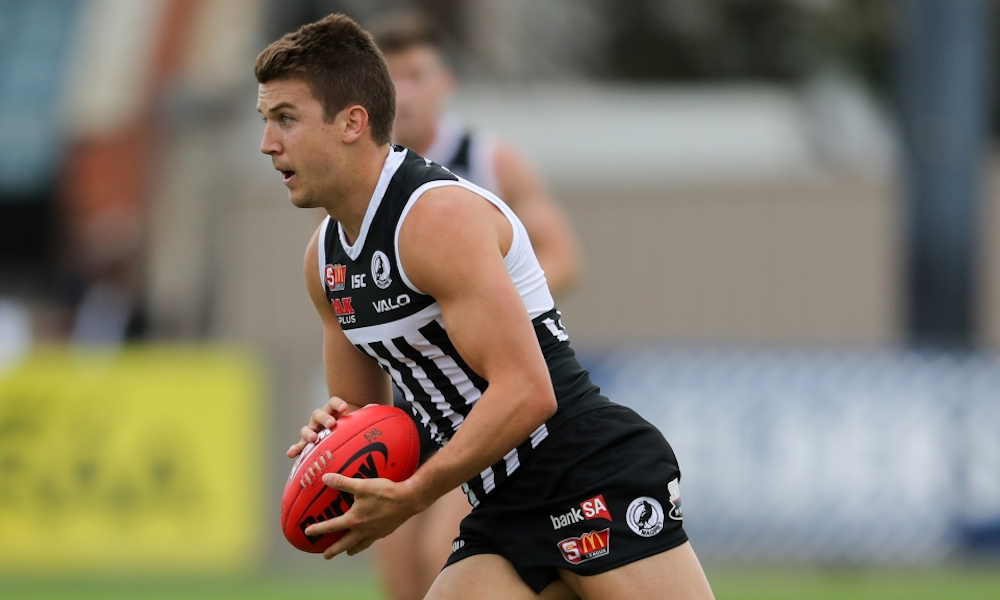 Welcome back to the Magoos News for 2019! For those who don't know, this article just recaps the scores from the two's and who is a chance to play next week! Only the SANFL played last week so this one is a little bit shorter!
SANFL
Port Adelaide
Jack Trengove (DEF, $419K) was the standout for the Power reserves, landing 44 touches, 11 tackles and a goal for a massive 178 points! It would be tough to bring him in after the AFL side is 2-0, but is definitely pushing for a spot. With Wines "on the verge" of returning, that makes it even tougher to get a game. Sam Gray (FWD, $487K) was also great with 138 points, which featured 4 goals and 33 touches. He's one whose been in and out of the side recently and is probably too
pricey and risky in classic. Sam Mayes (DEF, $510K) kicked 0.3 for a score of 98. If he kicks straight, that score turns into 110+. Like Trengove, it would be very stiff to drop someone after 2 wins. Matthew Broadbent (DEF, $351K) was pretty good as he continues to return from injury. He found the footy 21 times and took 8 marks for a score of 85. He will look to break back into the 22 in the coming weeks. Big bodied midfielder Joe Atley (MID, $227K) was impressive with 27 touches and 78 fantasy points, although 18 of which were handballs.
Adelaide Crows
Patrick Wilson (MID, $278K) was the top scorer for the Crows with 117 points which featured 28 touches, 4 clearances and 9 marks. He's probably competing with Chayce Jone for a spot although jones did get selected ahead of round 3. Riley O'Brien (RUC, $232K) scored 107 pints from only 21 hitouts, but his main feature was his 17 touches, 8 marks and 5 tackles. He's been delete to face the Cats with Sauce Jacobs on a week-by-week standby with his injury, and it would be a bit to pay up on the bench but could be a quick cash cow. Ned McHenry (MID/FWD, $240K) is surely nearing a debut, after 20 touches, 9 marks and 89 points. Likewise, Tyson Stengle (FWD, $211K) booted 4 goals and had 18 touches, 3 clearances and 4 inside 50's for 87 DT points. His performance was labelled as 'eye catching' and exciting. He is certainly asking the selectors questions as to whether he should be in the side, and don't be surprised if he features in a short while.
A quick recap from the VFL practice matches.
Matt Kennedy (MID, $467K) was impressive for the Blues whilst Liam Stocker (MID, $234K) was quiet but used the ball very well. Mitch Lewis (FWD, $170K) and Mark Pittonet (RUC, 290K) were both impressive for the Hawks, whilst Corey Wagner (MID, $196K) racked up plenty of touches for the Demons. Noah Balta (FWD, $176K) spent time in defence and kept the Collingwood VFL team very quiet, whilst Paul Ahern (MID, $497K) was prolific and will demand a recall. 
Feel free to leave any questions regarding scores/performances from the state leagues and about rookies!