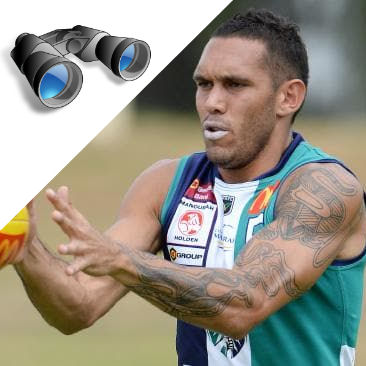 VFL
Essendon Bombers
Jake Long (MID, $233K) was very good with 29 touches and 7 tackles for 111 points. With Essendon underperforming, they could look to the mature aged Long. Jackson Merrett (DEF/FWD, $339K) was dropped and had 109 points for 21 touches. I doubt he'll come back in and isn't relevant, averaging 45 in the AFL. Dylan Clarke (MID/FWD, $170K) had another good game with 30 touches and 101 points – but he did have 22 handballs. Surely, with Essendon playing pretty bad football, they might want to inject some more youth into the team. If Adam Saad doesn't get up, it will open up a nice opportunity. Sam Draper (RUC, $170K) had 27 hitouts and 4 tackles for 89. I can't see him playing anytime soon but if he does, he'll be a nice option.
North Melbourne
Brayden Preuss (RUC, $445K) had 47 hitouts and 94 points, and Goldstein was even, if not beaten by Sinclair and we know Brad Scott is not afraid to drop him. Luke Davies-Uniacke (MID, $259K) was dropped and only had 68 points in the VFL. He's cheaper than what he started at, which is quite poor considering he's a rookie. He's still owned by 10% and he needs to go. Ben McKay (DEF/FWD, $201K) had 56 and 7 marks, and with Ed Vickers-Willis likely to miss, McKay could be an ideal replacement in terms of fantasy, but I think Hrovat would come in ahead of him.
Hawthorn Hawks
Kaiden Brand (DEF, $400K) had a day out with 27 touches, 13 marks and 132 fantasy points. Not fantasy relevant if he does come in. David Mirra (DEF, $259K) was dropped, despite being solid, but had 21 touches and 12 marks for 108 points, and could come back into the side soon, maybe not this week after a solid win. Dylan Moore (MID, $170K) was very good with 27 touches and 102 fantasy points, and if James Worpel doesn't start having a bit more influence, Moore could get a game. If he does, I'd wait a week with him. Mitch Lewis (FWD, $170K) impressed again with 18 touches and a goal for 83 points. If Will Langford doesn't recover from his back spasms, Lewis could be an option for the Hawks.
St Kilda (Sandringham Dragons)
Ed Phillips (MID, $170K) was huge with 37 touches and 8 marks for 133 points on the weekend. A couple of injuries have popped up at the Saints and they haven't been too flash recently, so they may look to bring in some youth. Jack Sinclair (MID, $518K) was good as well with 33 disposals and 127 points, but isn't relevant in classic, especially at that price and being a MID only. Nathan Freeman (MID, $170K) finally made his return to footy, and he definitely made a mark. He had 28 touches, 7 marks and 6 tackles for 117 fantasy points and a well-rounded game. The Saints said he won't play within the next few weeks because they don't want to rush him, but he will feature at some stage this year barring any other setbacks. Jack Lonie (FWD, $420K) had 31 touches and kicked 2.3 for 116 points as he seeks an AFL return. With Ben Long out for 10 weeks, Lonie could be the man filling his boots. Billy Longer (RUC, $473K) had 49 hitouts and 74 points but I find it hard to see him sharing the ruck role with Hickey back in the side.
Carlton Blues (Northern Blues)
Jacob Weitering (DEF, $338K) was back to the twos and racked up 17 marks, 28 touches and 146 fantasy points. Definitely not an option, but should come back in this week. Cameron Polson (MID/FWD, $186K) scored 89 fantasy points, for his highest score of the season. He laid 11 tackles which is a promising sign. Jack Silvagni (FWD, $342K) scored 99 and laird 9 tackles, but kicked 0 goals but may come in since Levi Casbolt is in doubt for this week.
Collingwood Magpies
Sam McLarty (DEF, $170K) had 22 hitouts, took 8 marks and won 19 hitouts, for 115 points. It would be amazing if he could make his debut, since he's averaging 99 as a basement priced defender. He's been on the emergencies for a couple of weeks and is really close to getting a gig. Brayden Sier (MID, $170K) was on the extended bench last week, and with Scott Pendlebury in some doubt for this week, Sier is the front runner to replace him after another dominant display with 26 touches and 103 points. Adam Oxley (DEF, $344K) scored 89 but I think the Magpies would prefer to inject some youth into the side rather than Oxley. I don't think we'll see him back anytime soon. Daniel Wells (FWD/MID, $544K) had another solid performance with 19 touches and 94 points. I think he will be managed back into the team and will be one to look at in draft, especially since he's available as a forward.
Western Bulldogs (Footscray)
Jackson Trengove (FWD, $407K) was good with 103 points and 25 touches playing as the back-up ruckman. If Tim English doesn't start producing the goods, they may call for back-up…. AFL.com.au believe he will be rested this week after a tough start to the year. Callum Porter (MID, $170K) had 77 points including 6 tackles but I don't think he will get an opportunity just yet. Josh Schache (FWD, $236K) kicked 3 goals for 74 points and could return for the Doggies soon. Shane Biggs (DEF, $515K) only had 54 points and 13 touches and doesn't look like returning any time soon.
Richmond Tigers
Anthony Miles (MID, $517K) had another good game with 32 touches for 133 points. He must not be liked at the Tigers seeing's as he plays well every week but is
never selected. Mabior Chol (FWD, $170K) was good with 74 points, playing forward and ruck. Could come in to assist Nankervis if he starts to struggle. Pat Naish (FWD/MID, $204K) hasn't set the world on fire so far this year, only averaging 40 in the VFL. He only managed 33 on the weekend with 10/13 possessions being handballs and kicked no goals.
SANFL
Port Adelaide
William Frampton (RUC/FWD, $170K) despite being spoken as 'not ready for AFL', he racked up 32 hitouts and 128 fantasy points on the weekend. If only he could play, he's got DPP and would be very handy. Less likely now, with Ryder back in, but if Dixon doesn't play after his niggle, he may be a slight chance, but I doubt it. Tom Rockliff (MID/FWD, $530K) had 108 points from 31 touches and only 3 tackles. His name just doesn't sit right in the SANFL but should be back soon. He has a breakeven of 134 and if anyone can get that, it's him. Sam Powell-Pepper (MID, $488K) had 103 points and is available for selection this week. He probably will come in at the expense of Dom Barry. Joe Atley (MID, $248K) has been quite good in the SANFL averaging 85, and had 106 on the weekend with 28 touches. He's probably too expensive to pick and probably won't be selected with both Rockliff and SPP ahead of him.
Adelaide Crows
Patrick Wilson (FWD/MID, $170K) is mature aged and has 31 touches, 8 tackles, 6 marks and 131 fantasy points. He could definitely be turned to if Wayne Milera doesn't recover from injury or someone like Galluci gets dropped. Lachlan Murphy (DEF/FWD, $238K) scored 76 and laird 7 tackles, and the Crows may want his forward line pressure back in the side. He still has a lot of cash to make. Harry Dear (DEF/FWD, $170K) kicked 2 goals, won 22 hitouts and had 85 points. I don't think he will get a game anytime soon but if any more injuries come up, he could get thrown into the mix as a bit of a utility.
NEAFL
Gold Coast Suns
Jacob Dawson (MID, $170K) had a great game with 25 touches, 9 tackles and 7 marks for 121 fantasy points. He could be looked at, with the Suns keen to give some young players a run so far this year, at the expense of some senior players…. Aaron Hall (MID, $578K) scored 101 but only had 19 touches. He might have to spend a bit more time in the NEAFL. If he does return, he will be very cheap and an option after his early bye. Will Brodie (MID, $356K) was good as well with 104 points, racking up 30 touches and 6 tackles. He hasn't played a game yet but if he does, it's unlikely you'd pick him at that price as a midfielder.
GWS
Sam Taylor (DEF, $216K) had 32 touches and 15 marks for 143 points on the weekend. I don't think he'll play this year, and isn't much of a regular scorer anyway. Harry Perryman (DEF, $357K) had 103 points from 26 touches and could come in at some stage, but isn't really an option at his price. Isaac Cumming (DEF, $170K) is extremely close to making his debut, being named on the extended bench numerous times. He scored 102 from 27 touches and is in serious contention or GWS and our fantasy teams if he plays. Dawson Simpson (RUC, $439K) continued his amazing form with 34 hitouts, 6 tackles and 81 points. Don't know why the Giants don't just play him.
Sydney Swans
Daniel Robinson (FWD, $343K) had 34 touches, took 11 marks, laid 7 tackles and kicked 2 goals for 167 fantasy points on the weekend. His season average is 142. If he could get close to that at AFL level, it would be worth considering, but he scored 30 from his only game this year. Darcy Cameron (RUC, $170K) had 173 last week, and backed it up with 159 this week from 21 touches, 7 tackles, 10 marks and 37 hitouts. He's averaging 126 and if he plays, you must get him and will score quite well. Nic Newman (MID, $567K) scored 138 from 33 touches but his job security is way too risky and he is a MID only. Ryley Stoddart (DEF, $170K) scored 106 and I have mentioned him nearly every week so far. He is nearing a debut and the coaching staff has shown interest in him. Will be a nice pick-up if he gets a game.
WAFL
Fremantle Dockers (Peel Thunder)
Danyle Pearce (FWD, $498K) had33 touches and 119 points but Ross Lyons doesn't look like bringing in any experience and is happy rolling with the younger guys. Luke Strnadica (RUC, $170K) won 21 hitouts, got 16 touches and kicked 3 goals for 98. With Sandilands requiring a rest soon, he could be the replacement after this solid performance. Harley Bennell (FWD, $249K) played his first game back from injury and was managed with limited TOG %. He had 9 touches and laid 2 tackles and will be a gem through the byes if he is ready by then.
West Coast (East Perth)
Luke Partington (FWD, $273K) was looked at in the pre-season but didn't play round 1. He had 99 points, 29 touches and took 5 marks and could be the replacement for Luke Shuey. Also fighting for the Shuey position is Brayden Ainsworth (MID, $208K) who scored 98 including 23 touches and a goal. He'll be one to consider if he gets a game. There's not much else happening at the Eagles.