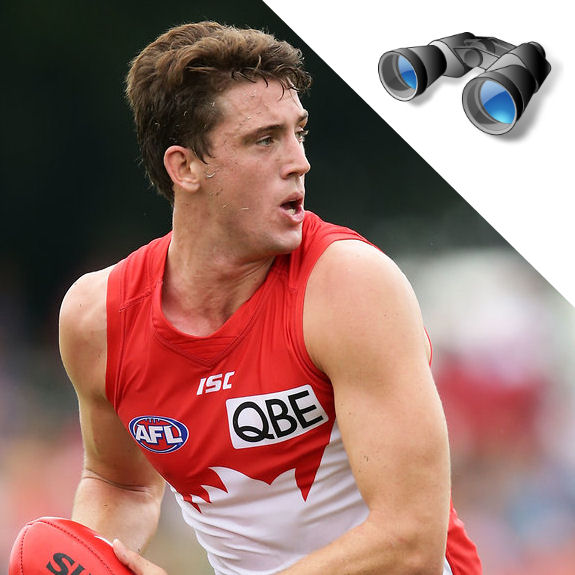 VFL
Carlton (Northern Blues)
Nick Graham (MID/FWD, $563K) is arguably the pig of the VFL, racking up 26 touches, 10 tackles and 2 goals for 132 points. He averages 139 this year, 141 last year and 147 the year before that, as well as 3 other averages above 100. Only relevant in draft. Harrison Macreadie (DEF, $229K) took 7 marks and had 19 disposals for 79 fantasy points, but I wouldn't be touching him in classic if he gets a game, seeing's as he only averages 49 this season and 46 in the NEAFL in 2016. Cameron Polson (FWD/MID, $186K) is the Nathan Brown of the forward line. He scored 29 and averages 24 in the AFL. I find it hard to see him getting another game.
Richmond Tigers
Sam Lloyd (FWD, $425K) kicked 2 goals and had 23 possessions for 111 fantasy points, but isn't fantasy relevant at AFL level at that price. Ivan Soldo (RUC, $332K) was listed on the extended bench but didn't make the final cut. I guess Nankervis wants to ruck solo because he scored 131. Soldo, however, won 38 hitouts and took 6 marks on his way to 73 fantasy points. Not an option in classic if he plays, but may be useful in draft if you don't have a ruckman. Mabior Chol (FWD, $170K) pinch hits in the ruck and may be a better option for the Tigers, rather than a pure ruckman. He kicked 3 goals and scored 85 points.
Melbourne Demons (Casey Scorpions)
Tim Smith (FWD, $179K) laid 12 tackles and found the footy 25 times for a score of 117. Cameron Pederson (RUC/FWD, $541K) laid 7 tackles, kicked a goal and one 7 hitouts for 100 points, and if Jesse Hogan doesn't get up after his knee/ankle injury, Pederson could be the likely replacement. Sam Frost (DEF, $357K) responded well after being dropped, with 6 marks, 4 tackles and 22 disposals for 95 points. He could get a call-up.
Geelong Cats
Charlie Constable (MID, $200K) had 28 touches, 7 tackles and 105 points and could come in for George Horlin-Smith who suffered a concussion, that was that bad, he couldn't stay at the ground. Timm House (FWD, $170K) had 26 touches for 90 fantasy points. Will be a decent cash cow if he gets a run. Gryan Miers (FWD, $170K) was alright with 1.2 and 5 tackles for 68 fantasy points. He is one to consider if he gets named, and has been on the extended bench a couple of times. Mark O'Connor (DEF/MID, $209K) only scored 48 from 11 disposals and probably won't get a game anytime soon. I'd look to trade him if you still have him.
North Melbourne
Mason Wood (FWD, $458K) has been flagged as a potential breakout this season and returned from injury through the VFL this week. He racked up 22 disposals, 7 marks, 6 goals and 127 fantasy points. He obviously needs goals to score well so I'd avoid him for now. Taylor Garner (FWD, $496K) also had a good game with 4 goals and 119 fantasy points. I'd probably stay away from him too. Sam Wright (DEF, $303K) had another good game with 26 touches, 10 marks and 98 points. If he gets a game and you're willing to pay a bit more, he will make a bit of cash. Brayden Preuss (RUC, $445K) won 35 hitouts and kicked a goal for 85 points. He will continue to battle with Goldstein for a spot in the side. Mitchell Hibberd (DEF, $235K) was looked at in the pre-season and scored 73 from 22 touches. He could play soon, and when he does, I'd chase him, since he's averaging 24 touches and 92 points. Paul Ahern (FWD/MID, $170K) was quiet with 22 touches and 53 points, but he had 18 handballs. Expect a debut really soon.
SANFL
Adelaide Crows
Curtly Hampton (MID, $430K) kicked 2 goals and racked up 21 touches for 107 points on the weekend and should play this week with David Mackay in doubt. Not relevant in classic though. Patrick Wilson (FWD/MID, $170K) had another good game, with 25 touches, 6 tackles and 102 fantasy points. He is in the race to fill the boots of Tex Walker who may miss this week with a hamstring injury. Darcy Fogarty (FWD/MID, $273K) scored 43 but will probably come in for Walker this week, making almost 20% of coaches who still have him, pleased. I'd still be trying to get rid of him though.
NEAFL
Sydney Swans
Darcy Cameron (RUC, $170K) had a day out. 32 hitouts, 9 tackles, 11 marks, 7 handballs, 17 kicks, 2 goals and 173 fantasy points! It doesn't get much bigger than that! He's averaging 115 and if he doesn't get a game this week, is he ever going to? Ryley Stoddart (DEF, $170K) was flagged as a potential round 1 starter, but didn't, and is only averaging 36 in the NEAFL. Yuck! Not much happened for the Swans players in the NEAFL this week.
Gold Coast Suns
Aaron Hall (MID, $578K) had another good game with 119 points including 2 goals and 31 touches. Surely, he comes back in this week for Holman. Jacobs Dawson (MID, $170K) had 30 touches and 111 points. He could be another one that they might want to get some experience into, possibly at the expense of Holman. Mackenzie Willis (DEF, $200K) had 85 points, but this is probably his ceiling – he can't score at AFL level. He probably will play at some point but don't fall into his trap.
GWS
Aidan Bonar (FWD/MID, $250K) has been on the extended bench multiple times but could finally get his chance this week with Zac Langdon in doubt with a knee injury. He scored 94 on the weekend in the NEAFL, and should score alright at AFL level but is probably too expensive to pick up. Dawson Simpson (RUC, $439K) went back to the NEAFL after his short stint in the AFL, and scored 74 from 36 hitouts. Lachlan Keefe (DEF/FWD, $170K) took 6 marks for his 46 points and is only handy in classic for his DPP. Could get a game soon.
Brisbane
Rohan Bewick (FWD/MID, $464K) took 15 marks and had 35 disposals for 171 fantasy points on the weekend. He could definitely come back in, but the Lions did put up a fight against the Giants and there weren't too many passengers. Not far behind, Claye Beams (MID, $396K) kicked 2 goals and had 33 touches for 140 fantasy points. Ben Keays (FWD, $447K) had 127, Tom Bell (FWD, $416K) had 121 and Ryan Bastinac (MID, $536K) had 117 and will all push their case for an AFL return. Corey Lyons (MID, $170K) continued his amazing form with 30 touches and 112 points. Hopefully, he gets a gig soon because he looks like a good scorer. Cedric Cox (DEF, $317K) had a good game with 97 points and 11 marks, but I doubt he'll get another game any time soon.
WAFL
Fremantle Dockers (Peel Thunder)
There is a spot available for someone to replace Michael Walters, Luke Ryan will face a test for his hand, and Aaron Sandilands could be rested after pulling up sore after the Derby. Tom Sheridan (DEF, $445K) is probably leading the race, after having 29 touches for 112 on the weekend. Scott Jones (RUC, $170K) was named on the extended bench last week, and with Aaron Sandilands admitting he was sore and battled through the last quarter, Jones could come in either this week or next week. He's probably not worth chasing though, because he only scored 27.
West Coast Eagles
Mark Hutchings (FWD/MID, $408K) is so in and out of the team, and will probably be back IN this week, after taking 14 marks, laying 7 tackles and having 33 touches for 150 points. He always does aright at AFL level and is one to grab in draft. Matt Allen (FWD, $170K) kicked 5 goals for 109 points but I can't see anyone coming out for him. If he plays, he'll need goals to score well. Brayden Ainsworth (MID, $208K) is scoring quite well in the WAFL, and racked up 26 touches and kicked 2 points for his 87 points. If he gets a game, you'd consider. Oscar Allen (FWD, $230K) finally returned from a stress fracture and was in my team during the pre-season due to his great numbers as a junior. He played limited TOG %, and had 78 points from 18 touches and 8 marks. If he plays, which he should at some point, consider it.
Byes – Port Adelaide, Hawthorn, Collingwood, Essendon, Saints, Bulldogs.
Feel free to leave questions below!