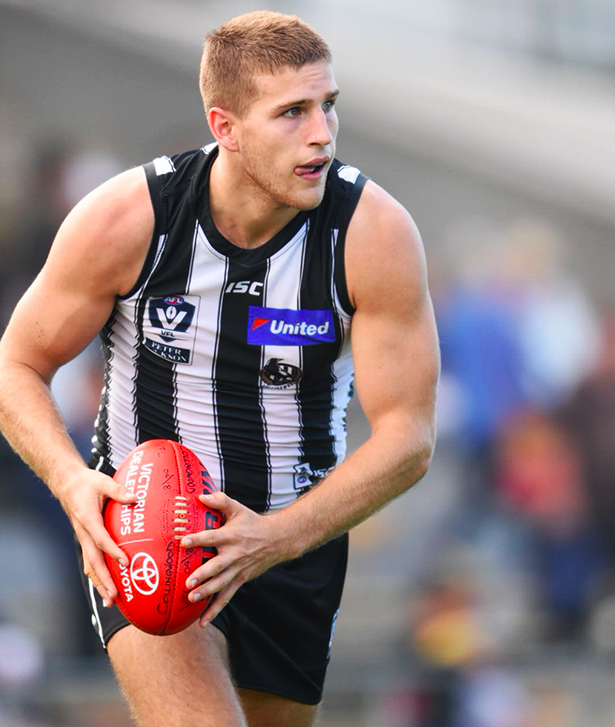 VFL
Hawthorn (Box Hill Hawks)
Brendan Whitecross (FWD, $487K) had 143 on the weekend, racking up 32 disposals, 6 tackles, 7 marks and 2 goals. Even if he does get a game, I do
n't think he's fantasy relevant, especially at that price. Mark Pittonet (RUC, $196K) had 53 hitouts and a goal on his way to 104 points. I can't see him coming in to assist McEvoy, but if he does, will be one to grab on the bench. Jono O'Rourke (MID, $277K) hasn't played AFL since 2016 where he averaged 56 from 7 games, and he scored 101 from 36 touches on the weekend. I don't think he will play and is probably too expensive to pick even if he does. Kieran Lovell (MID, $210K) scored 97 from 25 touches and 2 goals, for his highest score this season. I'd have James Worpel* (MID, $182K) ahead of him. Mitch Lewis (FWD, $170K) had another good game with 93 points, kicking 3 goals. Could definitely be up for selection at some point throughout the year. He's averaging 90 and 3 goals so far this year.
*James Worpel was an emergency for the Hawks on the weekend.
North Melbourne
Braydon Preuss (RUC, $445K) dominated with 46 hitouts, 6 tackles and a goal for 108 points. With Todd Goldstein underperforming a little, Preuss could feature at some point this season. Mitchell Hibberd (DEF, $235K) had 93 from 25 touches, and he missed 2 goals, coming off 109 from last week. If Ed Vickers-Willis doesn't pull up after his concussion, Hibberd could get a run soon. Paul Ahern (FWD/MID, $170K) scored a solid 86 from 24 touches, after having 121 last week. With Shaun Higgins still in hospital and unlikely to play this week, Ahern may have a chance.

Geelong Cats
Jamaine Jones (FWD, $170K) was the highest scoring Geelong listed player in this game with 100 points from 3 goals and 25 disposals. Considering I've never heard of him, I don't think he'll play this year. Gryan Miers (FWD, $170K) scored 76 including 2 goals and 21 touches. He had some nice JLT numbers and could feature sometime this season. Charlie Constable (MID, $200K) had 22 touches and 3 marks for his 66 points, and either him or Mark O'Connor (DEF/MID, $193K), who scored 44, should come in for Selwood this week who is suspended for 1 week, and maybe even Scott Selwood if he doesn't recover from his concussion.
Western Bulldogs
Shane Biggs (DEF, $515K) had a good day, with 117 points from 29 touches and 9 marks. He could come in this week with Tory Dickson out and Luke Dahlhaus a chance to miss. Tom Campbell (RUC, $509K) had another good game with 32 hitouts and 9 tackles for 110 points, after having 138 last week. I don't think I can seehim replacing English though. Jordan Roughead (RUC, $460K) is the only other ruckmen who could come in but I don't think he will anytime soon, after scoring 61 and being dropped once already this season.
St Kilda (Sandringham)
Ed Phillips (MID, $170K) had a day out, with 32 disposals, 11 marks and 5 tackles on his way to 137 fantasy points. The 20-year-old has been on the Saints list for a couple of years and could push for selection in the coming weeks. David Armitage (MID, $490K) backed up his 34 disposals from last week with 33 this week as well as 111 fantasy points. Should probably come into the 22 this week. Billy Longer (RUC, $473K) had 70 hitouts and 100 fantasy points, meaning 70% of his points came from hitouts – and you're not touching that. Josh Battle (FWD, $170K) only had 48 points and didn't kick a goal. Probably won't see him until later in the season.
Richmond Tigers
Shai Bolton (FWD, $230K) kicked 2.4 for his 100 points to be the top scorer for the Tigers, but considering he's been dropped already and Jack Higgins is ahead of him, I wouldn't be touching him. Ivan Soldo (RUC, $332K) had 67 hitouts and 96 points, and Nankervis owners will not want him to play. Corey Ellis (DEF/MID, $366K) only had 17 touches and 67 and I don't think he'll be back in the team unless a couple of injuries occur. The Richmond side appears a very hard team to break into with Jack Higgins being dropped after kicking 2 goals on debut.
Melbourne Demons (Casey Scorpions)
Cameron Pederson (RUC/FWD, $541K) booted 5 goals and took 10 marks for his 129 on the weekend. If he comes in, will he affect Maxy Gawn? VFL specialist Jay Kennedy-Harris (MID, $383K) had 17 touches, kicked a goal and laid 7 tackles on his way to 89. He's a MID only, so I wouldn't touch him if he plays. He plays a similar role to Dean Kent who injured his hamstring on Tuesday night so could come in this week. Charlie Spargo (MID/FWD, $214K) kicked 2 goals for his 80, and could also come into consideration for the Dean Kent position, with Melbourne saying "they'd like to see him at some point" this year. Averaged 100 in the U18 championship per 120 minutes, and118 in the AFLCA.
Essendon Bombers
With Essendon likely to use some fresh legs with a short turn around, we may see Dylan Clarke (MID/FW
D, $170K) come in as he continued his dominant VFL form with 31 touches and 7 tackles for 126 points, moving his season average to 132, as well as 11 tackles per game. Josh Green hurt his hamstring but Orazio Fantasia is likely to fill that spot, but Josh Begley hurt his knee and Clarke could come in for him. Kyle Langford (FWD/MID, $439K) racked up 33 disposals and 6 tackles for 126 fantasy points but probably isn't too relevant in classic ifhe gets another game. Matthew Leuenberger (RUC, $527K) dominated with 43 hitouts and 106 points but I cannot see him replacing Tom Belchambers unless he gets injured. Kobe Mutch (MID, $170K) had another solid game with 26 touches and a goal on his way to 84. Hopefully, we see him sometime this year.
Collingwood Magpies
Daniel Wells (FWD/MID, $544K) played VFL again and racked up 27 touches and a goal for 107 points. Good to see him laying 7 tackles and could earn a call-up soon. Sam McLarty (DEF, $170K) was an emergency for the ANZAC clash and racked up 13 touches, 13 hitouts and a goal for 66 points in the VFL. Hopefully, since being named emergency, he could play soon. Flynn Appleby (DEF, $170K) is in the same position as McLarty, being named as an emergency, but I think McLarty would be ahead of Appleby due to his versatility, being able to play defence, ruck or forward. Appleby, however, had 13 touches for his 56 points.
NEAFL
Brisbane Lions
Sam Mayes (DEF, $480K) had 31 touches and 10 marks for his 119 on the weekend, but I don't think he'll play because Brisbane's line-up will likely be very similar to last week, according to AFL Media's Michael Whiting. Brandon Starcevich (MID/FWD, $236K) had 86 points from 2 goals and 20 possessions. He is "getting closer" to a debut, but he only averaged 55 in the U18 championships and 65 in the WAFL and is $236K, so I wouldn't go down that path. Matthew Eagles (DEF, $170K) had 11 marks and 22 touches for 83 points and could be seen in the senior side soon. Corey Lyons (MID, $170K) had 76 and kicked 0.3, after having 120 points last week. Hopefully, we see him soon. Oscar Mclnerny (RUC, $170K) had 24 hitouts for 74 fantasy points and has been emergency for the Lions a couple of times now.
Gold Coast Suns
Aaron Hall (MID, $578K) was sent back to the NEAFL and racked up 25 disposals and 9 tackles for 111 points. Surely comes back in with Darcy MacPherson in doubt due to injury. Brayden Crossley (RUC, $170K) won 28 hitouts and racked up 92 fantasy points. Doubt he'll be used with Witts playing well, but if he does feature, jump on! Harrison Wigg (MID, $170K) had 66 points, from kicks and marks alone! The bad news – he re-fractured his ankle and will be in a moon boot for 6 weeks. The bloke just cannot get a break. Kade Kolodjashnij (DEF, $562K) only scored 21, but came off at halftime due to a concussion and will be monitored during the week.
SANFL

 
Adelaide Crows
The Crows have arguably 4 walk-up best 22 players likely to come in this week – Matt Crouch, Rory Sloane, Lachlan Murphy and David Mackay all listed as a test this week, not providing many opportunities for the Crows youngsters this week. Jackson Edwards (MID, $170K) topped the scorers for the Crows reserves with 83 from 23 touches, but I don't think we'll see him this season. Reilly O'Brien (RUC, $365K) had 30 hitouts for 55 points, but I can't see him coming in as backup for Jacobs. Darcy Fogarty (FWD/MID, $273K) kicked 1 goal for 47 and will need to do a bit more than that if he wasn't another game at AFL level.
Port Adelaide
Jack Trengove (MID, $376K) had a day out with 2 goals, 36 touches, 9 marks and 6 tackles for 156. Probably battling with Rockliff for a position and I think we all know who's going to win that race. Speaking of him, the Pig Tom Rockliff (MID, $530K) made his return through the SANFL, scoring 115 from 29 touches, 8 marks, and 4 tackles. Hopefully returns soon and gets some midfield time, because if he can hit the tonne once or twice, he'll be cherry ripe after his bye. Sam Powell-Pepper (MID, $488K) played SANFL and score 88 from 24 touches. He'll have to wait one more week until he can play AFL again as a result of his off-field incident. William Frampton (RUC/FWD, $170K) scored 72 but had 15 touches and took 6 marks. I know Port Adelaide coach Ken Hinkley said he 'isn't ready for AFL level', but with Todd Marshall out, there is a position for a tall to come in. The Cannon Trent McKenzie (DEF, $405K) went back to the 2's and had 43points from 13 touches.
WAFL
West Coast Eagles
Brayden Ainsworth (MID, $208K) had 23 disposals and kicked a goal for his 97 points on the weekend. With David Venables out, Ainsworth could come in at some stage to add some depth to the midfield. Brendon Ah Chee (MID/FWD, $392K) was decent with 80 points including 6 tackles. Should get a game soon, one to look at in draft. Kurt Mutimer (FWD, 286K) played a few games last year and scored 78 points in the WAFL on the weekend. Could get a run at some stage this season. Also, quick shout out to Cody Leggett who had 160 fantasy points in this game as well.
Byes – Fremantle Dockers (Peel Thunder), GWS (GWS reserves), Sydney Swans and Richmond all had a bye this week in their respective leagues.
Feel free to leave any questions below and I will answer them as soon as I can. Hope you enjoyed, and good luck for the round ahead!