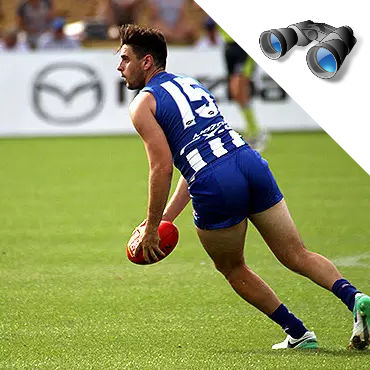 VFL
Bulldogs (Footscray)
Tom Campbell (RUC, 509K) had 47 hit-outs, 7 tackles and 2 goals for his 138 on the weekend. He could potentially share the ruck role with English or even force him out of the side. Let's hope he doesn't. Tom Boyd (RUC, 451K) shared the ruck role with Campbell and Roughead on the weekend, and is another one who could come into the side. He kicked 5 goals with 22 disposals for 132 points. Lewis Young (DEF, 332K) had 18 touches, 17 of which were kicks, as well as 10 marks for 89 points, playing a defensive role. Callum Porter (MID, 170K) is an 18-year-old who had 18 touches and 7 tackles for 84 fantasy points on the weekend. The pick 74 in last year's draft averaged 97 in the TAC cup and could feature later in the year with the Bulldogs lack of midfield depth.
Collingwood
Chris Mayne (FWD, 430K) backed up his 141 from last week with 118 this week, including 12 tackles and 23 touches. He will continue to push for selection but won't be relevant in classic. Sam McLarty (DEF, 170K) had 116 points and played a mix of ruck and defence. He had 23 hitouts, and has been on the list for a few years now. Could get a run later in the season. Rupert Wills (MID, 446K) had 21 touches and 13 tackles for 106 points, and if he was to play, would be a sneaky draft option to grab off the free agents list. Adam Oxley (DEF, 344K) was solid again with 17 touches and 66 points. Being mature aged, he could feature during the season. Flynn Appleby (DEF, 170K) had 19 touches and 4 marks for 64 points and has been flagged as a potential debutant later this season.
Hawthorn (Box Hill)
Mitch Lewis (FWD, 170K) kicked 3 goals and laid 8 tackles for his 111 points on the weekend. He was named on the extended bench this round but was pipped by David Mirra. With James Frawley suffering a concussion, Lewis may get a gun. James Cousins (MID, 308K) scored 104 points from 27 touches, and was also named on the extended bench last week. He is likely to build on his 3 AFL games this year. Ryan Burton (DEF, 455K) played 3 AFL games for an average of 35 before being dropped, and he scored 98 points from 24 touches and 2 goals. Will probably feature again this season. James Worpel (MID, 182K) is "in the mix" for next week's clash according to Herald Sun. He had 18 touches and 64 points and is one to consider if he plays.
Essendon
Dylan Clarke (MID/FWD, 170K) had a day out! He racked up 35 touches, 15 tackles and 153 fantasy points! I don't think he'll play this week after they're win against Port, but could most definitely play within the next couple of weeks. Kobe Mutch (MID, 170K) also went large, with 22 touches, 14 tackles and 133 points. Clarke is probably ahead of him at this stage but could also play later this year. Matthew Leuenberger (RUC, 527K) was beaten in the ruck, but still manages 36 hit outs and 100 fantasy points. For those who scabbed him in draft, I would hold too much hope.
Melbourne (Casey Scorpions)
Mitchell King (RUC, 170K) had 35 hitouts and 97 points, top scorer for the Dees, but I don't think will be needed with Gawn going so well. Corey Maynard (DEF, 414K) had 85 points from 21 touches, and if you have a deep draft, he could be an option if he gets a game. If Neville Jetta doesn't get up, he is the likely replacement. Harley Balic (MID/FWD, 346K) had 64 points including 6 tackles, and when his headspace is right and he gets a game, could be a cheap option in the forward line. He's likely to play soon.
Geelong Cats
Jackson Thurlow (DEF/MID, 389K) had 32 touches for 125 points and could be a nice option in draft if he plays. He's at a very awkward price. George Horlin-Smith (MID, 471K) also racked up 32 touches but had 121 points. He's at a very awkward price as well. Mark O'Connor (DEF/MID, 194K) has been on the extended bench for a couple of games, and scored 69 on the weekend. He could come in for Corey Gregson who will not play this week because of injury. Charlie Constable (MID, 200K) was good again and will continue to push for AFL selection after having 22 touches and 75 points. Appears to be a good scorer and has been on the extended bench a few times.
St Kilda (Sandringham)
David Armitage (MID, 490K) was dropped and scored 129 points from 34 touches. Will likely come back at some stage but I'd probably stay away. Josh Battle (FWD, 170K) was considered before the season started but has failed to perform early in the VFL. He only had 10 disposals for 45 points that included a goal.
North Melbourne
Paul Ahern (MID/FWD, 170K) had 29 touches, 23 of those were kicks, 5 tackles and a goal for 121 points. He continues his recovery from a knee injury and could feature later this season. Mitchell Hibberd (DEF, 235K) was amazing with 25 touches and 109 fantasy points. I know a lot of people, including myself, owned him before the season started and it would be great if he could get a game soon. Sam Wright (DEF, 303K) had 110 points and if he plays, is pretty cheap and could be an option. Brayden Preuss (RUC, 445K) continues to impress, with 55 hitouts and 96 fantasy points. He could come in for Goldstein considering he's underperforming. Sam Durdin (DEF, 308K) had 16 touches and 7 marks for 70 points. Probably too expensive to consider if he plays.
Carlton (Northern Blues)
Cameron Polson (MID/FWD, 186K) played 2 games at AFL level earlier in 2018, but went back to the VFL and scored 73 points and kicked 2 goals. He has had a few opportunities across 2 years at AFL level and on each one, has just proven to us that he cannot score well enough for selection in our teams. Harry McKay (FWD, 225K) only had 49 points which included 2 goals. Even if he's named, he doesn't look like he'll score much so I'd stay away.
NEAFL
Brisbane Lions
Corey Lyons (MID, 170K) had 28 touches and 10 marks for 120 points and could be a nice option with Brisbane bleeding the rookies, like Zac Bailey last week. He's been on the list for 2 years and averaged 81 from 19 games last year. Cedric Cox (DEF, 317K) got dropped and had 23 touches and 75 fantasy points. Oscar Mclnernny (RUC, 170K) had 25 hitouts and 59 points, but we need him to stay away. Jacob Allison (MID, 419K) is a very good scorer but is at a very awkward price. He scored 94 from 23 touches on the weekend.
Sydney Swans
Ben Ronke (FWD, 170K) sored 107 points that included 10 tackles and 18 disposals. He is averaging 100 this year in the NEAFL. Darcy Cameron (RUC, 170K) kicked 2 goals, had 17 hitouts and 91 fantasy points. Sinclair is going alright as sole ruck but Cameron is expected to play this year. He is on the 'cusp of debut' and was expected to play against the Bulldogs, but didn't. Robbie Fox (MID, 277K) was dropped but scored 77 with 22 disposals in the NEAFL. I assume he was filling in for Dan Hannebery when he wasn't available in round 1.
Gold Coast
Michael Barlow (MID/FWD, 667K) wait for it……had 166 points!! He had 46 touches, 8 marks and 6 tackles as well as 0.2. What a game, surely, he is named this week. Will Brodie (MID, 356K) kicked 2 goals, had 26 touches and 6 tackles for 116 points. He played last year but is yet to play this year. Stewart Dew said he needs to work on his speed and fitness. Brayden Crossley (RUC, 170K) had 46 hitouts and 115 points, but I cannot see him coming into a team that already has Witts, although it would be nice. Jessen Lonergan (MID, 458K) was pretty good with 104 and 8 tackles playing through the MID and DEF. At an awkward price, though. I'd only consider in draft if he plays. Harrison Wigg (MID, 170K) had 25 touches, 21 of which were kicks, as well as 8 marks for 93 points. He should feature when he fully recovers from injury.
GWS GIANTS
Isaac Cumming (DEF, 170K) had 120 points and 30 disposals, and could be an option for the Giants in defence if needed. He's averaging 113 this year and averaged 78 in the NEAFL last year from 16 games. Matthew Flynn (RUC/FWD, 170K) had 51 hitouts and 1o7 points, but if Dawson Simpson struggles to get a game I doubt Flynn will anytime soon. Lachlan Keefe (DEF/FWD, 170K) had 79 points, and if he gets a game he will be a handy swingman from defence to forward or vice-versa if needed. Almost 10% of the competition already have him! Lachlan Tiziani (FWD, 170K) was a huge chance to play this year and scored 68, but did his ACL, so we won't see him again this season.
WAFL
Fremantle Dockers (Peel Thunder)
Taylin Duman (DEF, 170K) had 28 touches and 10 marks for 110 points, and with Ross Lyon already playing four people from last year's draft this year, Duman could be next. Luke Strnadica (RUC, 170K) had 18 hitouts and 67 fantasy points, and along with Scott Jones (18 hitouts, 42 DT) and Lloyd Meek (17 hitouts, 73 DT), is fighting for a spot when Sandilands is rested.
SANFL 
Adelaide Crows
Riley Knight (FWD, 471K) had 25 touches and 101 points, but is way too mid-priced and is only really worth a look in draft. Jordan Galluci (MID/FWD, 285K) had 14 touches and 6 tackles for 75 points, and could get a game late, or even this week if Rory Sloane, Eddie Betts, Mitch McGovern or David Mackay all don't play after suffering injuries on Friday.
Port Adelaide
Jimmy Toumpas (MID, 401K) had his first game back after injury, and had 127 points as well as 29 disposals. I wouldn't touch him in classic due to his price and the fact that he's a midfielder only. Jasper Pittard (DEF, 541K) scored 106 from 28 touches, and if he does play, is one to try and snag in draft. The 27-year-old has averaged 82 in the past. Dom Barry (MID, 275K) got dropped and went back to the SANFL, but only scored 59 from 19 disposals. After that performance, the only way I can see him playing is if Tom Rockliff doesn't play due to his calf niggle.
Feel free to leave any questions!