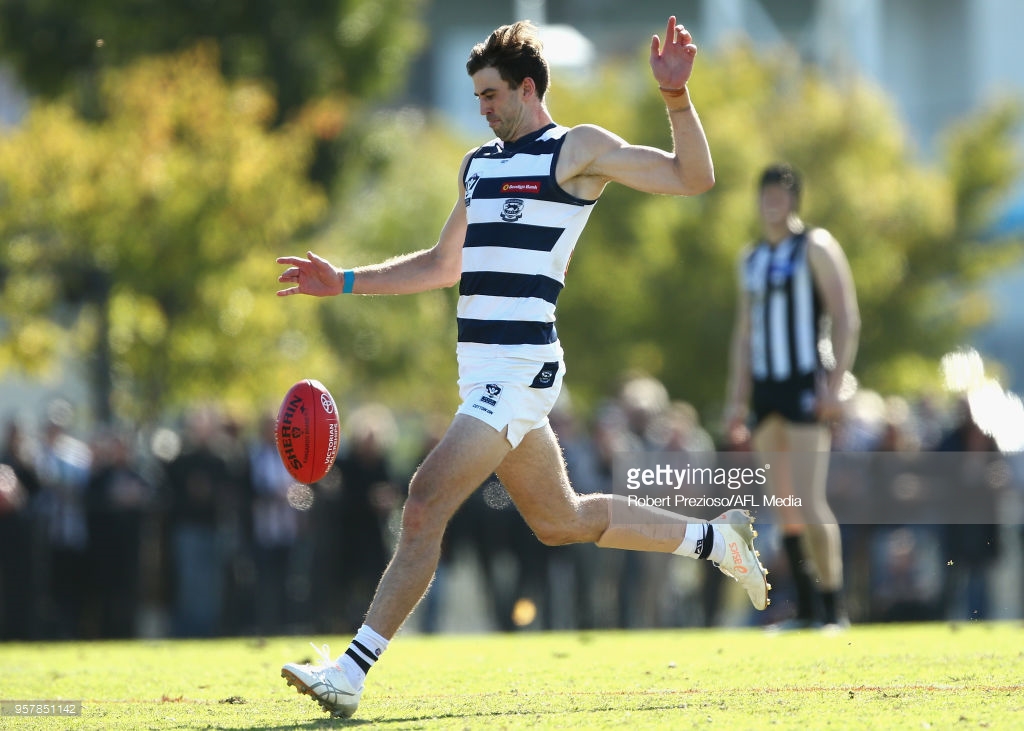 VFL
Carlton Blues (Northern Blues)
Selection will be difficult for the Blues this week, coming off a win with Marchbank and Mark Murphy both available after sustaining injuries a couple of week ago. To add to that list, Matthew Kennedy (MID, $418K) racked up 31 touches and kicked a goal for 121 points – a great performance in a losing side. Jack Silvagni (FWD, $342K) kicked 3 goals and had 20 touches for 99 points. He's another one to throw into the mix, but unlikely this week. Jacob Weitering (DEF, $338K) had another solid game with 22 touches and 5 marks. Again, he's another one who may be in the mix this week, but isn't fantasy relevant. Cameron Polson (FWD/MID, $186K) didn't kick a goal and only had 14 touches, but laid 5 tackles and 'tried hard'.
Western Bulldogs (Footscray)
Lin Jong (FWD/MID, $481K) topped the scorers for the Bulldogs with 99 from 23 touches and 10 tackles. He could push for selection after being dropped last week. For 36% of coaches who held Tim English (RUC/FWD, $425K), he had 30 hitouts and kicked a goal for 88 points. With Aaron Naughton out this week, English or Jordan Roughead (RUC, $460K), who scored 95 with 22 hitouts, could come in to add some height. Josh Schache (FWD, $326K) near debut for the Bulldogs, after 3 goals and 45 fantasy points. Shane Biggs (DEF, $515K) seems to be struggling in the VFL, having only 10 touches and 37 fantasy points, and look unlikely that he'll get another game anytime soon.
North Melbourne
Tristan Xerri (RUC, $170K) played in the ruck and up forward, and slotted 3 goals, took 8 marks and won 11 hitouts in a team that lost by 88 points. Brayden Preuss (RUC, $455K) is probably ahead of Xerri, and had 29 hitouts and laird 3 tackles for 58 points. Paul Ahern (FWD/MID, $170K) had another good game, with 22 touches, 4 marks and 3tackles for 83 points. Let's hope he can stay injury free so we can pick him later this year! Sam Durdin (DEF, $308K) had 11 touches and 4 marks for 58 points, and would probably have to do a bit more than that if he wants another game. Sam Wright and Durdin have similar roles, so I can't imagine him playing this week at least.
Richmond Tigers
Anthony Miles (MID, $517K) would be very close to being the VFL pig, after racking up 143 points from 36 touches and 2 goals on the weekend. If Jason Castagna doesn't recover from his injury, Miles could come in. Liam Baker (FWD, $170K) kicked a goal and laid 6 tackles for 85 points, but I don't think he'll play anytime soon. Ivan Soldo (RUC, $332K) was good with 30 hitouts and 76 fantasy points. Toby Nankervis owners won't want him coming in. Ryan Garthwaite (DEF, $170K) was on the extended bench last week, and impressed in the JLT, but could only manage 7 touches and 26 points on the weekend.
Collingwood Magpies
Alex Fasolo (FWD, $489K) kicked 2 goals and had 25 touches for 108 points on the weekend. He could come in for Darcy Moore, but they may want a taller option. Rupert Wills (MID, $446K) was good with 29 touches and 6 tackles for 92 points. He had 21 handballs out of his 29 touches, so a fair effort to get to 92. Brody Mihocek (DEF, $170K) was solid with 9 marks and 23 touches for 88 points, but unless there's an injury or Flynn Appleby gets dropped, I don't think we'll see him this year. Brayden Sier (MID, $170K) had 24 touches for 72 points, and was on the extended bench 2 weeks ago, and could get a game later in the year – but unlikely this week with Scott Pendlebury set to return. Sam McLarty (DEF, $170K) has already proved to be a little bit inconsistent, scoring 43 from 2 goals and 10 hitouts, but he averages 88 for the year.
Geelong Cats
Sam Simpson (FWD, $236K) was the top scorer for Geelong listed players, with 86 from 23 touches. No injuries have popped up just yet at the Cats, and he's only just returned from injury so he's probably not quite ready. Ryan Abbot (RUC, $170K) had a good day with 37 hitouts, 11 touches, a goal and 85 fantasy points. He's probably not going to get a game this year with Smith, Stanley and even Buzza ahead of him. Mark O'Connor (DEF/MID, $209K) was good with 80 points but hasn't been looked at after playing in round 2. Charlie Constable (MID, $200K) only managed 44 but apparently went off early with a concussion – but cannot confirm that. However, he is very close to an AFL debut.

Melbourne Demons
Tim Smith (FWD, $179K) had a day out, with 3 goals, 20 touches, 10 marks and 7 tackles for 134 points in a very well-rounded game. I don't think he'll play just yet. Billy Stretch (MID, $462K) had 33 touches, kicked a goal and laird 7 tackles for 130 fantasy points. Thomas Bugg (FWD, $457K) kicked 4 goals and laid 10 tackles for 120 points. Not really fantasy relevant, so I wouldn't be chasing him. Joel Smith (DEF/MID, $170K) had 22 touches and 9 marks for 103 points. He was looked at during the pre-season but suffered an injury, so hopefully we see him sometime later this season. Harley Balic (FWD/MID, $346K) had a good game with 10 marks, 17 touches and a goal for 91 points. If he gets a game, he is an inflated rookie to consider. Jack Viney (MID, $638K) made his VFL return and had 21 touches and laid 5 tackles for 74 points. He is quite cheap, and has averaged over 100 before, and could be one to consider after his bye.
Hawthorn (Box Hill)
James Cousins (MID, $330K) put his hand up for an instant recall w
ith 22 touches and 8 tackles for 99 points. Let's hope he just stays out of the team though, so we don't have to worry about a tag…. but he probably will come back in if
Jarman Impey doesn't recover from his head clash with Luke Parker. David Mirra (DEF, $259K) has been quite good in the VFL and had 88 points from 22 touches and took 8 marks on the weekend. Mitch Lewis (FWD, $170K) snagged 4 goals and continues to push for an AFL debut.
St Kilda (Sandringham Dragons)
Not much happened in the Saints reserves, but Nathan Freeman (MID, $170K) had another outstanding game and continues to push for AFL selection. He
had 28 touches and laid 2 tackles for 75 points. When he comes in, he will be a very good and popular bench option. Josh Battle (FWD, $170K) kicked 2.4 and had 15 touches, as well as 60 fantasy points. He played a game last year, and could be called upon soon with the Saints needing a bit of change.
Essendon Bombers
Jackson Merrett (DEF/FWD, $339K) had 35 touches, took 12 marks and kicked a goal for 151 fantasy points. He could come back in with the Bombers establishing that they will change a few things up. Dylan Clarke (MID/FWD, $170K) had 38 touches, 7 marks and 6 tackles for 134 points. He averages 126 points and 33 disposals and is dominating the VFL. Good to see him getting a game this week. Matt Guelfi (FWD, $283K) still sits on 16% of coaches' benches after averaging 70 from his 3 AFL games before being dropped. He scored 91 from 23 touches and took 6 marks and put his hand up for a recall. Aaron Francis (DEF/FWD, $259K) was quite good with 18 touches and 9 marks for 73 points. If he does get a game, he could be a handy option in either defence or the forward line.
NEAFL
GWS
Matthew Buntine (DEF, $244K) had a huge game, with 39 touches, 9 marks and 151 points. Tim Mohr (DEF, $217K) took 8 marks and had 31 touches for 116 points and will come into the Giants line-up with Phil Davis out. His job security won't be the best, and I'd probably stay away from him. Sam Taylor (DEF, $216K) backed up his 143 from last week with 100 this week with 11 marks and 25 touches. He's impressed in the NEAFL so far and could get a game later in the year if someone goes down. Nick Shipley (MID, $170K) went back to the NEAFL and managed 31 touches for 90 points. Those who still have him will be praying he makes a return and makes a bit of money, seeing's as he's still stuck at basement price. Matthew Flynn (RUC/FWD, $170K) won 25 hitouts, took 5 marks and had 88 points, and we may see him later this year with the Giants only having Rory Lobb as the main ruckman.
Sydney Swans
Nic Newman (MID, $567K) was huge with 40 touches, 10 marks, 7 tackles and 0.3 for 168 points. He's currently averaging 146 in the NEAFL. Harrison Marsh (DEF, $364K) also had a huge day with 9 marks, 7 tackles, 35 touches and 2 goals for 166 points. Colin O'Riordan (DEF, $170K) scored 150 points with 12 marks. Three Sydney defenders went over 150, a huge day for them. Darcy Cameron (RUC, $170K) was good as well with 20 hitouts, 6 tackles and 2 goals for 108. He is surely, really close a debut.
Brisbane Lions
Marco Paparone (DEF, $426K) took 10 marks and had 36 disposals for 134 points but isn't relevant at AFL level and at his price. Archie Smith (RUC/FWD, $444K) is loving it in the NEAFL without the Big O, winning 39 hitouts for 92 points. Stay away, Archie. Cedric Cox (DEF, $317K) had 18 touches and 6 marks in a solid game, and racked up 74 fantasy points. Had his chance at AFL level already this year, but was dropped.
Gold Coast
Josh Schoenfield (MID, $355K) was the top scorer for the Suns, with 125 points, including 23 touches, 7 marks and 12 tackles for a well-rounded game. He's probably too much to pay if he does get a game. Jacob Dawson (MID, $170K) has been very good this season, and continued his form with 31 touches and 104 points. Peter Wright (FWD, $490K) made his return to footy, and had 20 touches, 6 marks, 16 hitouts and 96 fantasy points. He will probably return soon but is way too much to pay. 6 players from the Suns could manage more than 60 points, 14 of them below 30, and 2 failing to reach double figures. There whole team didn't kick a goal!
Byes – The SANFL and WAFL didn't play this week due to the state game.
Feel free to leave questions below!