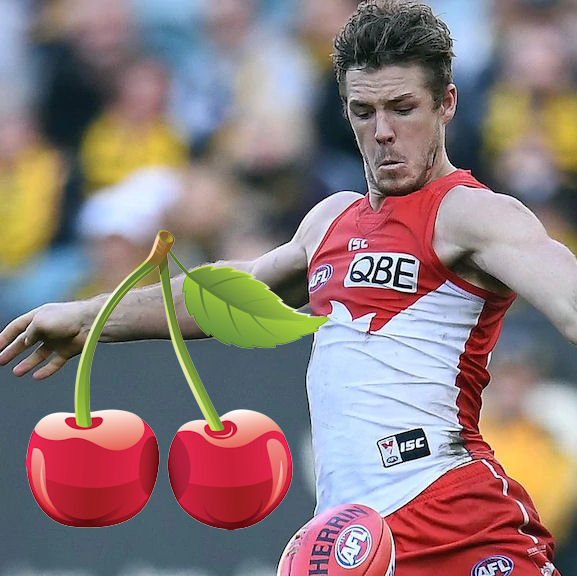 The Byes are a thing of the past, Top 8's are starting to slowly take shape, the season is more than two thirds finished, and yet we are STILL getting stupid curveballs thrown at us week in, week out. I could not be any filthier with footy these past two Rounds, after leading all four of my tipping competitions and being on the brink of a cap in Fantasy, I've dropped a collective 11/18 tips and 131 spots in Fantasy in the space of a fortnight and I'm sure there's more carnage in store for me. But enough about me, you're not here to listen to me whinge, you're here to read about juicy under-priced prospects! As always, as the season progresses we head less toward the mid-range game and more toward the PoD game and, as such, I shift my articles towards the PoD side of value, rather than the monetary side. Whilst this article won't be all about players who will get you up in Finals or make those last few rankings up for you (read my article in Round 20 if you're keen on a few PoD's in your team), I will still incorporate some players with nice finishes to the season, as per usual, and put a heavier emphasis on ownership as well! So, let's go then.

Click here to subscribe on iTunes.
Defenders:
Brandon Ellis ($518,000 BE 94 Ownership – 5.97%)
For those of you who haven't stopped reading after seeing that name at number one on my Defenders list, I thank you. Ellis has always had that potential to be a great Fantasy player, especially as a Defender, but he's never really lived up to the hype and, when he has, it's been the most inconsistent crap any owner has ever had to put up with. However, this year seems slightly different! He has a last 5 of 97.8, a 126 before that, and he's only been under 90 once in six games. Even on the weekend when St. Kilda towelled up the Tigers something chronic, Brandon still managed an acceptable 90. On top of all this, potential Top 6 Defenders in Newnes, Roberton and Hodge have all dropped off the pace a bit, as well as Ellis' teammate Houli, who was a potential outsider for that 6th spot, getting himself rubbed out by being a moron. Another positive sign is Ellis' marking, which has increased from just over 3 per game between Rounds 1-9 to over 7 marks per game between Rounds 10-16! That shows that not only is the half-back role working for him, but he's also increasing his work rate a fair bit. To put some icing on an already delicious looking cake, Richmond have what is probably the easiest Fantasy run home in the league, with GWS in Round 18 the only difficult team to put up points against. His price won't fluctuate too much as he's more a solid 90+ guy, rather than Beast-Mode Docherty who never goes below 120, so he's always affordable, and he's under 6% ownership. Right now, he's a really nice piece to have in your back 6.
Shaun Burgoyne ($498,000 BE 69 Ownership – 2.41%)
Don't sleep on Silk, he will burn you every time! Old mate Burger could possibly be on his last roll of the dice, after Hodgey announcing his retirement this week and Gibbo's soon to follow (fingers crossed), but he's slowed down the least of the three and is only getting better with age, like a fine wine. Since Round 9 in Hawthorn's shocking demise at the hands of Collingwood, a game where Burgoyne had almost no impact, Silk has averaged 97 and even has a last 3 of 105. Also, whilst it isn't all that friendly in terms of ladder position, Hawthorn actually have a nice Fantasy run home, playing Geelong and Sydney who are both fairly easy to score against, whilst also playing North at UTAS Stadium, the second easiest ground to score at, and Fremantle at Domain Stadium, a stadium silk loves to score at with 123, 84 and 91 in his last three there. An ownership of under 2.5% screams uniqueness (although, you could also say nobody owns him for a reason) but it's his price that appeals to me. At $498k you could make $11k trading Newman down to Burgoyne, that's technically a downgrade from "rookie" to "premium". Just food for thought.
Shane Savage ($393,000 BE 56 Ownership – 0.21%)
Yeah, I've lost the plot. To be honest, Headache Heath probably deserves this spot but he's been written about before and you never know what he's going to produce. If you're curious, I expect Heath to crack 100 every game bar one for the rest of the season BUT he did produce a 29 against Brisbane three weeks ago so who knows. Yes, 29. Against Brisbane. Disgusting. But, if you're willing to risk it, Shaw has big upside. However! If you want to read something far more interesting, you've come to the right place! Unfortunately, due to injury, Sav has only played 5 games this year, Rounds 1-3, Round 10 and last Round. In his last two he's managed 88 and 94 and he's always had a little bit of Fantasy game about him without ever setting the world alight. I love his price, if you're desperate for cash and out of rookie options downgrade a fattened cow to this bloke and upgrade somewhere else! He's essentially a poor man's Heater Shaw. Sav has a solid run home, with only Port Adelaide in Adelaide and Melbourne at the 'G that I don't really like the look off. And, he's had a 164 before which I find just incredible. Essentially, you should really stay away from Savage unless you're truly desperate for cash, but he genuinely has a good chance at averaging 85 for the rest of the season and making you some nice cash along the way. Rarely spoken about and probably for a good reason, but I'm keeping a close eye on Savage to see whether he comes through this season. Definitely not for the faint of heart.
Next 3 –
Heath Shaw ($473,000 BE 85 Ownership – 22.04%)
Callum Mills ($380,000 BE 91 Ownership – 10.22%)
Jack Martin ($447,000 BE 48 Ownership – 4.88%)
Midfielders:
Just before we begin, Tom Rockliff ($583,000 BE 140 Ownership – 20.13%) is extremely cheap for the player he is but I don't see things turning around too much any time soon. He seems to be resting forward quite a bit and although he still has his piggish moments each game, they are few and far between and he seems to be very quiet in between those moments. Do not be even slightly surprised if Rocky comes out and belts Richmond for 200, but right now it looks like Zorko the Magician is the Fantasy points scorer for the Lions.
Luke Parker ($565,000 BE 72 Ownership – 7.15%)
He's finally turned his season around and is starting to fly high, all at the expense of Dan Hannebery's midfield time which is just fantastic for all the (ex)Hannebery owners like me. Thanks, Luke. However, for all the Hannebery non-owners or Parker owners, this spells good news for you! My personal favourite of the Sydney trio, Parker has been on fire for the last three weeks, with an average of 121.7. The problem with Parker is that he relies heavily on that midfield time to get those big scores, and we all know what Horse Longmire is like with his role changing. In his last three games, Parker has averaged 31 disposals and two scoring shots a match, compared to earlier in the season where he averaged just 23 disposals and 1 scoring shot per match over 12 Rounds. We all know Parker is good for a goal a game at least, especially resting forwards like he does, but this signifies to me a role change into the midfield and a rise in form. It must be said, Parker hasn't actually been terrible this season, going under 80 just once all season, but it hasn't been Top 8 Midfielder worthy until now and you're getting him for $565,000. I'd be careful, we all saw what happened with Hannebery having a few good games and then being the worst midfielder known to man, and even JPK burned us last week by missing with tightness, but I think Parker is worth the risk for sure. And, at sub-10% ownership you can probably bet that your opponent won't have him either, making him a good PoD for leagues.
Joel Selwood ($482,000 BE 131 Ownership – 7.41%)
Rough not to get the first spot but his draw isn't quite as nice and he's a #1 tagging option, whereas Parker is never going to cop a tag. Selwood's price-tag is still recovering from getting knocked out on 2, 15 seconds into his match against Fremantle two weeks ago, and his measly 48 against West Coast three weeks ago. This means that not only is a certified premium player below $500k, but he's probably going to drop a bit more below $500k this week! Joel has some big scores in him, he's already had a 175 against St. Kilda this year, but he's also the guy who teams tag to shut down Geelong so he's capable of not so great scores like 48 vs West Coast, 60 vs Collingwood etc. One more downside to him is that he does play Collingwood again this year in Round 22 and they are notoriously good at shutting him down thanks to Levi Greenwood. His last three against them are 60, 70 and 57, and they are his worst team to play against by a long way. But, you're still getting one of the game's greats at next to nothing and you could very easily move him on before Round 22 after getting five Rounds of value out of him. This is probably what I'm aiming to do by bringing him in this week, I just think he's too good to pass up but I am worried about him being tagged out of games. With a first up game against Hawthorn this week, I don't think that will be a problem however, and anything less than 120 from him on debut in my team will be seen as a fail. If you're looking for a cheap, premium Midfielder, look no further.
Brad Crouch ($576,000 BE 84 Ownership – 2.3%) & Matt Crouch ($570,000 BE 98 Ownership – 2.92%)
Pre-Season sensations, both the Crouch brothers have had very admirable seasons, Brad obviously having those injuries that set him back a few Rounds and Matt being a consistent part of the Crows' midfield, never dropping below 80 and averaging 102.9 for the whole season. We know both players are consistently solid Fantasy performers and have been touted as worth having since their rookie seasons, however it's their ownership that appeals to me. With respective Last-3 averages of 119.3 and 112.3, and Adelaide's fairly nice run home, I can definitely see the Crouch brothers being a sneaky PoD for some teams late this season. I'd be taking Brad over Matt personally, but it's almost a coin flip.
Next 3 –
Jack Steven ($525,000 BE 96 Ownership – 3.57%)
Andrew Gaff ($586,000 BE 116 Ownership – 9.56%)
Dayne Beams ($510,000 BE 168 Ownership – 9.32%)
Rucks:
Max Gawn ($500,000 BE 121 Ownership – 5.29%)
The one and the only ruckman to talk about, big Maxy has been back for three weeks now and he's been okay with an average of 84.3 over that time. He's certainly got it in him to turn it around and I was pretty impressed with his first game back being a 96 but it's been a slow, downhill ride from there, being subpar against average Sydney ruckmen and then getting his ass handed to him by the best ruckman in the comp last week in Kreuzer. He should have his match fitness back by now so this week's battle against big Sauce Jacobs should be the true barometer of whether Max will be worthwhile this season or not. With Archie Smith ruining Stef and Mason Cox ruining Grundy (although I expect Cox to be dropped this week), Max could be huge for those who have the ability to bring him in, but only if he manages to get his fitness back and start scoring like the ruckman we know he can be. Watch carefully.
Forwards:
James Sicily ($393,000 BE 36 Ownership – 0.5%)
There is an abundance of value in the Forward line at the moment, but none more so than this man right here. Unfortunately for me, Roy stole my thunder and tweeted about him last week, but he's still incredible value thanks to a role change. For the last three games, Sicily has been playing a half-back role and has been doing so beautifully. I actually attribute Hawthorn's new-found ability to play football at least partially to Sicily's role change, he's been that good. Fantasy-wise, Sicily's numbers have gone through the roof, averaging almost 40 points per game more than he did before the last three games! I feel like at this point in the season you need to be pretty strapped for cash to be using a stepping stone like Sicily, but he provides insane value, especially with a breakeven of just 36. I'm not advising it, but a move from Dahlhaus down to Sicily nets you over $80k for similar output, which is nice money to spend somewhere else, and Barrett to Sicily only costs you $15k. The best part about him isn't even his 0.5% ownership, but his ability to gain Defensive DPP status! Come Round 18 he should have Defender status which will make trading him out so much nicer if you have other DPP links throughout your team. Honestly, if he doesn't get DPP from Champion Data, it will be a robbery of the Noll/Sebastian calibre as he's playing solely as a Defender. I love the idea of bringing Sicily in but, at the moment, the only problem with my team is that I can't trade out people fast enough, so only bring in Sicily if you can afford another trade on him to upgrade before the end of the season. If you can afford that trade, Sicily is insanely good value barring a role change back up Forward.
Josh Thomas ($304,000 BE 33 Ownership – 3.73%)
The young party-goer and Basil Brush look-alike is back after serving his two-year ban for having Clenbuterol apparently evident in his St. Kilda Festival disco-biscuits. The good news for us Fantasy Coaches is that he provides a beautiful downgrade option for some fattened up cash cow to be culled down to. After two games, Thomas has given us an 80 and a 66, not bad for a bloke who hasn't played footy in two years. I tweeted about him last week to give you all an early heads up, but JT looks like the perfect player to make a bit of cash off and leave as your last upgrade target. He's less than 40 games into his career but already has a career average of 72.8 and his job security is 100% tight so he shouldn't be dropped. He also plays against Gold Coast this week, who are a nice, easy team to score against, and West Coast next week who he has played once in his career for a 127. I got him in last week and I'm pretty happy having him sit at F6 as my last upgrade target. If you're looking for cash then you could certainly do worse than JT. Hopefully he can find the pill as well on the footy field as he does at festivals.
Nick Riewoldt ($497,000 BE 97 Ownership – 5.67%)
The best Riewoldt in the league has had a rollercoaster season, with age and injury clearly starting to affect him more than it used to although apparently not every week. This season, Rooey has had seven scores above 90 and five scores below, being the epitome of inconsistency, almost Yeo like. For a bloke who averaged 110.5 last year, he is incredibly cheap! However, this is not the same Rooey we had last year, as shown by his stats. St. Nick isn't pushing up the ground as much as he used to, averaging around 4 less disposals and 2 less marks per game. The worst stat however is his goal scoring. In 5 of his 7 games over 90 Fantasy points, he's scored 3 or more goals, in comparison to just 1 of his 5 sub-90 games. This shows a heavy reliance on Nick to kick goals to score well and it's difficult to kick a small bag every week. I definitely think that Rooey has the ability to be a Top 6 Forward comes season end, I even believe that he will be, but I'm just worried that his reliance on goal-kicking could cause him to have a couple of 50-70 point games, making his cheap price-tag worthless. Quite high risk but with a very high reward if it pays off.
Next 3 –
Touk Miller ($431,000 BE 59 Ownership – 2.88%)
Kieren Jack ($414,000 BE 40 Ownership – 2.58%)
Charlie Curnow ($399,000 BE 28 Ownership – 4.99%)
So, that's the end of the second-last Ripe for the Picking of the season. I hope everybody's teams are shaping up the way you'd like and you're getting into upgrading those final on-field rookies or making cash by moving them down to the guys mentioned above! Any questions, hit me up on Twitter @Sparksy361 as per usual or comment below and I'll do my best to reply!
Happy trading!
Sparksy