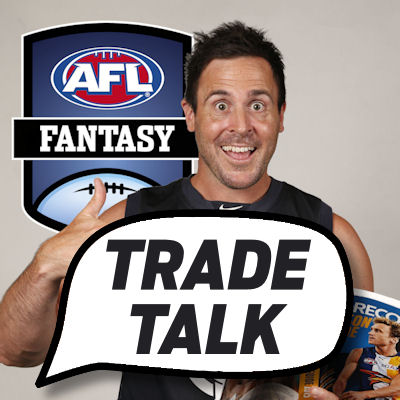 Cows on Ground: 
As we hustle to get all the rookies off our ground, a shift in that mindset might be best in a number of teams as there are some cows capable of holding the fort for a few weeks which gives you the chance to rid yourself of sliding mid pricers or "keepers" like Zak Jones, Dylan Roberton or JJ for example.
Alex Witherden (DEF/MID, $305,000) is more than capeable  of holding down D6 for now without costing you any sleep. He is scoring at the same rate as many defenders who are considered in the mix for a top six spot with an average of 85 as he continues to get amongst the high possession Lion back line. There is still plenty of cash to be made with a BE of two and barring injury he will not miss a game for the remainder of the season.
Luke Ryan (DEF, $272,000) is in the same boat after an impressive score of 88. Although he is slightly behind Withers, you could do worse than these two in D5 and 6 if it means completing the rest of your ground. He has a BE of 1.
Sean Darcy (RUC, $303,000) is rightfully in a discussion of dumping an under performing premium to make a quick hit 200K. Although I would usually be against this, I am also against having a ruck that shares duties. The big fella loves a tackle and is coming off a score of 82 heading into a nice match up the Eagles who Ryder annihilated last week. A 90 is surely on the cards.
Role Change:
Toby McLean (FWD, $459,000) has moved into the midfield (ruining Dahlhaus) and embraced the opportunity with his scores reflecting that. Since the move he has averaged 105 over three games and is coming off an impressive 127 in a tough matchup. He is unique, risky and cheap based on role and new found ceiling.
Kane Lambert (FWD, $538,000) continued his good form as a mid despite the Tigers copping a flogging. He has a massive five round average of 112 and is owned by less than 1% of coaches.

Click here to subscribe on iTunes.
Value Premium:
Luke Parker (MID, $565,000) is back to 2016 Parks, which means we can get a  110 guy for a heavily discounted price. He is ripe for the picking with a five round average of 111 coming off 117 and with a BE of just 72. On paper he has a tough match up against the Giants, but gun mids have been scoring fine on them in recent games.
Callan Ward (MID, $559,000) Is in career best form and has embrace the increase in responsibility in the under manned Giant midfield. He has a five round average of 111 and 126 in his last three after going 138 on the Hawks. Has a BE of 58 and faces the Swans who don't mind giving up a few points to opposition mids.
Kade Simpson (DEF, $556,000) It's easy to forget Kade with the dominance of his partner in crime Doc, but the old boy is getting it done. He has an average of 103 in his last five and with Doc moving into the mids last week, Simmo will maintain or improve on that as the primary sweeper across half back.
Value Premium:
Joel Selwood (MID, $482,000) is a bargain due to injury. It's amazing to see a player this good, this cheap and he could be even cheaper next week. He has a BE of 131 leading up to his game against the Hawks who give up the most points to opposition mids. He scored 113 last week in his return from injury. This week or next is fine to bring him in.
Dayne Beames  (MID, $510,000) was having a massive patch before being derailed by injury. He came back last week with a sub par performance but will be better for the run against the Tigers who he has great recent history. He has a BE of 168, so will be even cheaper in the coming weeks.
As always, use the comment to discuss your trade ideas in the comments, I'm currently:
Tuohy to Beams
Jones  to Selwood
@RoyDT