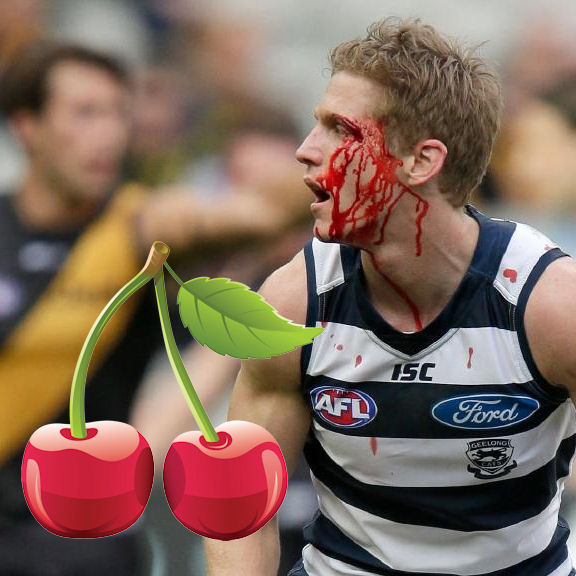 We've almost made it! It's been a huge two MBR's so far and I fear the worst is yet to come in Round 13 (hopefully not, Round 11 was horrible). I've managed to field at least 18 in both byes so far but this week will need some serious luck to get all 18 on the park, with 3 trades and $87k to turn 15 into 18 after a fabled triple-upgrade last week, including the pig himself! (Who I'm not at all happy with). The problem with getting this late in the season is that all the value is drying up, we need to delve as deep as we can, bringing in players we wouldn't have dreamed of at season's start (Cannon McKenzie). My tip is to avoid this at all costs, I'm seriously considering copping a big fat doughnut this week, just to avoid ruining my team with players that shouldn't be there. Anyways, I'm here to dig out the few mid-priced gems left and present them to you! There may be slim pickings this month but, to ripen up this article a bit for you, I've also decided to do a bit of extra research and answer a question myself and all the other writers have been asked many times in the past fortnight: Who is in the best 22? Without further ado, I present to you the players who are Ripe for the Picking, and Sparksy's All-Fantasy Team.
Defenders:
Jake Lloyd ($517,000 BE 117)
He made my #1 spot last article when he was almost $50k more expensive, then all hell broke loose. Jakey Lloyd's concussion in Round 10 before his bye was well documented in the Fantasy world, and his score of 2 was much despised by all who owned him. I must admit, I felt sorry for all those owners, but on the inside, I was rejoicing as I could now bring him in after his bye cheap as chips! The 84.76% of coaches like me who were silly enough to not start with him should be having those same feelings as now we have a chance to make amends! Currently averaging 96.5, take the '2' out and that makes it 106, Lloyd will comfortably be a Top 6 Defender for the rest of the year, without a doubt. He put up a HUGE 122 on the weekend against the Doggies in a big win and the Swannies don't look like slowing down again this season, so all aboard. This 122 matches his 122 against the Saints in Round 9, the week before his injury. He has a low, non-injury effected, score of 87 in Round 1 and has been under the ton four times, including his '2'! The best thing about bringing Lloyd in now though is none of these stats. It is the fact that he is currently $4k below his starting price and could possibly drop a little bit more this week. This bloke was considered well unders at the beginning of the season, and now not only do we get a second chance at bringing him in, we get him even cheaper! If you're a non-owner this is the easiest lock you will ever make in your Fantasy career; set and forget.
Jack Newnes ($515,000 BE 82)
 The new DPP is unlucky to not hold the #1 spot this week but his value is undeniable. Before I start, I would like to stress one thing; if you're bringing one in this week, go Newnes over Lloyd, both will be Top 6 Defenders but Newnes offers more value right now, however Lloyd will average slightly more. Newnes is currently a PoD, owned by just over 9,000 coaches, but don't expect this to last. The thing is, Dual-Position gainers tend to get a lot more attention than your regular players as they are hyped to the extreme. For Jack however, this hype is very much warranted and, once again, non-owners can thank an injury-effected score for his low price-tag. In Round 9, Newnes had a first-quarter injury leaving him stranded on 10, and affecting all seven coaches silly enough to have picked him as a midfielder up until that point (not an official stat). After Round 4, and around the injury, Newnes started to set the Fantasy world alight, and removing his '10' gives you some wondrous numbers for a Defender. A Last-3 of 122, a Last-5 of 113.2, and an average after Round 3 of 111.4. He's gone under 100 three times since Round 3, including his score of 10 with the other scores being 99 and 91. These are solid numbers for a Midfielder, let alone a guy who now has Defender status. As I said, I'd pick him over Lloyd just for this week due to breakevens, but you can't go wrong with either really.
Kade Simpson ($544,000 BE 138)
Simmo is lucky to slot into my third and final spot over Dylan Roberton ($566,000 BE 127) but managed to sneak in due to price, ceiling, and an easier run home. There is but only one negative about Kade's current AFL Fantasy game – he is wildly out of form. After not hitting the ton since Round 8 (74, 92, Bye, 71), Kade's price is at a season-low and should be dropping even further with a breakeven that high. I understand what you're all thinking, "this seems like a deal-breaker, has Sparksy officially lost the few brain cells he had left?". The answer is no, I have not. In fact, Simmo will be a Top 6 Defender by the end of the season purely because of his run home. In Rounds 13 and 14 he faces Gold Coast and Richmond, two teams who leak a few points and tend to not man up any loose half-backs. Rounds 15 and 16 will be tougher, against Adelaide (although they're his favourite team to score against) and Melbourne who haven't given up many points this season, however both games are at the MCG, not travelling is a bonus. From then on he has a Fantasy gold mine, finding points as he pleases. Western Bulldogs, Brisbane (interstate), Geelong, Essendon, West Coast (interstate), Hawthorn and Sydney. Now, I'm not saying that trends don't change or that these teams won't start drying up for opposition points against (Essendon are already a very limiting team), but traditionally with maybe the exception of the Bombers, these teams don't shut down any loose half-backs, so I'm very excited about what Simpson and Docherty can do on the run home. With a BE that high, you can probably wait a week or two and get him a few thousand cheaper, but he will be a Top 6 Defender so keep a sharp eye on him.
Sparksy's All-Fantasy Defenders –
Sam Docherty – $681,000 Avg. 119.3 BE 106
Taylor Adams – $627,000 Avg. 115.6 BE 141
Jake Lloyd – $517,000 Avg. 96.5 BE 117
Rory Laird – $550,000 Avg. 103.3 BE 118
Jack Newnes – $515,000 Avg. 92.5 BE 82
Kade Simpson – $544,000 Avg. 97.2 BE 138
Emergencies:
Dylan Roberton – $566,000 Avg. 103 BE 127
Heath Shaw – $504,000 Avg. 87.5 BE 82
Midfielders:
Scott Selwood ($485,000 BE 31)
Here we have our first true diamond in the rough and, if you don't already have him, this is the last week he will be real value. Scooter is currently the closest thing to a must have that isn't a true premium. I think the whole Fantasy community can recite his three game Fantasy scores of 119, 119 and 125 off by heart, giving him an average of 121 going into his bye last week. Geelong's run home looks solid, but I'm not sure how long Scooter can keep up this sort of scoring. West Coast this week should be nice to him as they leak points in the middle and he should have plenty of high quality midfielders to run with and give a +4 cuddle to. Same goes for next week, playing Fremantle and Nat Fyfe at Kardinia Park. The week after however is against the Giants at Spotless and this game has me a bit worried. The best thing about Scooter is his ability to lay a tackle. He currently has 44 tackles over his three games, that's an average of 14.7 tackles per game and amounts to 176 of his total Fantasy points which leads to my favourite stat yet. 48.48% of Scott Selwood's Fantasy points come from tackles. That's almost half of his points per game coming from tackles, 59 points per game of his 121 average! He doesn't even need to touch the pill and he will still score a 60! And the best news is, you can't stop it! If a bloke wants to lay a cuddle, what can you do? You can't tag a player to stop him tackling! It's exciting stuff, I'm just worried it will stop soon. If you don't own Scooter, you should look at getting him in, he's one of the true stepping stones left and will be handy when he tops out.
Rory Sloane ($595,000 BE 138)
Ah, the Sloane debate, it's certainly an interesting one. A potential Top 8 Midfielder with a season ceiling of 157, he's been above 150 three times this season and above 130 six times. And yet he's priced at $595k with a BE of 138 and people are jumping off him left, right and centre, why? The tag, of course. It certainly seems that Rory doesn't have the ability to shake unwanted attention, leading to him having four scores in the 60's this season. Unfortunately for Fantasy coaches, it also seems that no Sloane = no Adelaide, with the exception of this week, and therefore the best way to beat Adelaide is to tag Sloane out of the game. This means teams put exceptional effort into shutting Rory down, more than just tagging, it genuinely seems like a team focus to eliminate any impact he can have on the game. This makes Sloane a high risk-high reward prospect and has done all season. The point-differential between Rory's highest and lowest scores is 95, that's almost a 100-point differential without an injury effected score. Even between his highest sub-ton and lowest ton score, the differential is still 19. This proves that Rory goes big or goes home really. I guess the most important thing you guys want to know is how does Sloane stack up on the run home? Well, out of the ten rounds he has left (Bye this week), he plays 5 of the Top 8 teams for points allowed, or the easiest teams to score against. He also plays Carlton (Round 15, Curnow), Melbourne (Round 17, Vince), Geelong (Round 18, Selwood) and Collingwood (Round 19, Greenwood) all of which tag heavily. Of those four, Sloane has played two already this season (Melbourne for 63 and Geelong for 92) and only Carlton overlaps on both the easiest teams to score against and the teams that tag heavily. The two remaining teams are Port Adelaide and Essendon who Sloane has already played this season and knocked around for 139 and 143 respectively, albeit this was before Round 7 when North Melbourne worked out how to stop Sloane and Adelaide simultaneously. So, in short – 5/10 remaining teams are in the top 8 easiest teams to score against, 4/10 of those teams will definitely tag Sloane, 1/10 of those teams overlap, the remaining 2/10 of those teams Sloane has already scored 130+ on this season. I'll leave it to you to work out whether he comes into calculations.
Jaeger O'Meara ($377,000 BE 78)
I can already hear you all saying "stop flogging this horse, Sparksy, it died 7 Rounds ago" and you're probably right. However, some people (me) are quite desperate and desperate times call for desperate measures. It's a long shot and he's no shoe in to come back straight after his Bye this week (source) but Jaeger could provide a handy money-spinner later in the year if he can get back and find form. This one's a longshot, (understatement of the century), but it could be a long shot some may need to give a go and it really could have some benefits. After his Bye he plays Adelaide, who he probably won't even play as Hawthorn are cautious. However, if he can get up the week after that he plays Collingwood who are his easiest team to score against by about 14 points! Not only that, but of the nine opponents he plays after Adelaide, he averages over 90 on seven of them! We all know the kid can play, in both real and Fantasy terms, he's just had a really tough run. Let's hope the Hawthorn doctors have finally got him right and he can be back by Round 15 to kick some ass.
Sparksy's All-Fantasy Midfielders –
Tom Mitchell – $728,000 Avg. 129.3 BE 141
Tom Rockliff – $710,000 Avg. 125.4 BE 152
Zach Merrett – $685,000 Avg. 125.3 BE 128
Gary Ablett – $684,000 Avg. 120.9 BE 118
Patrick Dangerfield – $649,000 Avg. 116.3 BE 99
Dustin Martin – $639,000 Avg. 116.7 BE 75
Adam Treloar – $617,000 Avg. 114.1 BE 109
Dayne Zorko – $653,000 Avg. 119 BE 109
Emergencies:
Josh Kelly – $660,000 Avg. 113.9 BE 117
Josh P. Kennedy – $555,000 Avg. 98.4 BE 83
SHOP NOW: Tom Mitchell beanie | Tom Rockliff beanie
Rucks:
Max Gawn ($588,000 BE 177)
If you owned him from season's beginning until Round 3, or even 4 or 5, I apologise for this next segment, you may even want to skip this paragraph… Maxy Gawn is back people! (source) If not this week then next week, the (ex)Beard will be running amuck in the red and blue, destroying every ruckman in his path. One of the three true premier ruckman in the league, Maxy went down in Round 3 on just 32 with a price-tag of $634,000. He subsequently dropped $46k, gained a BE of 177 and a 10-week break. Now coach Goodwin reckons he will have Gawny back within a fortnight Max-imum (get it?) and Fantasy Coaches need to work out whether he's a worthwhile purchase or not. My personal opinion is a no, I think Stef and Grundy will average more for the rest of the season, hence why I started with them and still have them both. I wouldn't trade Stef or Grundy to him, it could be a nice cash grab but it's also a very sideways trade and you must have better things to do. I believe Max could potentially get as low as $530k, that currently only nets you $60k from Stef and $80k from Grundy. However, Max could be a very nice upgrade for anybody still holding a Witts/Kreuzer and wants to get rid of them. It's definitely touch and go for Gawn, but keep a solid eye on him.
Tom Bellchambers ($418,000 BE 55)
It may be an irrelevant time and he may be on the "never again" list, but I've finally managed to pick a semi-decent mid-priced ruckmen midseason! Belch has been making me proud and earning a special place in my heart these past three weeks. He's played four Rounds for an average of 88.3 which is punching about 40 points above his weight, however it's his Round 11 performance that makes me proud. He MONSTERED Mummy, of all the ruckmen, he mummified the Mummifier! I genuinely think I shed a tear that day, the boy who everybody pinned their hopes on at some point in the past four seasons finally came through! I can't see why you'd want or need to pick him up, every coach in the competition should have their two ruck spots sorted. But, if you haven't been paying attention for the past seven years and you're low on cash and have the sudden urge to trade in a mid-priced ruckman, Belch is a decent cash grab.
Sparksy's All-Fantasy Rucks –
Brodie Grundy – $609,000 Avg. 110.7 BE 81
Stefan Martin – $587,000 Avg. 108.9 BE 121
Emergencies:
Max Gawn – $588,000 Avg. 79.3 BE 177
Sam Jacobs – $583,000 Avg. 103.6 BE 114
Forwards:
Luke Dahlhaus ($518,000 BE 113)
Jack Macrae ($530,000 BE 107)
The two Doggies' boys are at a season low in price, currently sitting $39k and $66k below their respective starting prices. Shoe-ins for a Top 6 Forward spot each, most teams already have at least one, but now's the time to jump on the other. Averaging 95.5 and 98.6 respectively, the boys and their team have a smooth run home, playing West Coast, Carlton, Gold Coast, Brisbane and Hawthorn in five of their last 11 games, plus the Bulldogs finished off quite strongly last year and I expect the same this year. Macrae has dropped under 90 just twice this year and Dahlhaus only four times, proving these guys have great consistency, and they've both never gone below 70, so even their low scores aren't that bad. I understand I'm preaching to the choir a bit here as they both have 35%+ ownership levels but they are the best value they've been this season.
Chad Wingard ($507,000 BE 94)
Wingard was slightly disappointing on the weekend, putting up a 71 against the Bombers, his third lowest score of the season. There are two good things to take out of this; Port Adelaide were deplorable so a 71 is actually quite respectable and Essendon are the fourth stingiest team in the league for points against. Although Chad's run home includes Melbourne (Round 18) and Adelaide (Round 20) who are the second and third stingiest teams for points against respectively, the rest of the run home is one of the best in the league. His Last-3 and Last-5 are both impressive, with averages of 100.3 and 101.6 respectively, after a move to the midfield earned him DPP status. Unfortunately, Chad wasn't around for the first two MBR's, meaning a lot of people, myself included, missed out on getting him when they needed. He's still value now as he is priced under his capabilities, however he will probably end up hovering around the $530k-$550k mark and he's not a Top 6 Forward. One thing Wingard will be good for is as a filler. Sometimes, when cash is low, coaches will need to bring in a player who is slightly cheaper than a premo but has similar output. You know he won't quite be a keeper, but you wouldn't be disappointed if you never got around to upgrading him. Chad is that type of player, and he's certainly not a bad pick if you decide to go with him.
Liam Jones ($291,000 BE 41)
The man of the moment. Before I begin, I would just like to say that Jonesy had a legitimately good game on the weekend, no question. I'm going to do my best to keep a straight face while doing this write-up, I'll let you know when I fail. Jones's Fantasy game is not strong to say the least. 15th of June, 2014, Round 13 against Collingwood. Remember this date. That is the only time he has tonned up with a 112. Honestly, I'm actually kind of impressed, I was fairly confident in thinking that he'd never cracked the 100. Including his 72 average this year (off one game) he has a career Fantasy average of 52.1 (I failed). However, Carlton are a different side this season! They piss about with the ball in the back half like nobody else, racking up +6's like they're going out of fashion. This showed in Jones' game on Sunday with 14 disposals (11 kicks) and 8 marks. I don't think that this will be a regular occurrence and you should expect more scores similar to Jones' career average from now on. A score of 52 is only 11 above his BE this week, and that gap is going to get closer every week. As such, if you're thinking about Liam Jones as a legitimate option, I'd probably reconsider.
Sparksy's All-Fantasy Forwards –
Elliot Yeo – $594,000 Avg. 107.6 BE 119
Jack Macrae – $530,000 Avg. 98.55 BE 107
Michael Barlow – $546,000 Avg. 95.9 BE 91
Lance Franklin – $545,000 Avg. 98.2 BE 106
Luke Dahlhaus – $518,000 Avg. 95.5 BE 113
Sam Menegola – $539,000 Avg. 100.5 BE 115
Emergencies:
Koby Stevens – $533,000 Avg. 96.6 BE 115
Isaac Heeney – $516,000 Avg. 96.7 BE 87
*PLEASE NOTE* My All-Fantasy Team is my personal opinion using the information I've gathered through my own research. It consists of the players I think will average the most between Rounds 14-23. It most certainly is not the be-all and end-all and I understand completely if you have a different opinion. In fact, I would LOVE to hear who's in your All-Fantasy Teams!
So, that's it for another Ripe for the Picking! I hope you all enjoyed the read and gained a bit from it in some way! As always, hit me up on @SparksyDT for all your Fantasy needs and I'll get back to you! Cheers, and happy trading!
Sparksy