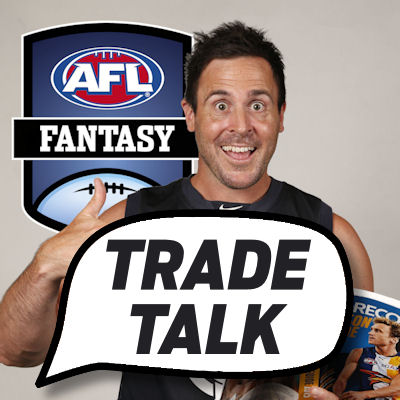 One week down and what that means is we have a whole new group of premiums that are fresh off their bye and ripe for the picking. Remember to try and avoid straight swapping premiums around for a one week hit and upgrade your rookies and stepping stones.
Trade out?
Andy Otten– Cooked, perfect week to trade if you haven't already.
Rory Sloane – Don't trade premiums! However, he doesn't score like a premium when tagged. Good week to do it with so much value around.
Hugh Greenwood– Good timing with the bye and on the back of a sub 50 score, but there is plenty of growth left in Hugh, so hold over the bye.
Will Hoskin Elliot – Has done his job and can become a premium with the bye this week.
Daniel Lloyd– Doesn't make you much cash but if there is a basement rook that comes through, do it.
Bargain Cows:
Jonathon Beech (FWD, $171,000) BE: 1 Next week if you can wait, but if you have 20+ he might be worth bring in early.
Luke Ryan (DEF, $177,000) BE: -1 Looked much better than his debut game and hopefully his increased involvement is a sign of things to come. Once again, next week is the ideal time to grab him.
Defenders:
Jake Lloyd, (DEF/MID, $517,000) After being knocked out on two, Lloydy made a slow start against the Dogs, scoring in the 50s over the first three quarters before channeling his inner Bowden to rack up almost 70 in the last. He has a break even of 117 so his price won't move too far either way this week but he is a bargain.
Jack Newnes (DEF/MID, $515,000) is another great pick in the back line coming off 113 in a tough match up against the Crows in Adelaide. That gives him a break even of just 84 against the Roos back at his favourite ground at Etihad where he has scores of 143, 110, 101 and 123 within his last handful of games there.
Big Dawgs:
Dustin Martin (MID, $639,000) Is fresh off a bye and in sensational form. To think that a player is under $650 despite a five game average of 122 and a three game average of 140 is enough to make a premium hunter salivate. Based on this, he obviously has a low BE and it's just 75.
Dayne Beams (MID, $623,000) is one of the form players of the competition with a three round average of 135. He has dominated since returning from injury and has a break even of just 87 as a result.
Sam Docherty (DEF, $681,000) Is racking up numbers like a midfielder despite being a defender. Somehow he continues to roam the half back line unattended, taking marks at will on his way to an average of 125 over five rounds and 133 over three. He has a BE of 106 which he should cover against the Suns so I don't know if he is realistically a target given the value defenders above.
Value:
Scott Selwood (MID, $485,000) is the genuine bargain of the week. He has come in to the team for three games and coincidently? They are on a three game win streak and in that time he has averaged  121. He has a low BE of just 31 and plays this next two games at DS (Old home) and SS (new home) where he should be comfortable in both.
Matthew Kreuzer (RUC, $592,000) is in beast mode and is still somehow under 600K. He is having a career year, averaging 133 over his last three and 118 over his last five which gives him a BE of just 63. Over the next two week he faces the Suns and Tigers which won't cause him too much concern as his price continues to sky rocket.
Dion Prestia (MID, $424,000) It would take a big set of balls, but man that is cheap for a player who was considered a premium at the start of the year. He finally has a good game in his last hit out with 137 after a streak of 7 games under 84. He has a BE of 48, but like I said… you will need big balls and it will probably feel like they have been kicked by a Dusty Martin barrel after he stinks again next game.
As always, use the comment to discuss your trade ideas in the comments, I'm currently:
Hall, Otten, D Lloyd OUT
Scooter, Newnes, Rook IN
@RoyDT
SHOP NOW: Tom Mitchell beanie | Tom Rockliff beanie