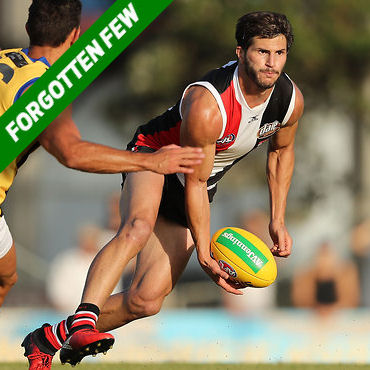 One bye round down, two to go! This round should be the easiest to manage on paper, with only 4 teams off and plenty of other well rested trade targets ready to return to action. If only it was that easy…
POD'S
DEFENCE
Leigh Montagna ($553K, 96 BE, 3.04% ownership)
While Montagna hasn't been capturing the headlines like his defensive peer Dylan Roberton, he is on the verge of the same output. For $50K less you can snap up the Saints veteran who is averaging over 100. A word of caution he has the tough task of facing Adelaide in Adelaide this weekend, but then plays 4 of his next 5 under the roof.
Jake Kolodjashnij ($481, 64 BE, 3.07% ownership)
I addressed Jarrod Harbrow as a potential POD option a few weeks ago. After a few too many drinks on the weekend though he will miss the clash with Hawthorn on Saturday, opening the door for Kolo to go bang. After teasing us with his fantasy potential in 2015, he had a 'less than perfect' season last year. However, the rebounding defender has a 3 round average of 104.7 and seems poised to finally breakout.
MIDFIELD
Brad Ebert ($602K, 100 BE, 4.19% ownership)
Last week a fan asked Aaron Hall or Brad Ebert, and I recommended to trade for Hall. So of course Ebert had to go out and put up 142, the 4th highest score of the round, compared to Hall's 106. Despite his elite scoring Ebert is still somewhat of a unique, currently owned in just over 4% of teams. After clearing 140 twice this season and 100 7 times in 10 matches, he is the definition of a point of difference!
Lachie Whitfield ($521K, 86 BE, 1.02% ownership)
Part of Lachie Whitfield's low ownership is due to the suspension he served to start the season. Don't let that blind you from the numbers he is putting on the board though. Whitfield has averaged a smidge under a ton since returning (Draft alert). The week he goes 120+ everyone will look to trade him in. Beat the rat race and get him ASAP.
RUCK
Tom Bellchambers ($396K, 35 BE, 2.22% ownership)
With few performing POD's in the ruck category, Tommy Bellchambers gets a nod this week. On the weekend Bellchambers scored 110 which was the highest score from any ruckman and his first ton since 2013. Beware, he very well may make way for Leuenberger to return this week, but if not he could be a downgrade option from Sandilands that gives you the cash to chase a premium elsewhere.
FORWARD
Koby Stevens ($541K, 90 BE, 3.05% ownership)
After a forgetful start to 2017, Koby Stevens appears ready to erupt. With a lack of form and suspension handicapping him to just 4 games this year, Stevens still remains under the radar for a lot of coaches, despite 3 scores over 100. Fresh off the bye, Stevens is the perfect addition to your forward line for bye coverage and I believe he will finish as a top 10 forward.
Lachie Weller ($434K, 61 BE, 1.54% ownership)
Lachie Weller hasn't yet displayed the elite ceiling that some of the competitions other young guns have. He does have a 3 round average of 94.3, scoring over 80 in 7 out of 11 games so far this season. History also suggests he should go well this weekend. The only other time he faced the Lions in Brisbane, Weller had 104 which, up until Round 11, was his career high. With handy FWD/DEF flexibility, monitor his progress.
The Three Big Questions Of Round 12
To Pig Or Not To Pig?
The $723,000 dollar question in the fantasy world this week, do we trade Tom Rockliff in or not? Many will have to rob a bank if they play on upgrading to the pig, however, those who had on eye on the future may have built up a 'Warne Chest' over the past few weeks. The big question is do we pass up players like Josh Kelly ($74K cheaper), Adam Treloar ($110K cheaper) or Sydney's Josh Kennedy ($183K cheaper!!) as trade targets instead? I'll be biting the bullet and spending my hard earned cash to acquire Rocky, although I can't blame you if you chase value elsewhere.
Was This The Worst Group Of DPP's We've Ever Had?
From a Fantasy Classic perspective only 2 and a 1/2 of  the 20 players given a new position last week are noteworthy. Both Sam Menegola and Jack Newnes have added flexibility, while Cam Pedersen remains relevant as a ruck choice until Max Gawn's return. Personally, with the exception of Newnes (who's average & price don't reflect his elite potential), no one on this list interests me a hell of a lot so I'll be avoiding the bunch.
What The Hell Is Wrong With Robbie Gray?
I've kept half an eye on Gray all season, waiting for him to show some signs of life so I can get him while he's undervalued. The only problem is he looks dead. Along with 38 on the weekend Gray has confused us with scores of 21 and 37 mashed up with scores of 125 and 138! After dropping over 180 grand in price are his elite fantasy days behind him?

Click here to subscribe on iTunes.
Back Form The Dead
Some returning players dropped big scores for us and others, well…..didn't.
Luke Shuey (118) – After being a late out a week earlier against the Giants, Shuey put up his standard 110-120 score. Proving to be a great unique option.
Gary Ablett (117) – Gaz was a top trade target going into Round 10, yet a shoulder complaint meant those plans were delayed week. His 5 round average of 125 speaks for itself.
Tom Scully (69) – It's been a forgetful few weeks in the fantasy world for Scully, illustrated by his dismal 69 on the weekend. With relatively score friendly matchup's against the Blues and Lions sandwiching his bye, he could potentially be a late season bloomer.
Matt Rosa (67) – Rosa's days as a relevant fantasy player seem all but gone. Currently putting up his lowest average since his rookie year, and after battling concussion issues all season so far, the sun has almost set (see what I did there) on his respectable career.
Nakia Cockatoo (61) – Scores in the 60's are about what we can expect from Nakia moving forwards. Look elsewhere.
Mark Lecras (45) – For Lecras to put up big fantasy numbers for the rest of 2017 he is likely going to need a couple of snags. He hasn't kicked one since Round 7 against Port and therefore offers little to no fantasy value.
Ed Langdon (40) – A dark day for Langdon who is emerging as a key cog in Fremantle's midfield. With 3 of his last 4 scores below 60, his fantasy game still needs some work.
Got a question you need answered? Feel free to leave a comment below or message me on Twitter @_alexfry6) and I'll do my best to respond!
SHOP NOW: Tom Mitchell beanie | Tom Rockliff beanie