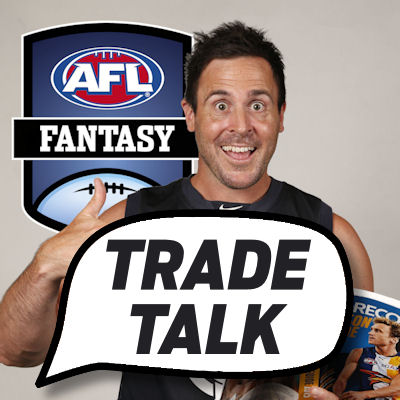 One week down and what that means is we have a whole new group of premiums that are fresh off their bye and ripe for the picking. Remember to try and avoid straight swapping premiums around for a one week hit and upgrade your rookies and stepping stones.
Trade out?
Andy Otten – Should bounce back this week but with the bye approaching, he is ripe for the selling.
Jarryd Roughead – Great score last week and should be solid again but if he is part of a significant long term upgrade, go for it.
Dan Butler – Up to 290K, was solid last week but with the bye this week, it's ok to sell.
Will Hoskin Elliot – Another bloke who had a good game last week but once again, if he is part of a premium upgrade, go for it.
Stefan Martin – Surely Archie Smith won't get named and we don't have to consider the unthinkable.
Bargain Cows:
Dallas Willsmore (MID, $175,000) BE: 4
Callum Brown (FWD, $182,000) BE: 35
Hugh Greenwood (FWD/MID, $259,000) BE: -12
Mid-priced:
Pearce Hanley, DEF/MID, $444,000) Has had a horrible start to his career at the Suns, but he put his best foot forward last week with an impressive 120 running out of the back line. He has a BE of 90 and a nice matchup against the Hawks of the back of being newly crowned a defender as part of his DPP status.
Michael Hibberd (DEF, $492,000) Is in fine form for the Dees mopping up nicely across half back while lapping up uncontested +6's. He has a three round average of 104 and is a great option with his bye out of the way.

Click here to subscribe on iTunes.
Big Dawg:
Tom Rockliff (MID, $723,000) is going to come back and dominate so is worth every cent… if you have it. He has a BE of 131 which shouldn't be an issue given the fact he averages 132, he is back home, he traditionally returns well from injury, Pies had huge score vs Freo and above all he is king Pig and you know how he rolls.
Value Premium:
Josh Kennedy (MID, $540,000) is down 120K on his original price after a slow start to the season and is now bargain basement. Renown for his massive finishes to the season, he looks to have kicked it off with a three round average of 113, well above his season average of 97. He has a good game this week against the Dogs at the SCG and has the bonus of loophole captaincy.
Best New DPP:
Jack Newnes (DEF/MID, $504,000) My pick of the new DPP's has me genuinely excited. Newnes is in sensational form averaging 111 over his last six games if you discard the 10 point game where he was knocked out… Which also happens to be the only reason he is so cheap. Tough game against the Crows on debut if you bring him in the week before he heads back to ES for a couple of big ones.
As always, use the comment to discuss your trade ideas in the comments, I'm currently:
Rough, WHE, Otten to
Newnes, JPK, Willsmore
@RoyDT
SHOP NOW: Tom Mitchell beanie | Tom Rockliff beanie