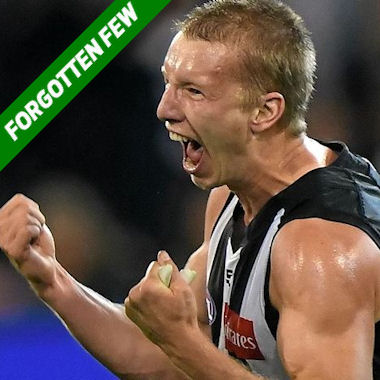 I'm sure I'm not alone when I say that last weekend was carnage! But you aren't here to hear about how I had to watch Lloyd get KO'd for 2, while I starred at Otten's 107 on my bench and how Shuey's late out dealt me my 1st sub 2000 score of the year. I'll look at POD's who don't have the Round 11 bye to helpfully reboot your team as 'Byemageddon' begins.
DEFENDERS
Josh Smith ($476K, 76 BE, 2.13% ownership)
Last season Josh Smith was a basement rookie who proved to be a defensive lifeline for Fantasy coaches. Taking away his brain fart of 49 points, (against the Giants at their home ground mind you) Smith is averaging over 90 in season 2017 and is overdue for a big score. Invest.
Luke McDonald ($447K, 55 BE, 0.77% ownership)
With less than 1% ownership Luke McDonald screams unique. His past averages however, don't scream must have fantasy jet. This season the 4th year Roo is averaging nearly 85 a game and with a 95 and a career high 117 in his past two, McDonald could be in for some more big scores.
MIDFIELD
Aaron Hall ($608K, 87 BE, 4.06% ownership)
Owner of the 2nd highest three game average, there are hundreds of Fantasy coaches who will be bringing Aaron Hall into their sides on the back of his form. 156, 134 and 117 over the past month sandwiched between his Round 9 bye means Hall ticks all the boxes to help you over the byes.
Connor Blakely ($528K, 55 BE, 0.76% ownership)
Blakely was unlucky to not crack the list last week on the back of his 134, but he certainly backed it up in Adelaide. On a bleak night for the Dockers, he top scored with 119, improving leaps and bounds from the 17 he scored on his last visit to Adelaide Oval against Port in Round 2. With a four game average of 115 the future is bright for this one day fantasy premo.
RUCK
Sam Jacobs ($596K, 121 BE, 8% ownership)
Despite his play Jacobs is rarely mentioned alongside Stef Martin, Max Gawn and Brodie Grundy as an elite ruck choice. Even though he comes at a cost, Jacobs is only the 18th most owned ruckman in the comp despite being one of four rucks averaging over a ton. Don't sleep on Adelaide's gangly tall timber.
FORWARD
Michael Barlow ($531K, 103 BE, 6.03% ownership)
One of the most traded in players this week, Barlow offers a ton of upside for coaches struggling to keep their head above water. Since he has already served his bye, his 92.6 season average (over 100 in his last five) would be nice to bank over the next three straight weeks.
Shaun Higgins ($516K. 90 BE, 2.96% ownership)
It's official, I've lost my mind. A member of the never again list for almost every sensible coach, Shaun Higgins was never supposed to be in this position. Yet, here we are talking about his fantasy chops and why he is a decent option. While we can't forget his past his 2017 average of 94 (a career high) makes him the 11th best forward in the competition. Hmmmm.
The Three Big Questions Of Round 11
Can These Rookies Hold Their Spot?          
Cousins, Ryan, Scharenberg, Myers, Vickers-Willis, Cunico, Bolton, Lloyd, Greenwood. Who can we trust? With a bunch of dead wood sitting on most of our pines, we will be relying on these players to help us post a semi decent score for the next three rounds.
Should We Use This Bonus 3rd Trade For Long Term Gain?
It seems like a double downgrade followed by an upgrade is a popular method to navigate the three trade scenario. Is it worth potentially throwing a week if your structure looks like a mess so you can reload and go BANG, BANG with two uber premium upgrades though? I advise against it, but boy it's tempting.
Who's In Line For DPP Come Round 12?
Amid the bye hysteria many of you may have forgotten that next week we will receive another batch of DPP's! Cam Pedersen from the Demons is a shoe in for ruck status, with a few Draft options who might gain an extra position that could dictate our moves over the next few weeks. Be sure to tune into the podcast for the newest dual position-ers as the news breaks!
Have a question you want asked for Round 12? Post it in the comments for the chance to have it published!

Click here to subscribe on iTunes.
Back From The Dead
Most of the players returning from injury/suspension last week aren't really smart choices for your Classic team. Some of them however, could be on your Draft scrap heap so pay close attention.
Guthrie (76) – Overshadowed by his midfield peers, Guthrie didn't exactly have a Thursday night to remember. It has been the story of the year so far for Guthrie, so spend your money elsewhere.
Stringer (98) – 'The Package' was back to his game changing best for the Dogs on the verge of toning up after returning from a knee complaint. It is worth mentioning he had five goals in his points haul, so don't expect this kind of production every week.
Swallow (77) – Swallow has the potential to crack BIG scores if he wants. The shame is he doesn't do it regularly and combines those games with scores in the 40's. Nope.
Caddy (72) – I thought that a move to the Tigers would see Caddy get increased midfield time. Instead he has churned out his lowest average since 2014. 70-80 is what you can expect from here on out.
Petrie (74) – It's a shame that Petrie doesn't have a string of games together, otherwise he could be in line for DPP in the ruck department. Listed as a primary forward though, I don't expect Petrie to set the world on fire. Although it is worth mentioning the Eagles will be without star spearhead Josh Kennedy for a few weeks, which could see Petrie value rise.
Cutler (82) – An 82 on the weekend was Cutler's 2nd highest score of the season. It's worth mentioning that the a 3 against Richmond in Round 4 hurt his average and he has already toned up once this year. Keep half an eye on Cutler.
Hanley (30) – No one scored fewer points in the Dees/Suns game than Pearce Hanley. Enough said.
SHOP NOW: Tom Mitchell beanie | Tom Rockliff beanie