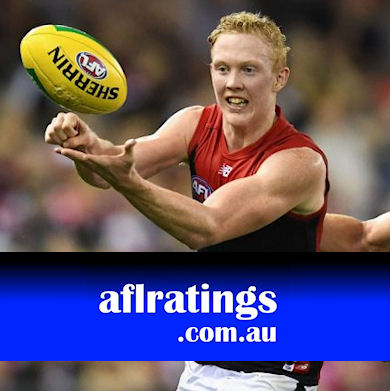 Overall a pretty high scoring fantasy round for premium players to start the 2016 H&A season, 62 players scored 100pts or more in Round 1 which was slightly in front of the 61 players in Round 1 last season. Whilst there would be some genuine excitement in the high scores for many coaches don't forget that only 34 players averaged 100pts or more in the 2016 season, sorry to be the bearer of bad news but we are only 4.55% of the way through the 2017 H&A season.
Melbourne continued on from 2016 recording 454 Disposals in Round 1 against St Kilda, the Demons recorded 400+ Disposals in 11 H&A games last season which was 2nd only to the Bulldogs (16). Melbourne scored a massive 1903 team points against the Saints, the Demons had 8 individual players score 100pts or more.
The points were also flowing for Collingwood in Round 1 despite losing to the Bulldogs by 14pts on Friday night, the Magpies scored 1832 team points with Adams, Pendlebury, Treloar & Sidebottom averaging 133.8pts. Collingwood averaged 1576.8pts in losing games last year so the huge numbers allowed by the Bulldogs is something to keep an eye on, Luke Beveridge admitted they were soundly beaten in contested ball and that not having a genuine Ruck was not ideal – "Our solutions.. helped us in the outside game but they didn't work out inside" Luke Beveridge
Round 1 Top 3 Scoring Teams
1. Melbourne (W) 1903
2. Essendon (W) 1894
3. Collingwood (L) 1832
Round 1 Lowest 3 Scoring Teams
18. St Kilda (L) 1339
17. Nth Melbourne (L) 1388
16. Brisbane (W) 1445
Marc Murphy career high vs Richmond 139pts in R1, he has scored 100pts or more in 7 of the last 10 games vs Tigers
Dustin Martin career high vs Carlton 139pts in R1, it was the first time Dusty scored 100pts or more v Blues in his career
Taylor Adams recorded a career high 151pts in Round 1, his Top 3 career high scores have all been played at the MCG
Since returning from an ACL injury (R1, '16) Tom Liberatore has scored 100pts or more in 18.2% of games (Ave Tackles 11.5)
Clayton Oliver's 122pts is a new career high, it was the first time in 14 games he scored 100pts or more
No St Kilda player scored 100pts or more against the Demons in Round 1, this happened once in 2016 (vs Gold Coast R15)
Ollie Wines scored 110pts against the Swans in Round 1, he has now scored 100pts or more in 8 consecutive games
Josh Kennedy scored 118pts in Round 1 against the Power, since Round 15 '16 has averaged 116.9pts per game
Dyson Heppell recorded a new Career High 156pts in Round 1, he has 3 career games of 150pts or more
Tom Mitchell scored 128pts against Essendon in Round 1, in 3 career games vs ESS he is averaging 118.7pts per game
Tom Rockliff scored 127pts against Gold Coast in Round 1, he has now scored 120pts or more in 32.6% of career games
Aaron Hall scored a team high 109pts against Brisbane in Round 1, he has now scored 100pts or more in 7 consecutive games
Andrew Gaff recorded his 2nd career highest score of 144pts in Round 1, it is his career highest score for a travel game
Since Round 10 last season Todd Goldstein has failed to score 100pts or more in 71.4% of games
Rory Laird recorded a career high 142pts in Round 1, his Top 2 career high scores have been played at the Adelaide Oval
Heath Shaw averaged 87.4pts in losing games last season, he scored 86pts in a Round 1 loss to Adelaide
Mitch Duncan scored 128pts in Round 1, it was his highest score since Round 6 2015
Stephen Hill scored 103pts in Round 1, he has scored 100pts or more in his last 4 games 3 of which were played in Perth
Good Luck for Round 2
WHO AM I?
I played for a new club in Round 1, this is my 3rd club
I am currently owned by over 10% of AFL Fantasy coaches
My score in Round 1 was equal to Levi Casboult
Answer:
Place your best guess in the comments below
| CLUB | PTS FOR | >100 FOR | >120 FOR | PTS AG | >100 AG | >120 AG |
| --- | --- | --- | --- | --- | --- | --- |
| ADE | 1699 | 3 | 1 | 1469 | 1 | 0 |
| BL | 1445 | 4 | 1 | 1575 | 4 | 0 |
| CAR | 1601 | 4 | 3 | 1552 | 3 | 1 |
| COLL | 1832 | 6 | 4 | 1770 | 5 | 0 |
| ESS | 1894 | 5 | 4 | 1477 | 1 | 1 |
| FRE | 1518 | 3 | 0 | 1537 | 3 | 1 |
| GC | 1575 | 4 | 0 | 1445 | 4 | 1 |
| GEE | 1537 | 3 | 1 | 1518 | 3 | 0 |
| GWS | 1469 | 1 | 0 | 1699 | 3 | 1 |
| HAW | 1477 | 1 | 1 | 1894 | 5 | 4 |
| MELB | 1903 | 8 | 2 | 1339 | 0 | 0 |
| NM | 1388 | 2 | 0 | 1775 | 6 | 3 |
| PA | 1476 | 2 | 0 | 1550 | 2 | 0 |
| RICH | 1552 | 3 | 1 | 1601 | 4 | 3 |
| STK | 1339 | 0 | 0 | 1903 | 8 | 2 |
| SYD | 1550 | 2 | 0 | 1476 | 2 | 0 |
| WB | 1770 | 5 | 0 | 1832 | 6 | 4 |
| WC | 1775 | 6 | 3 | 1388 | 2 | 0 |