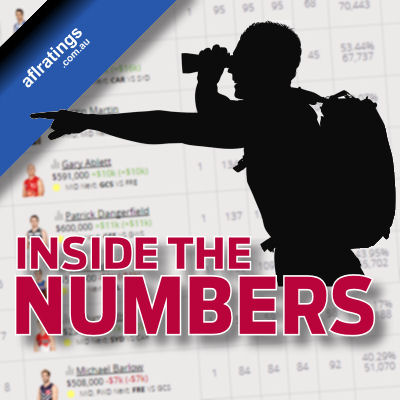 Finding that 1 successful key target for Round 23 can be the difference between victory and defeat, there will be plenty on offer this week as many games are likely not to be played at the normal contested level. Looking back historically 12 months ago to Round 23 and to the last time teams played each other this might give us an indicator of what is to come this week, here are some thoughts heading in to the final round of the 2016 H&A Season.
Adelaide v West Coast
Both teams are trying to best position themselves in the Final 8, normal Fantasy points are likely for this game but with the absence of Rory Sloane and Nic Naitanui the opportunity exists for 2nd tier players to score above their 2016 average. In Round 12 this year Adelaide defeated West Coast by 29pts at Domain Stadium in Perth, the Crows scored a respectable 1792 team points with 6 players scoring 100pts or more. West Coast scored their 2nd lowest team points for the year at home with Matt Priddis the sole Eagle to hit 100pts or more, Gaff (66pts) & Shuey (75pts) were underwhelming in a team that registered just 325 team disposals.
Geelong v Melbourne
There are distinct possibilities in this game for a decent fantasy return in amongst some premiums especially Geelong players, the Demons lost any opportunity to make the finals last week and with so many young players it is possible that there will be a drop off against the Cats with seemingly nothing to play for except Paul Roos' last game as coach. After conceding an average of just 315.3 disposals between Rounds 18-20 the trend is now heading against the Demons after conceding 374 disposals against Carlton in Round 22, the Cats have owned the ball in recent weeks registering 400 disposals or more in 5 of their last 6 games. Last time these 2 hooked up it was a mini break-out game for Melbourne as they defeated Geelong at Simonds Stadium by 24pts, Max Gawn announced himself as a potential fantasy target with 139pts whilst Bernie Vince recorded his 2nd highest career score with 158pts.
Essendon v Carlton
This game has been a target for many fantasy coaches for the entire season and the payoff should come to fruition, Carlton reversed their fortunes last week against Melbourne delivering 1679 team points whilst Essendon against all odds have been a solid fantasy team in 2016 only scoring below 1500 team points in just 1 game. There are likely to be no restrictions on any Carlton players this week so targeting players such as Cripps & Gibbs should pay off along with Simpson & Docherty considering Johannisen's 144pts roaming across half back for the Bulldogs last week against the Bombers, additionally there is the possibility players such as Zaharakis may be let free to do as he wishes but don't underestimate Carlton's willingness to compete hard in this game under Bolton.
Sydney v Richmond
The Tigers have slowed their game down in the last 2 weeks limiting opposition scores, as a result the amount of Disposals they are conceding has increased as they have given up 400 Disposals in Rounds 21 & 22 whilst previously giving up 400+ disposals only once in their previous 19 games. The Tigers themselves were starting to increase their numbers but that fell flat last week after a poor display against the Saints, between Rounds 18-21 Sydney averaged 457 disposals so the match-up against the Tigers this week does look like a juicy proposition for players that can rack up huge numbers if given the opportunity. Don't expect a huge tackle count in this game as Richmond recorded just 44 last week against St Kilda, look for players that can accumulate disposals with ease. In Round 8 the Swans scored a season low 1254 team points against the Tigers, that number should significantly increase this week.
Gold Coast v Port Adelaide
This is  very much an intriguing game for Fantasy with the Suns giving up a whopping 1961pts to the Magpies in Round 22 up against Port Adelaide not really known for the fantasy output. Despite missing the finals last year Port Adelaide finished strong restricting opponents to an average of 1339 team points from their final 2 games and despite their recent indifferent form actually held Adelaide to a 4 week low of just 1562 team points last week, on the other side of the field Gold Coast appear likely to concede a decent amount of points this week. Last year Gold Coast gave up 1755pts in their final H&A game against the Swans, with a decimated midfield devoid of star talent Port Adelaide Mids could enjoy a decent amount of ball at Metricon Stadium if the Suns fail to turn up for a 3rd successive week.
Nth Melbourne v GWS Giants
This game could be decided on team selection with Nth Melbourne in a similar position to last year resting players, their position in the top 8 cannot change but the Giants position certainly can. There is the possibility that both teams here could face off in week 1 of the AFL Finals, additionally there is the potential for both teams to throw up some positional changes mid game especially if the game result is known quite early. This is a dangerous game to target players as trading options could be risky with a fair bit of unknown about the game, last year Nth Melbourne scored just 1444 team points against the Tigers in Round 23 but did concede 1597points. Keep an eye on selection for both teams.
St Kilda v Brisbane
The final Sunday of the year could start with a big fix of fantasy points from both teams as the points are likely flow very quickly at Etihad Stadium, in Round 23 last year Brisbane scored a season high 1846 team points against the Bulldogs so hopefully they can eclipse 1500 team points for the first time since Round 18. The Saints have been reasonably fantasy friendly averaging 1683.3pts from their last 3 games, look for Steven, Montagna, Ross & Riewoldt etc to rack up some pretty decent numbers against a Brisbane team that has conceded 400 disposals or more in 3 of their last 4 games including 477 disposals to Adelaide in Round 20 which was the last time they travelled.
Hawthorn v Collingwood
This game will be all about the intent from Collingwood as we already know the Hawks are in a must win situation to maintain a top 4 position, if the Magpies are just happy to get through the game then the points could flow for the Hawks but if the Magpies provide a genuine 4 quarter contest then it is not expected to be an overly high scoring fantasy game for either team. The last time Hawthorn & Collingwood played each other Scott Pendlebury scored a game high 152pts, the top 4 scoring players for the Hawks were Lewis (125), Hodge (120), Shiels (118) & Mitchell (108).
Fremantle v Western Bulldogs
The final game of the H&A season could see some epic numbers from Bulldogs players, they are the No.1 Ranked team for Disposals in 2016 averaging 413.1 per game and Fremantle are Ranked 16th conceding 395.8 disposals per game. Fremantle have given up 400 disposals or more in 7 of their last 10 games including an average of 432.0 disposals in their last 2 games. In Round 23 last year Fremantle on the back of resting multiple players conceded 1807 team points to Adelaide, the Dockers have conceded 1800pts or more in 6 of their last 8 games so the points should flow for the Bulldogs. Keep in mind team selection and the possibility that key players may rest in this game, late outs are a genuine chance especially if West Coast & GWS win their respective games then the Bulldogs ladder position may not be able to change.
Highest Ave Team Points Season
Adelaide 1695.5
W.Bulldogs 1682.5
GWS Giants 1673.0
Highest Ave Team Points Last 3 Games
Adelaide 1810.7
Sydney 1743.7
GWS Giants 1723.0
Lowest Ave Team Points Season
Brisbane 1425.8
Gold Coast 1516.1
Port Adelaide 1525.0
Lowest Ave Team Points Last 3 Games
Brisbane 1344.3
Port Adelaide 1444.3
Gold Coast 1491.3
Lowest Ave Team Points AGA Season
GWS Giants 1493.0
Nth Melbourne 1498.3
Geelong 1503.7
Lowest Ave Team Points AGA Last 3 Games
Adelaide 1368.3
GWS Giants 1536.0
Melbourne 1536.0
Highest Ave Team Points AGA Season
Fremantle 1713.3
Essendon 1682.4
Gold Coast 1678.9
Highest Ave Team Points AGA Last 3 Games
Fremantle 1786.3
Gold Coast 1785.0
Port Adelaide 1722.0
Round 22 Notes
*Essendon has scored fewer than 1,500 Team Points only once in 2016 (R15 v Eagles), best in the AFL
*GWS Giants have not allowed an opposition team to register 400 Disposals in a game this season, no other team has accomplished this in 2016
*Richmond has conceded 400 Disposals or more in their last 2 games
*Gold Coast has conceded 400 Disposals or more in their last 3 games, 430.7 Ave over the same period (AFL Ave 375.0)
*Geelong has registered 400 Disposals or more in 5 of their last 6 games
Jordan Lewis
R22 v West Coast: 100pts
Last 3 Games Ave: 108.0
Season Ave: 103.0
16 100pt games this season including 11 of the last 12
Andrew Swallow
R22 v Sydney: 127pts
Last 3 Games Ave: 112.3
Season Ave: 83.2
Back to back 127pt games for Swallow
Seb Ross
R22 v Tigers: 132pts
Last 3 Games Ave: 109.3
Season Ave: 98.6
12 Career 100pt Games, 11 have been scored in 2016 (58 Career Games)
Lachie Neale
R22 v Giants: 169pts
Last 3 Games Ave: 121.7
Season Ave: 111.2
New Career high
Brodie Grundy
R22 v Suns: 139pts
Last 3 Games Ave: 119.0
Season Ave: 100.7
New Career high
Ollie Wines
R22 v Crows: 113pts
Last 3 Games Ave: 110.3
Season Ave: 99.7
6 Straight 100pt games
Patrick Cripps
R22 v Demons: 139pts
Last 3 Games Ave: 120.0
Season Ave: 99.0
Season Kicks 169 Handballs 365
Tom Rockliff
R22 v Cats: 123pts
Last 3 Games Ave: 141.3
Season Ave: 116.0
133.6 Ave since returning from in injury in Round 11
Zach Merrett
R22 v Bulldogs: 148pts
Last 3 Games Ave: 121.3
Season Ave: 117.7
100pt Games: 17
120pt Games: 11
Who Am I?
I am Dane Swan
What was the longest consecutive streak over my career to score 100pts or more?
Best guess in the comments below
Congrats Dane Swan on a great career
Good Luck in Round 23